French Press Coffee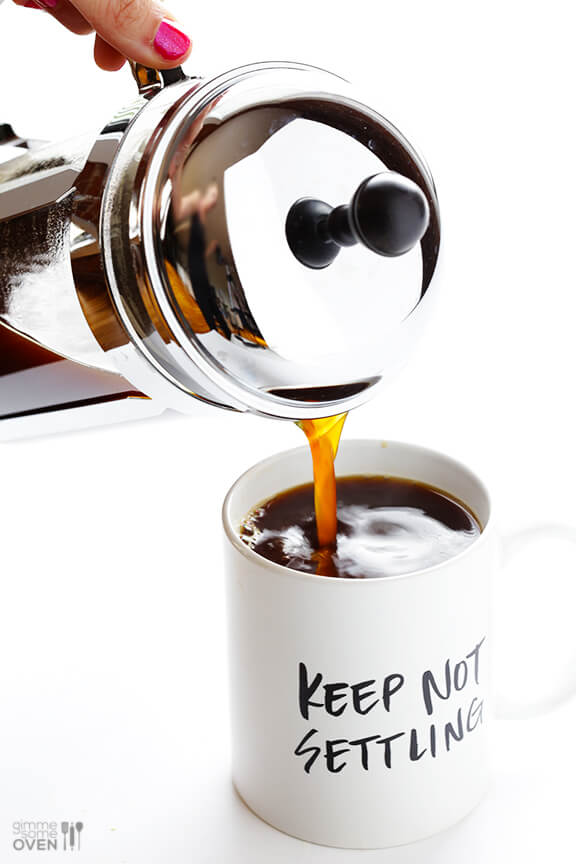 Hey coffee lovers!  I thought it would be lovely to round out my coffee tutorials today with my first love.  The place where my coffee-making journey began.  The method I still use at least once a week, especially when pressed (get it?) for time.
Oui.
I'm talking about French press coffee.
I've actually had my trusty ol' Bodum French press (pictured above) for going on 10+ years now.  And let me tell you, it has literally served me well.  I have made literally thousands of cups of coffee with it over the years.  But while they were good from the start, I have to say that they have gotten better over the years as I have learned even more tips and tricks for making a stellar cup of French press coffee.  So if you're looking to kick up your brew, hopefully this tutorial can provide a few new pointers.  And if you're brand new to coffee brewing, French press is a perfect place to start.
Alright, let's get to brewing!
How To Make French Press Coffee | 1-Minute Video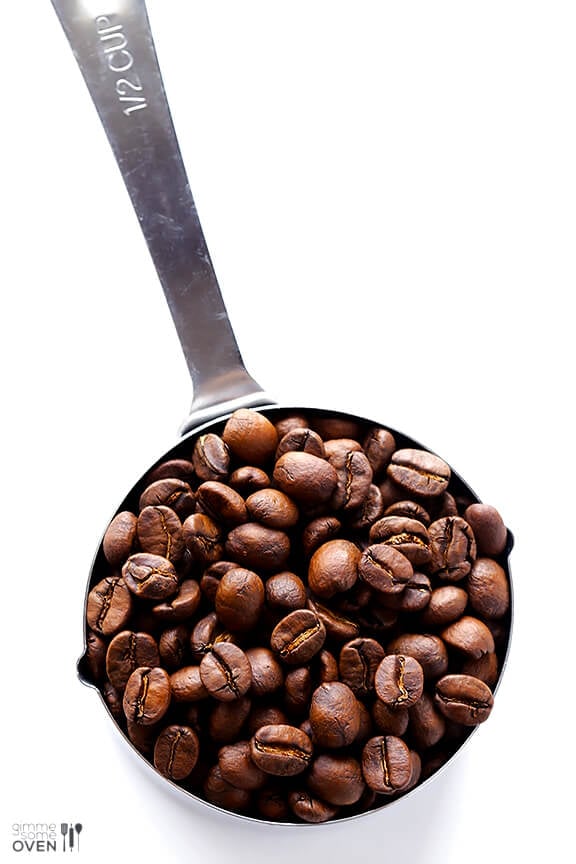 I've said many times before, and I'll say it again.  The best place to begin with any kind of coffee is with…good coffee.  As in, good beans.
Buy good ones.  Buy them whole.  And then for French press, grind them immediately before using them to a coarse (not a fine) ground.  They should be about the consistency of breadcrumbs.
(If possible, I highly recommend using a burr grinder, which will produce much more consistently-sized grounds.  The more fine grounds you have in the coffee, the murkier it is.  But that's also being picky.  Any grinder that gives you the option of a setting for fine or coarse ground will work.)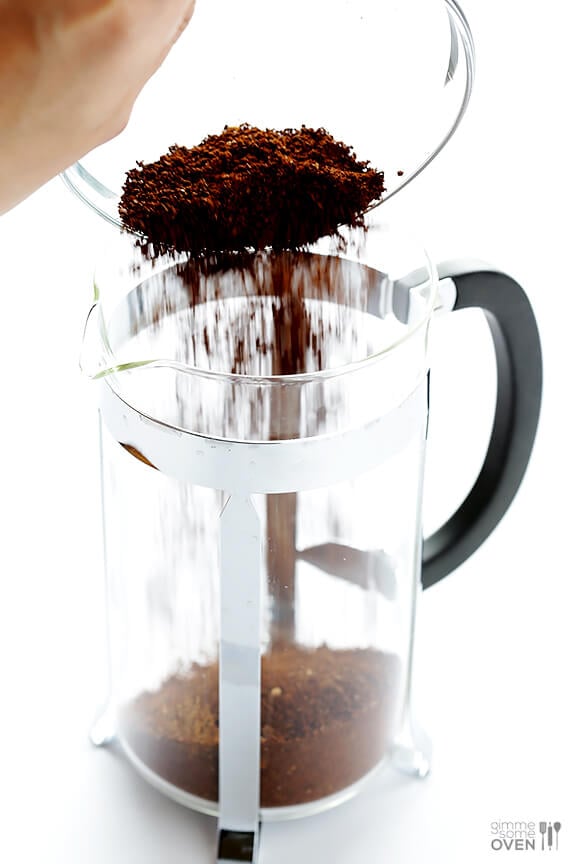 Then measure out the amount of coffee you would like to use.  Everyone has different opinions here about their preferred coffee-to-water ratio.  I like to weigh my beans before grinding them, and use 52 grams per 4 cups of water.  (Which equals 8 cups of coffee, because a cup/serving of coffee actually equals 4 ounces or 1/2 cup.  Confusing!)  But if you don't have a scale, that is the equivalent of about 1/2 cup of (whole) beans before they are ground.  So for different sizes of French presses, that would mean:
8 cup* French press = 4 cups of water = 1/2 cup (52 grams) whole beans
4 cup French press = 2 cups of water = 1/4 cup (26 grams) whole beans
2 cup French press = 1 cup of water = 2 tablespoons (13 grams) whole beans
1 cup French press = 1/2 cup of water = 1 tablespoon (7 grams) whole beans
*Again, don't get confused by the "cups" thing.  If you purchase a French press that says it's an 8-cup French press, that means it will hold about 4 cups of water, and thus produce 8 (4-ounce) servings.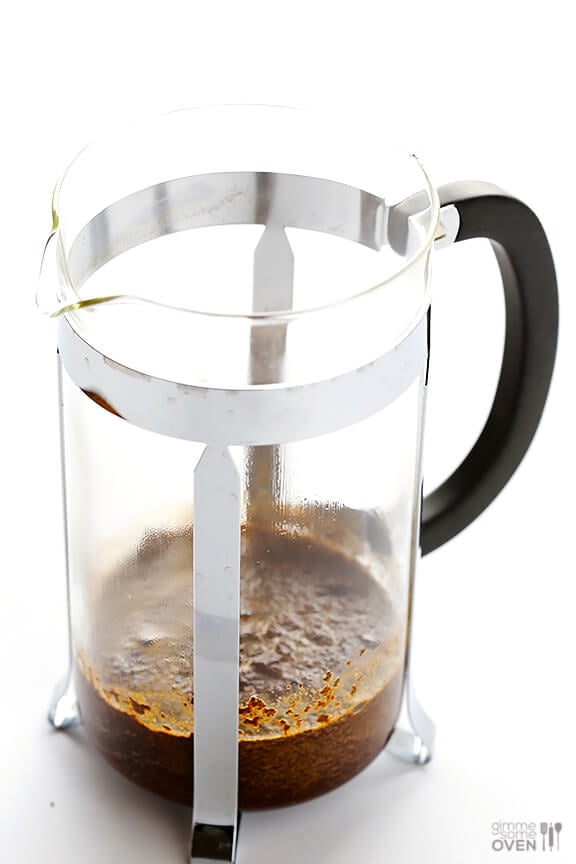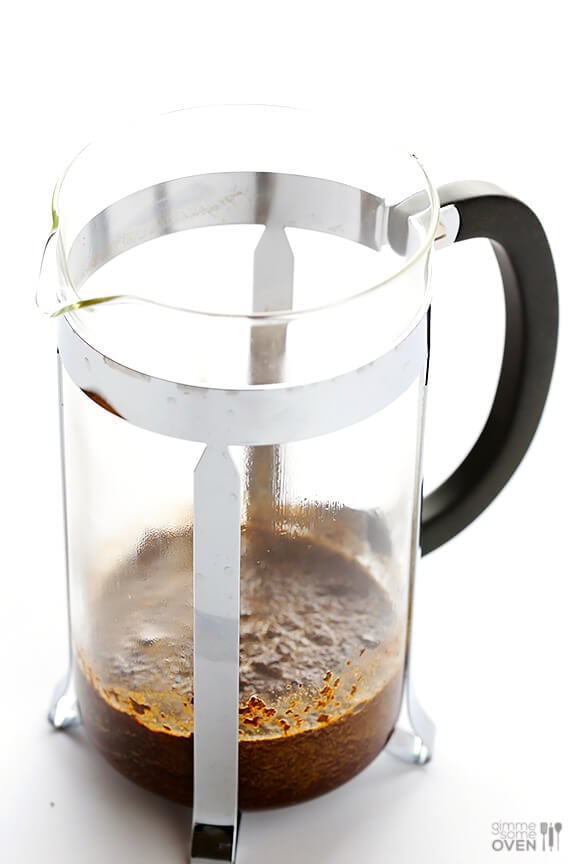 The first step is to heat your water to boiling.  Once it reaches a boil, pull it off the heat and let it rest for 45 seconds.  (If the water is still boiling, it will be too hot and scorch the beans, resulting in a burnt taste.)  Ideally you want the water to be 195 degrees F, but I never measure.
Add the ground up coffee to the bottom of your French press.  Then use a kettle to pour enough water in to just wet the beans.  (I love my Hario kettle with its thin and aim-able spout, but any kettle or even a measuring cup with a spout will work for pouring the water onto the beans.)  You want all of the beans to be saturated, so if your kettle doesn't have a pour spout that allows you to aim well, you can give them a quick 3-second stir to disperse the water evenly.
Wait 1 full minute for the coffee to puff up and "bloom".
Then, immediately pour in the rest of the water, give the grounds a quick stir, add the lid on top, and let the coffee brew for 3 more minutes.  (So just to be clear, the total brewing time is 4 minutes.)
*Some people prefer to let the coffee brew uncovered in order to let it "bloom" even more.  And others also recommend "skimming" the grounds off the top of the coffee after the 4 minutes have passed, before the next "plunging" step.  I have tried both before and don't taste a huge difference, but it's worth a try if you're curious.
Once the total 4 minutes are up, gently (not forcefully) push the plunger down until it firmly reaches the bottom.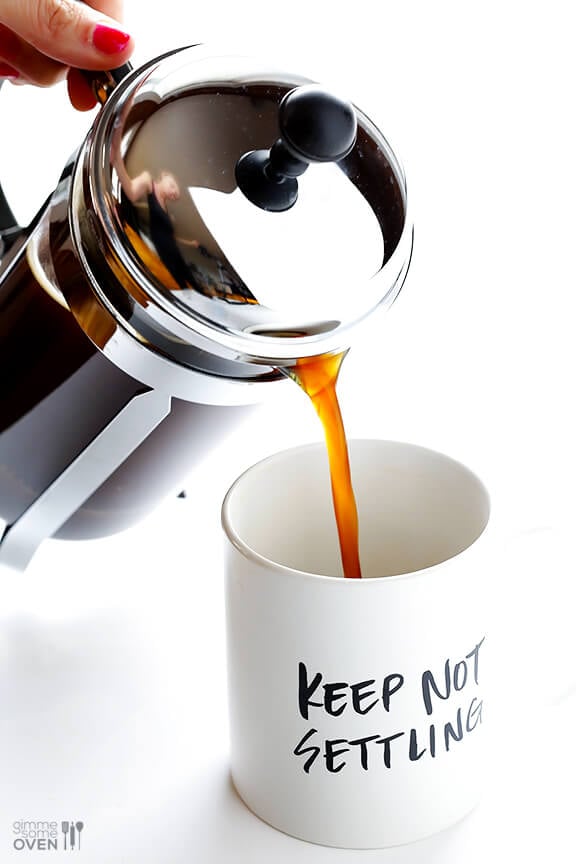 Then immediately pour and serve!
Actually, even if you're not going to drink the entire batch at once, go ahead and pour the remaining coffee into another thermal container to keep until you're ready to drink it.  (If the finished coffee sits in there with the beans for too long, it will get stronger and more bitter as it sits.  Not good.)
If you find that the coffee is too strong to your liking, I would recommend using slightly less beans in your coffee-to-water ratio, or brewing the coffee for 30 seconds less.
If you find that the coffee is too weak, then increase your coffee-to-water ratio (or some people swear by a 5- or 6-minute brew time).
If you find that the coffee is too bitter, well, that's my one complaint about French press.  I still love it, but it definitely seems to be the method that produces some of the most comparably bitter coffee.  If that's not your thing, I highly recommend trying cold brew and/or pour-over coffee.  Cold brew is virtually bitter free because hot water never touches the beans.  And with pour-over, the hot water goes through the beans quickly.  The brand of coffee you choose may also affect the bitterness or (my least favorite) a "burnt" taste, due to their roasting methods.
All that said, if your inner Goldilocks feels like the coffee is just right, then fantastic.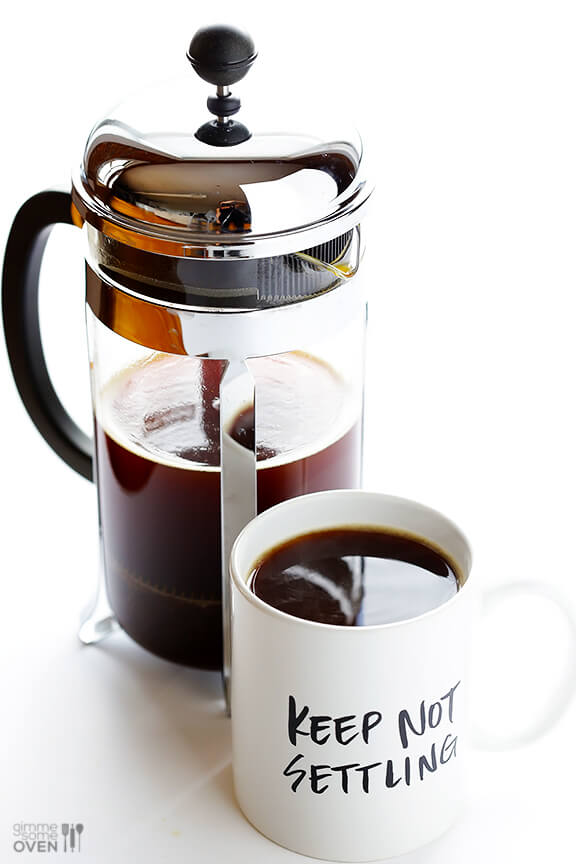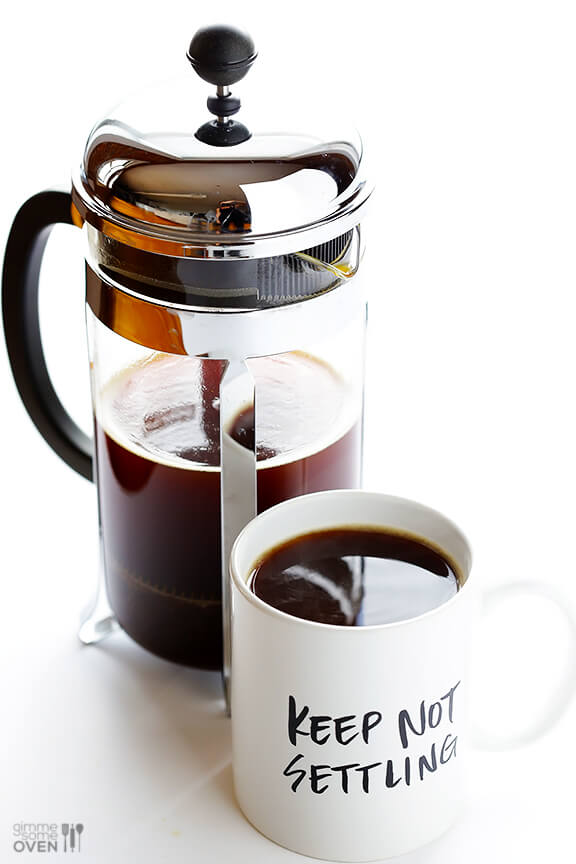 Coffee cheers to you!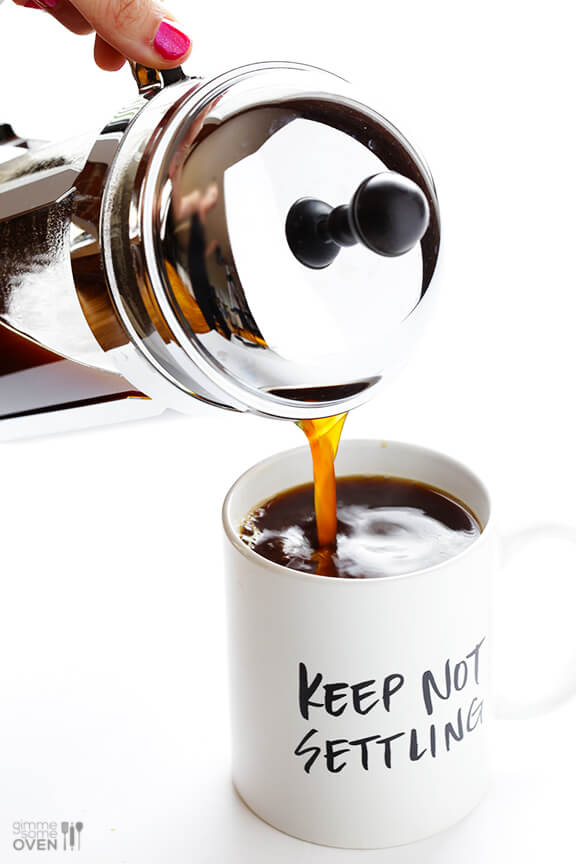 French Press Coffee
Learn how to make perfect French Press Coffee with this easy recipe and tutorial!
Ingredients:
4 cups water
1/2 cup (32 grams) good-quality whole coffee beans
Directions:
Heat water in a kettle to boiling. While the water is heating, grind your beans to a very coarse grind. Add the beans to the bottom of a French press.
Once the water reaches a boil, remove it from the heat and wait for 45 seconds. Pour enough water in the French press to wet the beans. Give them a quick stir, if needed, so that they are all evenly saturated with the water. Wait exactly 1 minute.
Pour in the remainder of the water, then give the coffee yet another quick stir so that the water is evenly dispersed. Cover with a lid and wait 3 minutes. (Thus, the total brewing time will be 4 minutes, including stir time.)
Once time is up, gently press down the plunger until it is nice and tight on the bottom. Pour out the coffee immediately. (And if there is leftover coffee in the French press, pour it out into a different container to store until you're ready to drink it.)
*Just as a reminder, coffee grinds are not good for garbage disposals.
All images and text ©
If you make this recipe, be sure to snap a photo and hashtag it #gimmesomeoven. I'd love to see what you cook!
Supplies:
French Press: Bodum Chambord Coffee Press
Mug: The Everygirl
Kettle: Hario V60 Buono Vida Drip Kettle, 1.2L
Bar Spoon: World Market
Coffee (for anyone in Kansas City who's interested): Oddly Correct, via Quay Coffee