French Silk Pie (Chocolate Pie)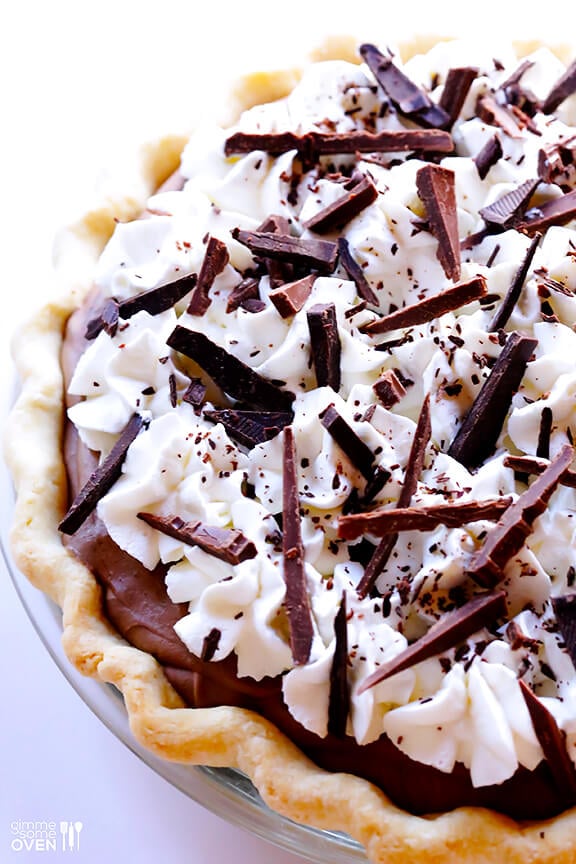 Oui.  Our next recipe for pie week is none other than the classic French Silk Pie!
Some of you probably know it simply as Chocolate Pie.  But whatever you call it, this French Silk Chocolate Pie is decadent, creamy, silky, and a definite crowd-pleaser.
And it is filled with chocolate!!!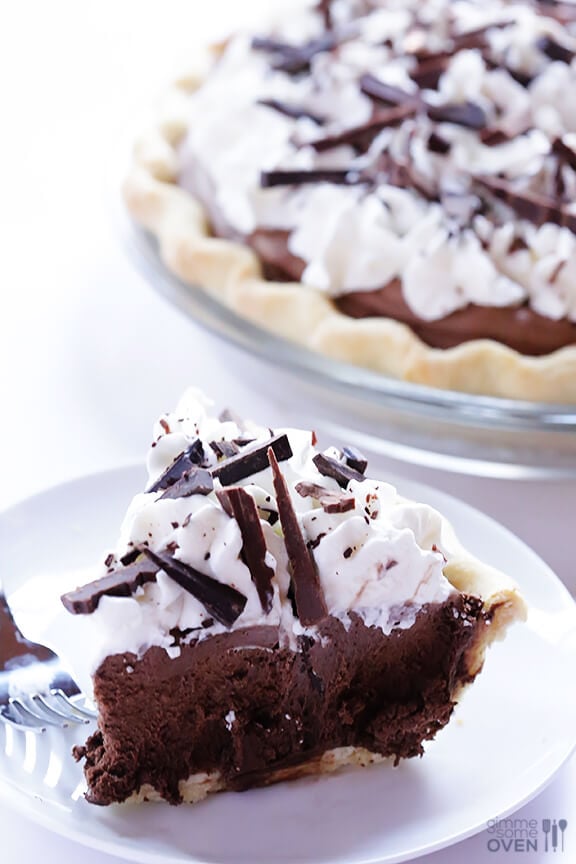 Although I have to admit — I cheated a little on the French this time and used tons of bittersweet German chocolate in this recipe that I bought at my local ALDI!
You can actually use any semi-sweet or bittersweet chocolate for this recipe (even chocolate chips).  But if you haven't ever explored the chocolate section at ALDI, you must.  All of their stores carry a great assortment of high-quality chocolate bars made in Germany at incredibly affordable prices.  And ever since spending a good 10 minutes standing directly in front of the chocolate display in our behind-the-scenes tour at ALDI headquarters last month, I have been craving that chocolate!  So I decided a French Silk Pie was the perfect excuse to stock up on some of my favorite bars — some of which went into this chocolate pie, and some of which I chopped up on top.  (Because I have yet to conquer melting it into those darn chocolate curls!)
I have to admit I was a little bummed not to get to scan my own items at ALDI this time, though.  ;)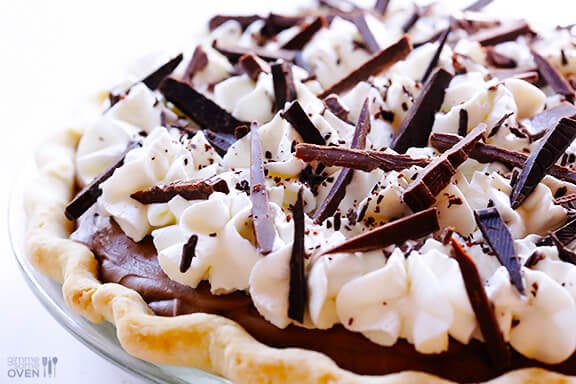 This was my first time making a French Silk Pie, and I assumed it would be tricky since it's — well — French cooking.  But it turns out that your mixer really does all the work with this chocolate pie recipe!  Actually, your mixer will do 20 minutes of work whipping that batter until into silky perfection.  But resist the temptation to cut that time short, because you will thank yourself (and your mixer) for putting in the time with every delicious bite.
We all loved this French Silk Pie recipe!!!
I mean, really – chocolate pie, a thick layer of whipped cream, and lots of chocolate shavings — what's not to love?  :)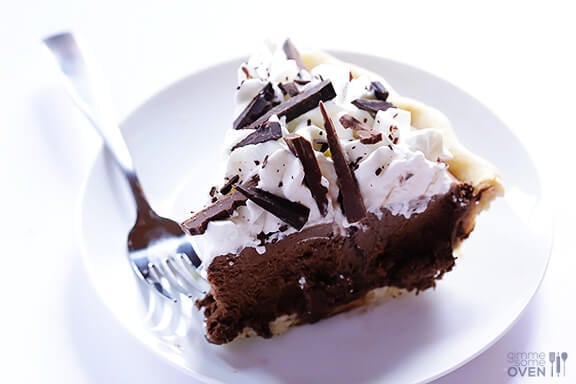 Definitely a recipe to make and share with your friends.  Pronto.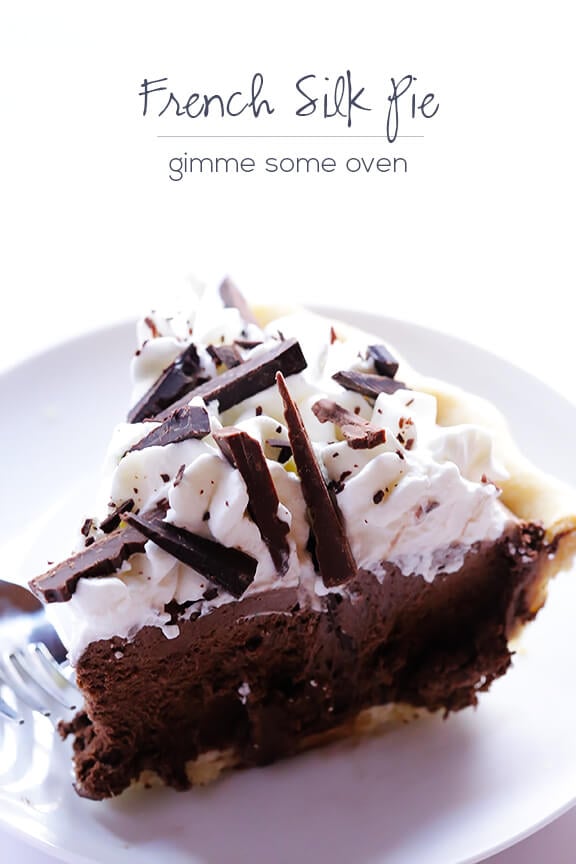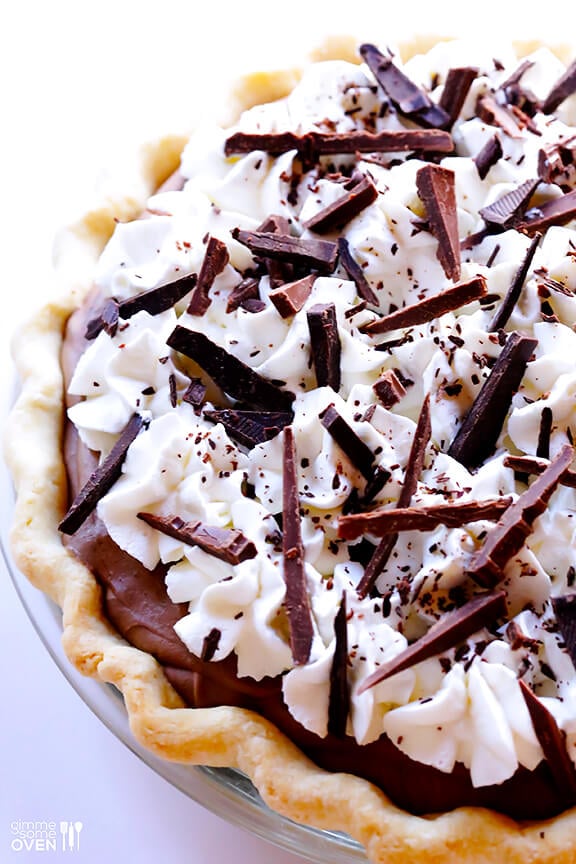 French Silk Pie (Chocolate Pie)
If you love chocolate pie, you are going to love this French Silk Pie recipe!
Ingredients:
4 oz. bittersweet or semisweet chocolate
1 cup (2 sticks) salted butter, softened
1 1/2 cups ultra-fine sugar
1 tsp. vanilla extract
4 eggs, room temperature
(optional) 1/4 tsp. espresso powder
1 fully pre-baked 9-inch pie shell (homemade http://www.gimmesomeoven.com/how-to-make-a-pie-crust-recipe/or store-bought)
3 cups whipped cream
1 chocolate bar, roughly chopped or shaved or melted into chocolate curls
Directions:
Heat chocolate in a microwave-safe bowl in 20-second intervals, stirring between, until completely melted. Set aside and let cool for about 10 minutes until it is room temperature.
In the bowl of an electric stand mixer using the paddle attachment, cream together butter and sugar on medium-high speed until fluffy, about 1-2 minutes. When melted chocolate has cooled, gradually add it to the butter/sugar mixture. Add the espresso powder (if using). Beat the mixture on medium-low speed until thoroughly until combined. Add vanilla and beat until combined.
Switch to the whisk attachment. Add one egg, and beat for 5 minutes on medium speed. Repeat with remaining three eggs, beating the mixture for an additional 5 minutes after each egg. (20 minutes total.) Pour the filling into a baked pie shell in a pie plate, and use a spatula to spread out the top evenly. Refrigerate for at least 2 hours or until chilled before serving.
Top with desired amount of whipped cream, then garnish with chocolate shavings or curls.
*This ingredient does use raw eggs.  Consume at your own risk.
If you make this recipe, be sure to snap a photo and hashtag it #gimmesomeoven. I'd love to see what you cook!
Disclaimer: This post contains affiliate links.  And this is a compensated sponsored post from ALDI.  I had the chance to participate in their Test Kitchen Event last month, and am so excited to be partnering with this brand I love.  All opinions are 100% my own as always.