Giving Thanks
This post may contain affiliate links. Please read my disclosure policy.
Happy Thanksgiving Eve, everyone!
After nearly 24 straight hours of traveling on Monday (whew!), I'm happy to say that I'm back home sweet home here in Kansas City, where I've been soaking up lots of jet-lag naps and puppy snuggles and chips and salsa and time with this handsome guy ever since I returned. There's no place like home. ♥  And I'm extra happy to have made it back just in time for my absolute favorite holiday of the year!
Oh my goodness — I love Thanksgiving!!
I love that it's the one holiday of the year that's purely about spending time with your loved ones, cooking up an epic feast, and catching up on life and making memories together. I love that it's a holiday where zero gifts are expected. I love that it always falls during the coziest part of Fall, when the weather outside is starting to get frightful, but the crackling fireplace and mug of hot cocoa warming our hands are so completely delightful. I love that it's always the start of a nice long 4-day weekend, which I love to fill with holiday jamz and tree decorating and cookie baking galore. I love that it's a holiday that my friends from all faiths celebrate together. I love that it's the day that zillions of twinkling, magical Plaza lights get switched on here in Kansas City. And the list goes on…
But by far and away, the thing I love most about Thanksgiving is that it's the one holiday of the year that's specifically devoted to giving thanks.
Such a good reason for a holiday, right?! Even if it's only for a moment before the meal, I love imagining all of that thankfulness bubbling up in homes all around the country, uniting us all — reminding us all — of how many deeply good things we have to be thankful for.
And I know that isn't always easy. In fact, I would venture to guess that at every Thanksgiving table tomorrow, there will be those for whom life feels downright awesome and abundant and hopeful and good right now. And for those people, gratitude will flow easily. But at that same table, I imagine there will be at least one other person for whom gratitude tomorrow will be an act of bravery, of strength, of hope in the midst of an overwhelming season where the last thing they naturally feel is gratitude. And there will be those who fall — probably most of the time — somewhere in the middle. And those who have no clue what the person across from them is actually feeling. And, of course, all of those people will be bringing their own lives and stories to the table, which will be mixed with a generous serving of family dynamics, and maybe travel exhaustion, and old patterns to navigate on top of it all, right?
Much like gratitude, this holiday can be complicated at times.
But I think that's why I love Thanksgiving so much. It's about giving thanks, but more, it's about giving thanks together. It's about showing up, really looking one another in the eye, asking the good questions, listening and learning, and reminding one another that we're in this whole "life" thing together. We're not meant to go it alone. For better and worse, even when it's a little mess at times, we get to have friends and family alongside us for the journey. And we're feeling thankful, we can celebrate life's goodness together. And when we need a little help doing that, hey, gratitude can be a team sport. We can do it together. ♥
I don't know about you, but with each passing Thanksgiving, I've started to realize that the things I'm thankful for in life now revolve less and less and less about "things", and more and more and more about people. Because it's the people in my life who mean the absolute most to me. It's the people who make me smile, and have been there alongside me for so many of my favorite memories in life. It's the people who have also been stayed there beside me on the roughest days. It's the people who — from the late-into-the-night talks with dear friends, to the warm smile from a barista, to the neighbor helping you out by letting your dog out, to the friends standing up for justice, to the really good hugs when you need 'em — are the ones meant to carry us through all of the ups and downs and everywhere-in-betweens that we encounter each day.
No doubt — it's the people in my life for whom I want to give thanks.
So over the past few years, I've been trying to get better at using this holiday weekend as a good reminder to do just that — to actively give thanks to the people in my life. Like, not just make lists in my head and think about how grateful I am for people, but actually take the time to tell them. It can be as simple as sending someone a brief text, or giving a handwritten note, or baking someone a batch of cookies, or inviting someone out for coffee or drinks — whatevs. I just want Thanksgiving weekend to be all about the doing of actually giving thanks.
So today, if you happen to the market for some thankfulness inspiration, I thought I'd share with you one of my favorite ways to — quite literally — to give thanks.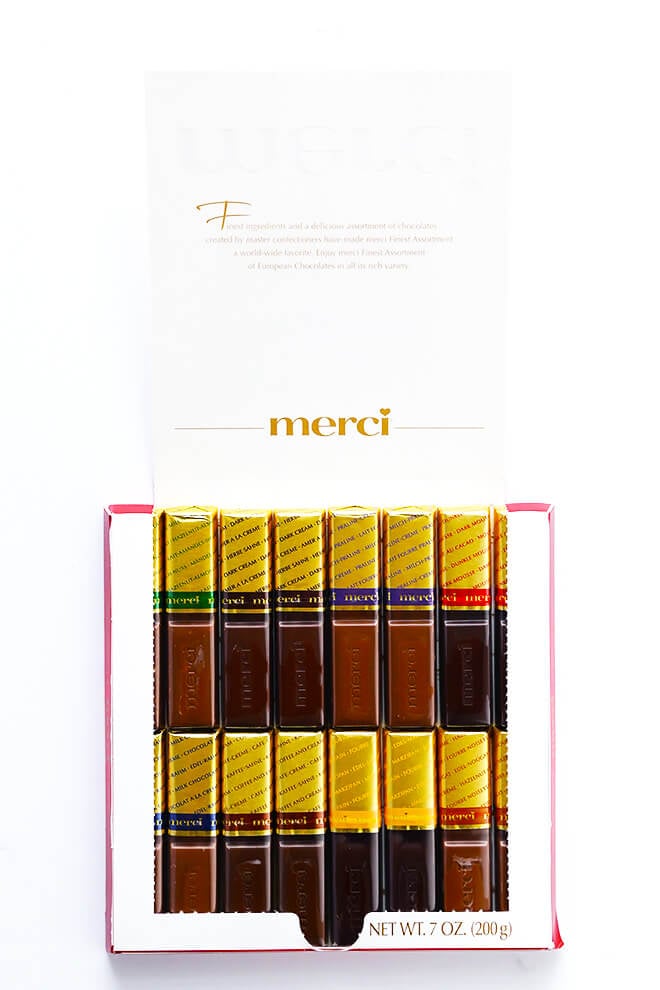 I feel like Forrest would be proud. It's with a box of chocolates!
merci chocolates, to be specific. (Their very name means thanks, so you're literally giving thanks!)  ♥
Have you guys come across these before? I first fell in love with them about 11 years ago when my good friend, Amy, was living in Germany and brought home a box for us to share together on our famous chocolate-popcorn-and-wine girls' nights. And let's be real — I'm a tapas girl at heart, and always like to share food and try a little bite of everything. So when I saw this cute box, with all of the little individually-wrapped chocolates inside spanning a variety of flavors that you can sample and share, I instantly fell in love. They're so good!!
And they now actually come in multiple kinds of flavor packs. But the traditional merci selection of chocolates is still my fave, and includes everything from milk chocolate, to coffee and cream, to hazelnut-almond, hazelnut-creme, marzipan, dark cream, dark mousse, and praline-creme.
Heck yeah.
And the best part?
merci chocolates are now available in the U.S.! Actually, they have been for quite a few years now. But I still remember that the first time I saw them at the store, I stockpiled like a dozen or so boxes because I had no idea if they were here to stay. ? Thankfully, it seems that they are. And now that they are widely available at stores across the country (and online as well), and affordably priced (usually about $5-7 a box), I love picking up a box when I come across them as a reminder to give thanks to someone in my life…which, of course, is all the sweeter with a side of chocolate. ?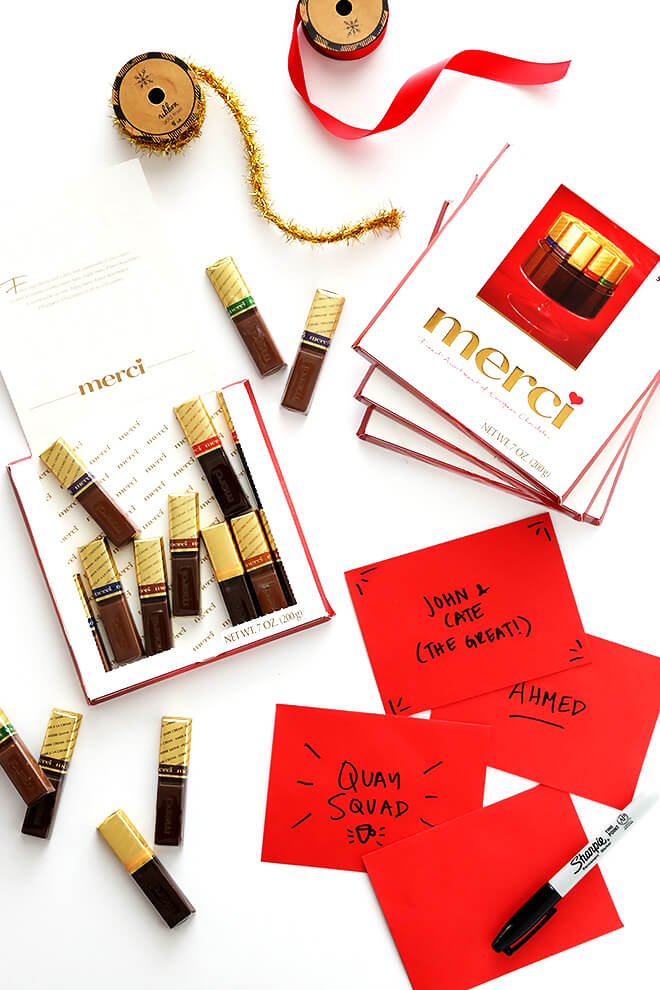 So that said, when merci reached out to me this fall and asked if I might be interested in sharing about their chocolates here on the blog, I immediately wrote back and told her that they're already a tradition in my life! ? So if any of you are looking for some new ways to give thanks, or — as I like to use them in my life — also a reminder to give thanks, go out and grab a few packages this Thanksgiving and start giving!
Yesterday, I picked up a stack on a Target run, and decided to give them out this year to the people around the neighborhood for whom I'm especially thankful this year (<– many of whom I wish I told more often how much I appreciate them.)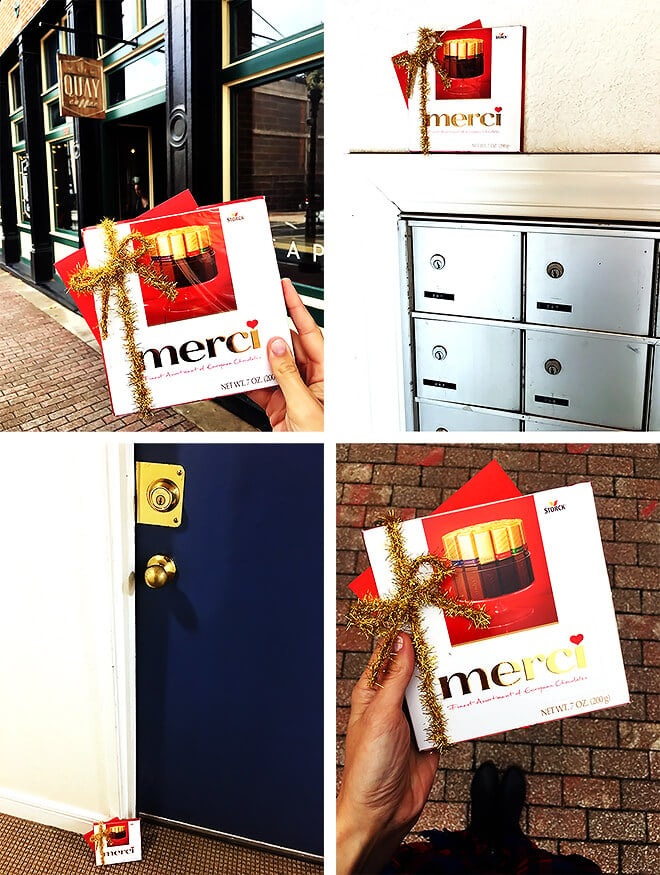 For example, I took a batch to the baristas at the coffee shop next door (who are simply the best), I left one for my mail carrier (who graciously puts up with my Amazon Prime-ing), I left one by the door of one of my neighbors (who is generally awesome, but who also regularly saves me and lets my dog out when I get caught somewhere!), took one to the manager of my favorite Middle-eastern spice store down in the River Market, one to our new building manager, and then I still have a few left to distribute today.
And while I thought that they would just be some quick thank-you's, I'm not gonna lie — guys, I got all teary writing and delivering these! I'm just overwhelmed with how much many of these people and their kindness — even often in the smallest, most routine of interactions — mean to me. And I was reminded by some of their tears and smiles at how a few simple words of gratitude seemed to mean so much to them as well. And of course, they all loved the chocolates too. ;)
Man, I think the world could definitely use more of that right now. ♥
I know I certainly could too.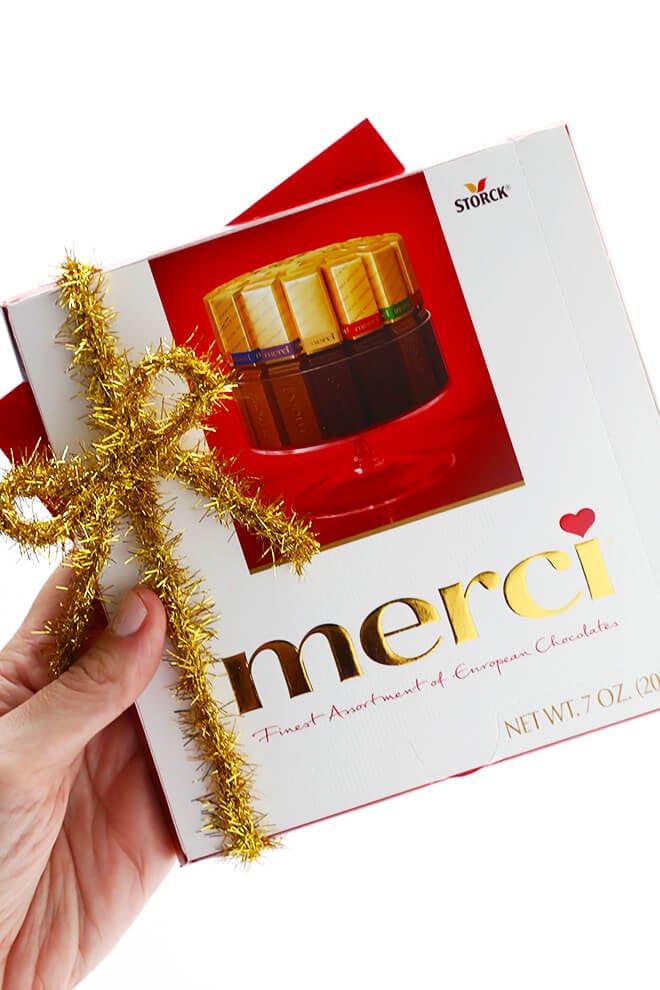 So all of that to say — if you're thankful for people in your life, I urge you to tell them this Thanksgiving.
Give thanks, and give it abundantly.
And hey, give it with a side of chocolate if you'd like. ?
---
This post has been sponsored by merci chocolates. Thanks for continuing to support brands I believe in who help make this site possible. ♥