Gluten-Free Alfredo Sauce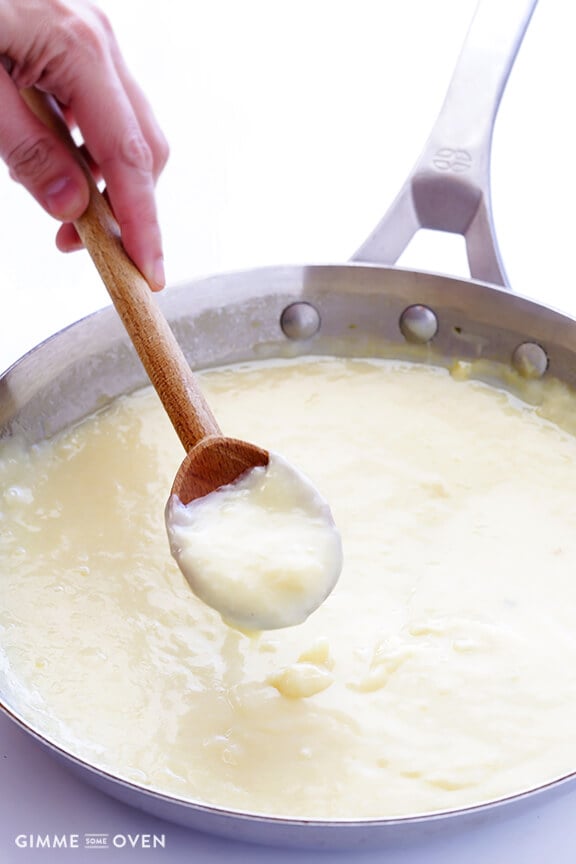 So apparently all of you out there seem to love alfredo sauce just as much as I do.
My Chicken Alfredo Baked Ziti and Skinny Fettuccine Alfredo recipes are sitting near the top of the leaderboard in blog statistics lately.  And one of the most-asked questions in the comments and emails is when-oh-when I'm going to post a gluten-free recipe for the alfredo sauce.  Actually, make that the skinny alfredo sauce, since I figured out long ago that delicious creamy alfredo sauces do not actually need to involve heavy cream.
Well for all of you gluten-free friends out there, today's the day.  This sauce is super easy to make, ready to go in less than 15 minutes, made with all-natural everyday ingredients (no special gluten-free flours).  And the best part?  I'm pretty positive none of your friends and family will even notice that it's gluten-free.
Let's do this.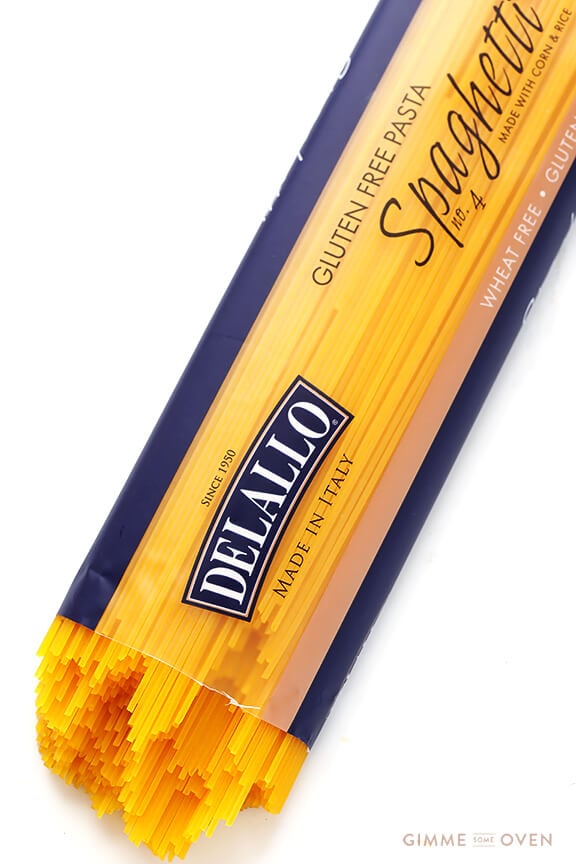 First off, I have received a bunch of questions from readers over the past year about gluten-free pasta recommendations.  I have tried quite a few, and at this point, my favorite is DeLallo's Gluten-Free Corn & Rice Spaghetti.  This isn't a sponsored post — I just prefer some of the rice-based GF pastas, and DeLallo's happens to be one of my favorites.  So I used it in this recipe, and then happily enjoyed every bite.
Heads up, though, it's very yellow thanks to that corn.  It was practically glowing in these photos!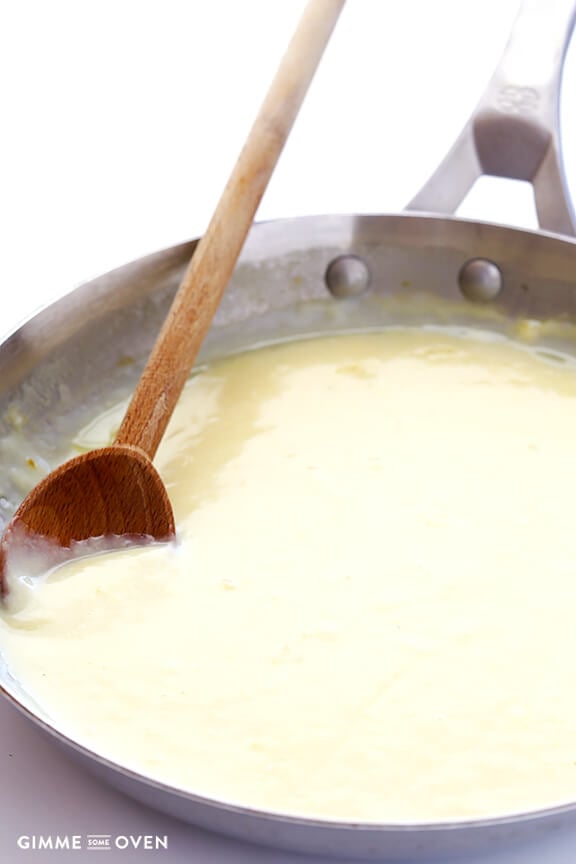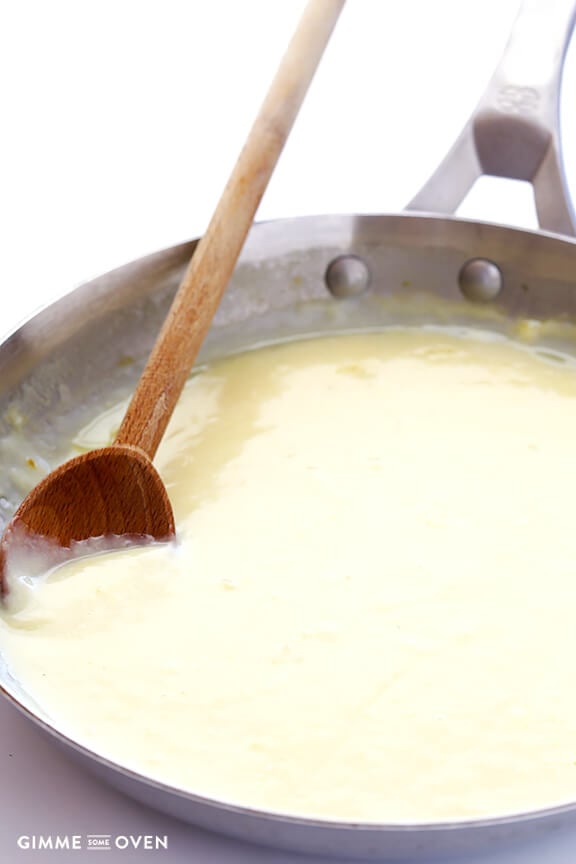 The sauce itself can be made in less than the time it takes your pasta water to boil.  Simply saute some pressed (ideally) or minced garlic in olive oil.  Then add a cornstarch and chicken (or veggie) broth slurry to the saute pan, along with some milk, and bring that mixture to a simmer.  Add in some freshly-grated Parmesan, salt and pepper…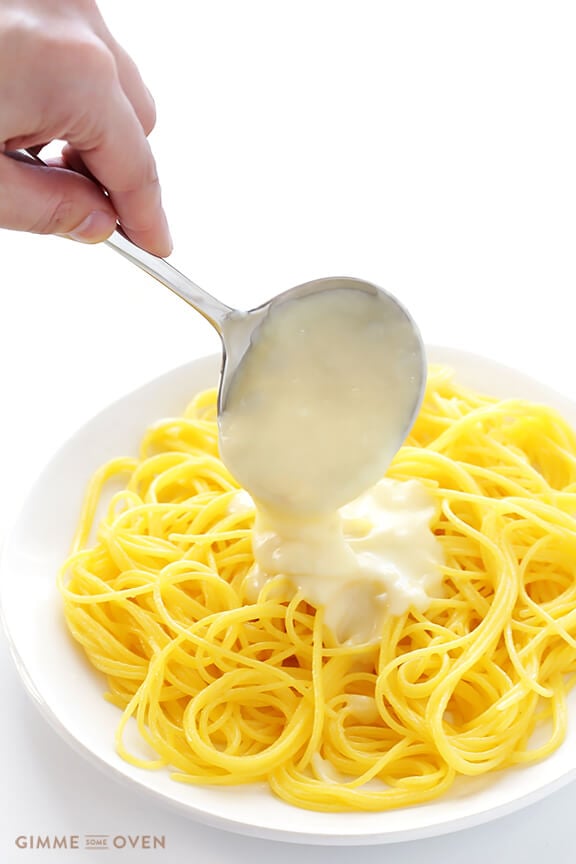 …and voila!  It's literally ready to go in no time!
Well, less than 15 minutes, which is basically no time since you need at least that long to bring your pasta water to a boil and cook the pasta.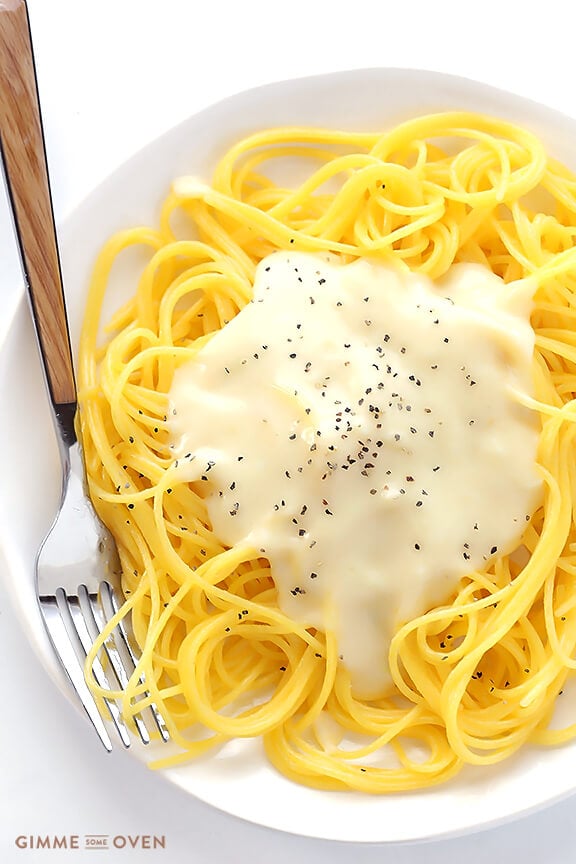 Then just ladle it on top of your pasta…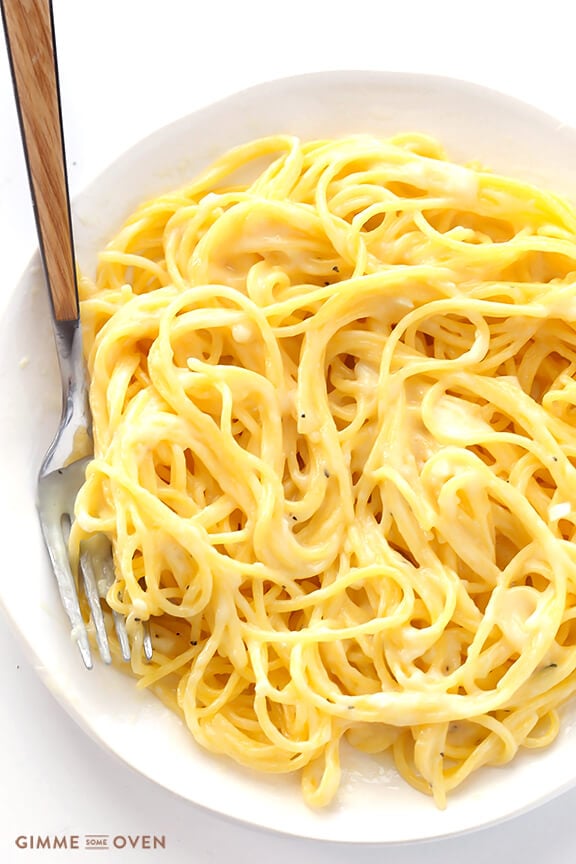 …and mix it in as you eat it…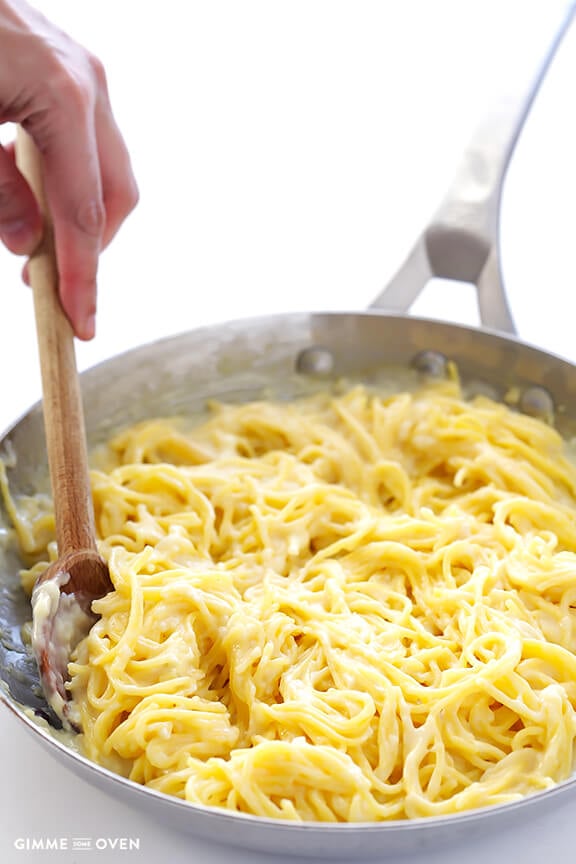 …or just toss your cooked pasta in the pan with the sauce and toss it before serving.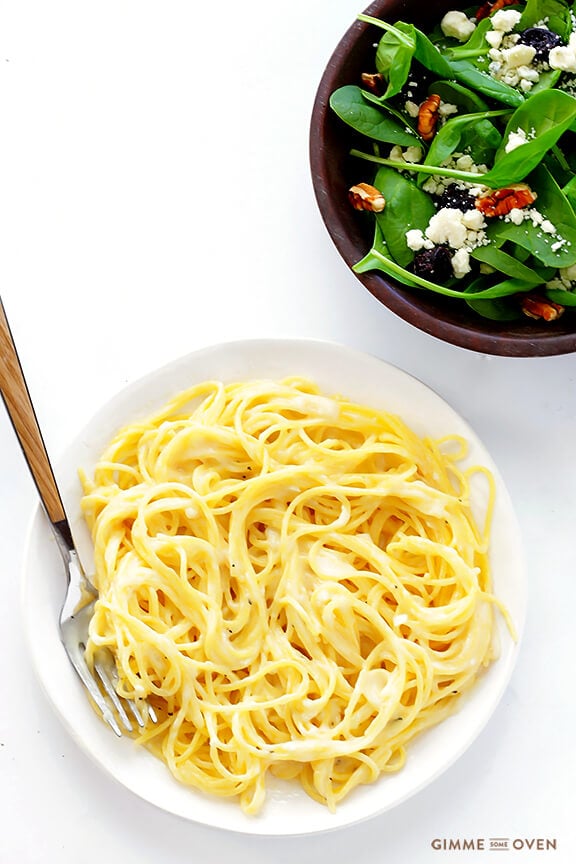 However you dish it up, this gluten-free alfredo sauce is guaranteed to be a winner.  And since it is made healthier without heavy cream and unnecessary extra calories, it's definitely a winner in my book.
Hope you enjoy it!  And to all of you GF friends, thanks for waiting for this one.  I'm happy to finally share it with you!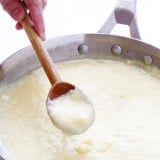 Gluten-Free Alfredo Sauce
This gluten-free alfredo sauce recipe is made with simple and delicious everyday ingredients, and it's actually made "lighter" without heavy cream!
Ingredients:
1 cup chicken or vegetable stock (* see note below)
3 Tbsp. cornstarch
1 Tbsp. olive oil
4 cloves garlic, pressed or minced
1 cup low-fat milk (I used 1%)
3/4 cup freshly-grated Parmesan cheese
1/2 tsp. salt
1/4 tsp. black pepper
(optional topping: chopped fresh parsley)
Directions:
In a small bowl, whisk together stock and cornstarch until the cornstarch is dissolved.  Set aside.
Heat olive oil in a medium saute pan over medium-high heat. Add garlic and saute one minute, stirring occasionally, until fragrant.  Pour in the stock-and-cornstarch slurry, and whisk until smooth.  Whisk in milk, and bring the mixture to a simmer. Let cook for an additional minute or two until thickened.  Then stir in Parmesan cheese, salt and pepper until the cheese is melted.  Season with additional salt and pepper if necessary.
Remove from heat and use immediately.
(*If you're planning to toss this gluten-free alfredo sauce with pasta, I recommend using 12 ounces of gluten-free pasta cooked until al dente.)
*If you are using store-bought stock, please check the label or research in advance, to make sure it is gluten-free. Quite a few of the store-bought brands contain gluten in them.
All images and text ©
If you make this recipe, be sure to snap a photo and hashtag it #gimmesomeoven. I'd love to see what you cook!