Greek Yogurt Chocolate Cake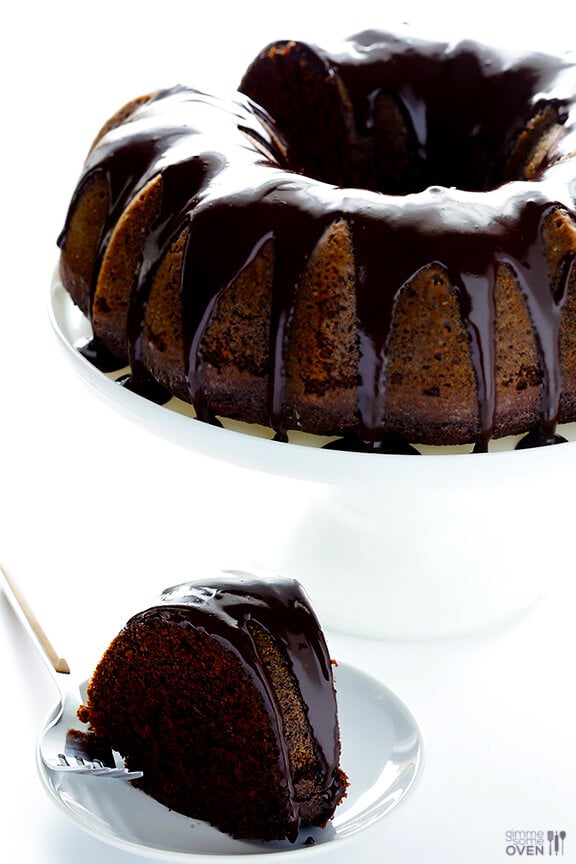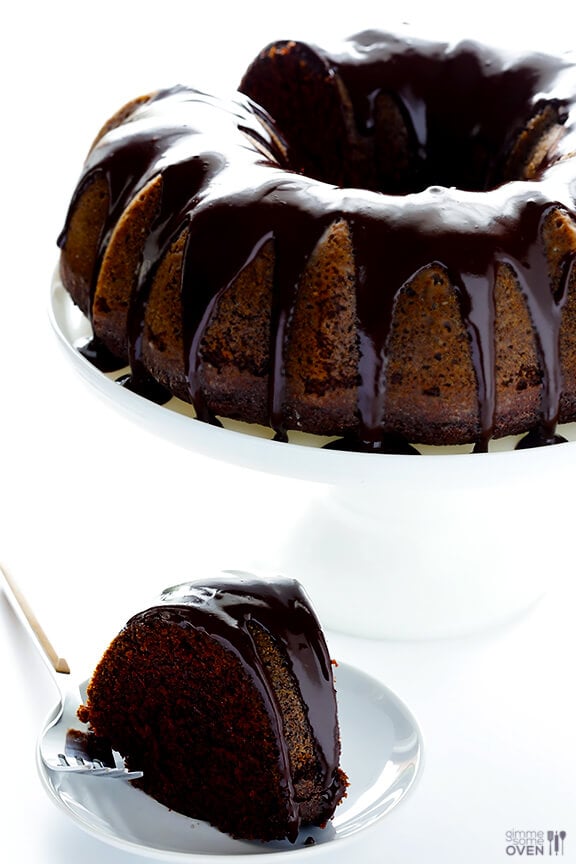 Over the (now 5!) years that I have been food blogging, I have become accustomed to the random foods that grace my kitchen at some of the most random hours.  This was especially true when I had my full-time job on top of blogging.
Grilled steak at 7am on a Tuesday in order to catch the natural light because I would be working late?  Sure, we'll start the day with some protein.  Blueberry muffins at 5pm on a Friday after work before heading off to a happy hour?  Eh, who doesn't love breakfast for dinner?!  Shooting 5 peach recipes in a day because they happened to be absolutely, perfectly ripe that day, and Lord knows when that will happen again?  Carpe peach.
But what I have recently realized is that my friends also no longer blink an eye at the quirkyness that is my kitchen schedule.  For example, this past weekend I had returned to KC from being out of town and was playing catch up on recipes that I had missed cooking that week.  So mid-day, I texted my friend Beth and asked if she'd like to come over for Parmesan baked chicken nuggets, Greek fish tacos (coming soon!), veggie saute, orzo pasta, chocolate cake, and random IPAs that someone left at my house.
Like it was no big deal, she texted back, "Sure!"
Lucky Beth arrived to not only a smorgasbord of food, but a kitchen that had been completely tornado-ed in the process of cooking four recipes — which was also no big deal to her.  And sure enough, we had a lovely evening just talking and catching up while taste-testing this eclectic little menu along the way.

I have to say, though, I think this chocolate cake kind of stole the show.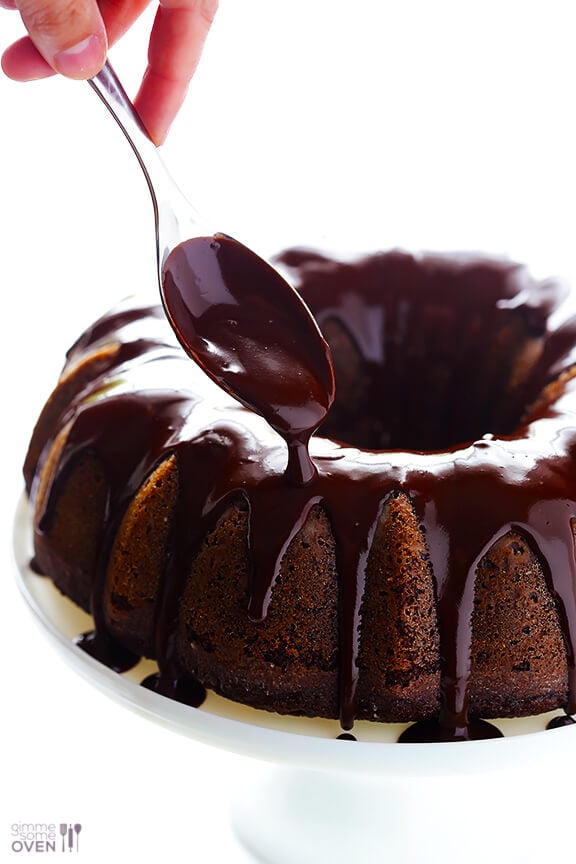 I have admitted that I seem to becoming less and less of a sweets person in my (ahem) old age.  But that day, I had a random craving for a good chocolate cake.  So I looked through some old recipes I had bookmarked and found a sour cream chocolate bundt cake recipe from Shutterbean that sounded good.
I substitute Greek yogurt for almost all things sour cream nowadays (except on top of my nachos).  And since I had all of the ingredients on hand, I decided to let there be cake.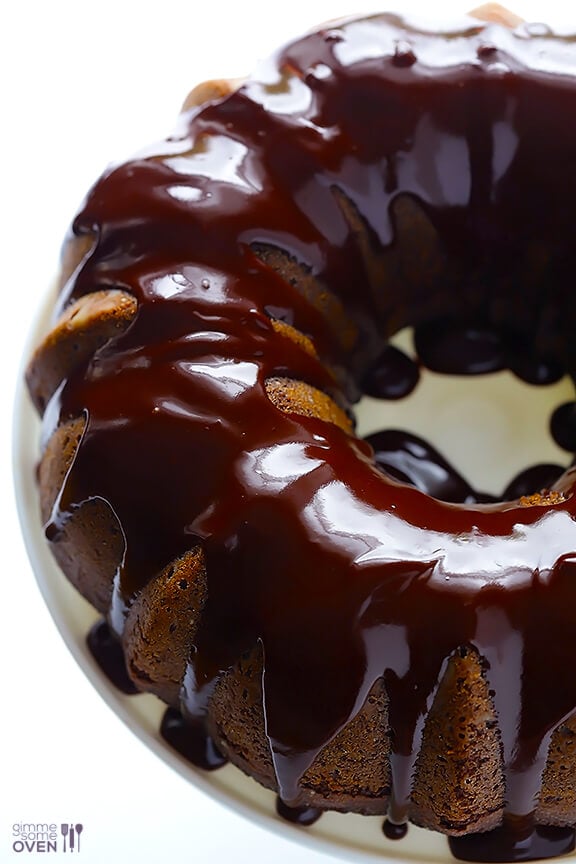 Sure enough, it turned out just as rich and chocolatey and perfectly "m – – – t " (people freak out when I say that word) as I had hoped.  And I also couldn't resist topping it with a rich chocolate glaze.
However.  I realized once the cake was out of the oven that I was out of heavy cream.  So I did a quick Google search and learned that you can totally make ganache with a butter base instead of cream.  Who knew??  Not this food blogger.  But now that I do and know how rich and chocolatey it tastes, I will definitely be using it again.  So good!
If you prefer a cream-based ganache, though, we can still be friends.  :)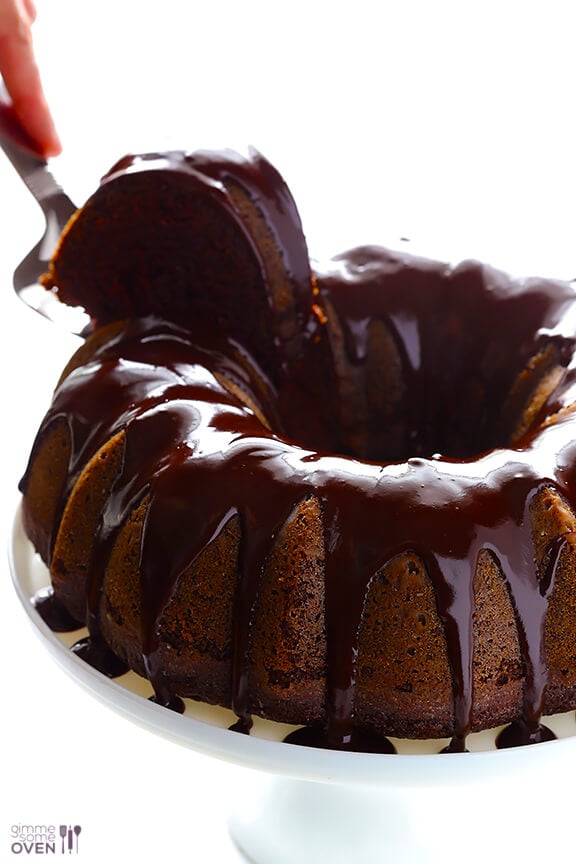 Suffice it to say, the cake hit the spot.  Definitely the perfect end to a random food blogging day in the kitchen, and an even better time enjoying everything that was cooked in the company of a good friend.  That's just how I like it.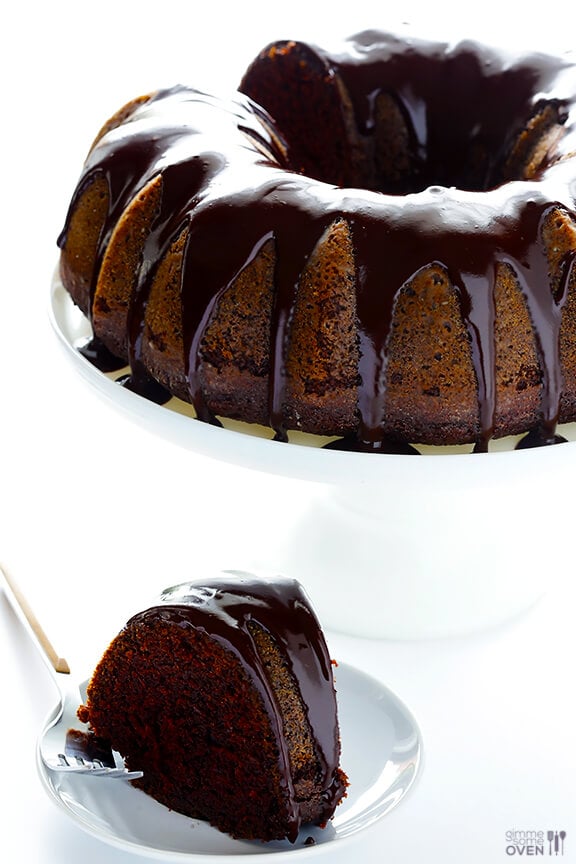 Greek Yogurt Chocolate Cake
This Greek Yogurt Chocolate Cake is moist, flavorful, and made with protein-rich Greek yogurt.
Ingredients:
Chocolate Cake Ingredients:
1 cup (2 sticks) unsalted butter, plus more for the pan
1/3 cup cocoa powder
1 teaspoon instant espresso powder
1 teaspoon kosher salt
1 cup water
2 cups all-purpose flour, plus more for the pan
1 3/4 cups sugar
1 1/2 teaspoons baking soda
2 large eggs
1/2 cup plain Greek yogurt (I used 2% fat)
2 teaspoons pure vanilla extract
Chocolate Glaze Ingredients:
2 tablespoons butter
1/4 cup milk
6 ounces bittersweet or dark chocolate, finely chopped
Directions:
To Make The Chocolate Cake:
Preheat oven to 350 degrees F. Butter and flour a 10- or 12-cup Bundt pan and set aside.
In a small saucepan, combine the butter, cocoa powder, espresso powder, salt, and water and put over medium heat. Cook until just melted and combined, stirring occasionally. Remove from the heat and set aside.
Combine the flour, sugar, and baking soda in a large bowl and whisk to blend. Add half of the melted-butter mixture and whisk until completely blended (it will be very thick). Add the remaining butter mixture and whisk to combine. Add the eggs one at a time, whisking each to blend completely before adding the next. Whisk in the Greek yogurt and vanilla until smooth.
Pour the mixture into the prepared pan and bake until a toothpick inserted into the center of the cake comes out clean, 40 to 45 minutes.
Let the cake cool in the pan for 15 minutes and then invert onto a rack. Once the cake has cooled to room temperature, drizzle with chocolate glaze.
To Make The Chocolate Glaze:
Combine all ingredients in a saucepan. Heat over medium heat, stirring constantly, until the chocolate is melted. Remove from heat and let cool and thicken for 5-10 minutes (or until the glaze reaches your desired consistency). Then drizzle over the chocolate cake.
If you make this recipe, be sure to snap a photo and hashtag it #gimmesomeoven. I'd love to see what you cook!