Grilled Caprese Sandwiches
This post may contain affiliate links. Please read my disclosure policy.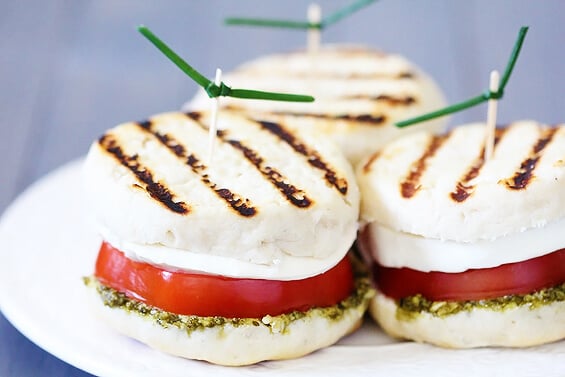 Oh my heavens. I woke up with just about every muscle in my body screaming at me today, because I moved into my new loft yesterday!!!  :)
So happy! Yet SO pooped. And dreading my overflowing inbox that I've been avoiding for two days. However, I'm inching back to blogland and will be back to answering comments and such soon!
In the meantime, I'm excited to share these cute little grilled caprese sandwiches with you! In fact, I may make some today. Why? Because they require only a grill or grill pan to make. (I think I can dig at least one pan out of my moving boxes!)  Because they feature some of my favorite fresh ingredients. (Did I mention that I'm now living next door to KC's largest farmer's market?!)  And because they are my three favorite things — quick, easy and delicious. That's right. I was in a food writing workshop last week where we were cautioned about overusing the word delicious. But I will break the rules to tell you that these are in fact crazy DELICIOUS. Check out the easy recipe here.
Have a great weekend, and look forward to getting back in the game next week!