(Healthy) Fish Tacos & Mandarin Orange Salsa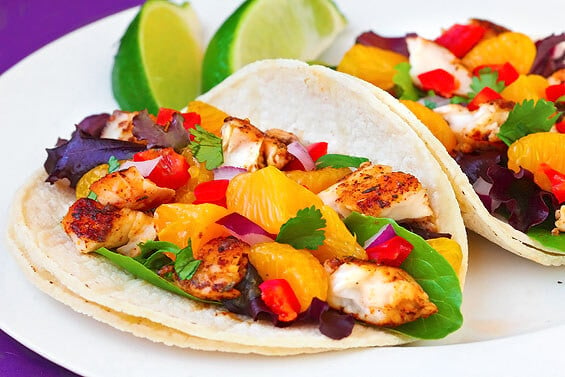 This week I have been craving fish tacos.  Actually, I have been craving the return of summer, and warmth, and salads, and all of that fabulous fresh summer produce.  But while it's January and still freezing in the Midwest, I had to settle for fish tacos.  :)
Ever since I have been cooking, tacos have always been a favorite go-to meal of mine.  They are simple, versatile, and have the potential to be wonderfully healthy and flavorful.  One of my favorite methods is to make them with some simple grilled fish or shrimp, and then top them with whatever salsa sounds good.  Easy.  Quick.  Done!
This week, I happened to have a can of mandarin oranges in the pantry (although fresh are also in season!).  So used those to make a yummy salsa (using some red peppers and jalapenos I still have frozen from this past summer!), added in some fresh greens and blackened tilapia, and voila!  Wonderfully delicious and very fresh-tasting tacos were ready in minutes!
Perfect for winter blues in the middle of January, or yummy taco cravings year-round.  :-)
(Healthy) Fish Tacos With Mandarin Orange Salsa
You are sure to love this flavorful and fruitful, easy, healthy and delicious fish tacos with Mandarin-Orange Salsa recipe!
Ingredients:
Mandarin Orange Salsa Ingredients:
1 (11 oz.) can mandarin oranges, drained and halved (or you can substitute fresh mandarin oranges)
2 Tbsp. chopped red bell peppers
2 Tbsp. chopped fresh cilantro
1 Tbsp. chopped red onion
1/2 Tbsp. finely diced, seeded jalapeño
dash of salt
Taco Ingredients:
2 (6 oz) tilapia filets
2 tsp. blackening powder (or favorite rub)
4 small flour tortillas
1 handful mixed salad greens
1 lime, quartered
Directions:
To prepare the salsa, gently toss the 5 salsa ingredients together in a large bowl. Set aside.

Place fish on a broiler pan coated with cooking spray; sprinkle fish evenly on both sides with seasoning. Broil 6 minutes or until desired degree of doneness. (You could also grill the fish, or cook it in a skillet.)

Heat a medium nonstick skillet over medium-high heat. Lightly coat tortillas with cooking spray. Add the tortillas to pan, 1 at a time; cook 1 minute on each side or until lightly toasted. Top each taco with 1/4 cup greens, 1/4 cup salsa, and 1 piece of tilapia. (Feel free to break the tilapia into smaller piece like I did.) Sprinkle with a little lime juice, and serve immediately with lime wedges.

All images and text ©

If you make this recipe, be sure to snap a photo and hashtag it #gimmesomeoven. I'd love to see what you cook!
Ali's Tip:
Here are some other possible seasoning mixes for the fish:
1 tsp. smoked paprika, 1/2 tsp. garlic powder, pinch of salt
1 Tbsp. lime juice (sprinkle on fish first), 2 tsp. chili powder, 1/2 tsp. cumin, pinch of salt