2019 Holiday Gift Guides!
This post may contain affiliate links. Please read my disclosure policy.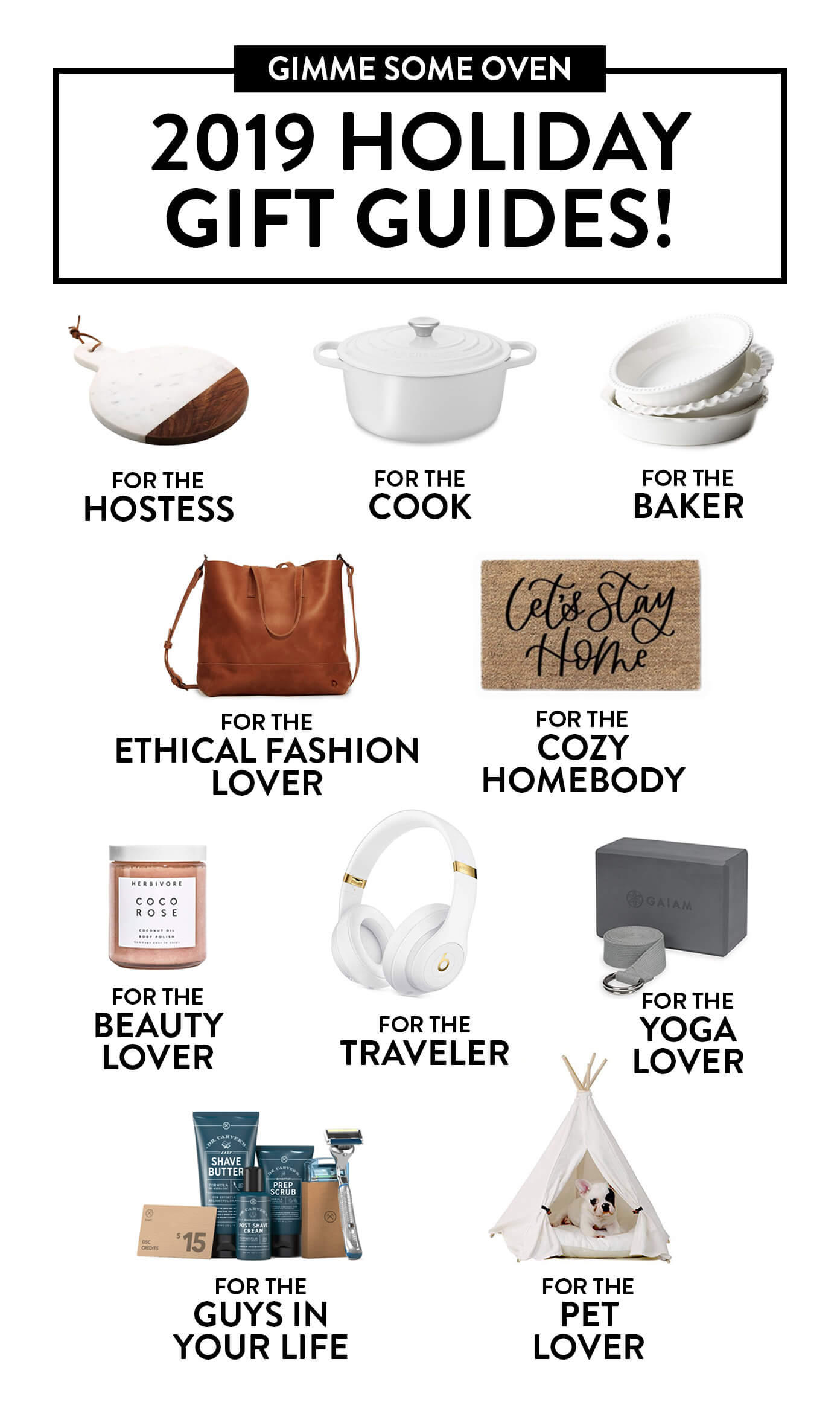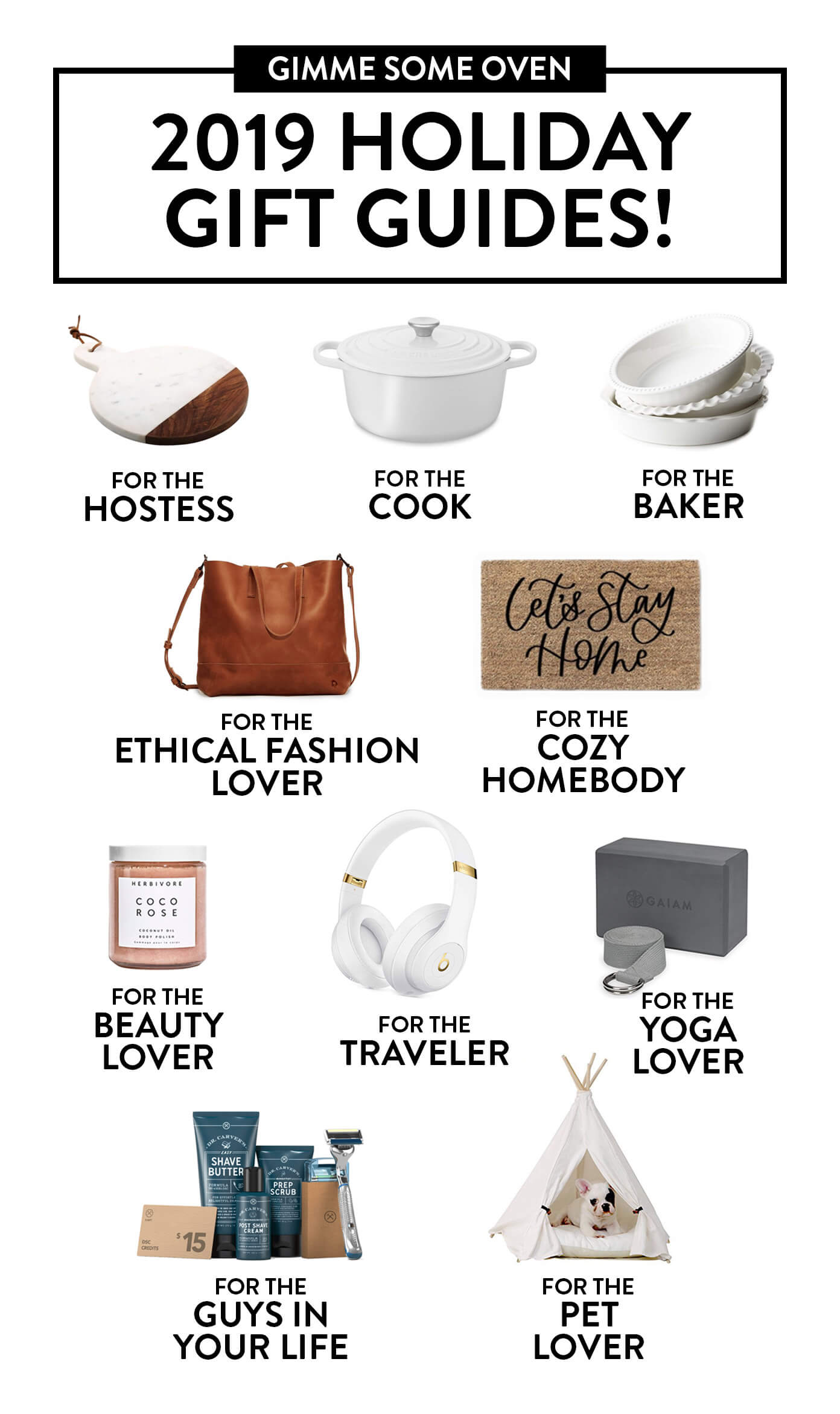 Happy holidays, friends! ♡
I'm back today with this year's collection of (ten!) new holiday gift guides to hopefully help provide a little inspiration for everyone on your list, and also, make holiday gift-buying a much more cozy experience from the comfort of your warm home.  Because who wants to venture out into those crowded stores when you could just add-to-cart?  You know, all snuggled up at home with a ultra-soft sweatshirt and chunky knit blanket and a firewood candle burning, maybe with a warm bowl of cozy autumn wild rice soup or a gooey chocolate chip cookies nearby?
Yep, as someone who doesn't really love to spend time shopping, I say bring on all of the hygge to make holiday gift-buying all the more convenient and cozy this year.  And all the better with these fun gift guides!  As you can see by the categories above, there's hopefully a little something on here for everyone on your list.  (Plus maybe a little prezzie or two that will sneak into the cart for you too!)
So feel free to click the links below to skip to the gift guide of your choice, and I hope that you find some fun treasures to give.  Enjoy!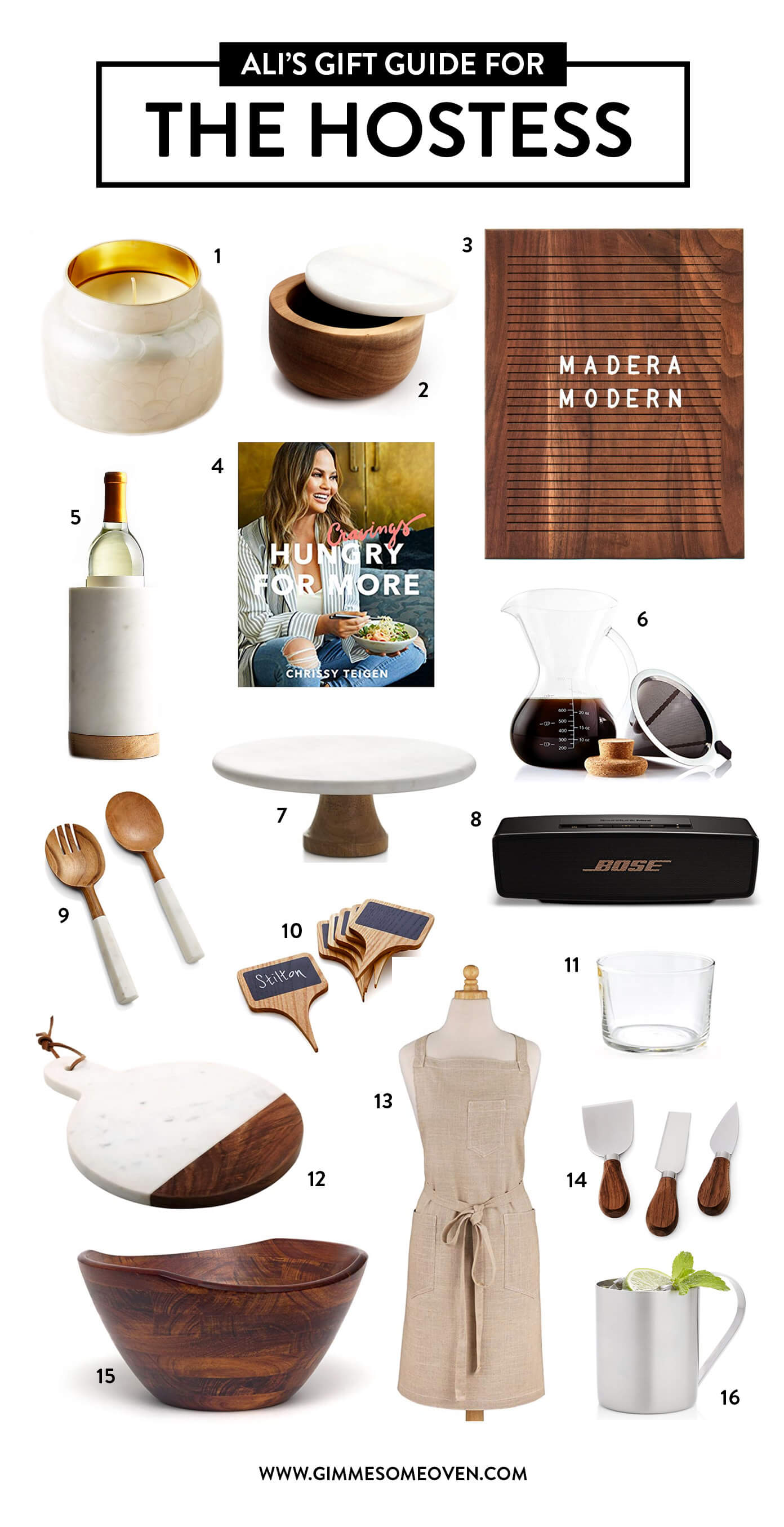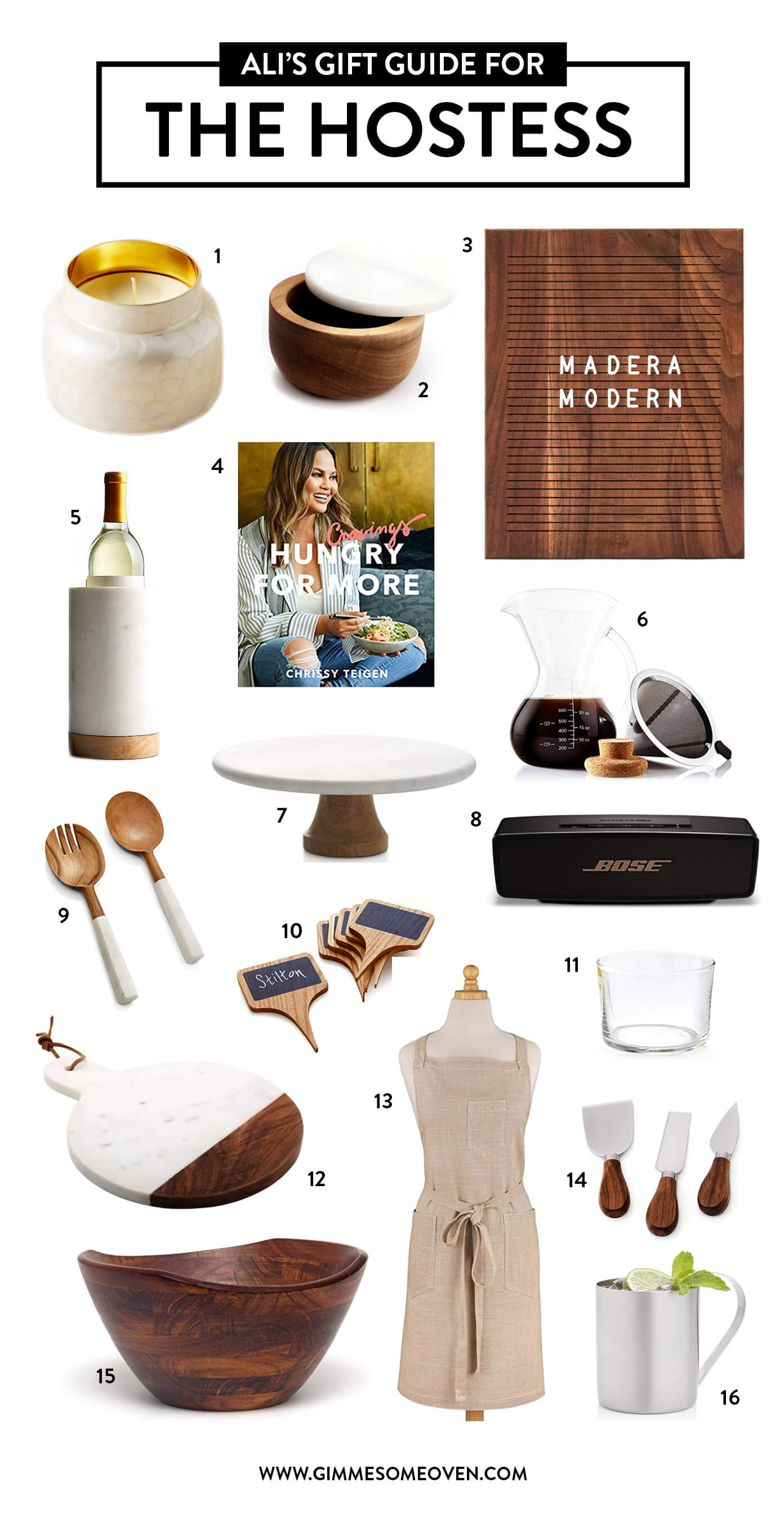 The Hostess
1. Capri Blue Volcano Capiz Jar Candle 2. Salt Cellar 3. Walnut Letterboard 4. Cravings: Hungry For More  5. Wood Marble Wine Cooler 6. Pour-Over Coffee Set 7. Wood Marble Pedestal 8. Bose Mini Bluetooth Speaker 9. Wood and Marble Salad Servers 10. Chalkboard Cheese Markers 11. Modern Stackable Wine Glass 12. Round Marble Cheese Board 13. Linen Apron 14. Cheese Knives 15. Large Wooden Serving Bowl 16. Moscow Mule Mug (multiple colors available)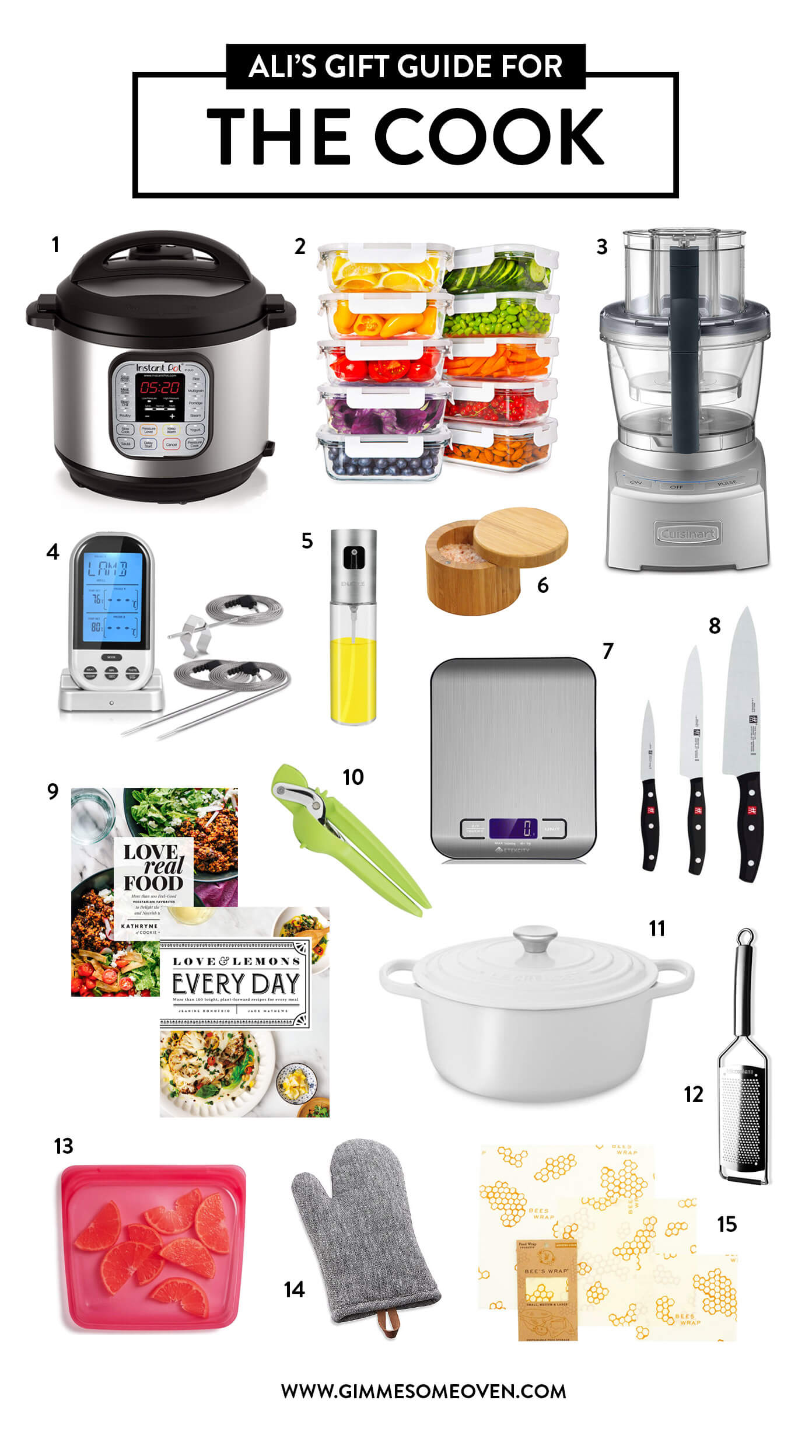 The Cook
1. Instant Pot 6-Quart Pressure Cooker (multiple sizes available) 2. Meal Prep Containers 3. Cuisinart 12-Cup Food Processor (multiple sizes) 4. Wireless Meat Thermometer 5. Olive Oil Sprayer 6. Bamboo Salt Box 7. Digital Kitchen Scale 8. Zwilling Starter Knife Set (Set of 3) 9. "Love Real Food"  "Love & Lemons Everyday"  10. My Favorite Lime Juicer (multiple sizes) 11. Le Creuset 5.5-Quart Round Dutch Oven 12. Microplane Grater/Zester 13. Stasher Bag 14. Chambray Oven Mitt 15. Bee's Wrap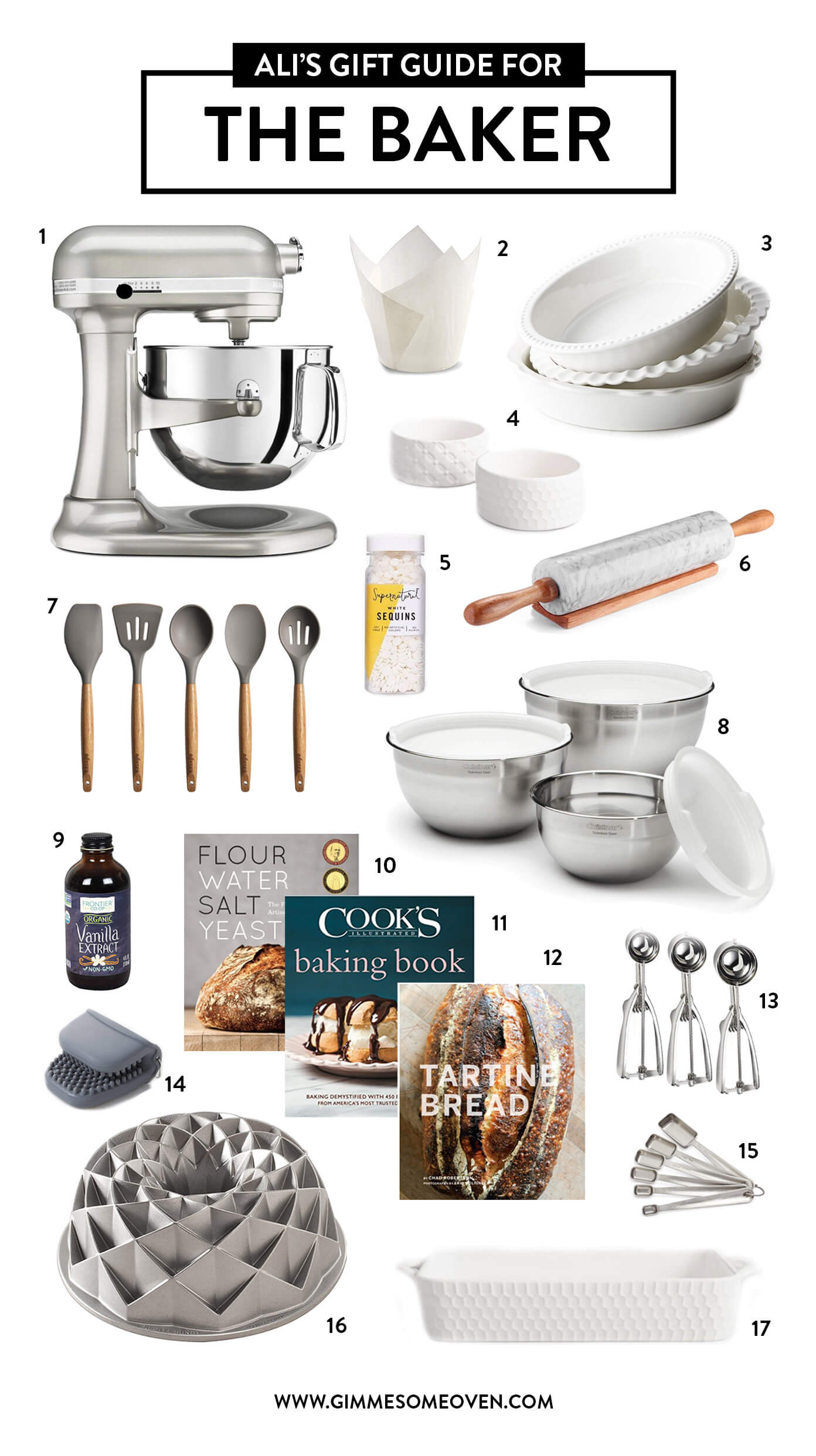 The Baker
1. KitchenAid 6-Quart Stand Mixer (multiple colors/sizes available) 2. Tulip Cupcake Liners (multiple colors) 3. Stoneware Pie Dishes 4. Textured Stoneware Ramekins (Set of 2) 5. Natural Sprinkles 6. Marble Rolling Pins 7. Silicone Cooking Utensil Set 8. Stainless Steel Mixing Bowls (Set of 3) 9. Organic Vanilla Extract 10. "Flour Water Salt Yeast" 11. "Cooks Illustrated Baking Book" 12. "Tartine Bread" 13. Stainless Steel Ice Cream Scoops (Set of 3) 14. Silicone Pinch Mitt 15. Measuring Spoons 16. Jubilee Bundt Pan 17. Textured Stoneware Baker  (multiple colors)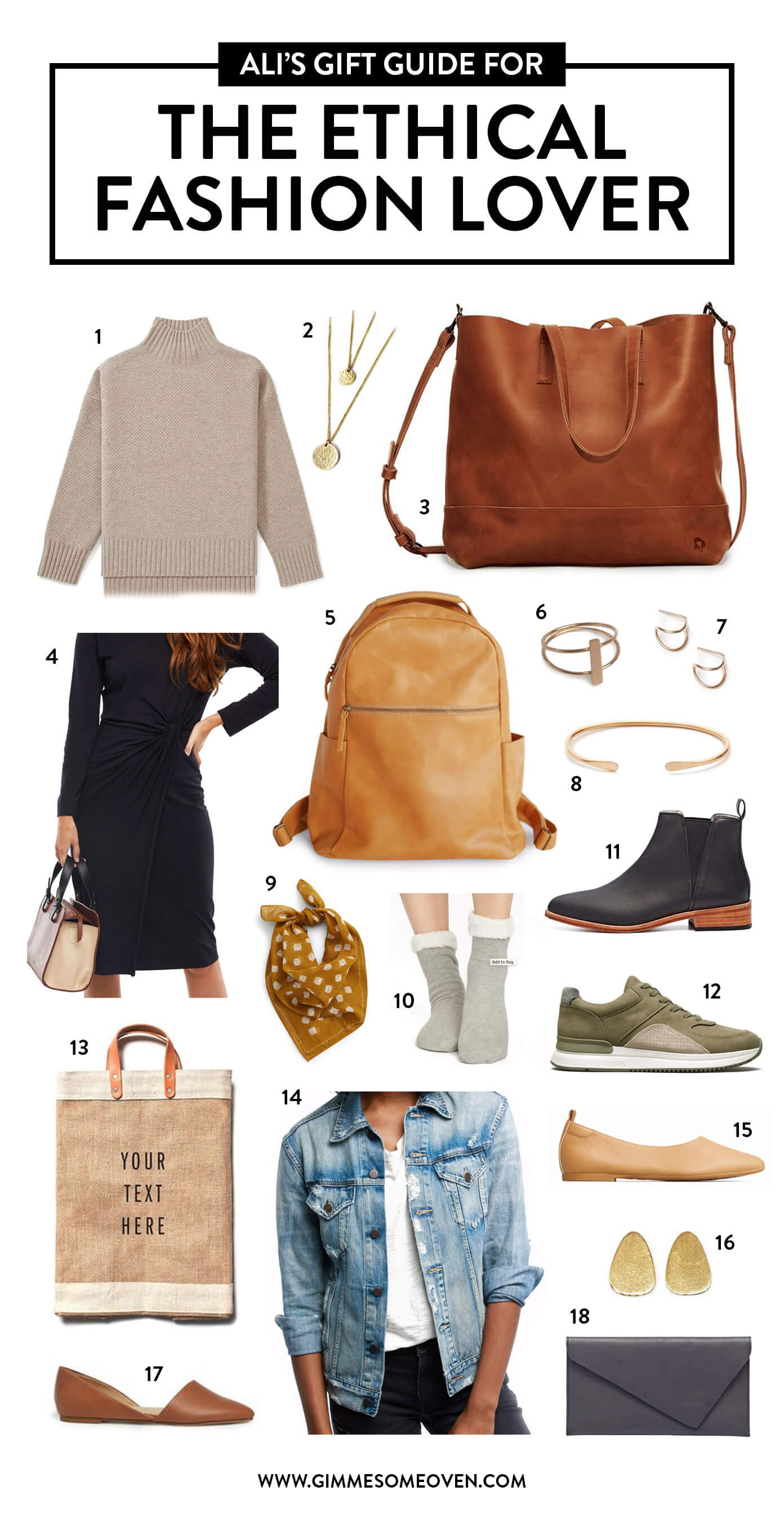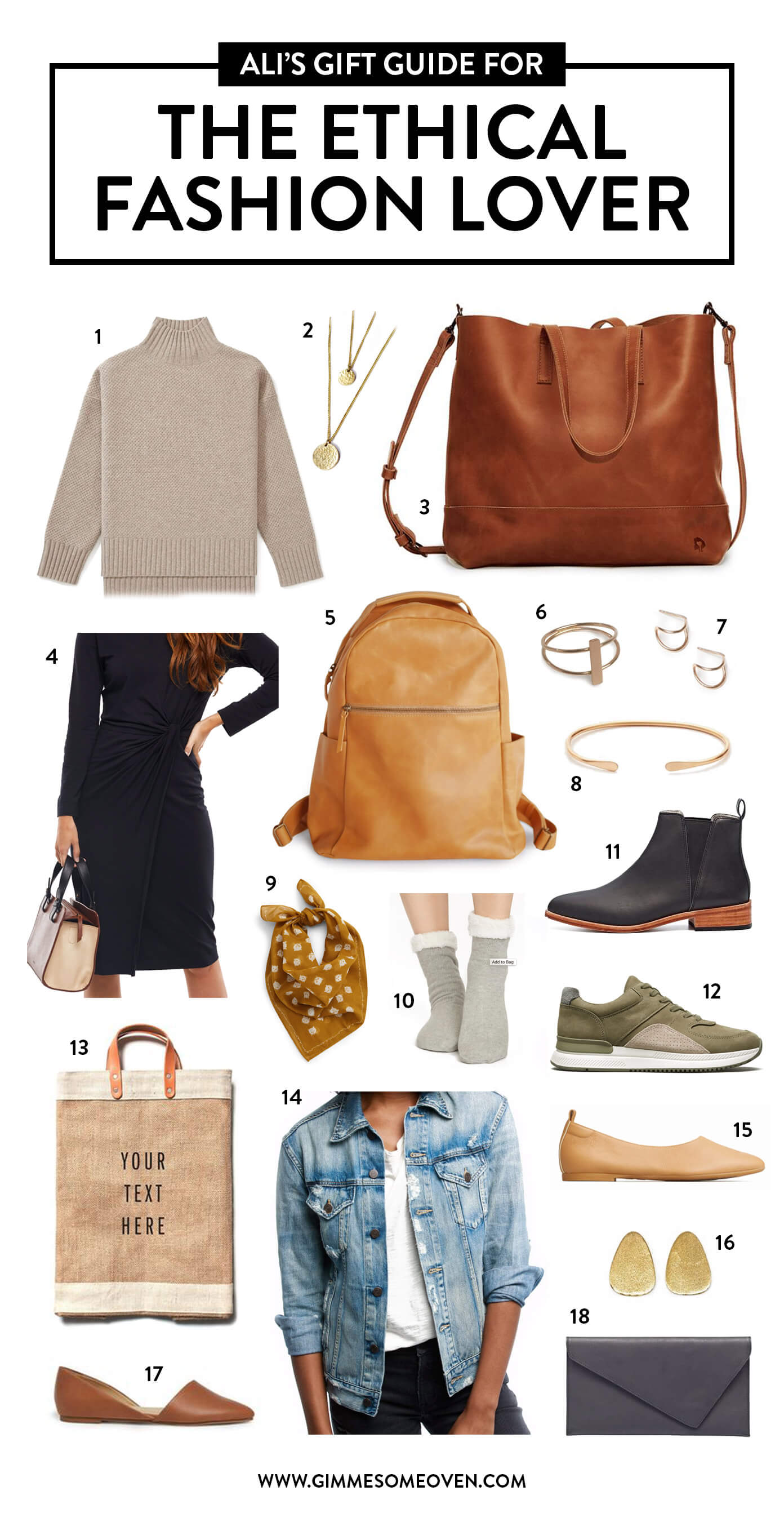 The Ethical Fashion Lover
1. ReCashmere Turtleneck (multiple colors) 2. Hammered Double Moon Necklace 3. Abera Crossbody Tote (multiple colors) 4. Knot Front Dress (multiple colors) 5. Alem Backpack (multiple colors) 6. Bridge Ring 7. Ear Hugs 8. Wire Cuff Bracelet 9. Bandana (multiple patterns) 10. Organic Fuzzy Socks (multiple colors) 11. Black Chelsea Boot (multiple colors) 12. Tread Trainers (multiple colors) 13. Customize-Your-City Series Market Bag (customizable) 14. The Merly Jacket 15. Day Glove Flats (multiple colors) 16. Drop Earrings 17. Sarai Pointed Flat (multiple colors) 18. Luisa Clutch (multiple colors)
The Cozy Homebody
1. Herbivore 2. Hot Cinnamon Spice Tea 3. "Let's Stay Home" Doormat 4. "Home Body" 5. Cable Knit Scarf 6. Mud Mask 7. Capri Blue Cadiz Candle 8. Glazed Mug 9. Gray Cardigan (multiple colors) 10. Chemex Pour-Over 11. Apple TV 12. Fuzzy Slippers 13. Youth To The People Kit 14. Tunic Sweater 15. Cozy Throw (multiple colors) 16. Super-Cozy Bathrobe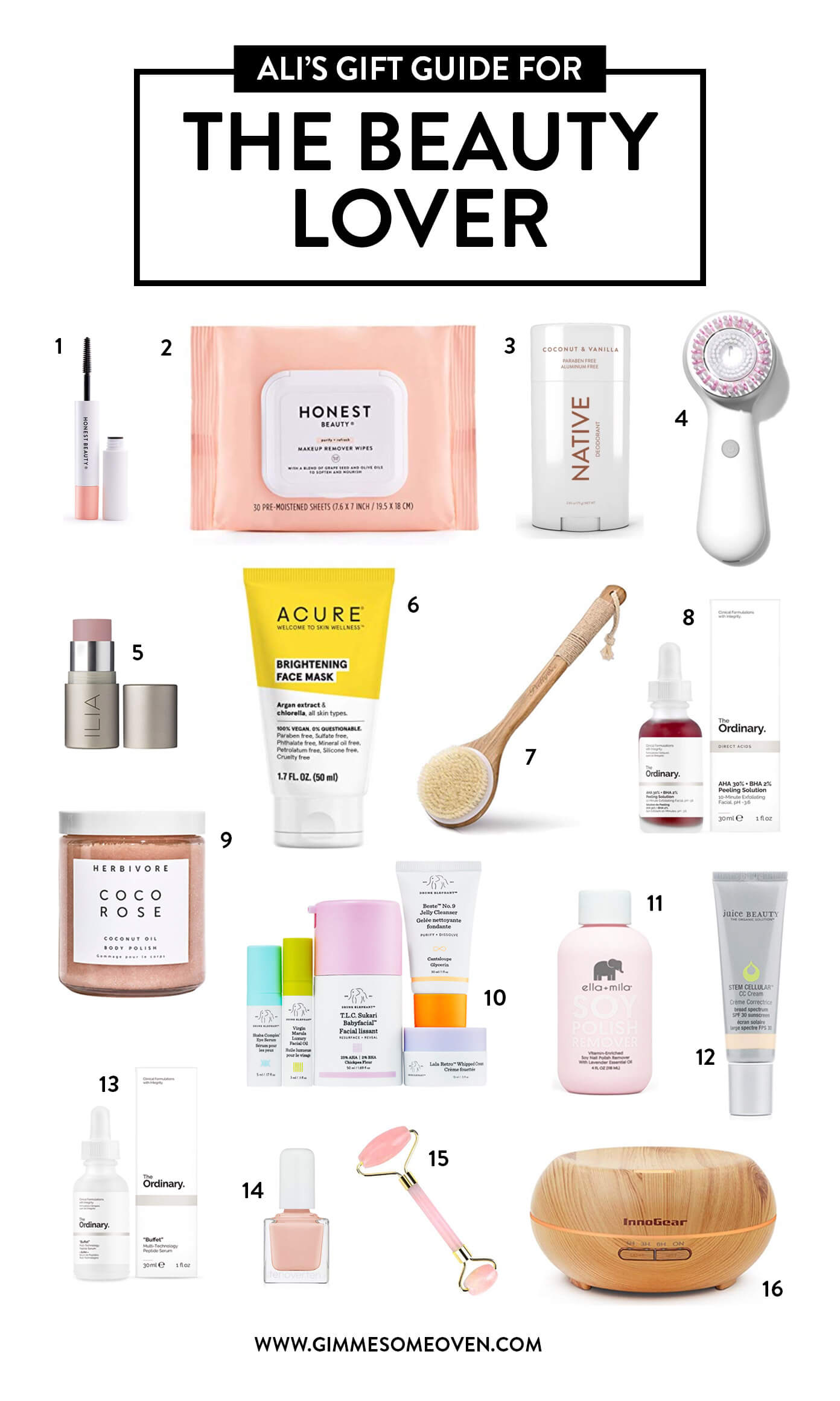 The Beauty Lover
1. Honest Beauty Mascara + Lash Primer 2. Honest Beauty Makeup Remover Wipes 3. Native Deodorant (multiple scents) 4. Clarisonic Cleansing Brush (multiple colors) 5. ILIA Multi-Stick (multiple colors) 6. Acure Brightening Face Mask 7. Dry Brush 8. The Ordinary Peeling Solution 9. Coco Rose Body Polish 10. Drunk Elephant Kit 11. Soy Nail Polish Remover 12. Juice Beauty CC Cream 13. The Ordinary "Buffet" Serum 14. Natural Nail Polish (multiple colors) 15. Rose Quartz Roller (or jade) 16. Essential Oil Diffuser
The Traveler
1. Custom Watercolor Map (select your color/destinations) 2. The New York Times "36 Hours" Series (multiple editions with different destinations) 3. Spinner Carry-On (multiple colors) 4. Allbirds Tree Breezers (multiple colors) 5. Bluetooth Headphones (multiple colors) 6. Insulated Water Bottle (multiple colors) 7. Lacie Vegan Leather Weekender Bag 8. Anker Phone Charger 9. Moment Wide-Angle Phone Lens (plus corresponding phone case) 10. All-New Kindle 11. My Favorite Travel Lotion 12. Sony Mirrorless Camera 13. TSA-Approved Toiletry Bag (3-Pack) 14. Luggage Tags 15. Instax Mini Camera (multiple colors)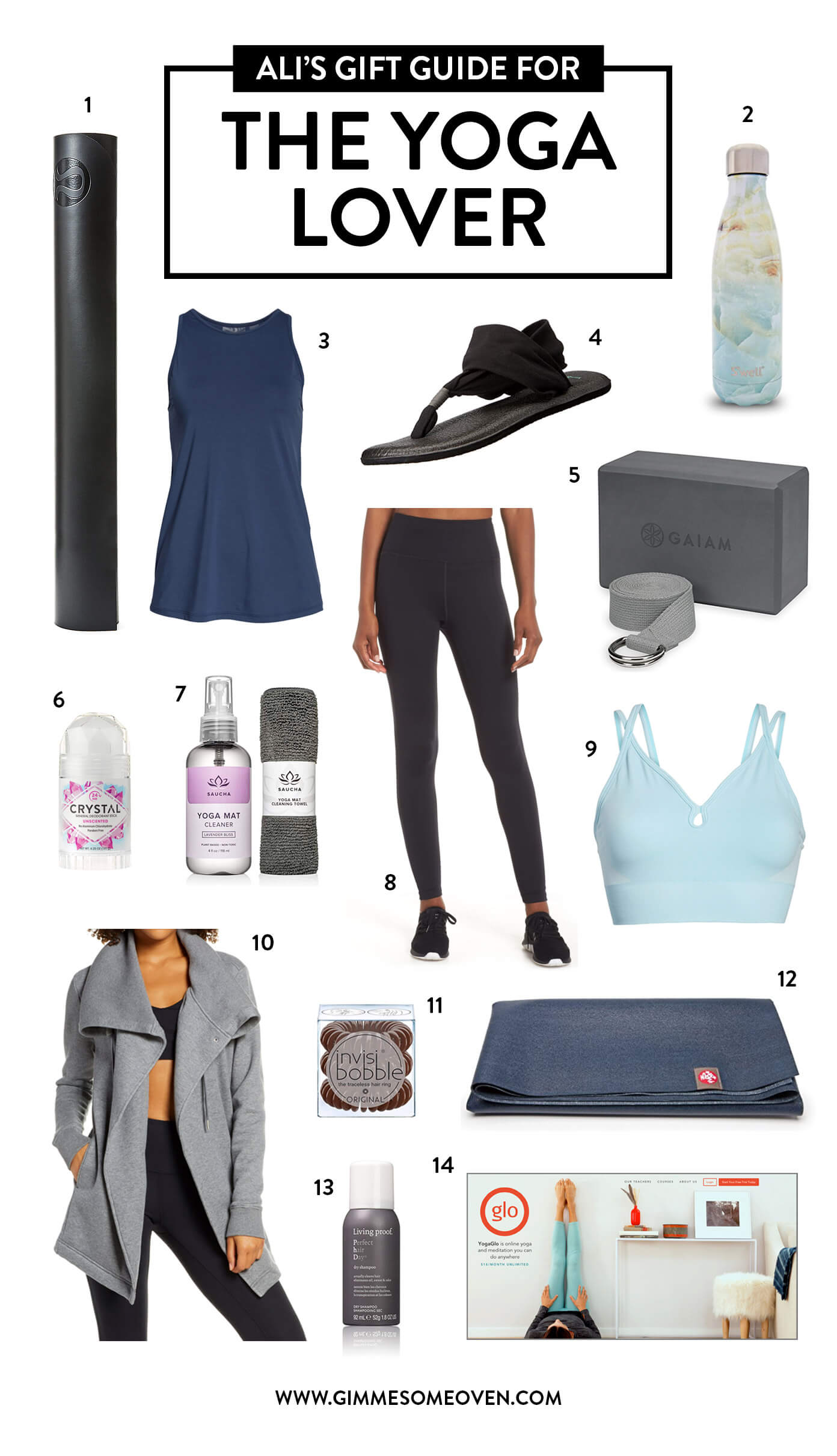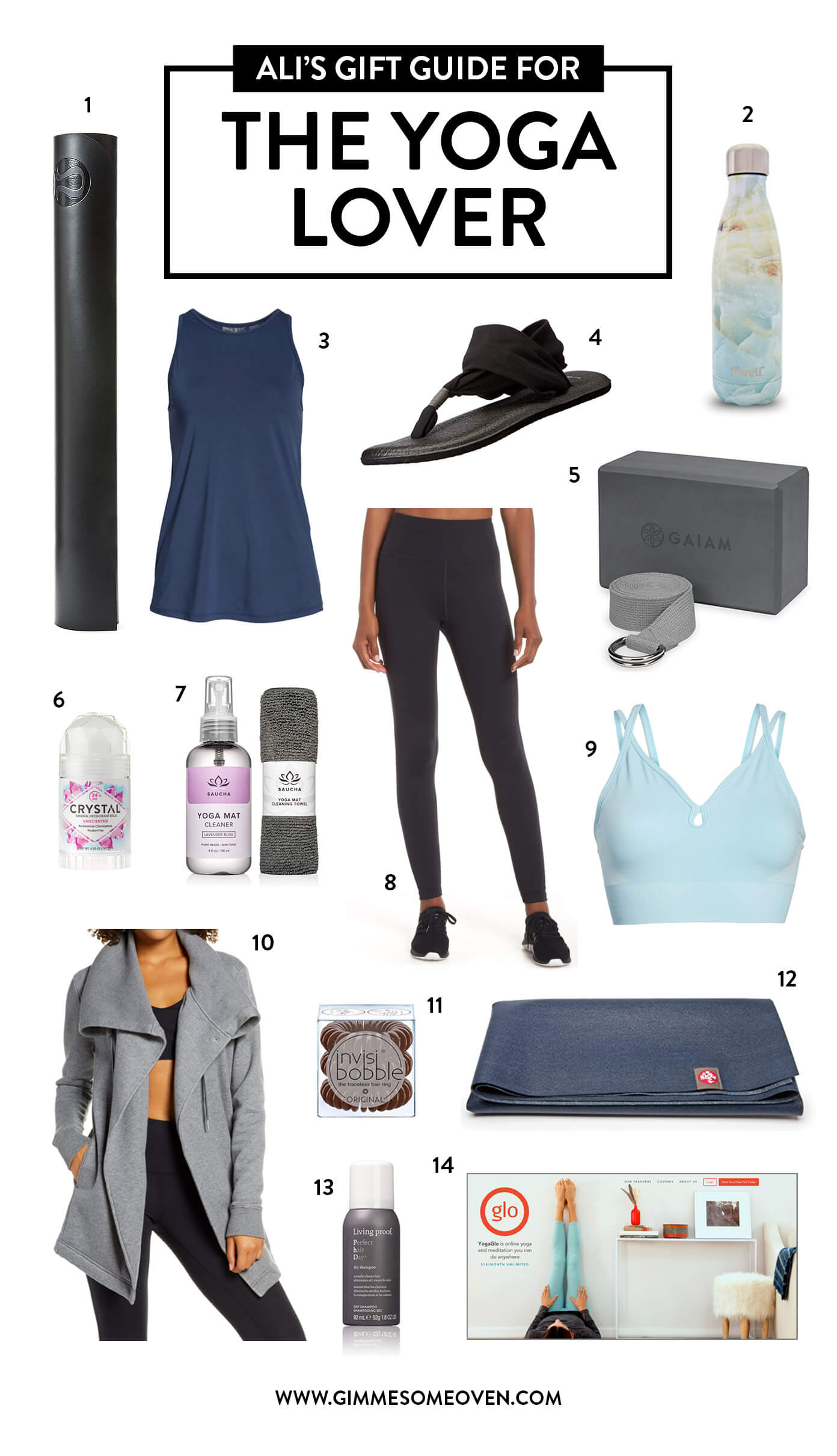 The Yoga Lover Gift Guide
1.My Favorite Non-Slip Mat (multiple colors) 2. Insulated Water Bottle (multiple colors) 3. Racerback Tank (multiple colors) 4. Sanuk Yoga Slings (multiple colors) 5. Yoga Block/Strap Combo (multiple colors) 6. Crystal Mineral Deodorant 7. Natural Yoga Mat Cleaner 8. Girlfriend Leggings (multiple colors/lengths/fabrics) 9. Sports Bra (multiple colors) 10. Wrap Sweatshirt 11. Invisibobble (multiple colors) 12. SuperLite Travel Yoga Mat (foldable, multiple colors) 13. Dry Shampoo 14. Glo.com Subscription  
The Guys In Your Life
1. Every Man Jack Cedarwood Holiday Bundle 2. AllBirds Wool Runners (multiple colors) 3. Commuter Backpack 4. Owen Belt (multiple colors) 5. Chambray Slim Fit Shirt (multiple colors) 6. Beer Glass (multiple sizes) 7. Smartwool Heathered Socks (multiple colors) 8. Swell Teakwood Water Bottle (multiple colors) 9. Goodr Sunglasses (tons of color combos) 10. Apple Watch (multiple colors) 11. Novel Duffel Bag (multiple colors) 12. Leatherman Key Sized Multitool 13. Durango Dopp Kit 14. Emilio Chukka Boot (multiple colors) 15. Everlane V-Neck Sweater(multiple colors) 16. Diego Low Top Sneaker 17. Bose Soundsport Headphones 18. Bourbon Bitters Bundle 19. Dollar Shave Club Gift Set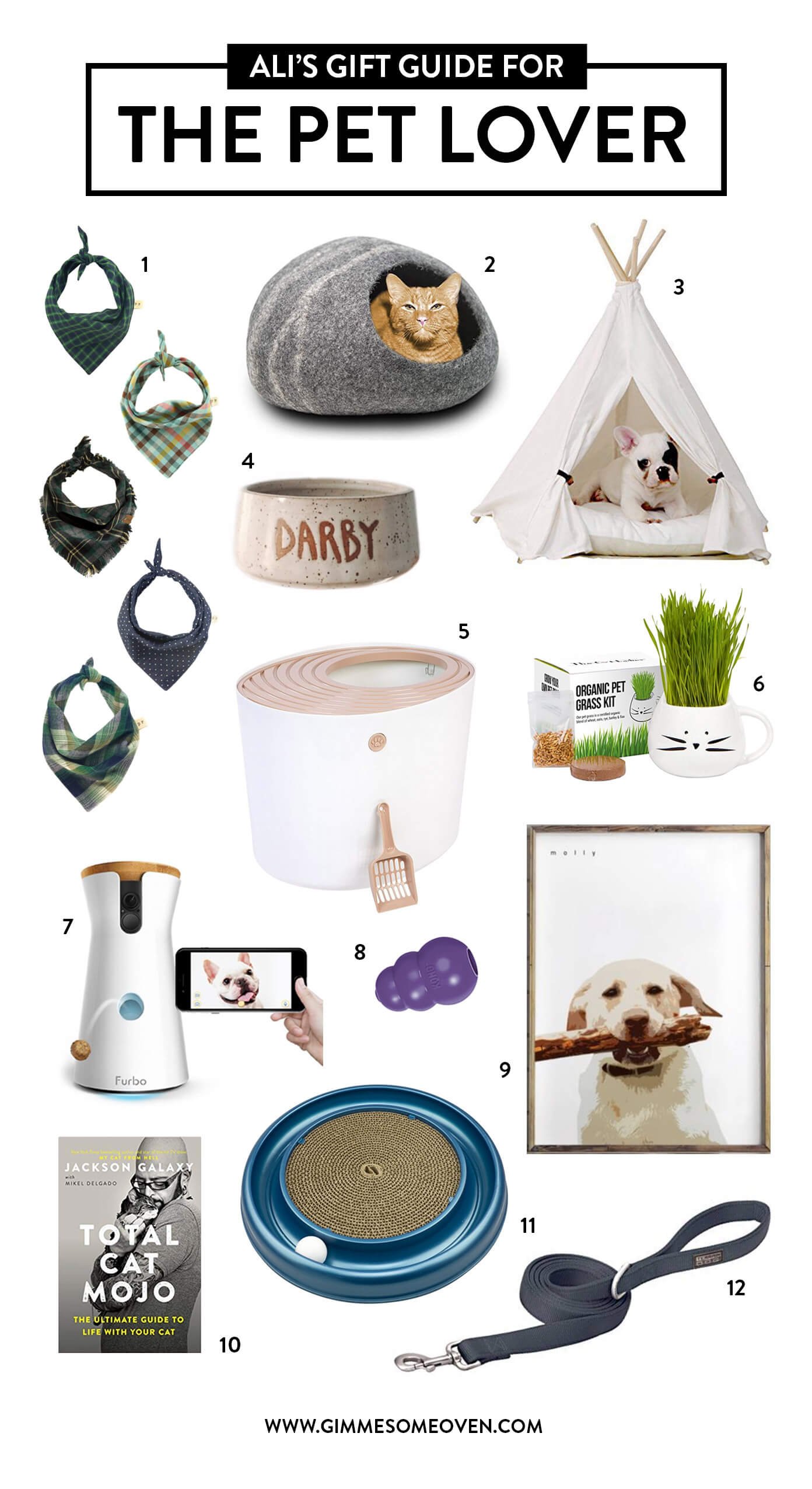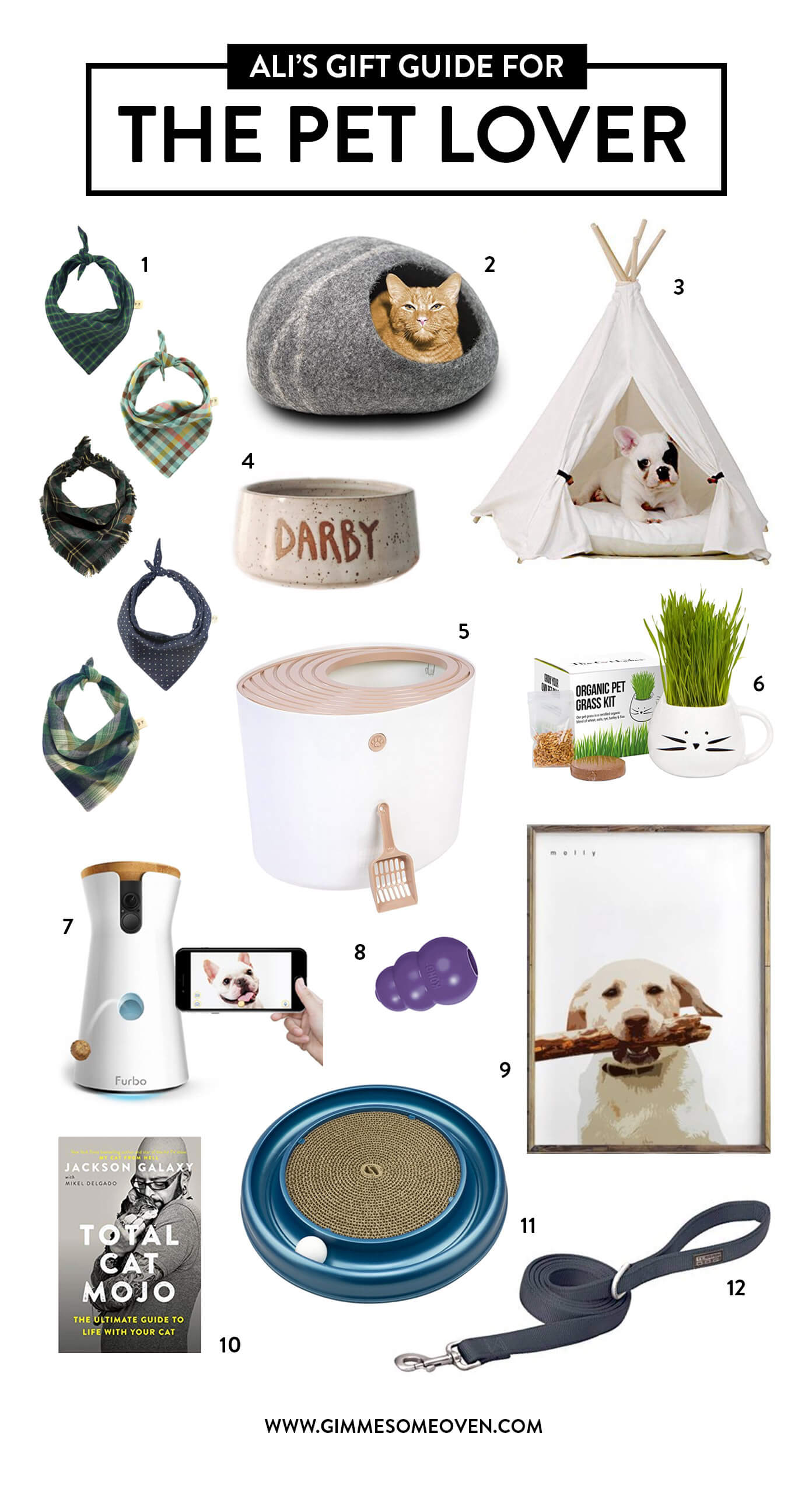 The Pet Lover
1. Dog Bandanas (multiple patterns) 2. Eco-Friendly Cat Cave 3. Pet Teepee 4. Customized Dog Bowl (customizable) 5. Top Entry Cat Litter Box 6. Organic Cat Grass Growing Kit  7. Furbo 2-Way Wifi Dog Camera & Treat Tosser 8. KONG (multiple colors/sizes) 9. Personalized Pet Portrait (customizable) 10. "Total Cat Mojo" 11. Scratcher Cat Toy 12. Dog Leash
This post contains many affiliate links, which help to support this site.