Homemade BBQ Sauce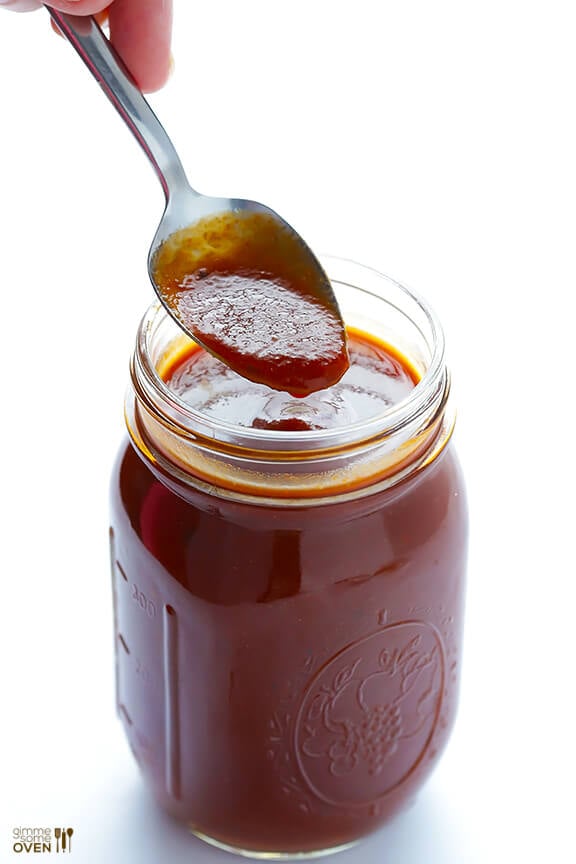 I realized the other day that I have now lived in Kansas City for nearly a decade.
A decade.
That's like a third of my life!  Oh wait, that is a third of my life.  Or to be accurate, 10/31sts of my life.  Close enough.
Whatever the fraction, basically all of my post-college life has been spent making my home here in KC.  And I love it more here with every passing year.
I love it mostly for the ridiculously amazing people who live here and have become friends and neighbors and coworkers over the years.  I love it for the amazing local restaurants, and bars, and coffee shops, and food trucks, and farmers markets that have become my favorites.  I love that it's the "City of Fountains".  I love it for the quirky neighborhoods that each have their own personalities.  I love it because people smile and wave at one another freely here.  I love it because it's home to the coolest church, and book club, and neighbor nights that I have ever known.  I love it because feels like home.
But of course, you can't live here for a decade without learning to love one more important thing: Kansas City Barbecue.
So today, I figured it was about darn time I share with you this Kansas City food blogger's take on homemade BBQ sauce.  It may just rock your socks off.
Homemade BBQ Sauce Recipe | 1-Minute Video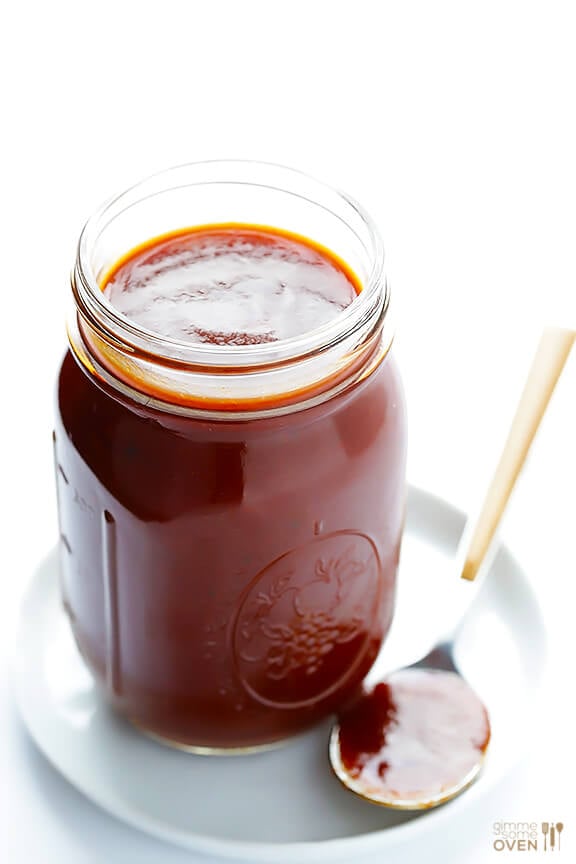 To be sure, everyone around the country does BBQ differently.  But here in Kansas City, we like our BBQ sauce sweet.  We like it thick.  We like it smoky.  We like it tangy.  And it had better be finger lickin' good.  :)
What we don't like are the copious amounts of high-fructose corn syrup that fill most bbq sauces sitting on grocery store shelves.  Totally unnecessary.  And totally not "Kansas City".  Here, we actually have a little secret for sweetening our sauce that is totally natural, sweet but not too sweet, and full of extra amazing flavor: molasses.  Do yourself a favor and pick up a jar to make this sauce today.
The other big secret about Kansas City bbq sauce?  It is ridiculously easy to make homemade.  Like, it takes less than 5 minutes to prep.  Watch.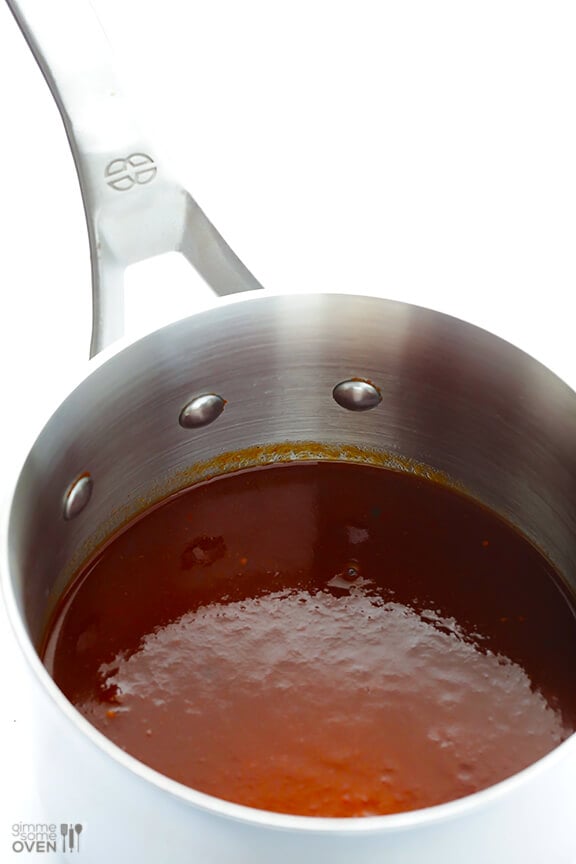 All you have to do is throw all of the ingredients into a saucepan.  Bring the mixture to a simmer over medium-high heat.  Then let it simmer on the stove for about 20 minutes over medium-low heat until it thickens.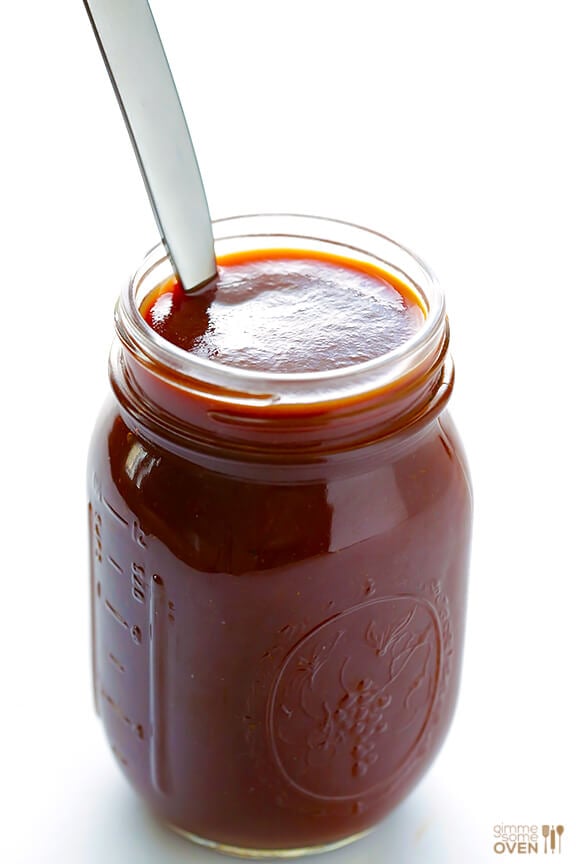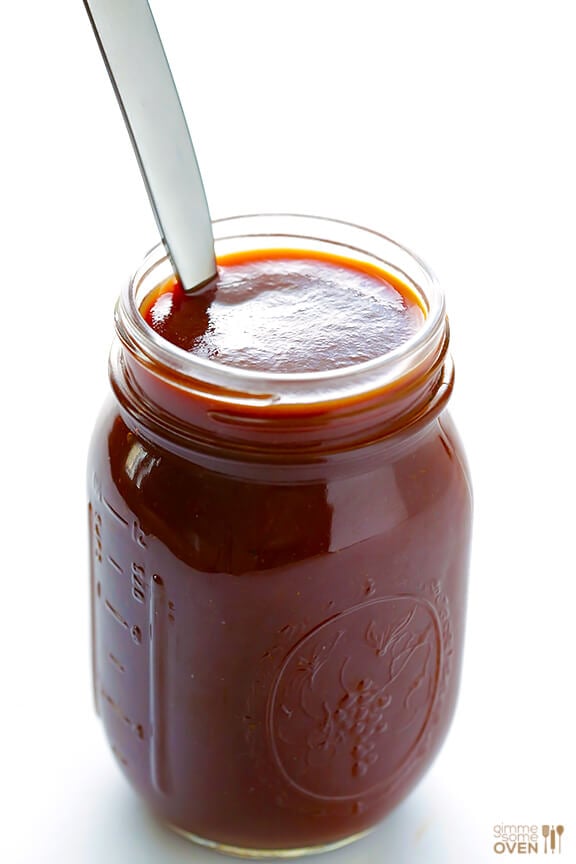 And then a batch of delicious homemade bbq sauce is ready to go.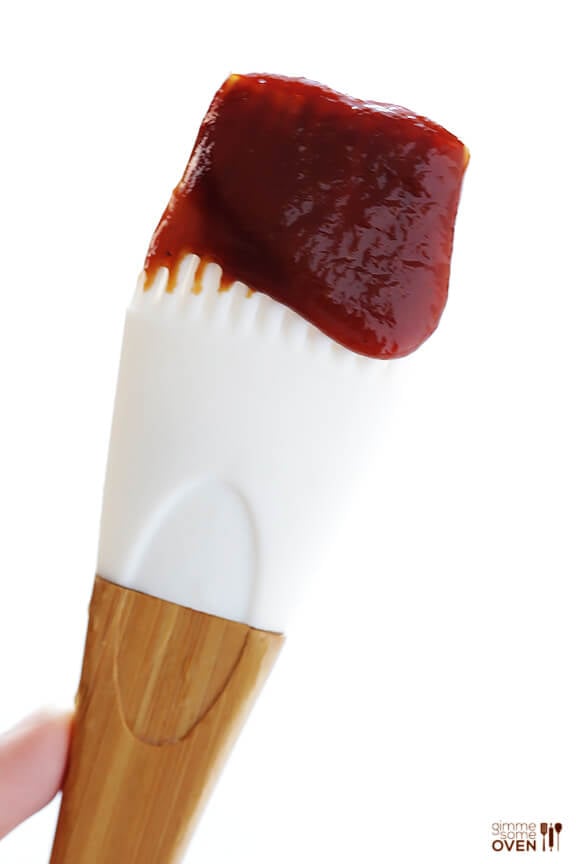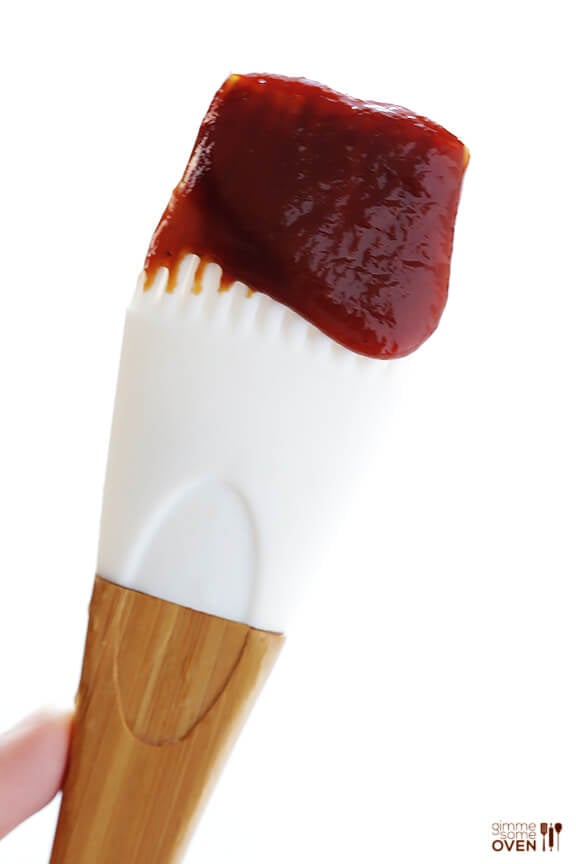 And then, you must make a Very Big Decision — what do with it!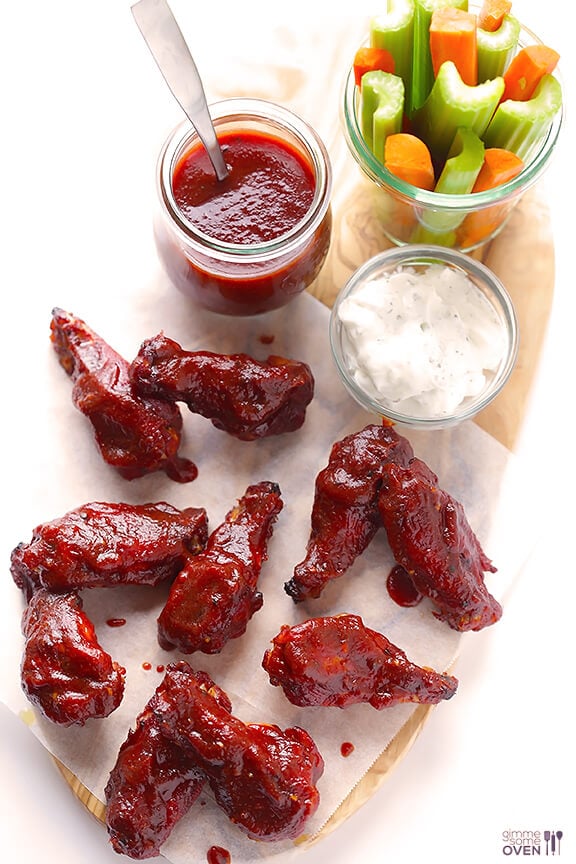 One idea would be to make these Skinny BBQ Chicken Wings that I blogged about back in January.  You could also slather it on any other meats or veggies that you wanted to pop on the grill.  It would be perfect with a BBQ chicken pizza or salad.  Or a sandwich.  Or some skewers.  Or even try adding a few spoonfuls to some salsa (a local favorite!).
I promise, you can't go wrong.
Cheers to a decade of life and bbq in KC!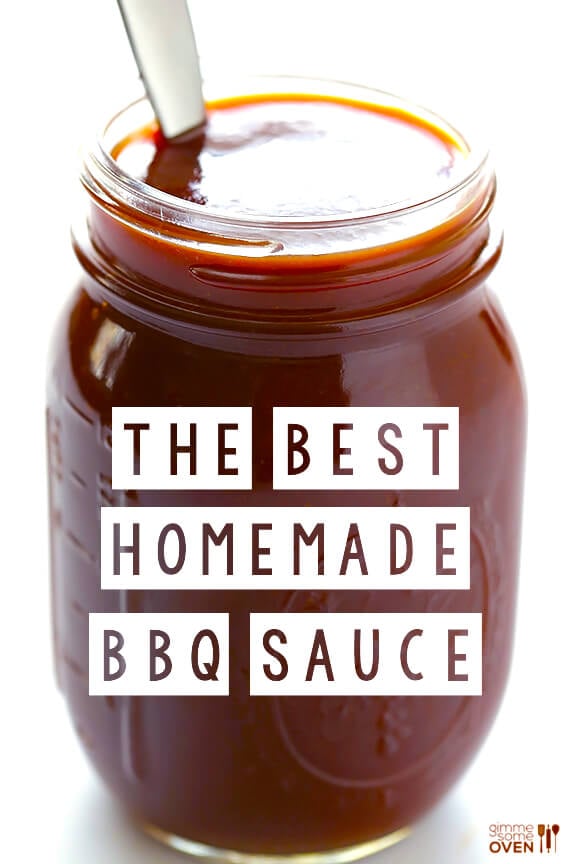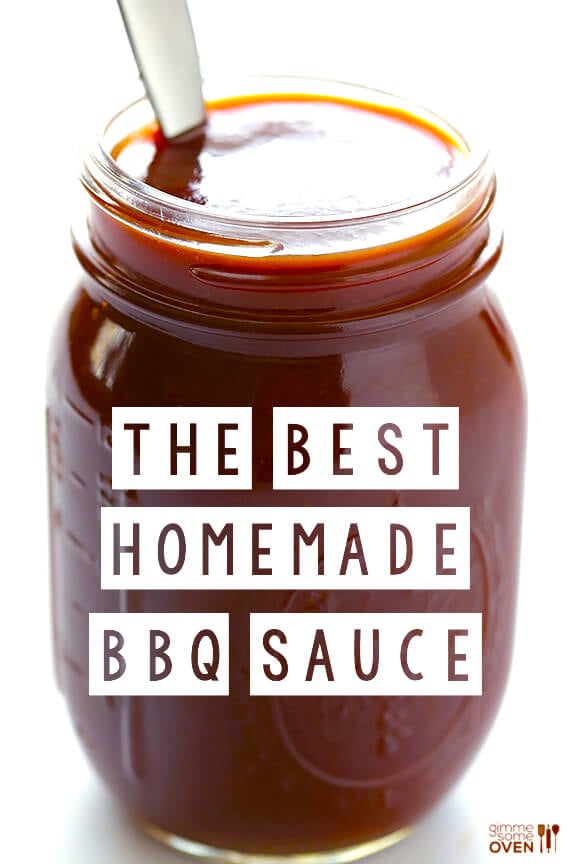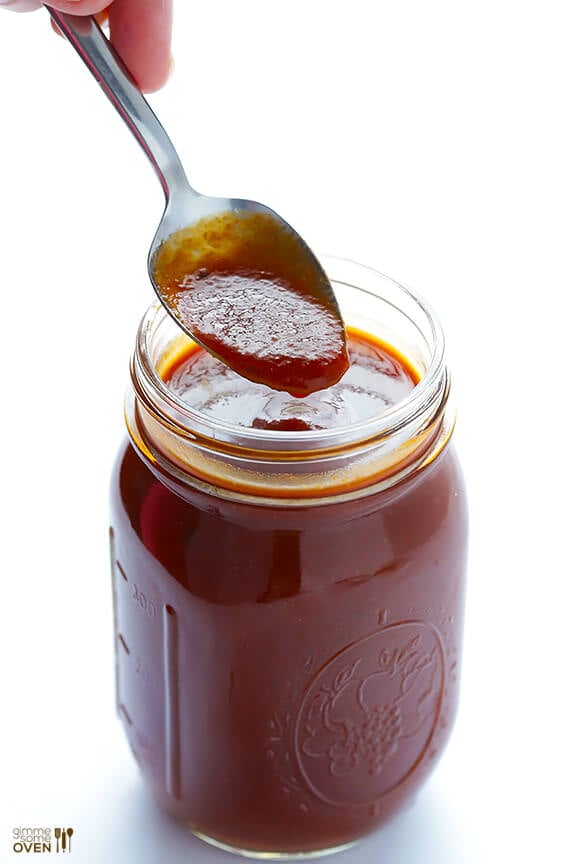 Homemade BBQ Sauce
In my humble Kansas City opinion, this really is the best homemade BBQ sauce recipe! It's sweet, it's tangy, it's smoky, and it's perfect on just about everything. It is also naturally vegan and gluten-free (*see note below).
Ingredients:
1 (15 oz.) can tomato sauce
1/2 cup apple cider vinegar
1/3 cup honey or agave nectar
1/4 cup tomato paste
1/4 cup molasses
3 Tbsp. worcestershire*
2 tsp. liquid smoke**
1 tsp. smoked paprika
1 tsp. garlic powder
1/2 tsp. freshly-ground black pepper
1/2 tsp. onion powder
1/2 tsp. salt
(optional: a few pinches of cayenne powder for extra heat, which I recommend)
Directions:
Whisk all ingredients together in a medium saucepan. Bring to a simmer over medium-high heat. Reduce heat to medium low and simmer (uncovered) for 20 minutes, or until the sauce has slightly thickened.
Use the sauce immediately, or refrigerate in a sealed container for up to 1 week.
*If you are making this sauce vegan, be sure to find a brand of worcestershire sauce that is vegan. I recommend Annie's.
**If you are making this sauce gluten-free, be sure to find a brand of liquid smoke that is certified GF. I recommend Wright's or Colgin.
All images and text ©
If you make this recipe, be sure to snap a photo and hashtag it #gimmesomeoven. I'd love to see what you cook!