Honey Beer Bread
Learn how to make homemade beer bread with this delicious recipe that's naturally sweetened with honey!  All you need are 6 easy ingredients to make it.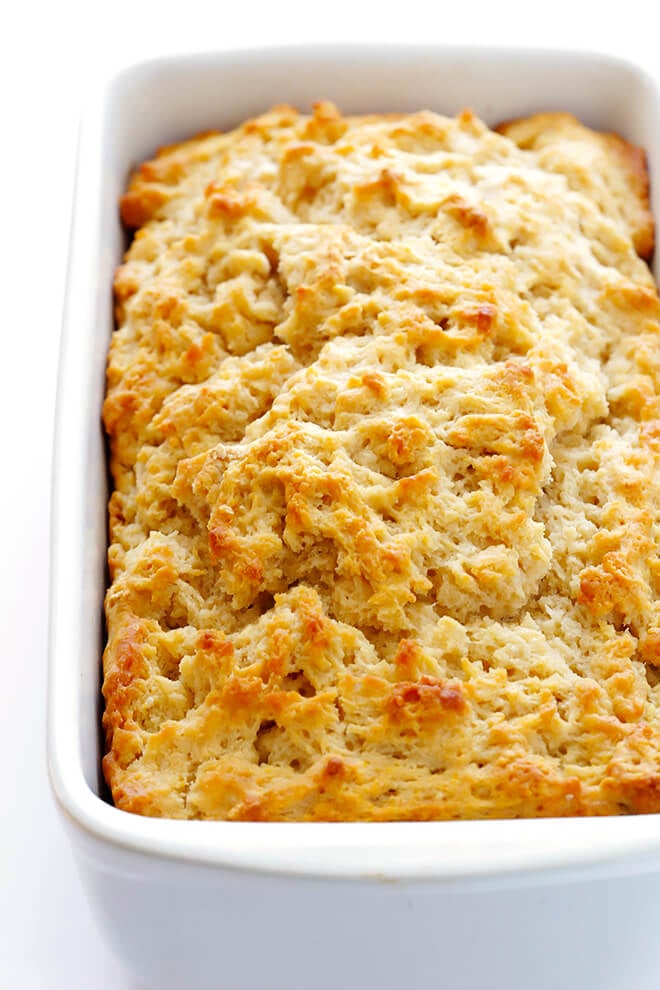 I will be the first to admit that I've never been much of a bread baker.
My desire to be one comes in waves, like last winter when I got into the habit of baking this crusty artisan bread in my Dutch oven when having people over, or two years ago when I probably baked a dozen batches of these yeasty rolls around the holidays, or the zillion or so times I've promised myself that this would be the week to try making homemade challah (but still never quite followed through).
I don't know, I think I've just always loved the idea of being a fabulous bread baker, casually pulling freshly-risen loaves out of the oven with a flourish each day, more than I've actually liked the reality of messing around with yeast.  There just seem to be a few too many steps involved, and I'm that forgetful cook who will totally forget to check the dough while it's rising.  Not to mention, it's hard getting through an entire loaf living on your own!  (<– And I don't care what anyone says, thawing leftover bread that has been frozen just never tastes the same! ?)
Still, that doesn't change the fact that I absolutely LOVE BREAD.  And oh my goodness, I think there are few better things in life than freshly-baked, warm bread pulled straight from the oven.  So the simple little compromise that I turn to more often than not when those bread cravings hit is this one simple recipe that I decided to dig up out of the blog archives today and share with you once again.
My all-time-favorite, 6-ingredient, ready-to-go-in-1-hour-from-start-to-finish, warm-and-buttery, naturally-sweetened, always-always-always-a-crowd-favorite recipe.
Honey Beer Bread.
Honey Beer Bread Recipe | 1-Minute Video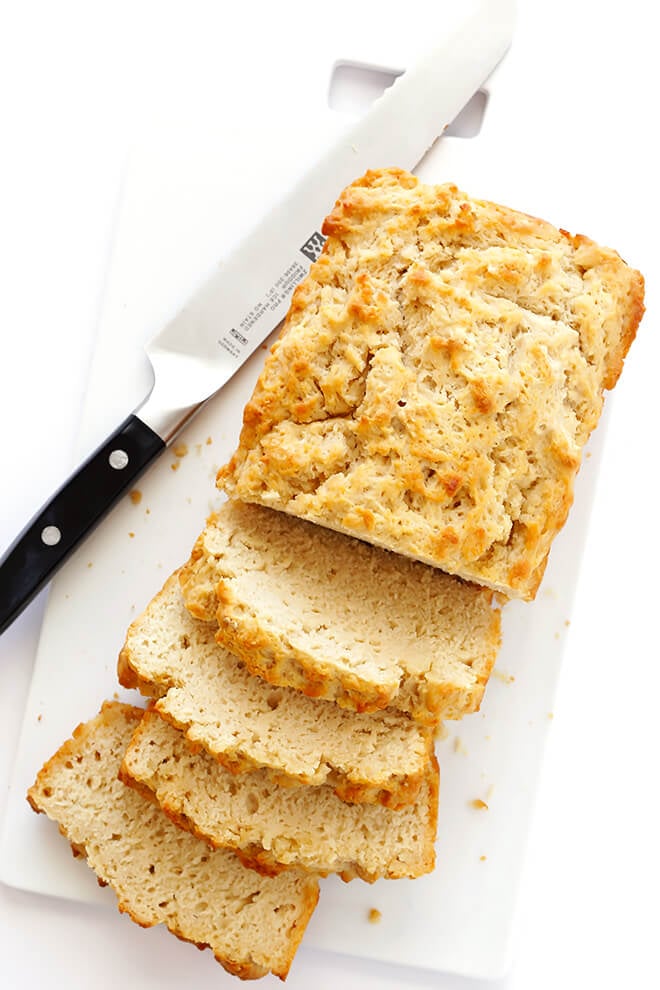 I first shared this recipe here back in 2009, when this new blog was fresh outta the oven itself.  ;)  And since then, I've made this recipe dozens and dozens and dozens of times.  Because you guys, it literally could not be easier.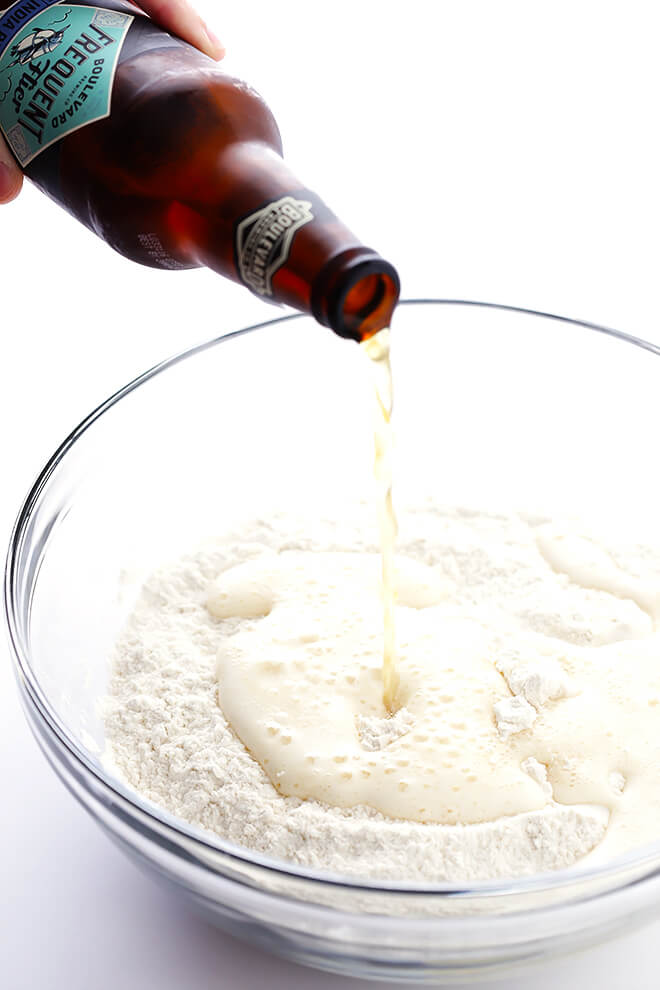 Simply whisk together some flour, baking powder, and salt.  Then pour in a bottle of beer and some honey.
Stir it all together, then pour it in a bread pan that has been greased with a few tablespoons of butter (yes, that's right).  Brush a little extra butter on top.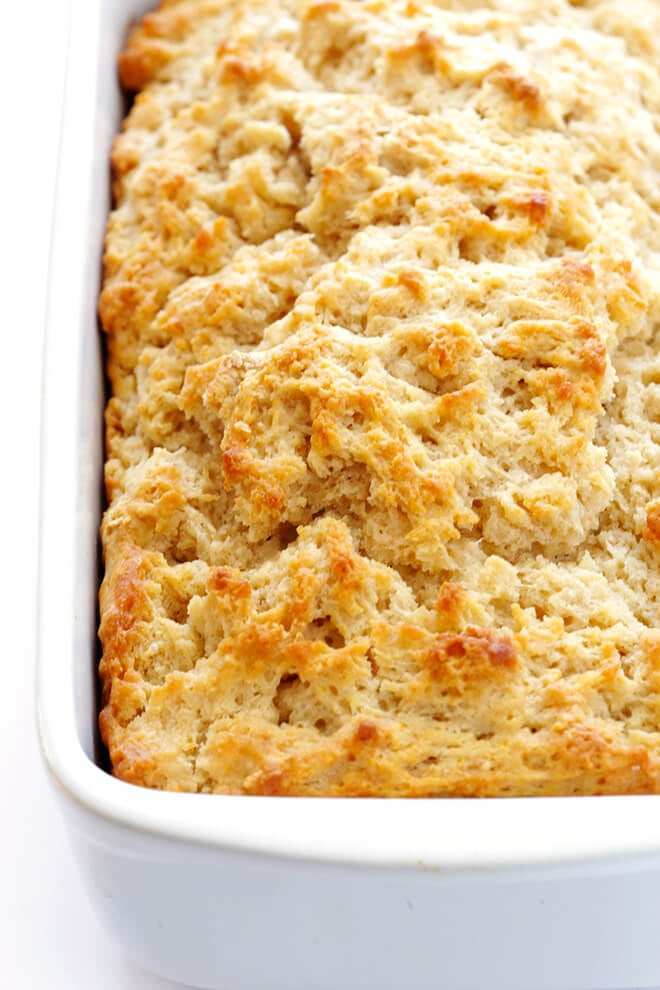 Then bake it up to golden perfection.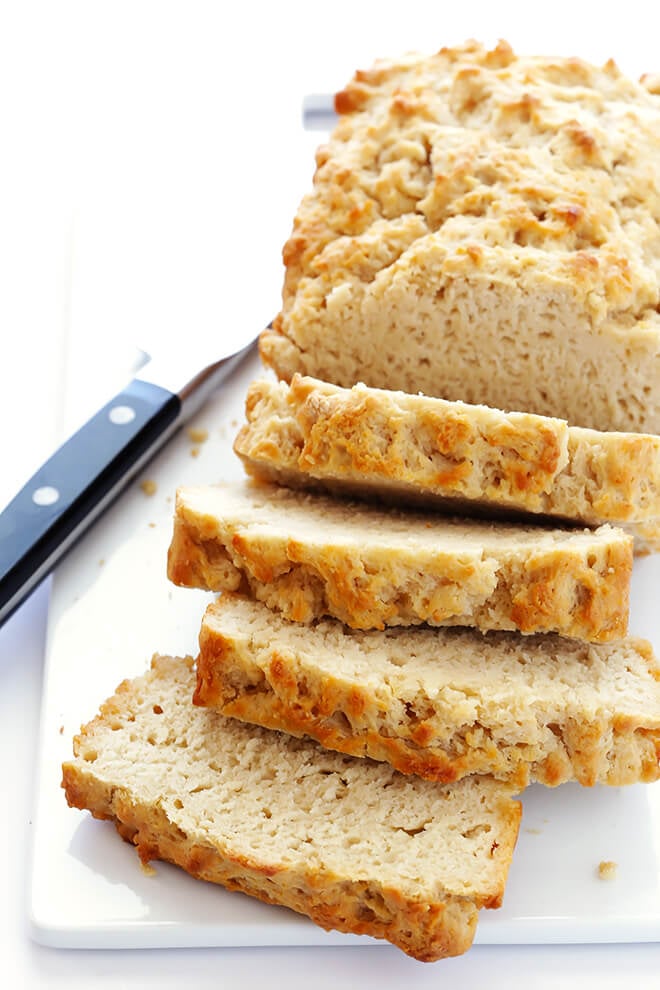 And in less than an hour from start-to-finish, this gorgeous loaf of warm bread will be yours to enjoy.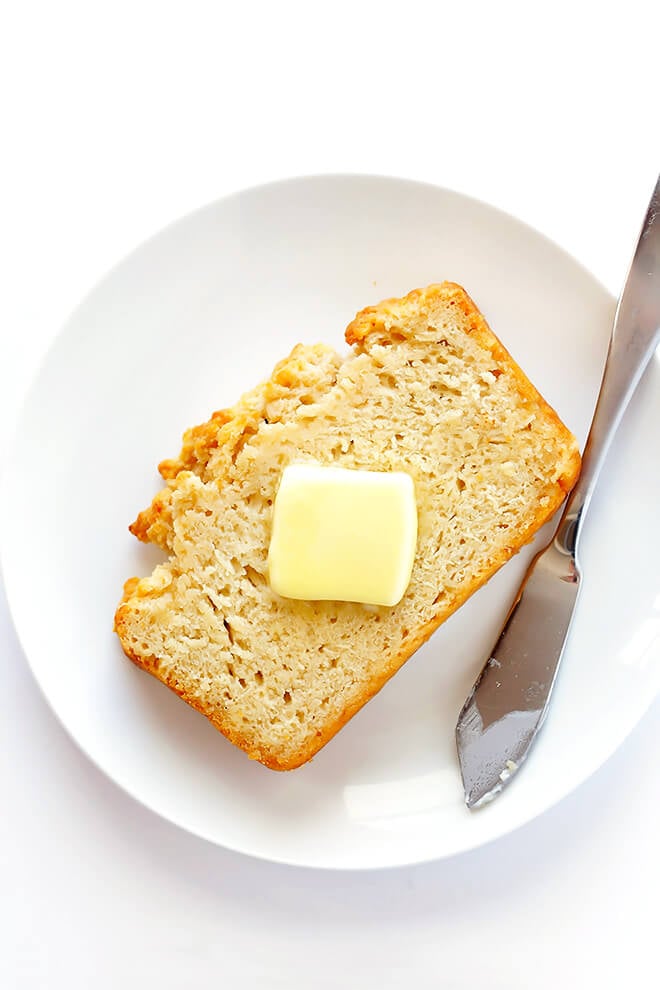 And trust me, it is so beer-y delicious.  ;)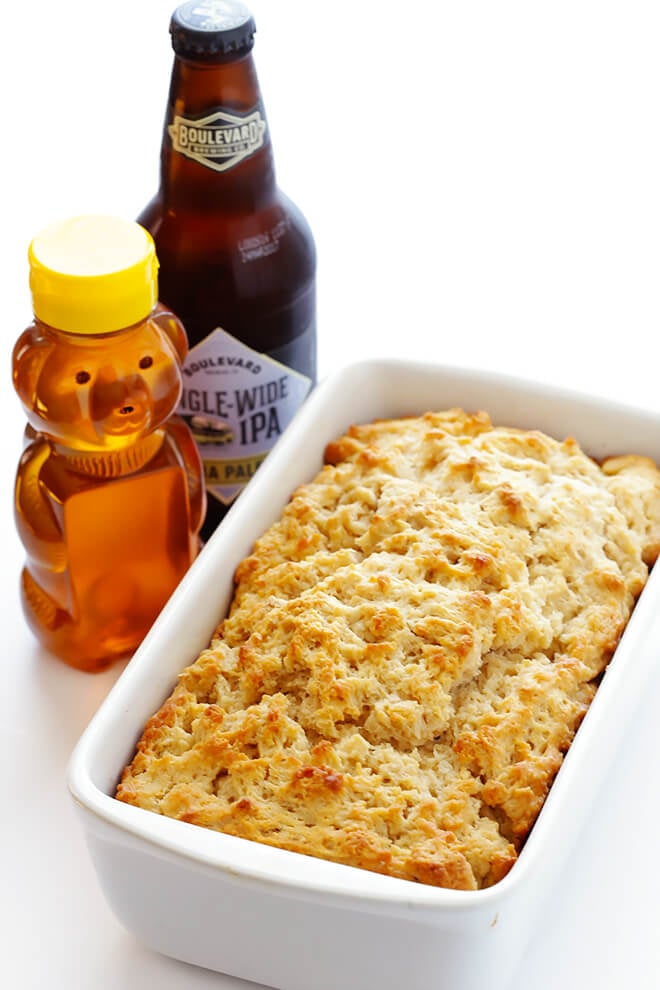 Granted, over the years, I have tinkered with the ingredients a bit.  My original recipe called for 2 tablespoons of honey and 2 tablespoons of granulated sugar, which I have since updated to just 4 tablespoons (1/4 cup) of all honey.  And occasionally I'll sub in white whole wheat flour in place of the all-purpose, which works well.  But guys, I've gotta be honest and say that I really recommend you make this one with all of the butter.  I mean, you're welcome to leave it out and just butter your bread afterwards if you'd like.  But I'm convinced that those buttery crusts are the best part of this recipe.  So I highly recommend sticking with the recipe there.
The other brilliant thing about this easy recipe is that it's virtually foolproof, so you never have to worry about having fresh yeast on hand, or keeping an eye on various rise times.  It's just a quick, easy, and always delicious bread made with everyday ingredients (including your favorite flavor of beer!) that you can whip up at the last minute.  I especially love making it this time of year to go with soup season, but it'll be good any day you're craving some carbs.
So for those of you who missed this recipe the first time around, I hope that you enjoy it!
Happy baking!
Honey Beer Bread
You will love this sweet, delicious (and easy!) beer bread! Detailed recipe and photographs included.
Ingredients:
3 cups all-purpose flour
1 tablespoon baking powder
1 teaspoon salt
1/4 cup honey*
1 bottle (12 ounces) beer
4 tablespoons (half stick) butter, melted
Directions:
Preheat the oven to 350°F. Grease a 9 x 5 x 3-inch bread pan.
In a large bowl, whisk together the flour, baking powder and salt until combined.  Slowly pour the beer and honey into the flour mixture, and stir until combined.  (I recommend popping your honey in the microwave for a few seconds beforehand to make it easier to stir in!)
Pour half of the melted butter into the bottom of the loaf pan, and spread it around evenly.  Then add the batter to the pan in an even layer, and brush the rest of the butter around evenly on top of the batter.
Bake for 40 to 50 minutes, until the top of the bread is golden brown and a toothpick or knife inserted in the middle comes out clean.  Serve immediately.
*My original recipe called for 2 tablespoons granulated sugar and 2 tablespoons honey, which still works!  I just prefer going with 100% honey nowadays.
**If you'd like a cheesier bread, feel free to stir in 1 cup grated sharp cheddar after you've mixed in the beer.
If you make this recipe, be sure to snap a photo and hashtag it #gimmesomeoven. I'd love to see what you cook!