how to: make gumdrop placeholders
This post may contain affiliate links. Please read my disclosure policy.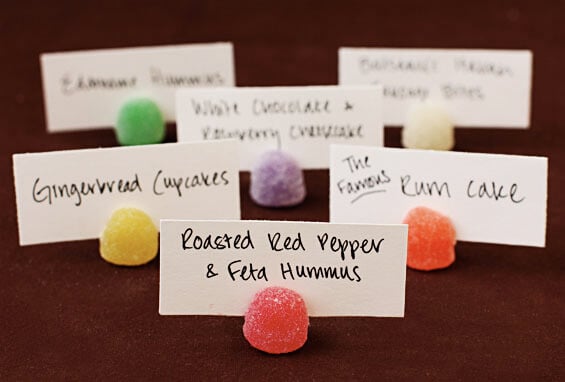 Ok, some of you longtime readers know that I like to craft as much as I like to cook. So thought I'd share a random idea I had for easy placeholders (or food labels!) for my annual Christmas party this past weekend!
Call me Martha, but I always love making little labels for the various dishes I make whenever I host anything buffet-style. Since I happened to have a few gumdrops leftover (from making a wreath similar to this cute one), I thought it would be fun to put them to use for some Christmas-themed placeholders!
So behold, my little creation was born. All in all they took about 10 minutes to make, used only two ingredients and a handful of common supplies, and were commented on again and again by all of my friends! So thought I'd at least offer a quick "how-to" on here for anyone else who might be looking for a fun and very inexpensive project for your holiday parties. Enjoy!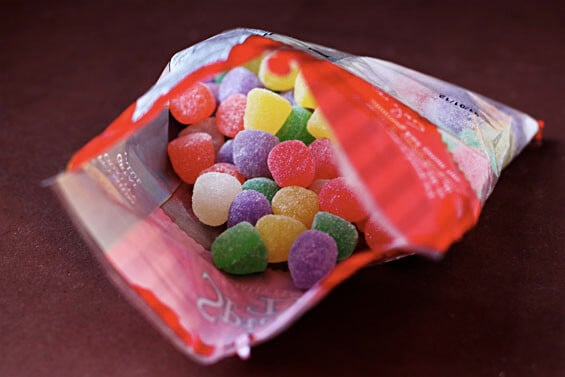 How To Make Gumdrop Placeholders
Supplies:
gumdrops
cardstock paper (either plain, or look in the scrapbook aisle for fun colors)
scissors or papercutter
pen/marker
a sharp, thin knife
Method:
Begin by cutting your paper to your preferred size/shape. (I used a papercutter to cut mine into 1″ x 2.5″ rectangles.)  Write your messages on the individual pieces of paper, leaving a little room for the gumdrop at the bottom.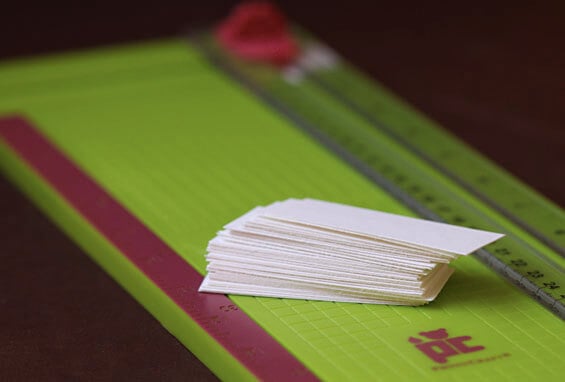 To prepare the gumdrops, use a sharp knife to carefully cut about halfway through the gumdrop, beginning at the top. If you would like your papers to slant slightly back (for easier viewing from above), make the cuts at a slight angle towards you.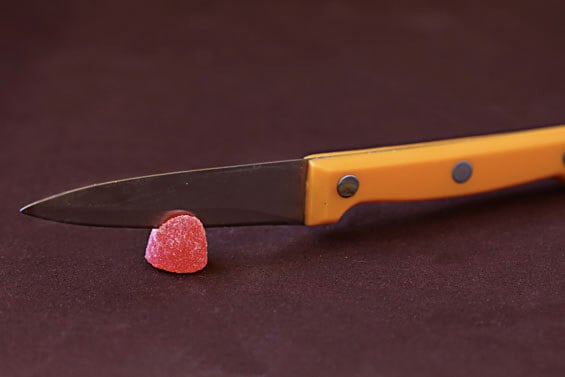 Then grip a piece of paper on both sides (with both hands) and carefully slide it into the gumdrop. Repeat for as many as you'd like to make.
Ali's Tip:
Another simple step would be to use a punch of your desired shape on one side of the paper. Or to use a punch to cut the 4 corners of each paper into a cute border/shape.