Idaho Sunrise (Baked Eggs and Bacon In Potato Bowls)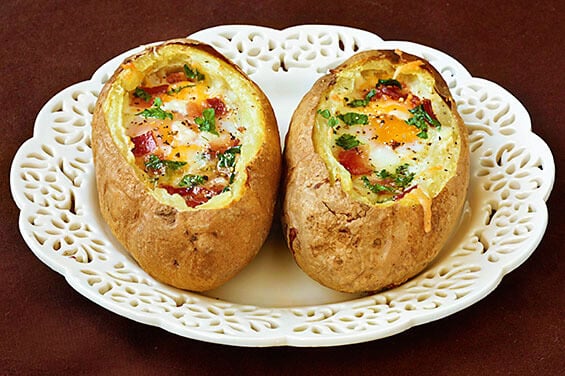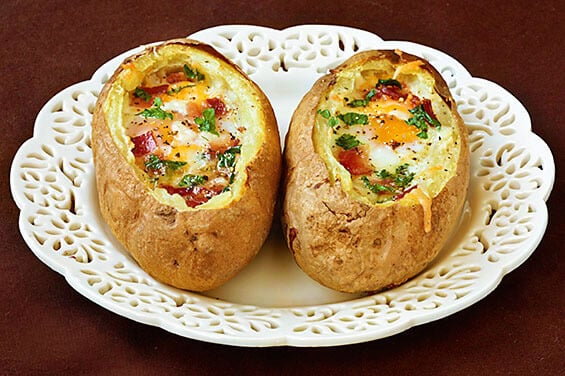 Ok, what is up with eggs?!!?  They seem to be in everything lately!  From topping pizzas, to burgers (shout out to Blanc, for KC locals!), to garnishing soups…apparently the incredible, edible egg is now tres chic. Intriguing, but I'm all for it!  :)
One creative idea for baking eggs that seemed new and notable (at least to me) is this great recipe I stumbled across online.  I admit…I was initially drawn to it because I though it looked pretty cute.  (I love anything with "bowls"!)  But I was eventually won over by how incredibly simple and delicious these little guys turned out to be!  Plus, the ingredients are super-economical.  Yay.
Definitely a fun twist on the typical eggs, bacon and hash browns.  Plus, a great way to use up leftover baked potatoes!  Way to go, Idaho….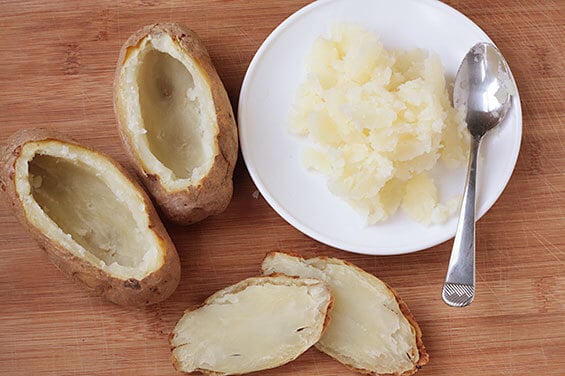 Idaho Sunrise (Baked Eggs & Bacon In Potato Bowls)
Try this Idaho Sunrise (Baked Eggs & Bacon In Potato Bowls) recipe today! Your morning favorites presented in a creative fashion! You'll love it!
Ingredients:
2 large mostly-baked* potatoes (Russett or sweet potatoes)
1 Tbsp. butter
2 eggs
2 strips bacon, cooked and crumbled
2 Tbsp. shredded cheddar or gouda cheese
1 Tbsp. fresh parsley, chopped
salt and freshly ground black pepper
Directions:
Lay the first baked potato on its side, and use a knife to carefully cut off the top third of the potato. With a spoon, hollow out the middle of the potato to make a "bowl", leaving the potato as thick or thin as you'd like. (Just remember, the more room you leave, the more room for eggs, bacon and cheese!) Repeat with the second potato.
Place 1/2 tablespoon of butter in the middle of each bowl. Then gently break an egg into each bowl, careful not to break the yolk. Top with bacon, cheese, parsley, and then season with salt and pepper.
Bake at 350 degrees F for 20-25 minutes, or until the egg whites are set. Serve immediately.
*I recommend baking the potatoes until they are nearly done.  You don't want them to be underbaked, but then extra 20-25 minutes in the oven with the eggs will definitely continue to cook them, and you don't want them to be overbaked.  So I would err on the side of being mostly baked, but not completely.
If you make this recipe, be sure to snap a photo and hashtag it #gimmesomeoven. I'd love to see what you cook!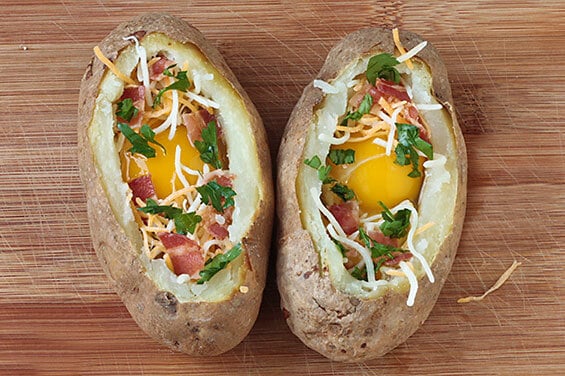 Ali's Tip:
Feel free to experiment with seasonings on these!  Especially if you tried this with sweet potatoes, I imagine some more savory (or spicy!) seasonings would be great!