Instant Pot Crispy Carnitas
This Instant Pot Carnitas recipe is quick and easy to make in the pressure-cooker, and it's SO flavorful and juicy and delicious!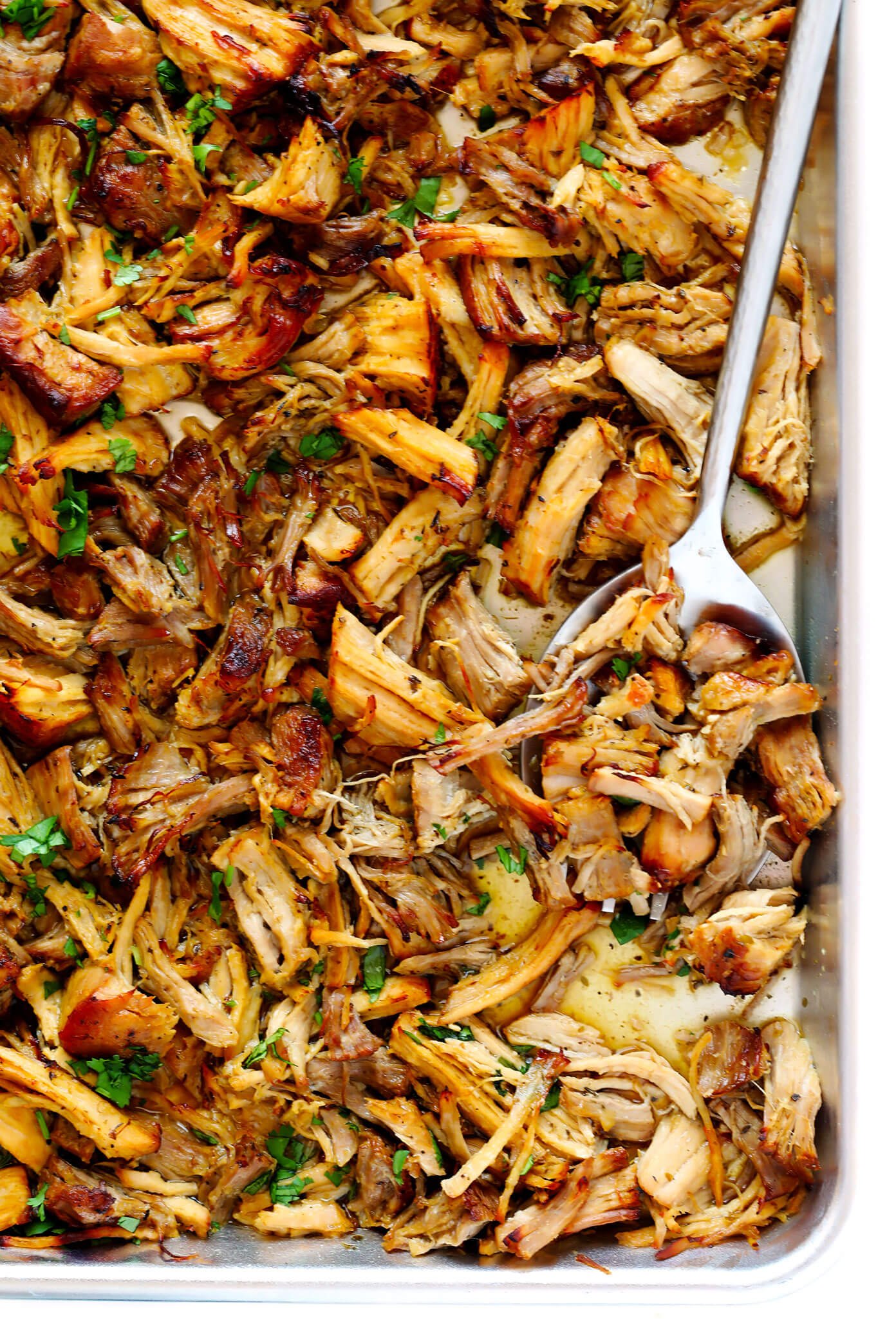 Are you all as in love with the Instant Pot as I am?
I'll be the first to admit that I was a little reluctant last year to dive into the craze when everyone started cooking with them.  Pressure cookers used to scare the crap out of me growing up, and I didn't have room in my apartment for any more kitchen appliances, and frankly, I was already perfectly content with my slow cooker, rice cooker, sauté pans, and steamer, thankyouverymuch.  But after hearing enough friends rave about their Instant Pots and the 5 million brilliant things that they are able to do, I finally bit the bullet and broke my I-don't-buy-things-on-Black-Friday resolution and ordered one for half price that day on Amazon.  (Ok, and then let's be honest, promptly stared at it sitting there in my kitchen for about a month.  Resistant to change much? ?)
But, once I finally swallowed my pride and geared up my courage to set that knob to "sealing" and give it a try, I could not believe how quickly and how perfectly it cooked so many of my favorite recipes!  My favorite slow cooker barbacoa beef, teriyaki chicken, and beef stew all ready to go in less than an hour!  My favorite butternut squash soup, lentil soup, and potato soup all ready to go in less than 40 minutes!  No-soak beans ready in 45 minutes! Perfectly-cooked rice in 15!  Pasta in 8!
All the things!  Less time!  And so far — perfectly cooked, every time!
As someone who nerds out over efficiency in life, I admit that I'm now 100% sold on this thing.  (And recommending it to everyone who asks.)  And my favorite recipe thus far that I've been recommending to my friends?  These incredibly juicy, crispy flavorful, and super-speedy Instant Pot Carnitas.
Instant Pot Carnitas Recipe | 1-Minute Video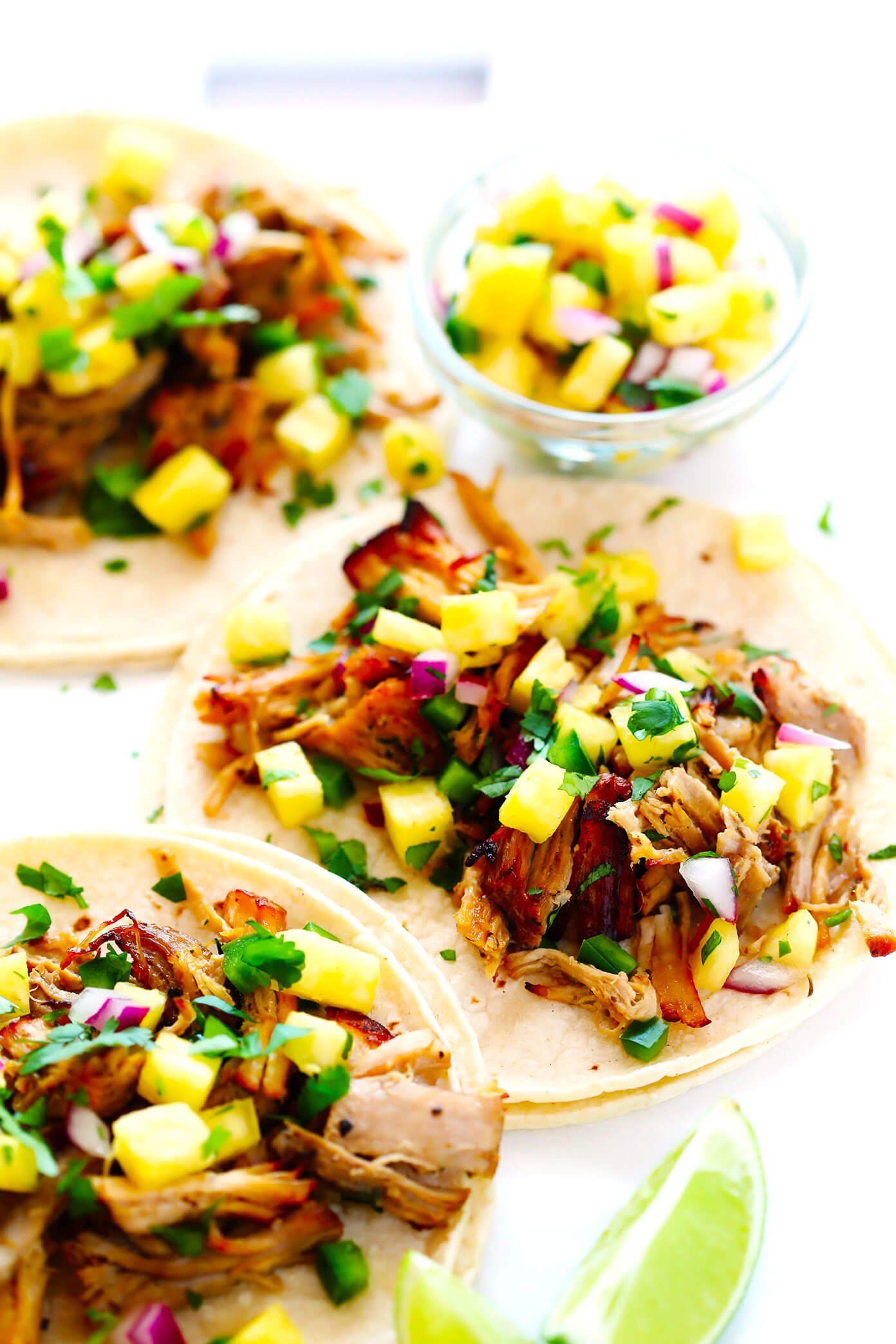 Well, really, you can make just about any kind of carnitas with this method (including the ingredients in my traditional Slow Cooker Crispy Carnitas recipe, which I totally love).  But lately, I've been hooked on cooking with Cuban mojo sauce, which is a yummy (and ultra-easy) marinade made with lots of fresh citrus juice and lots and lots of garlic.  Two of my faves.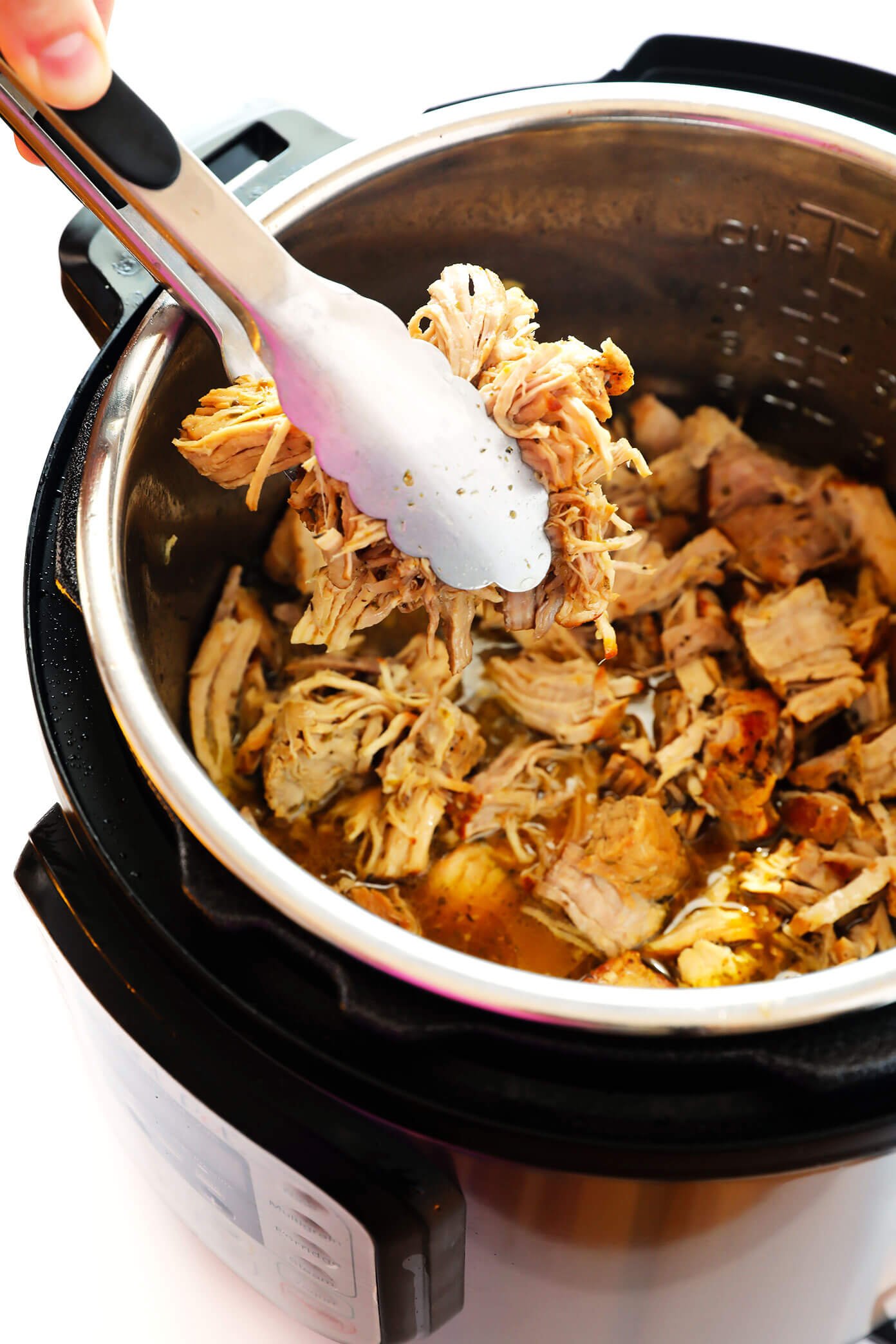 Simply sear some big chunks of pork in the Instant Pot.  (Love its speedy "Saute" setting!)  Then pour in your marinade, and set it to pressure cook for 30 minutes on high, and then naturally vent for 15-20 minutes afterwards.
Once the pork is ready to go, give it a good shred with two forks.  Then — my favorite tip for any sort of slow-cooked (or pressure-cooked) meat — transfer it to a large baking sheet and pop it under the broiler for 5 minutes to crisp up those edges.  Remove, toss the pork with some of the remaining juices, then broil and toss again.
And in less than an hour, this amazing batch of crispy, juicy, ultra-tasty pork carnitas will be yours to enjoy.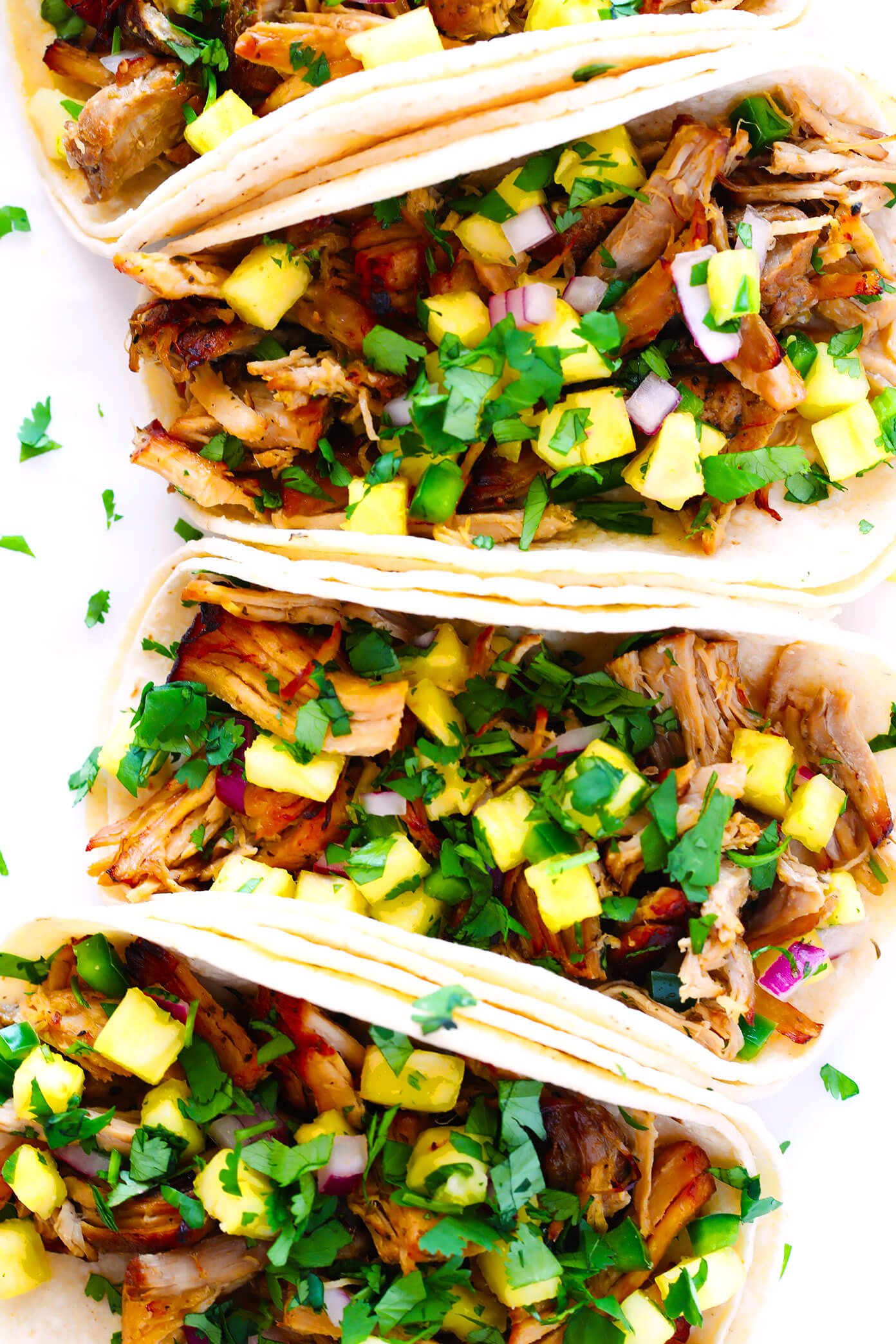 Feel free to serve it up in tacos like I did…
…with this simple pineapple salsa that I made (or you can stick with traditional chopped onions and cilantro, to make them "street taco" style).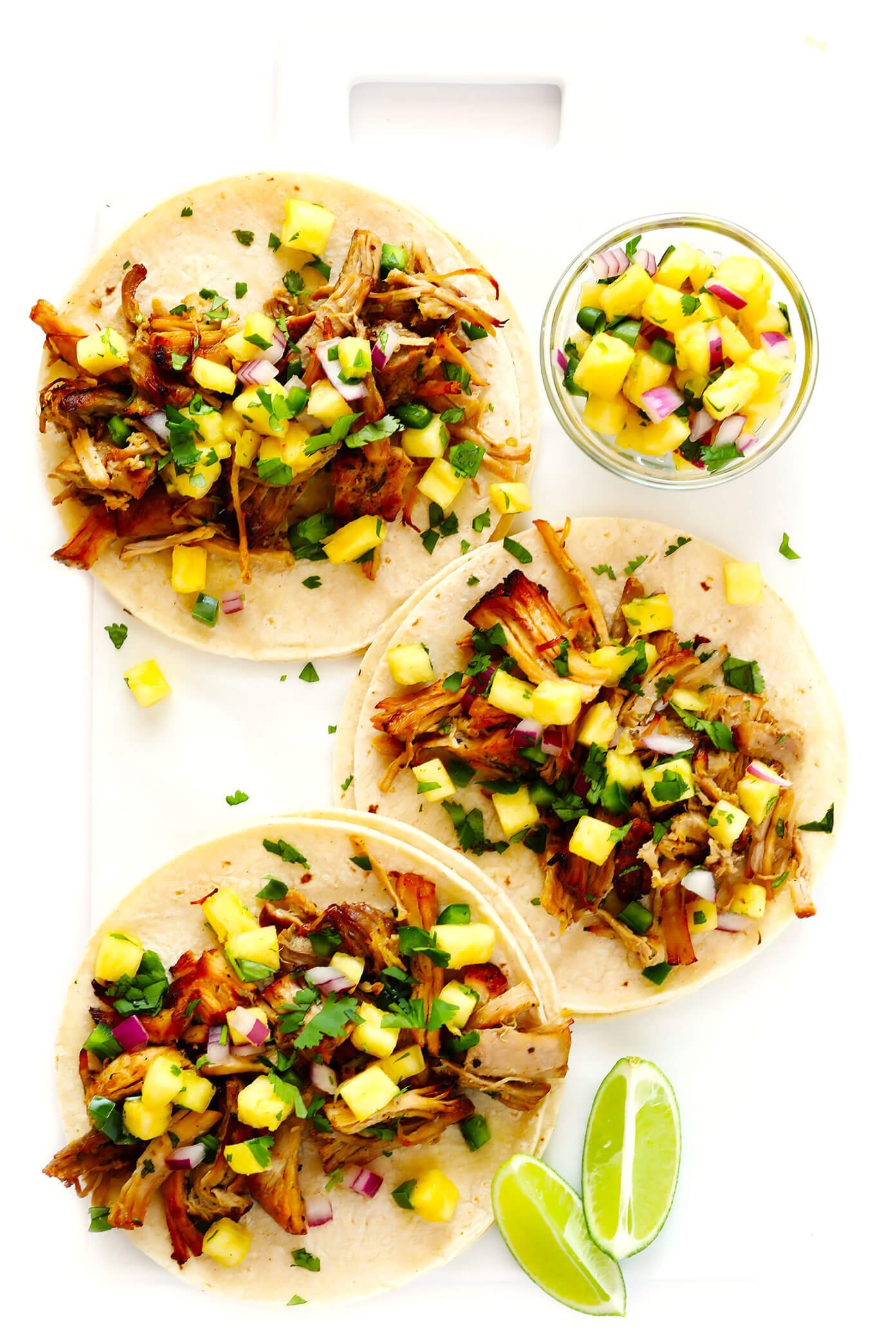 Or, of course, feel free to use the carnitas however else you'd like — burritos, rice bowls, salads, quesadillas, youuuuu name it.  Can't to go wrong with these guys.
Cheers to fancy new technology making life a little easier…and even more delicious.
Instant Pot Crispy Carnitas
These Instant Pot Crispy Carnitas are super quick and easy to make with a pressure cooker, and marinated in the most delicious Cuban mojo sauce!
Ingredients:
Instant Pot Crispy Carnitas Ingredients:
1 (4-5 pound) lean boneless pork roast, excess fat trimmed, cut into 2-inch chunks
salt and pepper
1 tablespoon avocado oil or olive oil
1 batch mojo sauce (see below)
for serving: chopped fresh cilantro leaves and fresh salsa (I used the pineapple salsa below)
Mojo Sauce Ingredients:
1 cup beer (or chicken stock)
1 head of garlic, cloves separated, peeled and minced
1/2 cup fresh orange juice
1/4 cup fresh lime juice
1 teaspoon dried oregano
1 teaspoon ground cumin
1 teaspoons salt
1/2 teaspoon freshly-cracked black pepper
Optional: Fresh Pineapple Salsa
2 cups finely-diced fresh pineapple
1/2 cup finely-chopped fresh cilantro
1/2 cup finely-diced red onion
2 tablespoons lime juice
1/2 teaspoon ground cumin
1 jalapeño, seeded and finely-diced
salt and pepper
Directions:
To Make The Instant Pot Crispy Carnitas:
In a medium mixing bowl, prepare the mojo sauce (see below).
Season pork chunks on all sides with salt and pepper.
Click the "Saute" setting on the Instant Pot.  Add oil and half of the pork, and sear — turning every 45-60 seconds or so — until the pork is browned on all sides.  Transfer pork to a separate clean plate, and repeat with the other half of the pork, searing until browned on all sides.  Press "Cancel" to turn off the heat.
Pour in the mojo sauce, and toss briefly to combine. Close lid securely and set vent to "Sealing".
Press "Meat", then press "Pressure" until the light on "High Pressure" lights up, then adjust the up/down arrows until time reads 30 minutes.  Cook.  Then let the pressure release naturally, about 15 minutes.  Carefully turn the vent to "Venting", just to release any extra pressure that might still be in there.  Then remove the lid.
Turn on the oven broiler to High.
Shred the pork with two forks.  Then transfer it with a slotted spoon to a large baking sheet.  Spoon about a third of the leftover juices evenly on top of the pork.  Then broil for 4-5 minutes, or until the edges of the pork begin browning and crisping up. Remove the sheet from the oven, then ladle a remaining third of the juices from the Instant Pot evenly over the pork, and then give it a good toss with some tongs.  Broil for an additional 5 minutes to get the meat even more crispy. Then remove and ladle the final third of the juices over the pork, and toss to combine.
Sprinkle with chopped fresh cilantro, then serve immediately in tacos, burritos, salads, or whatever sounds good to you! Or, refrigerat pork in a sealed container for up to 3 days, or freeze for up to 3 months.
To Make The Mojo Sauce:
Whisk all ingredients together in a medium mixing bowl until combined.
To Make The Pineapple Salsa:
Toss all ingredients together in a medium mixing bowl until combined.  Season with salt and pepper to taste, also adding in extra lime juice if desired.
All images and text ©
If you make this recipe, be sure to snap a photo and hashtag it #gimmesomeoven. I'd love to see what you cook!
This post contains affiliate links.