institute of culinary education: day one
This post may contain affiliate links. Please read my disclosure policy.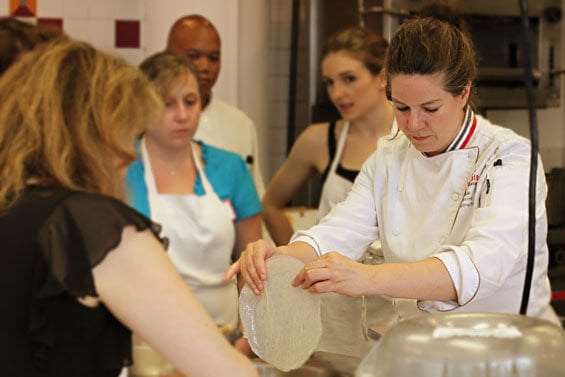 This morning I took the train down into the heart of NYC for my final culinary adventure — "hors d'oeuvres boot camp" at the Institute of Culinary Education.
Commonly known as "ICE", this professional culinary school also offers an outstanding array of "recreational" options. I had such a hard time picking one out! From courses such as "Got Wine?", to "Techniques of Cake Decorating", to "Sushi and More", to courses for kids, teens, families, and couples, there are literally hundreds of options to choose from. (You should totally check it out!)
I ended up going with the "hors d'oeuvres" class — partly because it was a great 2-day weekend course (for 5 hrs/day), partly because I love entertaining, and partly because I hoped that after staring at the word for two days…I might finally learn how to spell hors d'oeuvres!! :-)
Anyway, it ended up being a truly enjoyable morning. Here are the highlights!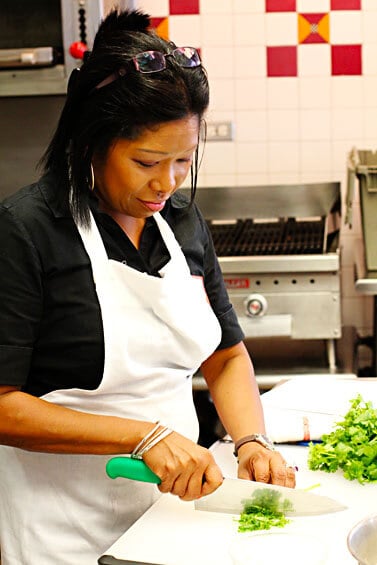 We began our class this morning at 9am, which could not have been more lovely. The school and all of the many classroom kitchens inside are filled with these beautiful, enormous windows. And the warm, morning sunlight was simply breathtaking. :-)  I could cook in a kitchen like that any morning!!
We immediately noticed something a little out of the ordinary (so the chef tells me) about our group — we were all women! Ha! It actually ended up being a really fun dynamic, probably especially so because everyone was so kind. Really, I love these girls. Such fun personalities, lots of laughter, and lots of helpful team spirit. Which…when you're trying to collaborate and cook together…is always a plus!
Anyway, we began our morning with cups of coffee, listening and asking questions as Chef Michelle went over all of the day's recipes in detail. I immediately liked her — she was great with answering questions, was efficient yet thorough, and had us all feeling pretty confident about methods before we even began. Gold star. :)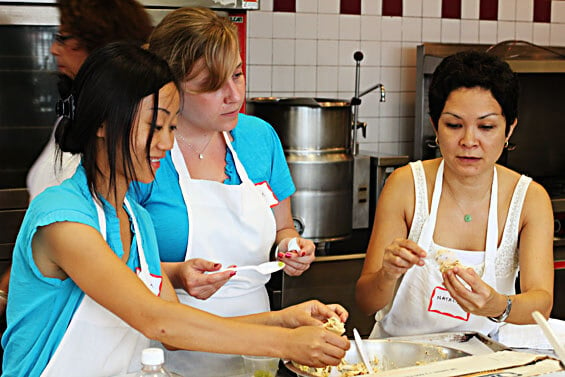 We then split up into groups of three and four to tackle the three sets of recipes for the day. These included:
Mussels with Orange-Saffron Sauce
Indian Potato Samosas
Chicken Sate with Southeast Asian Dipping Sauce
Crispy Duck Wontons with Coconut-Soy Dipping Sauce
Spicy Crab Remoulade
Scallop and Pork Spring Rolls
Coconut Shrimp with Tamarind Dipping Sauce
Chorizo and Tomato Phyllo Triangles
Even before we began, I was stoked because there were a number of ingredients I had never worked with before, such as duck meat (and cubed duck fat!), glucose (the real deal), celery root, sambal oelek (Chinese chili paste – different from Sriracha), barquette shells (the cute little pastry "boats" pictured below), tobiko (fish roe flavored with wasabi – pictured atop the barquette shells!), tamarind paste and more!
I was also introduced to a new Kitchen-Aid attachment that may be going on my Christmas list — the "grinder" attachment pictured above. Ok, to be honest, I'm not sure just how much I'd really use it, but it was pretty sweet and did a great job grinding the duck mixture for the wontons!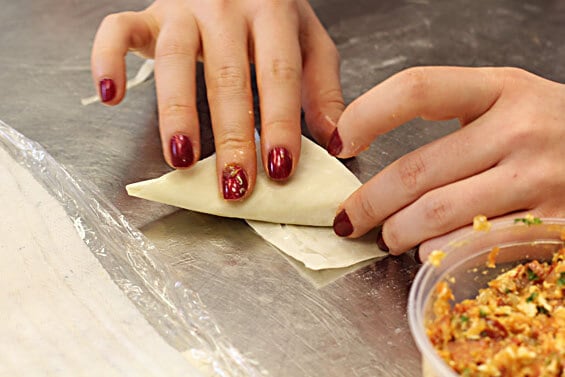 Our group's three recipes (although one of the other groups helped with the prep) were the samosas, mussels, and phyllo triangles.
We had quite the time playing with the phyllo dough, and rolling up all of these little guys. (And trying to avoid snacking on the amazing chorizo mixture in the process!)  Unfortunately the phyllo dough we used had been frozen, thawed, and frozen again at some point. So as you can see in the photos, it wasn't picture-perfect. But holy cow — they all disappeared. :-)  SO delicious!!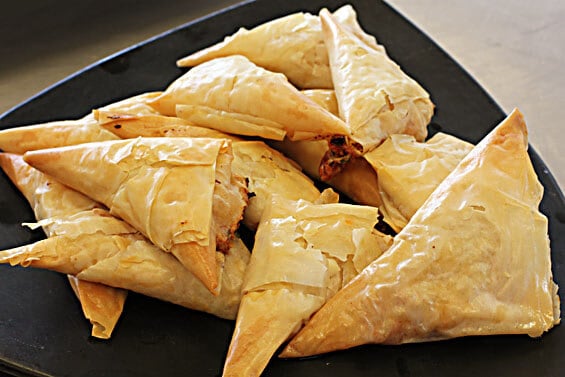 We also had quite the time with the mussels. I've actually only cooked with mussels once before, since living in the Midwest (and cooking on my budget), fresh mussels are pretty hard to come by!
But today we definitely learned a ton about how to prepare them. From the process of selecting the "live" ones, to soaking them, removing the "beards", scrubbbbbbbbbbbing them down (long process!), and finally cleaning out the remaining shells (for serving), we learned that they can be a lot of work!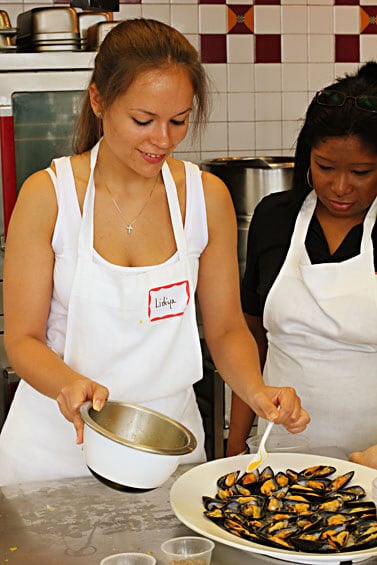 But especially with the recipe we had…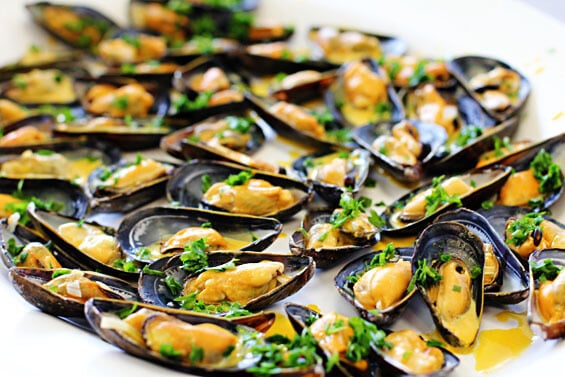 They were such a treat. The orange-saffron sauce (flavored as well with shallots, white wine, thyme, parsley and cream) complimented the mussels perfectly. And aren't they gorgeous?!
Our group's final (and probably most challenging) project of the day were the samosas. We first made the homemade dough, which was accented with buttermilk and ajwain seeds (another new ingredient for me!). Then sauteed this yummy potato filling, which had all sorts of various seasonings. And then, probably spent the most time rolling out the dough, folding up the little packets, and…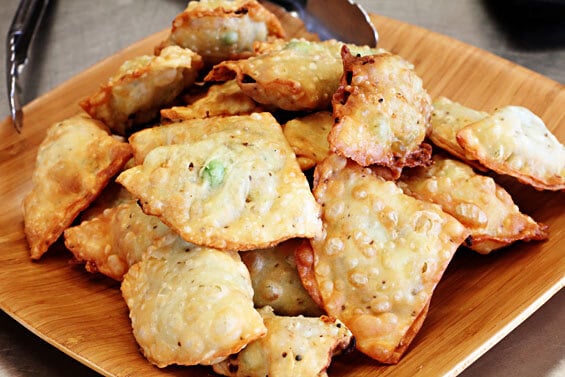 …frying them. I have very little experience with frying, but apparently the dough in these (and specifically the butter in the dough) keeps them from soaking up tons of oil and being super-greasy. This ended up being true, but I'm also anxious to go home and try and recreate these in the oven. Our chef said they'd be great that way too!
Unfortunately, somehow in the excited rush to finally make our plates and enjoy all of this…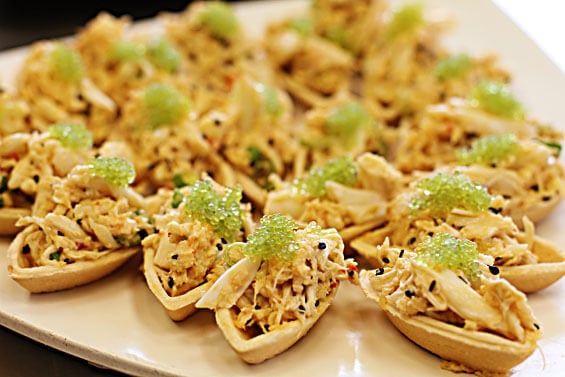 …extraordinary food…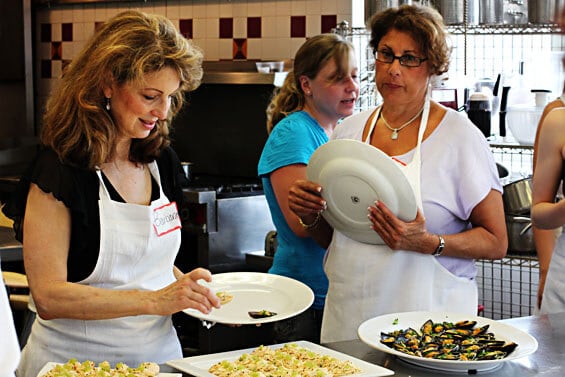 …I forgot to snap a picture of the beautiful spread of all the hors d'oeuvres. But trust me. They looked like they were from a magazine photo, and tasted even better. :)
I did, however, get one picture (a little fuzzy) of some of the girls on my team as well as Chef Michelle. Such a great crew. I can't wait to return tomorrow and work with them all for one more day!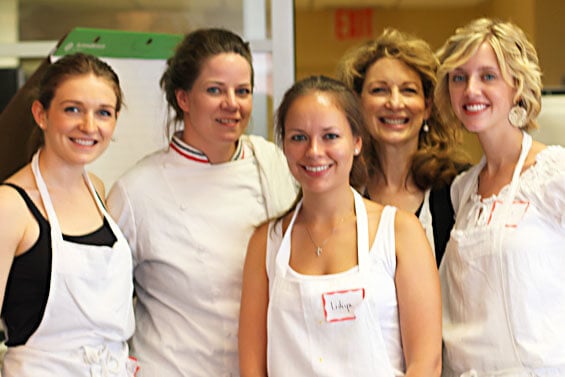 Until then….signing off! :-)