Introducing CliqueMe + A $1500 Visa Gift Card and Disney Park Hopper Tickets GIVEAWAY!
This post may contain affiliate links. Please read my disclosure policy.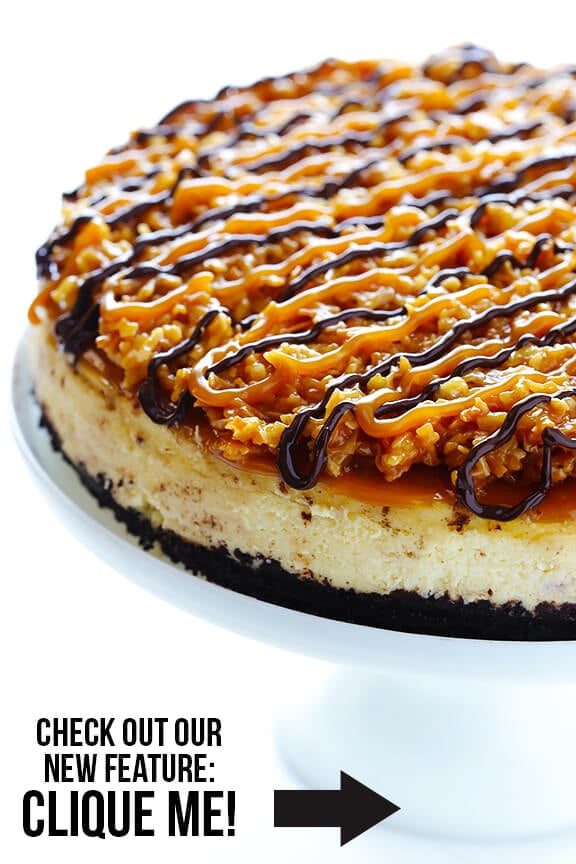 Hi friends!
I'm hereby interrupting your regularly scheduled programming to point out a sweet new feature here on Gimme Some Oven. I've been quietly testing it out here on the blog these past few weeks, but hundreds of you have already caught on and have been using it regularly. This feature is called CliqueMe, and it's basically like Instagram within a blog. And I'm loving it.
All you have to do is look for the little buttons that pop up in the bottom righthand corner of each photo on this site. And if you want to bookmark it for future reference, just click the little heart button. Or if you'd like to leave a comment, leave a comment. (Give it a try with the photo above!)  Once you have set up an account, you will also be able to see the most popular (or "trending") photos/posts on other websites that you visit. To see even more awesome things this new feature can do, be sure to read this post that my friend Amanda wrote introducing CliqueMe a few months ago.
But the good news is that CliqueMe is now available to use on any of your mobile devices now, including phones, iPads and more. So to celebrate and encourage you all to give it a try, we are launching a mega giveaway today for a $1500 Visa gift card plus Disney Park hopper tickets. Scroll down for details on how to enter.
(Oh, and that yummy cheesecake in the pic above? Yep, you'd better come back to the blog tomorrow when I'll be sharing the recipe.)
Ok, but first, back to the mobile version of CliqueMe. If you pull up this site on a mobile device, this is what a photo should look like.
In order to "like" a photo, just double-tap on any photo or click the little heart button in that little box at the bottom of a photo. (Give it a try now!)

In order to comment on a photo, just click the comment button, and then this screen will pop up and you can type in your comment.
To start liking and commenting, you'll need to register your username with CliqueMe. CliqueMe is fairly new and there are not that many users yet, so you may even be able to get your first name. ;)
To register, click the CliqueMe tab down in the bottom right-hand corner of the screen. Or, from your phone, double-tap any photo to get started. All you have to do is pick a username, password, and enter your email to register. Don't worry, they'll never email you or anything, and you don't even have to confirm your email address to register. But be sure to give CliqueMe a valid email address if you want to enter the giveaway — that's how we'll notify the winner! ;)
Registering is a one-time only event, and you will stay signed in, so the next time you come back you won't have to keep logging in over and over again, even on your phone! You'll stay signed in on all sites that have CliqueMe.
CliqueMe is growing fast and pretty soon you're going to start seeing it on all your favorite blogs and websites. Which means, you'll be able to easily like, comment, and interact with all your favorite blogs on your computer or right from your phone. No need to download any apps or software, or go to any external sites. The whole point of CliqueMe is that you can stay on a website and not have to open any other apps to save your likes and comments. Which, for someone who regularly gets overwhelmed by social media apps, is a welcome option. :)
I could not be more thrilled about this fun new feature. Lots of my favorite blogs have CliqueMe now, and today we're all so excited to celebrate the launch of CliqueMe Mobile with a fun giveaway. Check out the details for the giveaway below.
Thanks for your positive feedback so far about this new feature. I really hope that you will love it as much as I do, and that it can help you bookmark and also find great new content on this site as well as others. Happy commenting!
CliqueMe Giveaway ($1500 Visa Gift Card + Disney Park Hopper Tickets)
Today I am partnering with some of my favorite blogs who all have CliqueMe to bring you the ultimate summer vacation giveaway.
The Prize:
One lucky Grand Prize Winner will receive:
Four (4) 1-Day Park Hopper Tickets to Disney World OR Disneyland. YOUR choice!!
$1500 Visa Gift Card
How to Enter
To enter, use CliqueMe to "Like" one photo on each of the following blogs:
You can like any photo you want, just be sure to like one from each blog above to be entered. If the heart turns red, that means you've liked it. That's it!
Note: CliqueMe loads after everything else on the page loads, so it make take a minute to appear. Just wait for the page to fully load, then keep an eye out for the heart and comment box! :)
Contest ends June 29th, 2014 at 11:59 pm CST. Winner will be notified by email, so be sure to sign up with CliqueMe using a valid email address.
Good luck!
Disclaimer: This giveaway prize was sponsored by CliqueMe. I was not compensated in any way to host this giveaway, and all opinions are 100% my own as always. I'm just enjoying the new program and hope it will be a help to you too!