Jam Pockets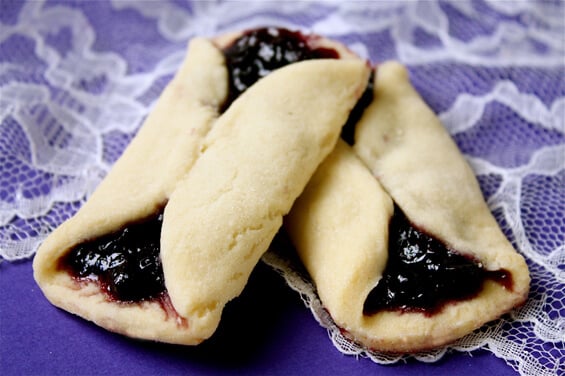 With the return of cooler weather in the Midwest, I've been happy to return to my cozy ritual of brewing up a steaming cup of hot tea each day.  Mmmm…absolutely love it.  (And my overflowing drawer of various teas will prove it!)
So to go along with, I was excited to try making these jam pockets that I saw on a blog this summer.  They just seemed like the most lovely, delicate little cookies.  So I gave them a try.  And although they're slightly more work than I generally like to put into a cookie, I thoroughly enjoyed them.  The dough was mildly sweet, and had a nice light texture.  But as the recipe creator pointed out, the jam is the real star.  :)
I used a yummy blueberry flavor (that I found at TJ Maxx — a fantastic place to buy cheap, gourmet jams!), but would definitely encourage you to use whatever you love best.  Or if you wanted to try an assortment, the mixed flavors/colors would be fun as well!  Feel free to serve alongside tea or coffee.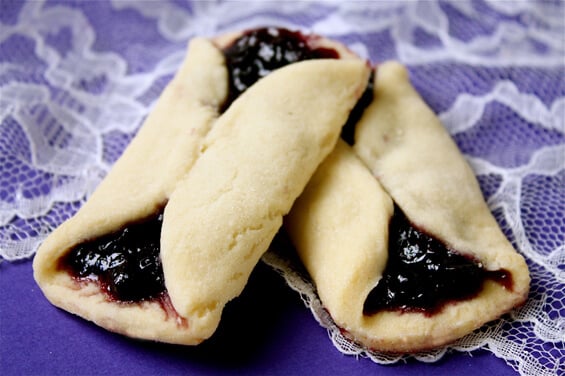 Jam Pockets
You will adore these jam pockets, and they're a cinch to make!
Ingredients:
2 cups flour
1/2 cup powdered sugar
1/2 tsp. salt
1 cup (2 sticks) butter, cold & cut into cubes
1 egg
1 tsp. vanilla
jam, any flavor
Directions:
Preheat oven to 375 degrees.
In a food processor, combine the flour, sugar and salt until mixed. Toss in the cubed butter and give it a few long buzzes, until it resembles coarse cornmeal. Toss in the egg and vanilla and buzz a couple more times, until a very soft dough forms. Cover with plastic wrap and refrigerate for a couple hours.
Roll the dough out (about 1/8″ thick) and use a cookie cutter (or a drinking glass) to cut into circles. Add a dollop of jam (about 1 heaping tsp.) to the middle of each circle and gently fold the edges inward, overlapping in the middle. Or you could just fold it into a half circle and completely close the pocket, but then you can't see what kind of jam you're getting before you bite into it. :)
Bake for about 10 minutes. The bottoms should be just faintly brown, the tops will not be. Cool and sprinkle with powdered sugar or superfine baker's sugar if desired.
The key to making these lovely is actually all about the jam placement.  The pictures that I took are actually an example of what not to do — oops!  (Was running short on time, otherwise would have retaken them!)  Rather than spread out your dollop of jam in a line down the cookie, I found that it worked best to just let it be a small blob in the very center of the cookie.  Once it is heated in the oven, the jam will bubble up and spread out anyway.  If you don't (like in this first batch), unfortunately your cookie sheet will get to enjoy a bit more of the yummy jam than you do!  :)
If you make this recipe, be sure to snap a photo and hashtag it #gimmesomeoven. I'd love to see what you cook!