Kale Chips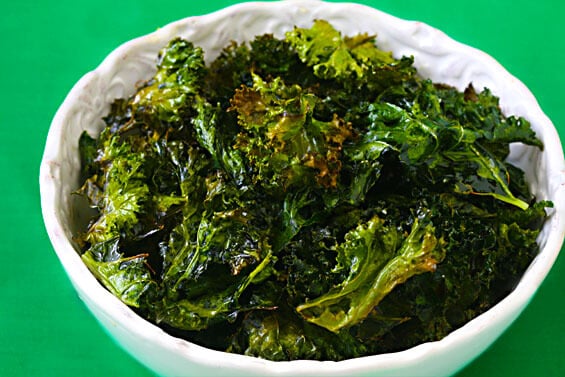 A few mornings ago, my next-door neighbor surprised me by bringing over a huge basket of fresh kale – YUM!  Such a wonderful way to begin the day!!
I've been craving kale chips this month, so was anxious to pop them in the oven and make a quick batch.  Talk about instant gratification — after just 12 minutes in the oven, the kale had reached that gorgeous dark green color, was perfectly crisp, and ready to be enjoyed!!  There are a million different ways you can season them, but for this batch I went nearly al natural — just tossed them in some olive oil and sprinkled on a little sea salt.  Completely delicious!!
If you've never made these before, I can't recommend them enough.  In addition to providing a fresh alternative for when the crunchy "chip" craving hits, kale is absolutely packed with nutrients and powerful antioxidants.
So grab the olive oil, and whatever favorite seasonings you enjoy (herbs, a little lemon or lime juice, garlic, etc.), and enjoy this addicting, yet wonderfully guilt-free snack!  :)
Kale Chips
You will love this delicious and healthy kale chips recipe!
Ingredients:
1 bunch fresh kale leaves, well-washed and dried (you can use a salad spinner, or pat dry with towels, or just let air dry!)
2 Tbsp. olive oil
coarse sea salt (or whatever salt you prefer)
Directions:
Preheat oven to 350 degrees.

On a cutting board, use a kitchen knife to chop the kale into bite-sized (about 1″) pieces. (You can also tear it apart with your hands.) Place pieces in a large bowl, and drizzle with olive oil. Then using your hands, toss the kale until the leaves are evenly coated with the oil.

Lay the kale pieces out evenly on the parchment-lined baking sheet, and then sprinkle with sea salt. Bake for about 12 minutes, or until kale is dark green and crunchy. Remove from oven, let cool, and then serve.

All images and text ©

If you make this recipe, be sure to snap a photo and hashtag it #gimmesomeoven. I'd love to see what you cook!
Ali's Tip:
If you would like to keep these "raw", they can be easily cooked in a dehydrator.  Just prepare them similarly, and pop them in the dehydrator for 4-5 hours.