Mason Jar-Inspired Finds
This post may contain affiliate links. Please read my disclosure policy.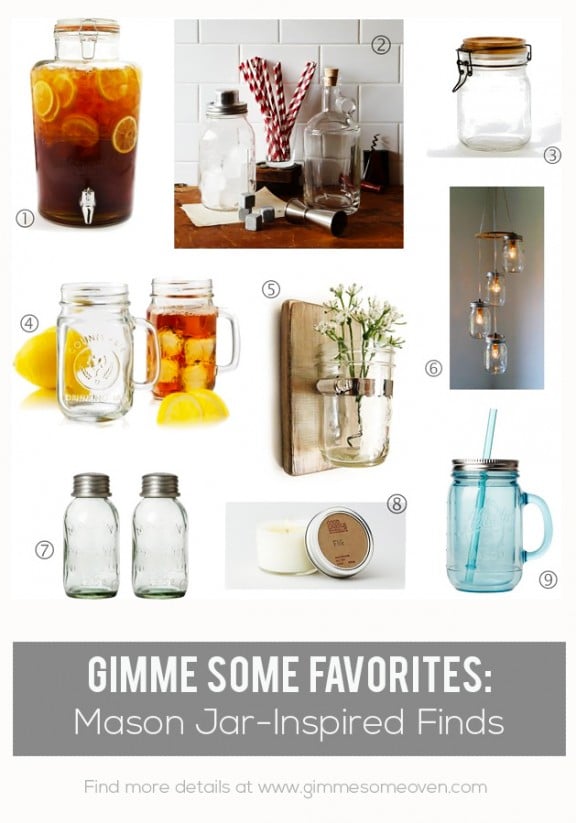 Ok, after reading through all of your wonderful comments and ideas on our Reader's Survey happening right now (don't forget to enter for a chance to win a $100 Visa gift card giveaway!), I've decided to just start experimenting with some new ideas this month and see how they go!
First up, I'd like to try out a series of "Gimme Some Favorites".
I am always pinning and bookmarking and oohing and ahhhing over great new kitchen and entertaining finds. But I rarely share my discoveries on here with you! So for this first week, I thought I would share some Mason Jar-Inspired Favorites with you.
I know that we are probably entering the twilight of the mason jar phase. But they are still so cute and vintage and fun! And while there are about 5.2 million mason jar DIY projects you can find on Pinterest, I thought it would be fun to do a little roundup of mason jar inspired products that you can buy. You know — for those that may find pinning cute projects a little easier than actually making them. ;)
Let me know what you think of this idea for product roundups. And I'll also take theme requests, although I have a few fun ones already up my sleeve. Have a great weekend, friends!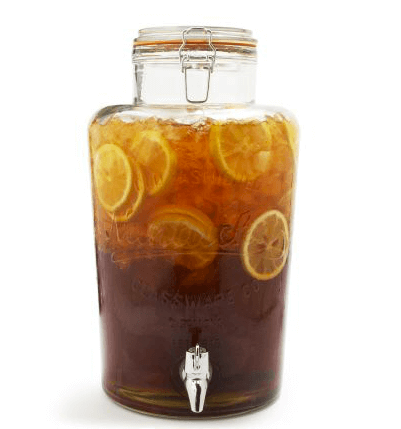 1. Nantucket Beverage Jar | Sur La Table
I bought one of these on sale this summer with a gift card, and absolutely love it!! It's actually even cuter in person. But I especially love it because it's sturdy and the spout actually works! (I have already gone through two other beverage jars in the past few years because those silly spouts are too flimsy and break.)  I also bought this stand to set the beverage jar on, which I also really like.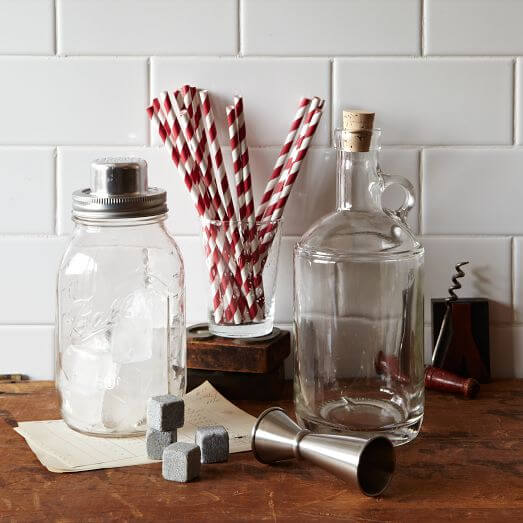 2. W+P Design Barware Collection | West Elm
This set (pieces sold separately) includes a shaker, jigger, paper straws, whiskey cubes, and mason jar decanter. Classy, sleek, stylish — everything I love about West Elm.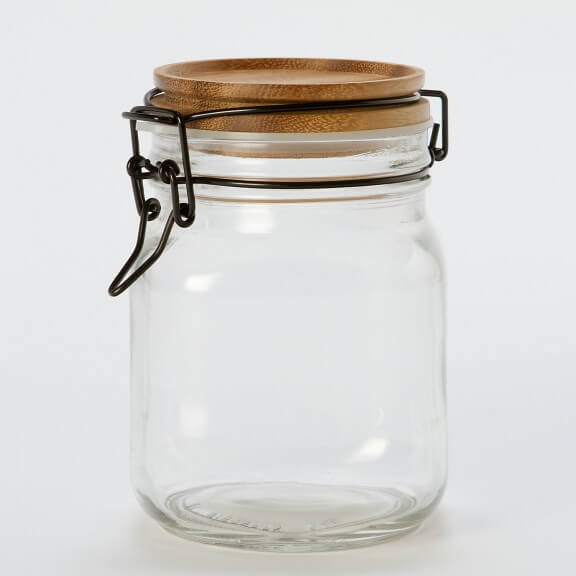 3. Acacia Wood Mason Jar | Terrain
For those looking for a beautiful twist on a classic mason jar, I adore this acacia wood version from Terrain. They are pretty pricey, but so beautiful to admire!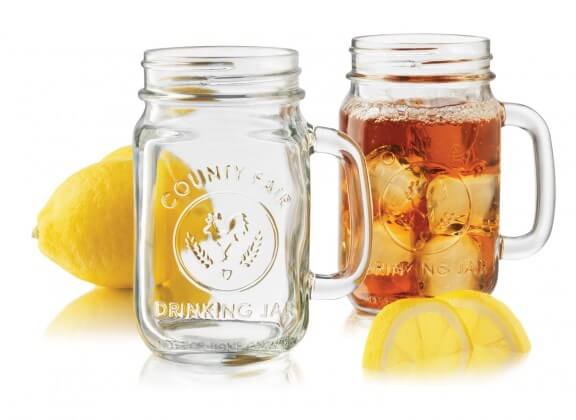 4. Libbey Country Fair Drinking Glasses (with Handles) | Amazon
I bought a set of these awhile back when I moved into my loft, and they are always a hit when entertaining (especially with cute straws)! I also love them because they are super sturdy. And — best thing ever — they have handles!!!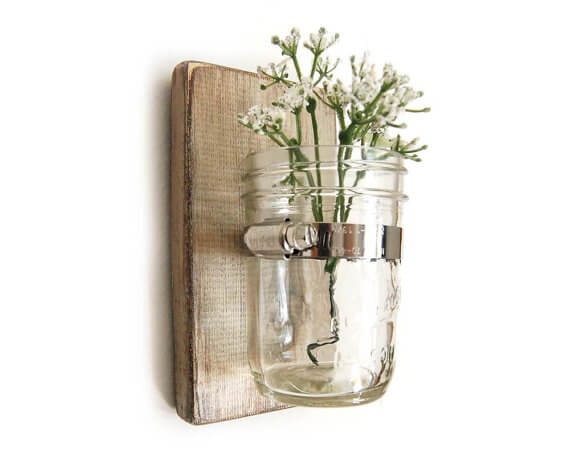 5. Mason Jar Sconce | OldNewAgain (Etsy)
This sweet sconce actually comes in a set of two, and you can choose any two colors of paint for the distressed wood background. I have loved this Etsy shop forever — so much cute stuff!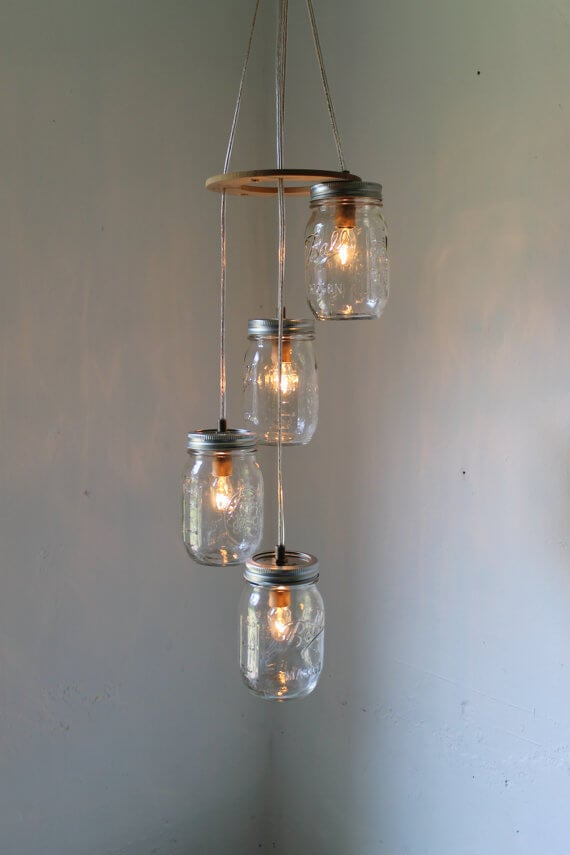 6. Cascading Mason Jar Chandalier | BootsNGus (Etsy)
Ok, I know we've all seen a zillion DIY versions of this on Pinterest. But let's be real — ordering one for $100 may be more realistic for some of us. ;)
7. Mason Jar Shaker Set | Terrain
Oh my gosh. Too adorable, right?? And they're made entirely out of recycled glass. Done.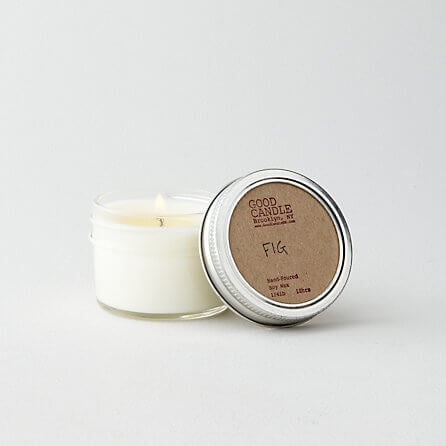 8. Small Mason Jar Candles | Steven Alan
These beautiful, simple candles come in a host of yummy flavors. And they are made from 100% American-grown soy wax that burns cleanly. Perfect for cozying up in the cold winter that's coming soon.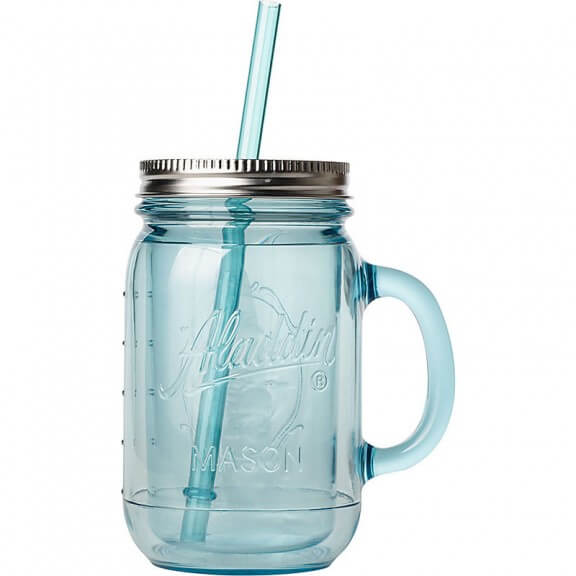 9. Aqua Plastic Mason Jar Mug | Paper Source
There are now tons of mason jar lid/straw combos out on the market. But I love this one from Paper Source that looks like heavy glass, but is actually lightweight plastic — perfect for toting around on the go.
Cheers to all things mason jars! Enjoy!!
**All photos are from the product sources and are not my own.