Kitchen Remodel: Cabinetry from Cabinet Giant
This post may contain affiliate links. Please read my disclosure policy.
Okie doke! Now that you all have seen the reveal of my new kitchen remodel, I'm really excited to tell you a little bit about some of the amazing sponsors behind it, and how the whole kitchen came together.
First up, I thought we would start with the beautiful white cabinets, sponsored by Cabinet Giant. (Be sure to scroll to the bottom for a discount code they are also offering to all Gimme Some Oven readers!)
Those of you who have followed this remodel might remember that it all initially started in a hurry. The loft of my dreams suddenly became available, but it was in really bad shape. There had been a kitchen fire, the cabinets were scorched, appliances were broken, and the entire loft was dark and gray and not looking so hot.
BUT. I was immediately drawn to the space because of the natural light, and could picture in my mind how incredible it would look if an all-white kitchen was built to reflect all of that sunlight day after day. So I began researching white cabinets. I knew that I wanted a clean and modern look, and surprisingly, that was a little harder to find than I anticipated. So many of the white cabinets out there had way too much detailing on the doors, or they were cream and not white, or just were way too expensive or way too cheaply made.
But I remembered how much I had adored my friend Liz's recent kitchen remodel and dark brown cabinets from Cabinet Giant — a national cabinetry company that's headquartered just a few miles from my place. So I popped on their website to see if they might have a white version that would fit the vision in my head.
And it turned out to be a bit of a match made in cabinet heaven. :)
After searching their website, I was stoked to find that they carried a White Ice Shaker line of cabinets, which fit the bill of what I was looking for! They looked simple, they looked clean, and they looked like the stark white that I was going for. So I called them to check, and the owner came over himself and brought samples to check out.
Thankfully, in person, they were even better than I expected! The first thing I noticed — and the first thing that everyone has commented on — is how thick and sturdy these cabinets are. No thin, flimsy cabinets here. The doors are all 3/4-inch thick, and are built to last. And the story is the same with the bright white paint. My last kitchen had white cabinets that had faded a bit to yellow. But the paint on these is high quality, and built to resist fading, which means an actual white kitchen for years to come. (Yay!)
I knew that after meeting with the owner, Josh, that Cabinet Giant was definitely the company for me. He immediately helped me start measuring and dreaming up a new layout for the space, and then set me up with one of the Cabinet Giant designers — Alice — to start working on details.
May I just say — God bless Alice. This was my first ever serious remodeling project, and I had no idea how many little details there were to decide! I think that I changed my mind on things about 482 times during the process (ok, maybe 10, but still) and she was always patient and gracious and willing to help in a heartbeat. I mean it. She would almost always respond to my emails or phone calls within minutes. Best. Customer. Service. EVER.
After a lot of sketching, and rendering…and re-sketching and re-rendering…
…we finally had our design ready to go.
So then came time for the installation. I was thinking this would probably take a week or so, but oh no. Try ONE DAY.
We went with Cabinet Giant's recommendation for their favorite cabinet installer, Nathan, and boy am I glad we did. This guy is a wizard with installations!!! He and his wife arrived early one morning, and by lunchtime, all of the cabinets were assembled and he was already in the process of hanging them.
Part of this is due to the fact that this brand of cabinets from Cabinet Giant are intentionally designed to be really easy to assemble. The instructions are clear, and they are so well made that they snap together literally in minutes. Make that lots of heavy, strong, built-to-last "snaps", of course. :)
But part of the installation was also due to the fact that Nathan was a total pro, and so nice as well! I was the eager beaver remodeler who kept poking my head in every 30 minutes to see how it was going, and he would patiently smile and answer questions each time. It turns out that we also have a handful of mutual friends — small world!
Once the cabinets were done, though, we ran into some technical difficulties with just about every remaining step of the installation. So these beautiful cabinets were sitting for weeks just taunting me to start moving all of my kitchen pots and pans and food into them!!! But I tried my best to be patient and wait.
Finally, all of the installations were finished, and I was able to actually see what I had envisioned in my head for so long.
I mean, what's really to say — they are absolutely breathtaking!!
Just as I had hoped, all of the beautiful white literally made the kitchen glow with light. And the nice thing about being in a loft with sky-high ceilings is that we were able to add an extra row of cabinets on top for extra storage, which is not exactly a word I've been familiar with in the past. But now there is storage in abundance!
Yes, a few people have asked, I did invest in a little step ladder to be able to reach all of those tall cabinets. (For a reference, that bottom ledge above the sink is as tall as my head!)  But it is so worth it to have the extra storage, and I love how grand and tall they make the kitchen feel. So cool!
It has been super fun to fill all of the cabinets too, and find new homes for all of my things. They all open and close perfectly.
And speaking of closing, they also have that "soft close" feature where they gently (and silently) close that extra inch all by themselves. So it's pretty much impossible to slam a door in this kitchen.
They look great on top…(look, mom, my dishes are not piled to the very top anymore!)…
…they look great down below…
…they look great against the white appliances (no clashing!)…
…and they look great from the front (love those panels).
Basically, they are pretty good-lookin' from every angle.
Oh, and we even installed some under-cabinet lighting for extra light when I cook at night. (No extra light needed during the day!)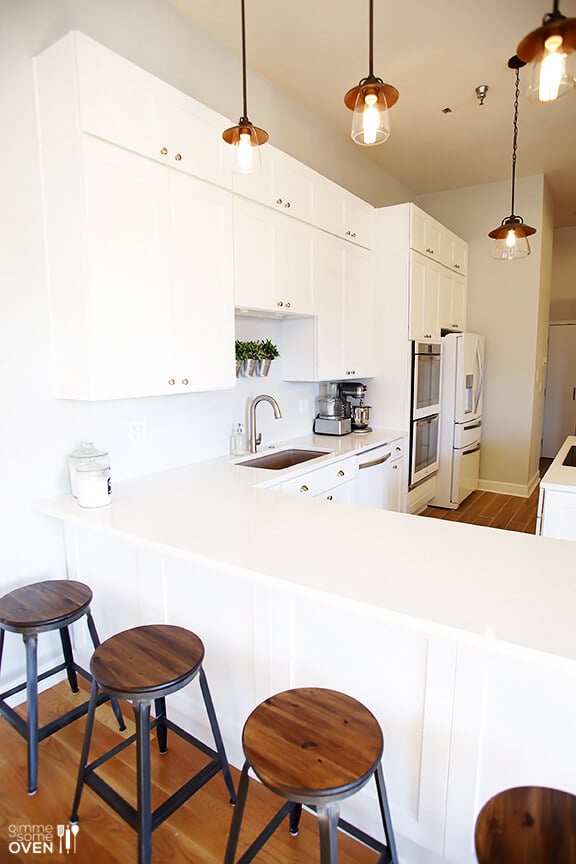 All in all, it has been a pleasure to work with Cabinet Giant on this remodel, and I can't recommend them enough. Oh, and did I mention one of the other biggest selling factors — they are affordable. I've known friends who have spent the majority of their remodeling budgets on cabinetry. And while you can definitely do that, I would highly recommend that people first look into this company. They easily look like they are worth literally 2-3x what they cost, and are well-made to boot.
So anyway, I feel like I have been waiting for months to share with you about this great company! (Oh wait, I have.)  But the day's finally here, and I want to sing their praises from the rooftops. And my thanks. So to Josh, Alice, Nathan, Dana, and everyone who helped with these cabinets — you're the best.
AND — final piece of good news — Cabinet Giant is offering a discount code to all Gimme Some Oven readers! If you are interested in ordering your own cabinetry with them, just use the code GIMME25. (And be sure to send me photos of your new cabinets — I want to see!)  :)
Be sure to check out Cabinet Giant on their: Website, Facebook, Twitter,YouTube & Pinterest.
Stay tuned tomorrow as I tell you all about the beautiful White Ice appliances (yes, to go with my White Ice cabinets) from Whirlpool!!
Disclaimer: This cabinetry was generously sponsored for my kitchen remodel from Cabinet Giant. I was not paid to endorse them, and all opinions are 100% my own as always. But I am enormously thankful for their graciousness in sponsoring the cabinets and helping with design, so it's my honor to share about them today.