Kitchen Remodel Sink & Faucet: Kohler
This post may contain affiliate links. Please read my disclosure policy.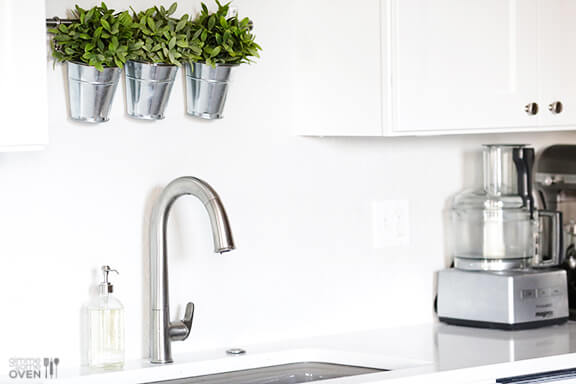 Ok, so far I have shared with you about the cabinets, appliances, flooring and lighting details in my new white kitchen remodel. But today I am excited to be focusing in on two very important components — my new cast-iron sink and touchless faucet from Kohler!
I have to be honest. I didn't know how much I depended on a kitchen faucet and sink until I went for 4 weeks without one. So once it was installed, I all but jumped for joy just to have running water in the kitchen! I was also completely floored by how gorgeous the enameled cast iron sink looked in person, especially against the backdrop of the white kitchen countertops and cabinets. Lemme tell ya, it is one beautiful sink.
But I have to admit, the Sensate touch-free faucet definitely stole the show. I mean, sure I was excited about it in theory. But it wasn't until I had a chance to use it that I suddenly understood the absolute brilliance of this product. So yes, I couldn't resist making one more little video (scroll all the way down) to give you a little Gimme Some Oven demo of the Kohler awesomeness…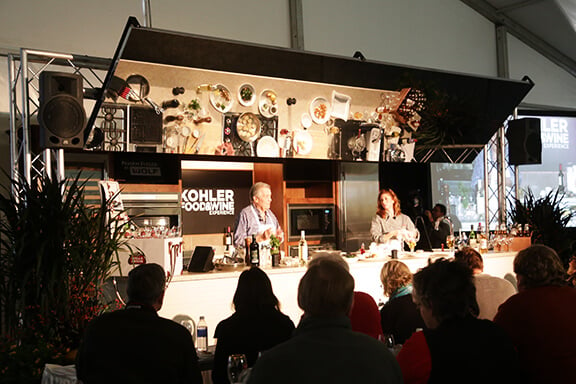 Well actually, let's back up a minute yet. One of the reasons that I'm such a Kohler fan is that I've been to Kohler!
That's right! For those of you who missed it, I had the chance to travel to Kohler, Wisconsin this fall to attend the famous Kohler Food & Wine Experience with some close blogging friends. There, we had the chance to be a part of one of the coolest foodie weekends ever — staying at the award-winning 5-Star American Club Resort (a Kohler experience), attending cooking demonstrations from famous chefs, and sampling outstanding food and wine galore.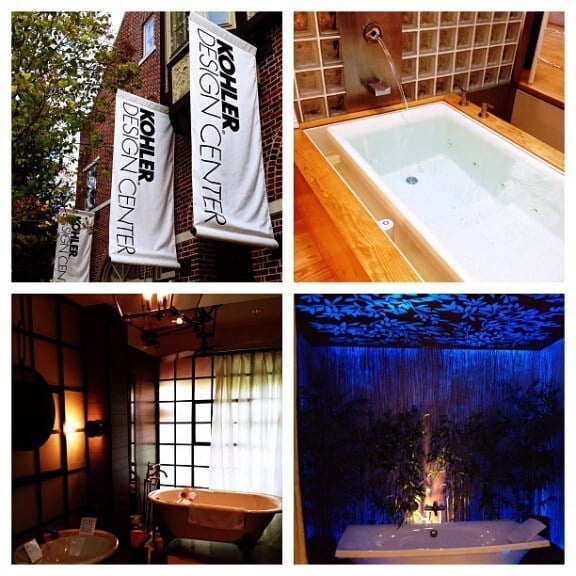 But one of my favorite parts of the trip was actually getting to tour the Kohler Design Center, where we visited showroom after showroom of stunning bathtubs, showers, sinks, tiling, furniture, and more. There was even a multi-story "Wall of China" filled with more beautiful toilets than I'd ever seen in my life! It was a designer's dream come true, and I came away completely awed by their thoughtful design and craftsmanship. And more, I think we all came away feeling so inspired by the heart and kindness of the people of Kohler. They are in the business of making people feel cared for and "at home", and welcomed all of us with the most wonderful hospitality.
So I was completely honored to know that part of my new kitchen would be coming from a company I so deeply admire and respect. And after visiting the design center, I couldn't wait to see what the sink and faucet that I picked out would look like in my new kitchen!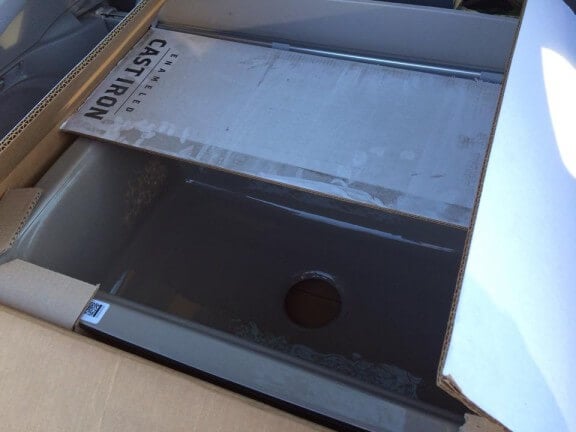 The one bummer about a kitchen remodel is that the faucet and sink are pretty much the last thing to be installed. So this beautiful (and very heavy) cast-iron sink and faucet had to remain in their boxes until the very end.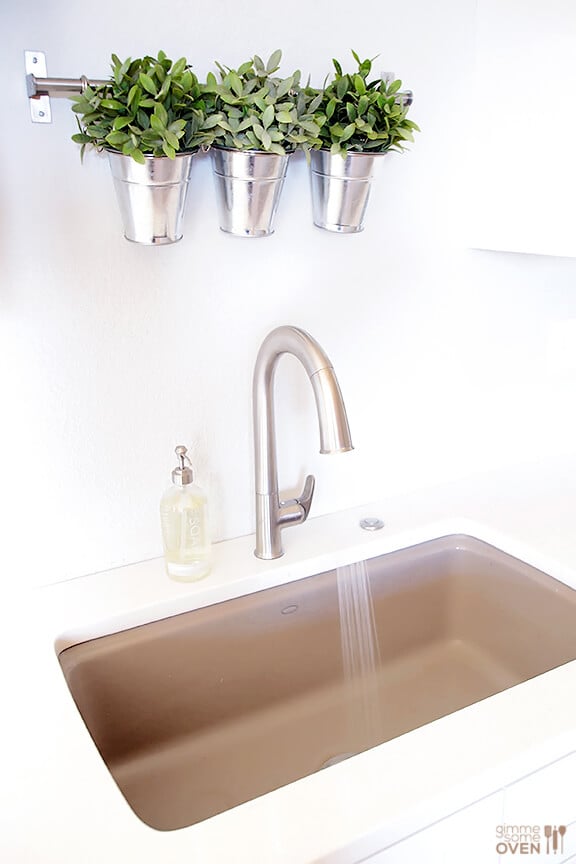 But once they were installed, the wait was completely worth it. They are gorgeous!!!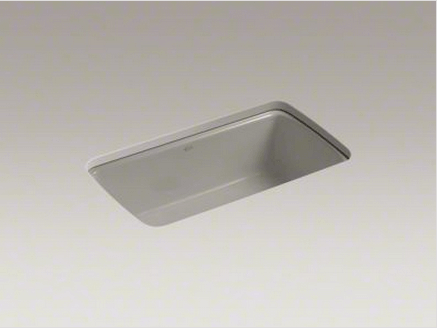 Ok, let's talk specifics. I went back and forth and back and forth on deciding which Kohler sink to select. Just one peek at their website will show you that they have an incredible selection to choose from! I was initially thinking that I would go with an apron-front sink, because that's what I seemed to always be pinning on Pinterest. But the more I thought about it, I really wanted a slightly darker sink to contrast with all of the white-on-white-on-whiteness of the kitchen. So I ended up going with the Kohler Cape Dory Under Mount Single Bowl Cast Iron Sink in the "cashmere" color.
My last loft had a big single bowl sink, and I absolutely adored the extra space to wash big pots and pans. I also wanted to go with an under mount, so that the cashmere color would be there but not competing with the countertops.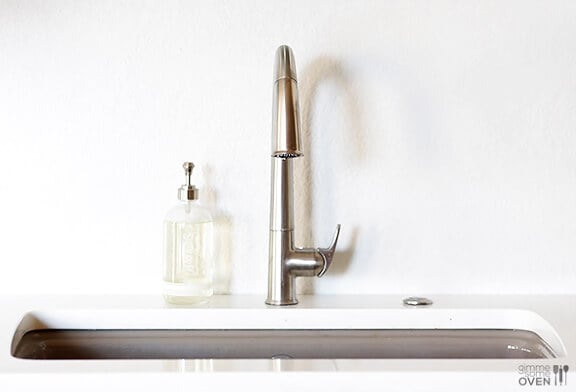 So the Cape Dory sink fit the bill. And once it was installed, I instantly felt relieved that I had made the right choice. This sink looks absolutely amazing in the kitchen! The cashmere color almost looks like chrome in person, which matches beautifully with the faucet. But the my favorite thing about it is the beautiful surface of the enamled chrome. It's glossy and beautiful and looks great when it's perfectly clean and even when it's not so perfectly clean after a long day of cooking. And the cast iron is s-o-l-i-d, and completely resistant to cracking, chipping and burning, which makes me happy.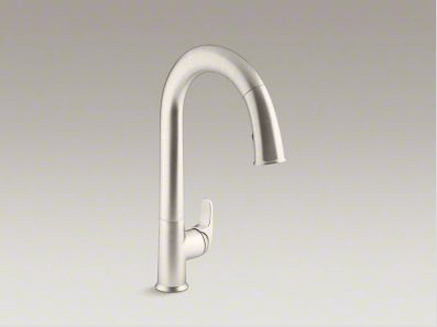 Then to go with it, we have the Sensate Touchless Pull-Down Kitchen Faucet in the "stainless" finish (as opposed to the other option, polished chrome).
Ok, now a little bit of backstory on this faucet…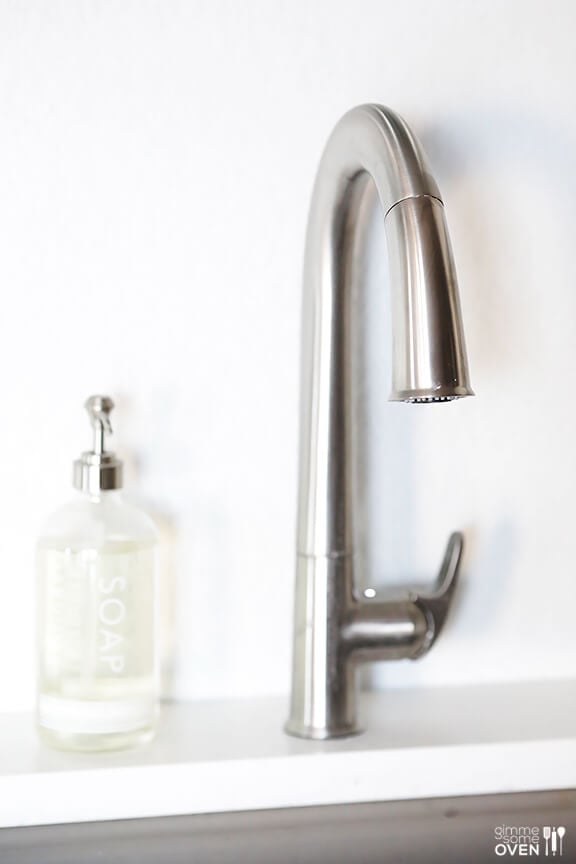 When I first began talking with Kohler about the kitchen remodel, the first question they asked was whether I would be interested in trying out their new "touchless" faucet. I immediately pictured airport bathrooms where I get stuck waving my hand 500 times in front of the sink to try and find the sensor before it comes blasting on and splatters water everywhere. Oh, don't tell me you haven't been there. ;)
So I was a intrigued and a little skeptical, but anxious to try it out.
When the day finally arrived to do the sink and faucet installation, I was away from home working on a project that day. But when I came back, my contractor eagerly told me that I "had" to come and see this new faucet. He's a pretty even-keel guy, so I was intrigued by this little wave of enthusiasm. With one quick wave of his hand, the faucet came to life pouring out glorious water. (Finally, water!!)  And with one more wave, it shut back off in an instant. And I began to understand.
No more sudsy hands all over the handle in the midst of doing dishes. No worry about germs galore on the handle after dealing with messy food. No more wasted water in times when it's tempting to just leave the faucet running while scouring pots and pans. Literally, you just wave your hand (or a pot or pan!) by the sensor, and within 20 milliseconds, you're good to go.
On the flip side, I was a little worried that I would accidentally trigger the sensor in the middle of doing dishes, and turn the water on constantly by accident. But it is so well designed that the sensor only extends a few inches. So when I'm doing dishes down in the bowl of the sink, it never triggers it. You can also quietly (thanks to their ProMotion® technology) detach the sprayhead of the faucet for added flexibility and select a spray or stream. Then DockNetik, Kohler's new magnetic docking system, helps attach the sprayhead securely back in place. Brilliant.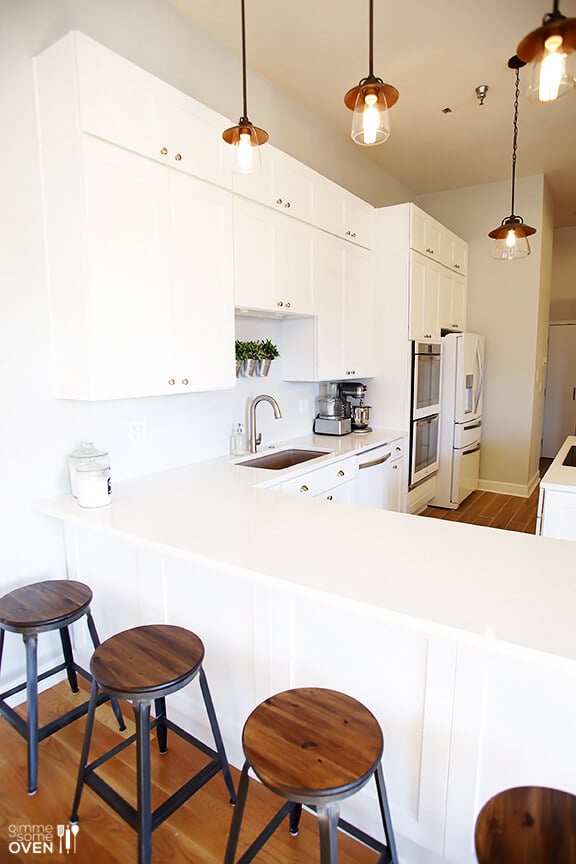 I figured it would probably take a few days or a week to get in the habit of the new faucet, but was surprised that literally within minutes, I had already adapted. I don't know how they did it, but the whole concept is completely intuitive. And now I have the opposite problem of trying to wave my hand under every other sink in the world, expecting it to turn on like this one. (Cue eyeroll.)  ;)
But alright, I'll stop typing and let this little video tell you the story. Be forewarned — I'd just had a cup of coffee. :)  (Big thanks again to my neighbor Cate from The Photo Bus for popping by to film this quick video.)
See? I told you they were cool. ;)
Anyway, if you are considering investing in any new kitchen updates, I would strongly recommend checking out this sink and faucet, or any of the other beautiful products that Kohler has out there. I never knew that a sink and faucet could make such a difference in a kitchen, but now I know, and give them my fullest recommendation.
So big thanks to Kohler for being such an amazing sponsor, and again for hosting my friends and I while we visited the Food & Wine Experience. They really are the best! You can check them out on their:
Website, Facebook, Twitter, YouTube & Pinterest
Disclaimer: The faucet and sink were generously sponsored for my kitchen remodel from Kohler. I was not paid to endorse them, and all opinions are 100% my own as always. But I love the products and was excited to share about them with you today, so thank you for supporting them!