Kitchen Remodel Appliances: Whirlpool
This post may contain affiliate links. Please read my disclosure policy.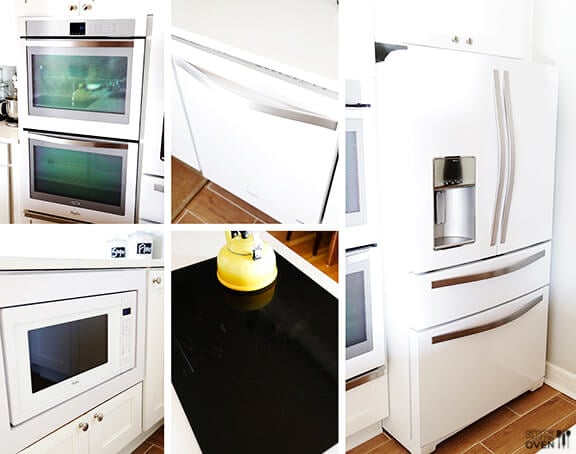 The story behind my new white-on-white kitchen continues today with the inspiration behind it all — my beautiful appliances from Whirlpool!
When I first began dreaming about a white-on-white kitchen for my new loft, I knew that finding beautiful white appliances was going to be key. I was hoping for a sleek and modern look, and a smooth texture different than the textured white plastic refrigerator doors of my past. And after searching around, I was thrilled to discover that Whirlpool offered a line that was even more beautiful than I had imagined — their White Ice collection.
Actually, you can choose white, black or stainless with the new Ice collections, but I of course went with white. And as I began to click around their website, my admiration for the sleek design (especially with those stainless steel handles) and all of the new modern techy features began to grow and grow. So I was absolutely elated when Whirlpool offered to become a sponsor for this kitchen remodel project, and I was able to choose my dream appliances.
But let me tell you — it's one thing to admire them in person (even with photos on a blog post like this). But it was an entirely different experience to see the appliances in person when I went to take an appliance tour of them with the super helpful folks at Nebraska Furniture Mart (who also handled delivery and installation). But then to have them actually installed in my new kitchen — absolutely amazing. If it's possible, these appliances are even more stunning in person, and I literally feel like the luckiest duck each day that I wake up and realize that I get to cook with them.
So today, I'm stoked to share with you a little bit about why I've come to love each appliance. And because pictures weren't quite cutting it, I decided to film a quick video tour of the appliances. Huge thanks to my friend Cate (from The Photo Bus) for taking her lunch break yesterday to spontaneously come and film. It's my unedited, somewhat rambling, hopelessly giddy, little ode to the wonderfulness of this White Ice Collection.
Alright, pack your bags and come along for the tour!
First, A Little Video Tour…
Pardon the cheesy-ness. (Especially in my fridge. Did I seriously just admit to you that I have an entire shelf devoted to cheese??)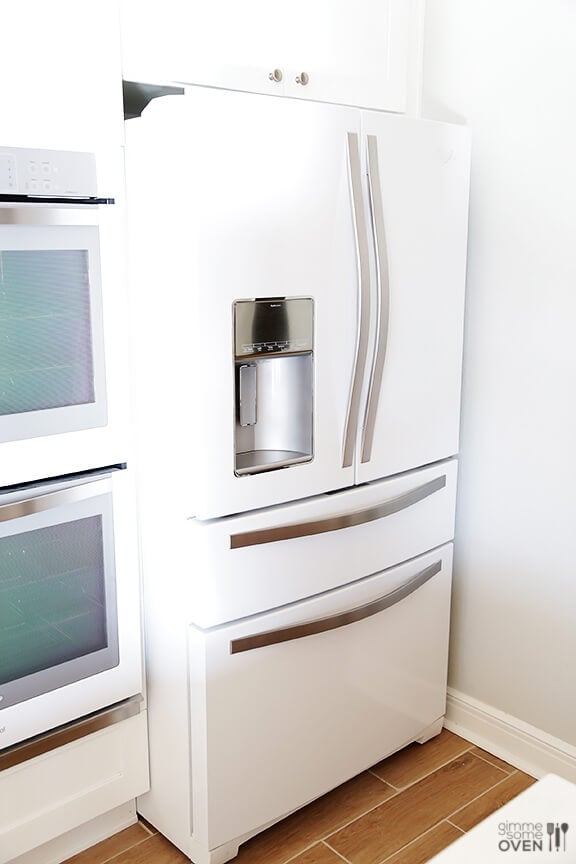 Refrigerator
Let's just be clear. This refrigerator is EPIC.
Let me tell you a few reasons why…
First of all, it's gorgeous, with that beautiful smooth white finish and stainless steel handles. And it's also huge!  Perfectly huge, that is. It fits in perfectly with the design of the kitchen, but definitely provides tons of amazing storage space for anything one could ever hope to refrigerate or freeze.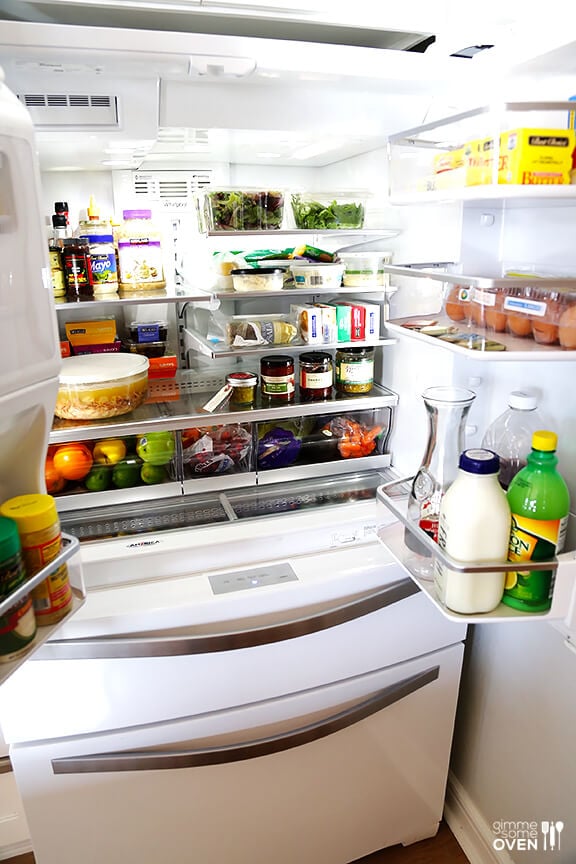 I mean, just look at all of that gorgeous storage in the refrigerated section up top! There are adjustable glass shelves a-plenty, but what the casual observer (um, me) might not notice is these MicroEdge® Shelves are actually specially designed to keep spills under control. And in addition to containing leaks, they also allow for 25% more storage space with their sleek design. I may have, um, already accidentally put these to the test with a leaky container of milk. And I'm happy to report (well, post mopping up the milk) that the shelves really do live up to their name. No use crying over spilled milk with these! (Oh yes — could not WAIT to say that one!)
The entire fridge area is also lit with panoramic LED lighting, with lights sprinkled all throughout the fridge to minimize shadows so that you can see where everything is.
There's also a FreshFlow™ Produce Preserver in there that extends the freshness of produce up to 4 days longer. A filter absorbs excess ethylene gas that causes fruit and vegetables, like lettuce and cantaloupe, to spoil. And then to go with that, there's a FreshFlow™ Air Filter to make your fridge smell extra yummy (really). The filter is 15 times more effective than baking soda at reducing common food odors by actively circulating air through our carbon based filter – crazy!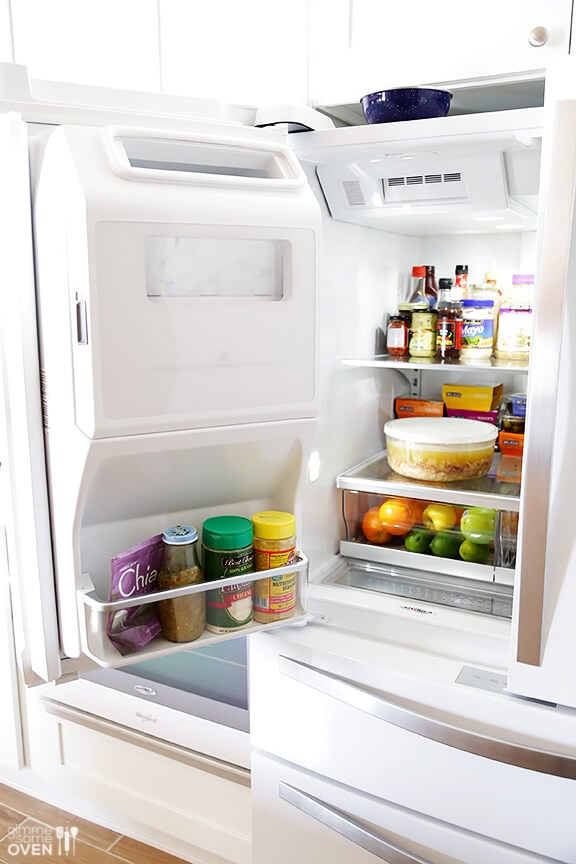 Whirlpool also installed the ice bin in the side door of the fridge, which is brilliant. So if you want to by pass the ice dispenser, you can reach in and grab a cube. Or heck, if you want the entire bin of ice, it just pops out for you! Bah-ril-liant.
A PUR® Water Filtration System also makes for extra yummy filtered water and ice, which I love. I am one of those people with an unusually sensitive taste for water, and this one genuinely passes the test. I now drink all of my water from the fridge!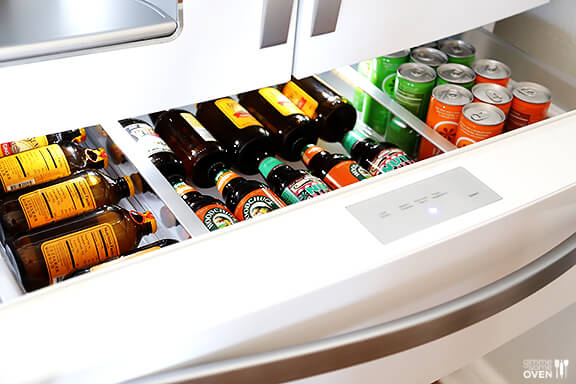 Alright, moving on. Below the fridge, we have this super snazzy drawer. What goes in said drawer? I'm so glad you asked. I like to call this the Choose Your Own Adventure Drawer.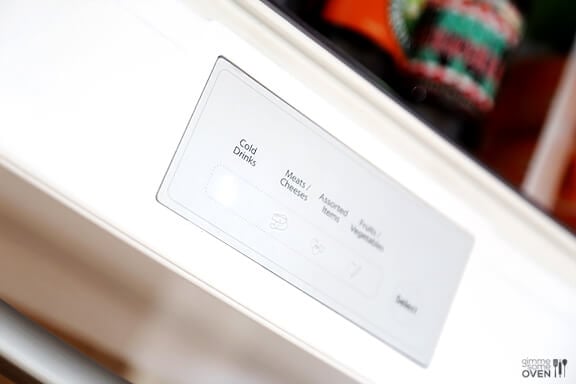 Ok, Whirlpool calls it the FreshStor™ Refrigerated Drawer. But you have four options: cold drinks, meats/cheeses, assorted items, and fruits/veggies. Since the whole world keeps dropping by to visit my new kitchen (yay!), I like to have all variety of cold drinks ready to go. I even have a dream section devoted to my favorite drink of the year — ginger beer. Oh my gosh, I don't know where it has been all my life, but I am now officially obsessed with all things ginger beer. You gotta try it.
(Oh, and added bonus, you can scooch the dividers around the drawer to make your ginger beer section as large or small as you'd like.)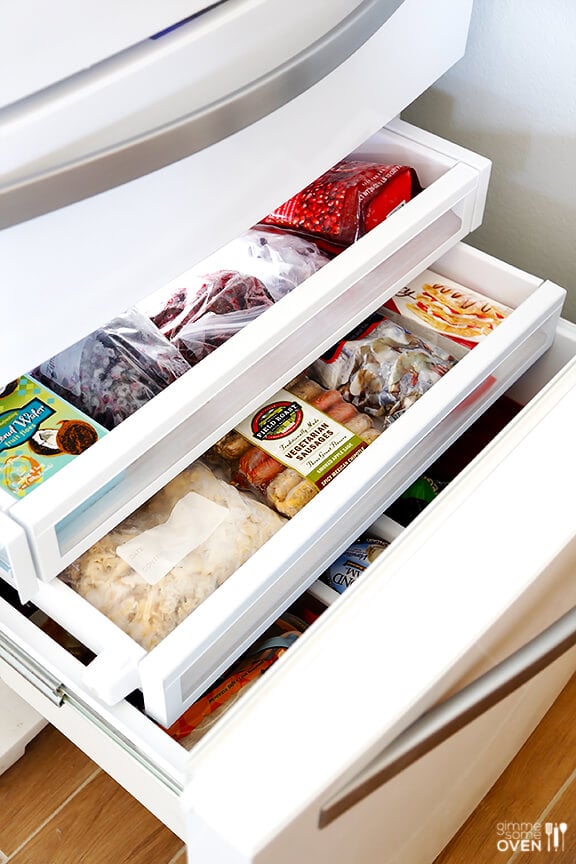 Finally, we have the trifecta of freezer sections below. That's right — one freezer, with a main section and two drawers on top (that you can pop out if you want the extra space). I happily turned one drawer into frozen fruits/veggies, one into frozen meats (yes, including some field roast, thanks to my vegan friends), and one drawer for everything else (ok, mainly ice cream).
All of the shelves/bins in here are also moveable for whatever your freezing needs might be.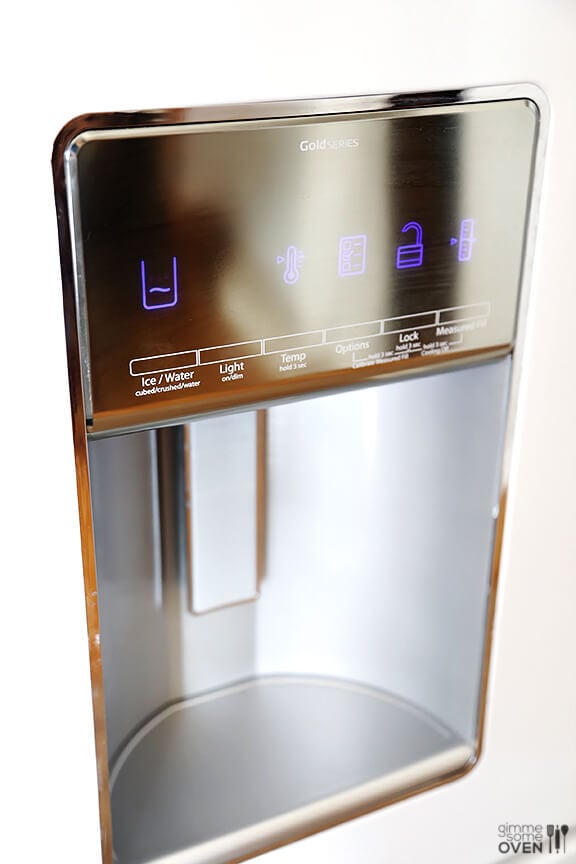 Without a doubt, though, my favorite part of this entire fridge is this little area right here. It kind of makes me feel like I'm in an episode of the Jetsons. This fridge is seriously so high tech!!! And awesome. Basically this fancy little touchscreen allows you to make super-cool refrigeration decisions at the press of a finger, including:
Ice/Water: Cubed ice, crushed ice, or agua.
Light: A cute little LED light turns bright, dim, or off
Temp: Adjust the temp of anything you'd like
Options: Fast Ice, Vacation Mode
Measured Fill: Oh yeah, how cool is this? You can decide how much water you want — 8 oz.? 12 oz? — and it will give you exactly the amount you choose with the push of a button.
Oh, and each selection you push makes an adorable little "bing". You can turn the bing off if you want, but I find it charming. :)
Ok, do you see why I'm in love with this fridge now? I want it in my life basically forever.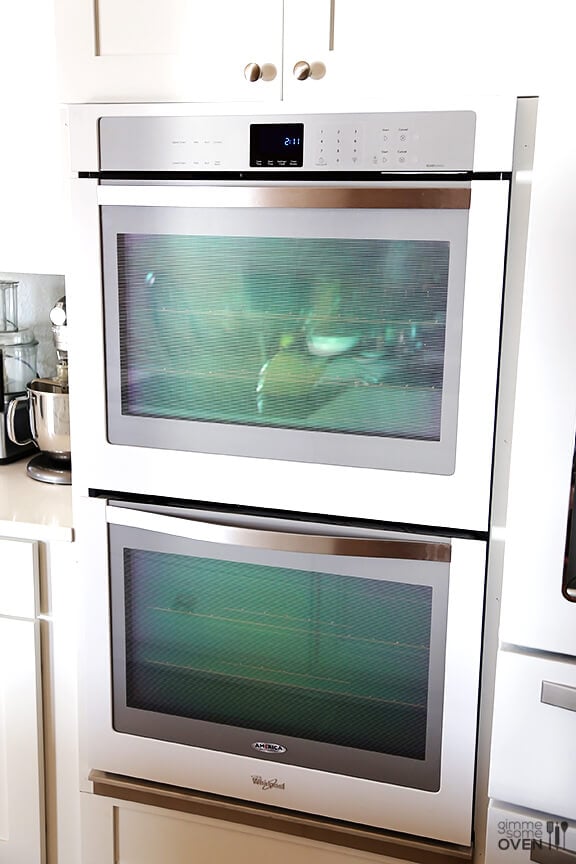 Double Ovens
Ok, moving right along. It's time for — g-g-g-gimme some oven!
Actually, make that — Whirlpool White Ice double ovens!!!
I have dreamed of having double ovens ever since I can remember, and I'm beyond grateful that these beauties are now a part of my kitchen. They look pretty darn good together, if I do say so myself.
And check out the view! Whirlpool used extra-large EasyView™ windows in this appliance line, which I have been taking full advantage of, especially now that I don't have to stoop down to take a peek at my cookies baking. Love it!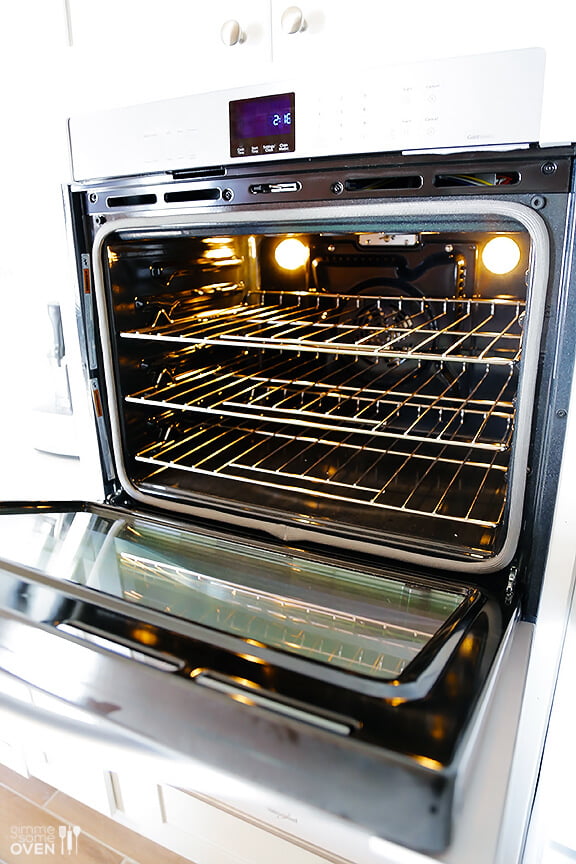 But as with all good things in life, it's what's on the inside that really counts. (Aww.)
First of all, this Whirlpool oven features the AccuBake® Temperature Management System, that helps cooks achieve delicious, consistent results every time. This system surrounds food with even temperatures and uses built-in sensors to monitor oven temperature, and it even turns on the correct cooking elements to ensure optimal heat and deliver consistent baking, even on multiple racks. My last oven was about 10 degrees off all of the time, which made things a wee bit difficult. So this feature is much appreciated.
Second, the oven is built with the TimeSavor™ Ultra true convection cooking system, which is Whirlpool's newest convection cooking system. It uses a rear fan and a third 2,500-watt heating element to distribute heated air more efficiently, so the oven is filled with even heat, cutting roasting time and sealing in flavors and juices. And as opposed to some convection ovens I've been around, this one is actually nice and quiet. Bonus.
Third, the oven features a Rapid Preheat option, that preheats the oven 25% faster and saves time and energy. Using all of the range elements and a fan, the oven heats up more quickly and creates the ideal temperature for single rack baking. Being that I'm seemingly always running late in the kitchen, this feature ROCKS.
Fourth, this oven has an amazing steam clean option. All you need are 1-1⁄4 cups of water to use the steam clean feature —no harsh chemicals or cleaners needed, which makes me feel good about what I'm cooking in there.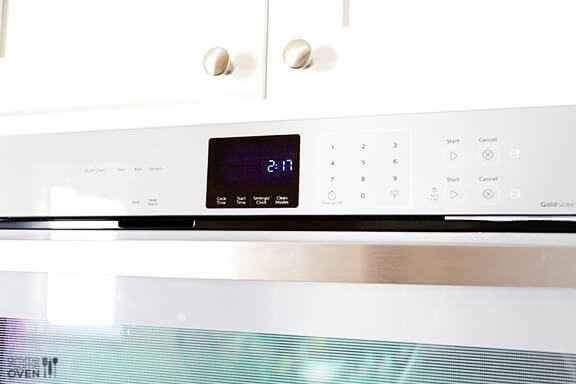 Also, I was a little worried about the learning curve with a convection oven, but Whirlpool did all of the work for me and has the oven automatically convert standard times and temperatures to the convection equivalent. Big-time thank you, Whirlpool.
And thanks again for making my double oven little dream come true. :)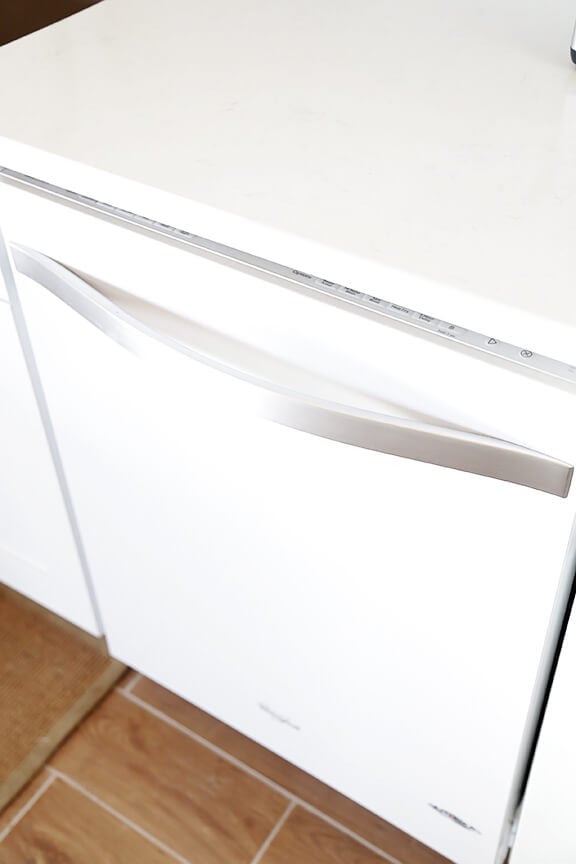 Dishwasher
Ok, speaking of getting clean, let's talk about this fancy Whirlpool White Ice dishwasher.
I feel like I should be honest here. I have been known to put dishwashers to the test. Ever since I began food blogging, the number of dishes that I go through in a given day between blog recipes, freelancing recipes, and — oh, you know — the meals I cook for myself has risen dramatically. And I subsequently dread doing dishes. So I have tested just about every item in my kitchen over the past few years to see if it is dishwasher-proof, and thus, I now put everything that passed the test in the dishwasher.
So I was looking for a good one. And I'm happy to say that so far, this Whirlpool White Ice dishwasher is passing the test with flying colors.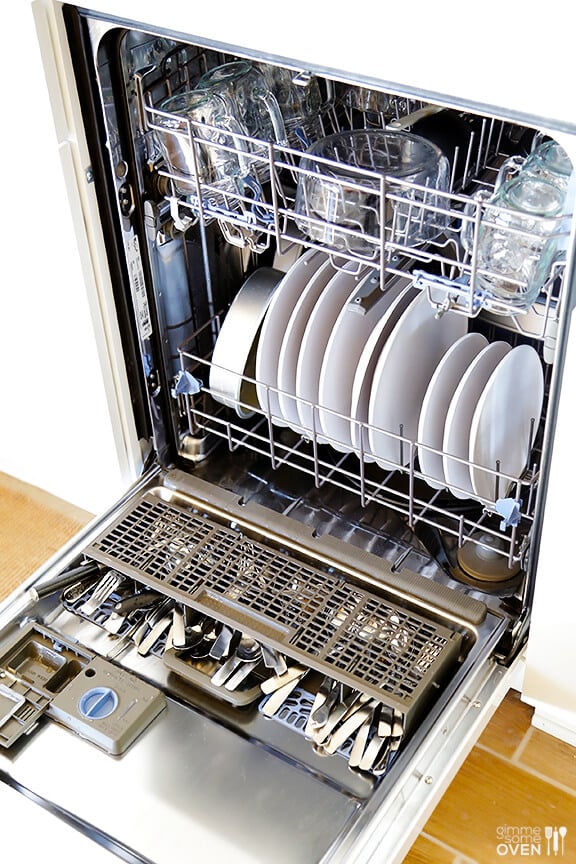 As you can see, all of the buttons on the dishwasher are located in a conveniently hidden panel on top of the door. And boy oh boy, are there options for just about every kind of cycle you could ever want!
Some of my favorites include the:
Overnight Cycle: Quietly soaks your dishes with an extended prewash and then runs a Heavy Wash cycle to clean tough soils. This industry-exclusive, 7-hour cycle optimizes water efficiency, without using more energy or disrupting household activities.
Eco Wash Cycle: Whirlpool's most efficient dishwasher cycle that helps minimize energy and water usage while cleaning dishes. This eco-friendly cycle delivers great cleaning performance and is the perfect cycle for cleaning lightly to moderately soiled dishes.
1 Hour Wash Cycle: This option will get dishes clean in about half the time. This hour-long cycle lets you thoroughly clean lightly soiled dishes when you are in a rush.
PowerScour™ Option: Holy smokes. This amazing option uses 40 targeted spray jets in a designated wash area to scour away baked on foods and new design features larger jets that clean even your large pots and pans without soaking or scrubbing. From casserole dishes to pots and pans, clean a wide variety of items simultaneously−all without using an additional drop of water. I've only used it once so far, but it is very powerful, and very cool. Look forward to trying it more in the future.
Top Rack Wash Option: With this specialized option, you don't have to wait for a full load to wash a few items. The Top Rack Wash option saves you time and energy by washing dishes in the top rack. Now breakfast bowls and coffee cups don't need to sit in the sink until after lunch or dinner.
But without a doubt, my favorite so far is the Sensor Cycle. It automatically selects the right wash and dry settings for your load by using two separate sensors to measure temperature, soil level and load size once during the prewash and once during the wash cycle. Which means that it cleans tough soils 35% better while using just the right amount of time, energy and water. And people — it works. I may switch to the other cycles occasionally. But I'm guessing that about 90% of the time I'm going to let the sensor work its magic from now on. I'm amazed that technology exists — so cool!
A few other perks?
Energy Efficiency: This dishwasher is Energy Star and CEE Tier 1 Qualified.
Fold Down Tines: The tines (the little spokes) in the dishwasher drawer are adjustable for different sizes of dishes.
Triple Filtration System: This highly effective filtration system helps the wash system provide outstanding cleaning while using less water and energy.
Eco Dry Option: Uses 70% less energy to dry the dishes
Oh, and perhaps the biggest perk of all. This dishwasher is QUIET. Like, really and truly quiet. I tend to run loads of dishes at the end of the night right as I'm going to sleep, and this dishwasher never wakes me up. Hallelujah.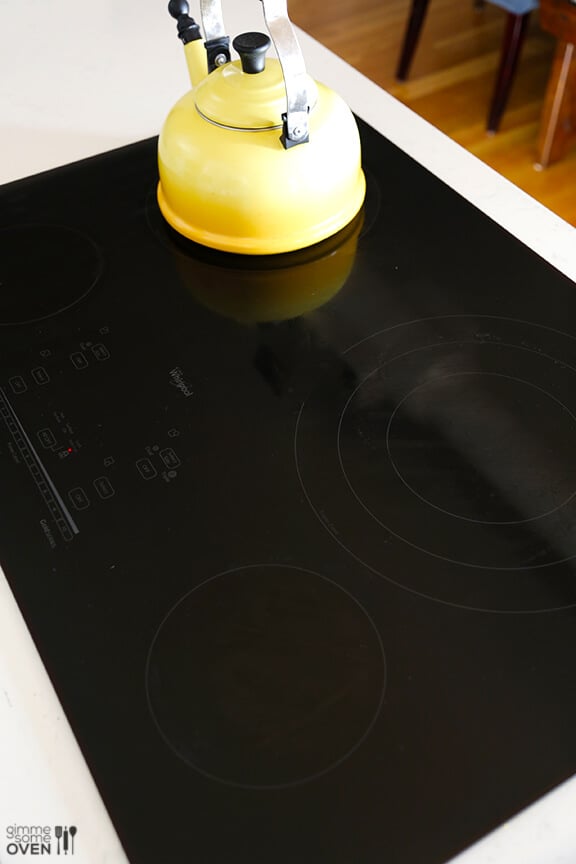 Cooktop
Next, we have the appliance that is apparently impossible to photograph — this Black Whirlpool Cooktop. As you can see, I opted to go with black for a cooktop rather than white, since I can never seem to keep cooktops clean for long.
A few of you have asked why no gas range? Yeah, unfortunately that wasn't in keeping with the codes for my historic loft building. Bummer, because the White Ice line has some really cool product options if you can have a gas stove. But actually, I've never lived in a home with a gas stove, so I'm used to electric cooktops and love how easy they are to clean.
But what I haven't ever had before is a touchscreen cooktop! This one took me about 0.12 seconds to learn how to use (super intuitive), and is really quick and easy to adjust, especially if a pot of pasta water is about to boil over! But my favorite feature along with the touchscreen is an option to lock the touchscreen. I was more than a little paranoid about accidentally bumping it and turning on a burner and setting something on fire. (And then all of my neighbor's lofts — NBD.)  But never fear, I now just hit that handy lock button each time I'm done using the cooktop, and the problem is solved.
I also love that the ceran® glass surface is eco-friendly, chipping-free, and uber easy to clean.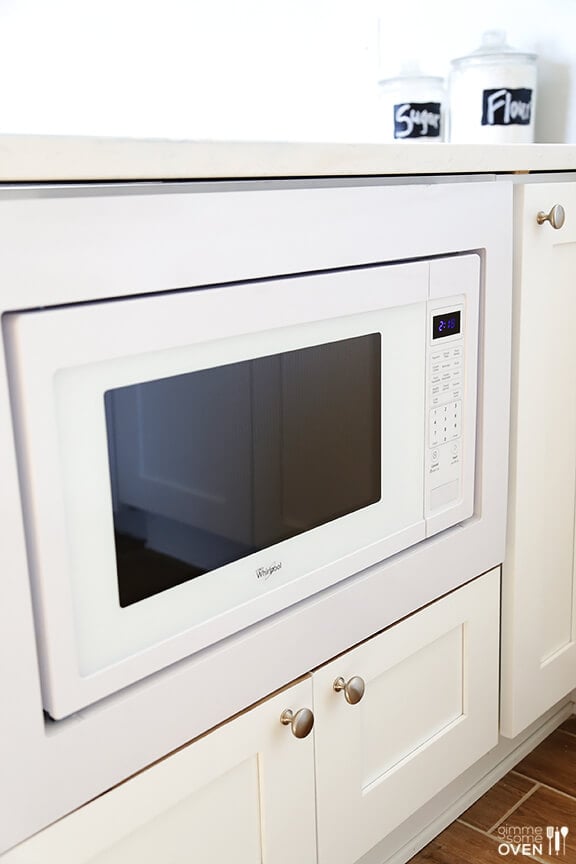 Microwave
Finally, we've come to the end of our tour with the appliance that has always loomed large in above kitchen cabinets of my past, but is now happily tucked away down below in my new kitchen — this Whirlpool white microwave.
This microwave is actually not part of the official White Ice collection, since that collection only offers a (stellar) over-the-range microwave. But it is enormous, and awesome, and it does a rockstar job at making popcorn. And I love that it fits down below the countertops.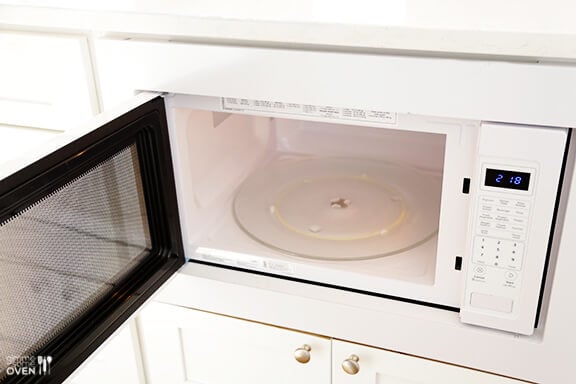 Why down below? Well, my cabinet designer and I simply weren't digging the traditional look up high with the other cabinets. They were already perfectly symmetrical, and frankly, I don't use my microwave all that much, except to warm up leftovers, melt butter and such, and yes — make popcorn. :)  So I was totally cool with it not being front and center like microwaves are in many kitchens. Totally just a personal preference, but I'm really happy with this microwave where it is.
I'd say the biggest plus to this specific microwave is simply that it's just that — big! 2.2 cubic feet, to be precise. You can easily fit an entire plate of food and more in there. Plus, the handy little presets on the side make heating up anything easy with just one (or a few) presses of buttons. And this microwave blends in perfectly with the other White Ice collection appliances, and looks sharp with that blue light digital display, which I love.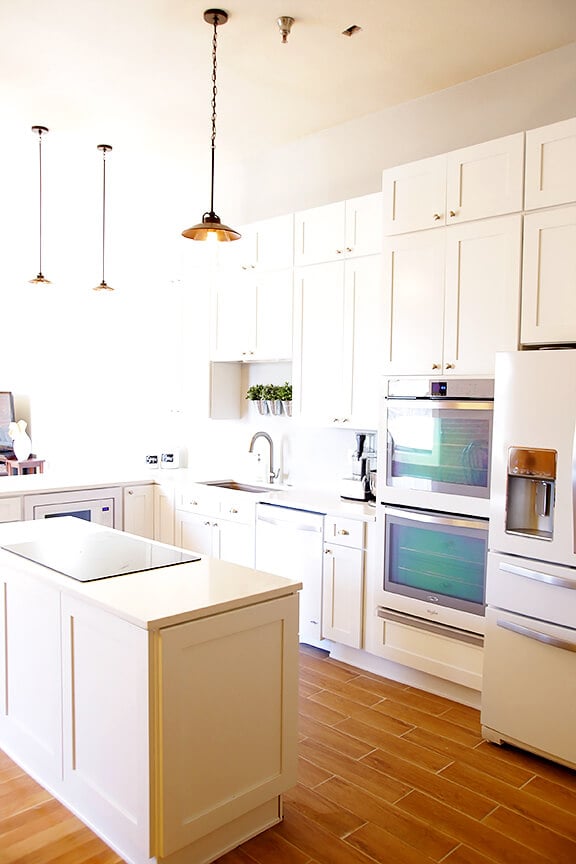 So there you have it! A gorgeous line of appliances from Whirlpool, all with zillions of hidden talents and treasures to discover. If you are looking at replacing any appliances, or going with an entirely new kitchen remodel in the future, you must check this White Ice line out. Or if you're into black, or stainless, be sure to check those out too.
(And one small tip — when browsing the line on Whirlpool's website, be sure to click the "Built In" image too to see all of the built-in appliances as well as the freestanding ones. And also, if you're considering the black ice or stainless lines, click on the color to search because there are different appliances sometimes with the different colors. So many great appliances to see — I just don't want you to miss them!)
My enormous thanks go to Whirlpool — especially their amazing team member Sam, who has helped oversee the ordering and installation from start to finish, and has been super patient as we hit delay after delay with other various parts of the remodel. I'm honored, amazed, and thrilled to have a kitchen full of such quality appliances, and cannot wait to cook up more deliciousness with them in the years to come.
Thanks for reading (and watching!) along everyone!
Official Product List (the full names for each appliance):
Also check Whirlpool out on:
Website, Facebook, Twitter, YouTube & Pinterest
Disclaimer: All appliances were generously sponsored for my kitchen remodel from Whirlpool. I was not paid to endorse them, and all opinions are 100% my own as always. But I am enormously thankful for their graciousness in sponsoring the appliances, so it's my honor to share about them today.