Lavender Cheesecake
There are a few recipes amongst our friends that are legendary.
Amy's lavender cheesecake would be one of them.
It all began at book club a few months ago when we were reading Death Comes To Pemberly, a fan fiction sequel to Pride and Prejudice.  (Which — for all of you curious Austen fans out there — unfortunately it didn't receive quite the positive thumb vote from the group as we all had hoped.  But it's arguably still worth the read if you love the Darcy's and murder mysteries.)
Being that our monthly book club gourmet spread of food and wine receives just as much time and attention as the books we read, you'd better believe that everyone perked up when they heard that Amy had brought along a cheesecake to share.  Or more accurately, that Amy had "just whipped up" a cheesecake to share.  Yes, Amy is one of those people who doesn't blink an eye at hopping halfway around the world to serve in the Peace Corps or creating a new cheesecake recipe from scratch.  NBD, people.
It turns out that this wasn't just any ol' cheesecake.  Amy let us know that it was a fresh lavender cheesecake.  But to make it extra "English", she had steeped some tea bags in heavy cream to make a delightful earl grey whipped cream topping.  And then she had tossed some actual earl grey tea leaves in the cheesecake itself.  As Darcy might say, and as we instantly all agreed, this cheesecake was brilliant.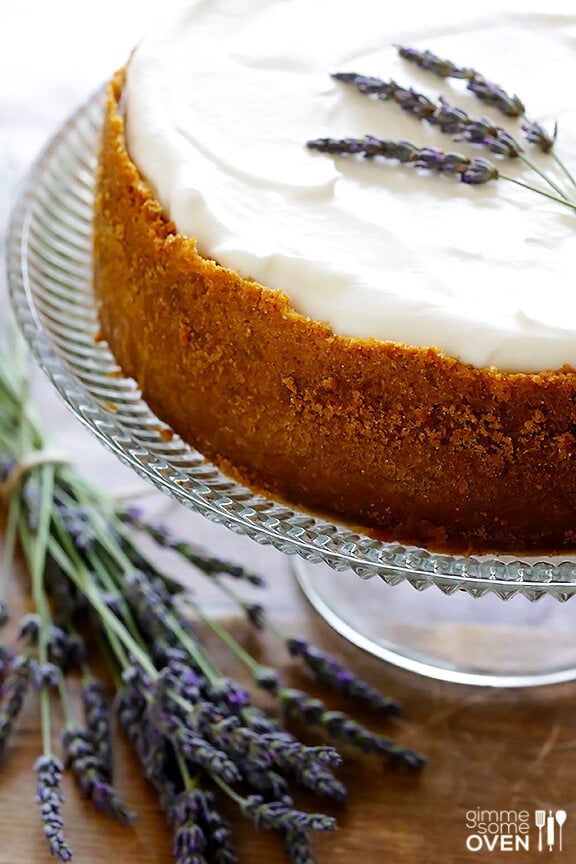 The request was made for the recipe to be posted on our KC bookie blog.  (Yes, our book club has a blog that's updated far less than regularly.)  And thus, the famous cheesecake began to make the rounds.
But up until this week, I had never tried making it myself.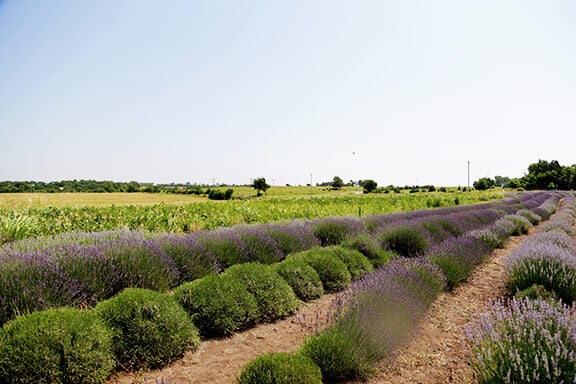 And then my family went on a random and lovely trip to a lavender farm over the 4th of July.  (You can read more about it in my post for Sparkling Lavender Lemonade.)  And we suddenly found ourselves taking home bundles upon bundles of culinary lavender.
So naturally, the first thing that came to mind was that it was high time to try making Amy's lavender cheesecake.
Since I had recently discovered a lighter cheesecake recipe that I loved, I decided to use that as the base but incorporate Amy's ratios of lavender into the filling.  For those who love earl grey tea, I highly highly recommend adding the earl grey tea into the filling and whipped cream as well, but you can go either way.
I ended up making this with my mom and sister for the 4th of July, and they then took it to a party with some friends after I had to drive back to Kansas City.  And the reviews were unanimous — everyone adored this cheesecake!  The fresh lavender was an absolute delight — fragrant but not overpowering.  The cheesecake filling is made with lighter cream cheese and Greek yogurt, but is still perfectly dense and flavorful and has been remarkably crack-free each time I've made it.  But the talk amongst friends is always about this earl grey whipped cream.  Oh my gosh, you've just got to try it.  SO good.
So cheers to Amy.  It was high time I finally give this one a try.  :)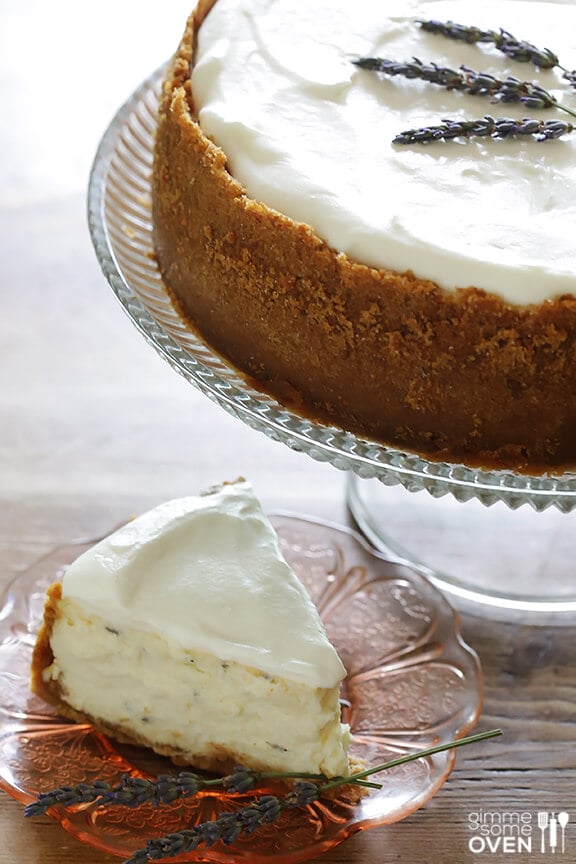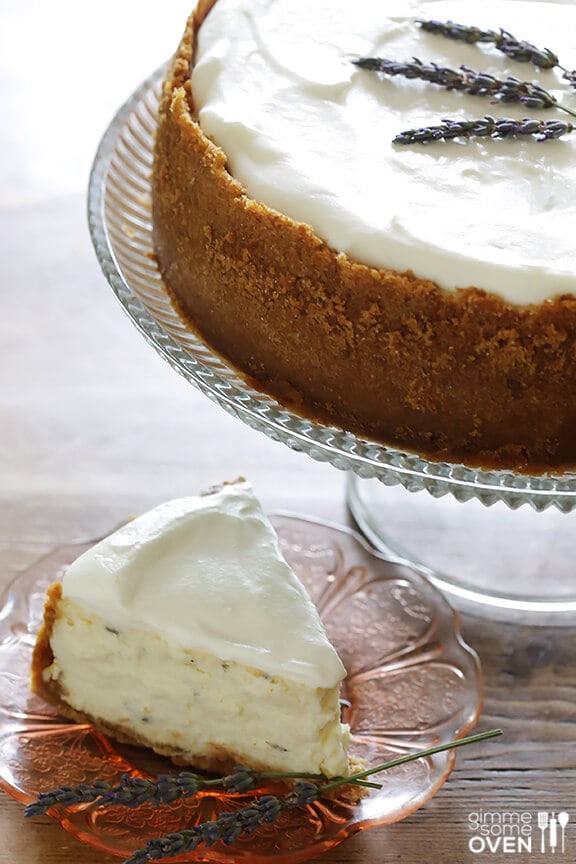 Lavender Cheesecake
Fresh lavender is perfect in this lighter cheesecake, accented (if desired) with hints of earl grey tea.
Ingredients:
Cheesecake Ingredients:
1 3/4 cups graham cracker crumbs
1/3 cup unsalted butter, melted
pinch of salt
1 1/2 cups sugar, divided
4 (8-ounce) bricks neufchatel (low-fat) cream cheese, softened
1 cup Greek yogurt
1 Tbsp.. vanilla extract
1 Tbsp. fresh lavender buds, finely chopped (measure first, then chop the buds)
1 Tbsp. earl grey tea leaves (optional)
4 eggs
Whipped Cream Topping Ingredients:
2 cups heavy cream
1 earl grey tea bag (optional)
Directions:
To Make The Cheesecake:
Preheat oven to 350°F, and grease a 9-inch springform pan. Whisk graham cracker crumbs, margarine, salt and 1/4 cup of the sugar together in a medium bowl until combined. Press firmly onto bottom of the pan (or up the sides, if desired). Bake for 10 minutes, then remove and let cool. Reduce oven heat to 325 degrees F.
Once the pan reaches room temperature, carefully wrap the outside of the pan in 2 layers of heavy-duty aluminum foil, being sure that there are NO gaps where water could seep through. Place the pan in a large roasting dish (or any pan larger than the springform), and bring a tea kettle or pot of water to boil in preparation for the water bath. Set aside.
Using an electric mixer, beat cream cheese on medium speed for 3 minutes until smooth. Add the remaining 1-1/4 cup sugar and beat for an additional minute until well blended. Add Greek yogurt, vanilla and lavender (and earl grey tea, if using), and beat for an additional minute, stopping partway to scrape the bottom of the bowl with a spatula. Add eggs, one at a time, beating on low speed after each addition just until blended. Do not overbeat! Pour into crust.
Place the double pans in the oven on a shelf on the bottom third of the oven. Very carefully use a tea kettle (or large measuring cup) to pour the boiling water in the larger pan to form a water bath around the springform, so that it comes up about 1-inch around the springform.
Close the oven door, and bake about 1 hour 40 min, or until center is almost set. (The center of the cake should still jiggle ever so slightly.) Turn oven off, and open oven door slightly. Let cheesecake set in oven 1 hour. Then remove cheesecake from oven, carefully run a knife around the edges of the cake, and then let cool to room temperature. Refrigerate at least 4 hours or overnight. Remove springform rim, and top cheesecake with whipped cream just before serving. Store leftover cheesecake in refrigerator.
To Make The Whipped Cream Topping:
To make earl grey homemade whipped cream, first bring the heavy cream to a simmer in a small saucepan over medium-low heat. Add a tea bag and steep for 4 minutes, then remove the tea bag. Refrigerate cream until cool. Then follow these simple instructions for how to make homemade whipped cream http://www.gimmesomeoven.com/how-to-make-whipped-cream/
Recipe inspired by my friend, Amy.
All images and text ©
If you make this recipe, be sure to snap a photo and hashtag it #gimmesomeoven. I'd love to see what you cook!