10 Reasons To Attend The True/False Film Fest
This post may contain affiliate links. Please read my disclosure policy.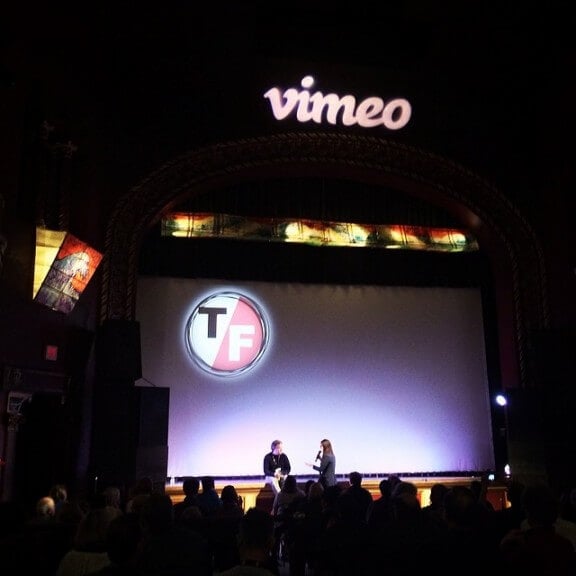 For years, I've heard rumors about the  True/False Film Festival in Columbia, Missouri.
Rumors that it's hands-down the best curated documentary film festival around. Rumors of epic parades. Rumors of smart and quirky and hilarious events galore. Rumors of a college town and even some of the most unexpected organizations joining forces to celebrate and support this festival. Rumors of rockstar volunteers often dressed in crazy costumes. Rumors that even those who didn't formerly love documentaries come away loving these documentaries. Rumors that this is one festival you simply don't miss.
So this year, I finally went for the first time with a group of friends. And it turns out, the rumors were not false, but true. ;)
(Couldn't resist.)
Quite simply, the festival was completely awesome, and I already have the dates penciled in my calendar to return next year. So I thought I would share 10 reasons why I think you should come too…
10 Reasons To Attend The True/False Film Fest
1. The Films
As mentioned above, True/False is a film fest that focuses exclusively on documentaries. I'll admit (as did some of my friends) that this idea seemed a little daunting. I mean, I love a good documentary every now and then. But an entire weekend of them back to back?!
Well the documentary-wary amongst you need not fear, because the selection at True/False is extremely well-chosen. And diverse! For some reason, I had in my head that it would be a weekend of mostly political documentaries galore. But all of the documentaries I saw were more on the emotional side and narrative-driven. Even the most political documentaries I saw — The Green Prince and E-Team — presented their facts through the lenses of very personal, thoughtful stories, and the directors of both said that was the only way they wanted to approach those topics.
I also loved that the selection was so incredibly diverse. So if you love learning about other cultures, or politics, or social issues, or art, or technology, or relationships — well, just about all of them somehow weave in relationships — you're bound to find plenty of documentaries on your favorite topics. But I'd encourage you to stretch yourself too, because this is a great opportunity to be introduced in a thoughtful way to new subjects as well.
Be sure to check out Sarah's write-ups on 9 of her favorite documentaries from this year's festival here.
2. The Vibe
When people ask me what I liked best about True/False, the "vibe" is the first thing that keeps coming out of my mouth. You guys, this fest is just so fun! 
From the enthusiastic parade, to the volunteers dressed to the nines in crazy clothes, to all sorts of fun and quirky and crazy events to go along with the movies, to just the general movie-loving giddyness of the attendees everywhere you go, this festival is designed with sheer enjoyment in mind. And the crowd is more than happy to oblige and let loose and celebrate.
Don't get me wrong — this is a totally legit, widely-acclaimed film festival tackling some very important issues and has every reason to take itself very seriously. But I absolutely love that they've chosen to tell the world that serious film appreciation and fun are totally not mutually exclusive. Quite the contrary — they make for an even better film festival.
3. The People
On that note, the people are what help create such a cool vibe at True/False. From the attendees, to the cast/crew of the films, to the volunteers, to the creators of the festival, to the members of the community, and everyone else in between, it's worth your time to introduce yourself to a few new people because they are a great crew to get to know. People are friendly. People are happy to be there. And people — even complete strangers — are completely eager to talk about about movies. :)
Get to know them.
4. The Events
So along with a great selection of documentaries at True/False comes a great selection of possible events to attend as well! Some of those include:
The Art Ramble: A tour of the fest's many art installations.
Campfire Stories: A cozy night gathered around an indoor "campfire", where 8 filmmakers share stories about the scenes that "got away" — complete with gourmet local s'mores.
Gimme Truth: A documentary "game show", when local filmmakers present their 1-minute short films and a panel of filmmakers tries to guess whether they are actually true or false.
Toasted: A new late-night "talk show" with festival filmmakers, musicians and artists over waffles.
True Life Conversation and Training: See below for more about the True Life fund, but know that there are some cool events to discuss and learn more about the topic of the selected film.
True Life Run: A Saturday morning walk/run to benefit the True Life fund recipients.
Weird Wake-Up Breakfast: Breakfast with local biscuits and coffee to get you ready for a day of documentaries.
Definitely schedule in time for a few of these. They're also a great way to break up days of back-to-back documentaries.
5. The Q&As
The Q&As after film screenings are one of my favorite parts of film festivals. And I was thrilled that so many of the actual directors and/or other cast and crew came to Columbia to represent their films! Get ready because you're likely to also bump into them around town during the festival. So if you have questions or want to discuss their documentaries, you will likely have an opportunity either during the Q&As or afterwards during the festival.
6. The Town
Love or hate Mizzou, I promise that you're going to love Columbia if you attend True/False.
First of all, Columbia is just a really cool college town. Local restaurants and shopping are in abundance. But more importantly, so are good people. The town literally bends over backwards to be welcoming hosts during True/False, and their generosity, kindness, and film-loving enthusiasm absolutely make this festival. I can't imagine it anywhere else, and it made all of us very Missouri-proud. Go CoMo!
7. The Food
Of course, we can't talk about a trip without talking about the food, right?!?
As I mentioned, Columbia has some fantastic local food and drinks, and many of those restaurants help cater events and parties for the festival. So if you're a foodie, get ready to do some sampling during the festival. And be sure to check out True/False's restaurant guide as well for local recommendations.
My friends and I ate at Cafe Berlin, Shakespeare's Pizza, Kaldi's Coffee Co, and Teller's Gallery and Bar, and we loved them all.
8. The Q System
There are many different levels of passes for the True/False festival. But if you get a pass that does not book advanced tickets for specific films, you will likely get to spend some time waiting in the "Q" lines for tickets. This was my situation this year, and I admit I was not super excited at the prospect of having to wait in long lines in the cold outside for a chance to maybe get into a film.
But as it turns out, the Q system at True/False is extremely efficient and easy to navigate. If you want to queue for a film, simply show up an hour before the film and look for the (flamboyantly dressed) Q "Queen" for that venue. That person will give you a ticket with your number for the queue. Then you can leave (and go someplace warm) until 15 minutes before the movie, when you show up to take your place in line. If there's room in the theater, they will let you in.
The Q volunteers also know their venues well, and can pretty accurately predict at the time you pick up your ticket whether or not you are likely to get in. So don't fear — it's a really easy system to navigate and worked well for me this year.
9. The Parties
I mean, let's be real — True/False is kind of one big party. But if you attend the festival, you should totally check out some of the many official parties that are offered as well, including The Jubilee, March March, Reality Bites, @ction! Party, Filmmaker Fete, Closing Night Beer Pour, Closing Night Reception, and the Rasco Party. They are a great way to get to know more of your fellow festival attendees, the filmmakers and cast/crew who are in town, and the countless cool people who help create and run the festival.
We ended up having to leave the festival a little early this year because of a snowstorm (boo!), but next year, I plan to put my party hat on and catch more of this fun!
10. The True Life Fund
Finally, you can't attend True/Life without hearing about — and then being completely blown away by — this thing they call the True Life Fund. In a nutshell, the festival knows that it lives and breathes because of brave people who allow their very true and non-fiction stories to be shared with the world. So in a film world where the filmmakers are usually the main people celebrate, the festival selects one documentary each year and raises funds to intentionally support and honor the subjects of the film. (And they collaborate with the filmmakers to be sure that this support is thoughtfully and effectively offered.)
This year, the True Life fund selected the film Private Violence, honoring the victims of domestic violence and those who care and advocate for them. You can read more about it and donate here if interested, and also read about recipients of the True Life Fund in years past. So important, and I appreciate how True/False makes this such an important part of the festival. Yet one more reason this fest is making such a difference in the world.
——
So have I convinced you yet?!? Seriously, if you love movies or have any inclination to travel to Missouri next year, I highly recommend making a weekend of it. My friends and I will definitely be there again, and I'm already looking forward to the new selection of films and events and parties and general movie-loving-ness that are sure to be celebrated again. If you have any questions about the fest, feel free to email and I'll answer as best I can. But otherwise, be sure to also check out the True/False film fest website, Twitter and Facebook pages.
Disclaimer: I was given a press pass to attend the True/False Film Fest this year. I was already planning on attending with friends, and all True/False-loving opinions are 100% my own. The festival went far and above my expectations, though, so I wanted to share all about it with you.