August in Movies
This post may contain affiliate links. Please read my disclosure policy.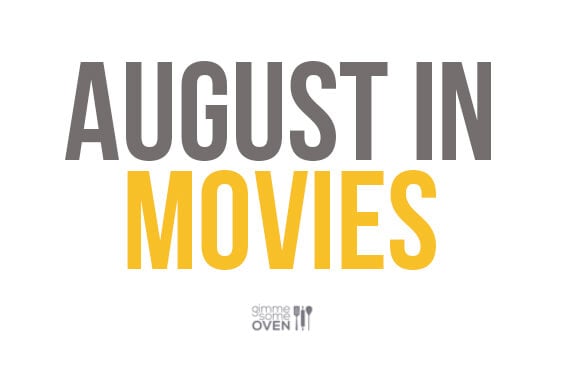 We're still in the thick of Big Movie summertime. For a nice palette cleanser between action flicks, here are four iconoclastic sleeper hits not to miss in the glare of the blockbuster season.
One is a dark Irish comedy-thriller with some deep questions at its heart. One is a heart-wrenching documentary that will most likely make you a more empathetic person (at least it did that for me). One infuses the standard rom-com structure with a whole lot of weird. And one dispenses with anything standard entirely and goes all out for absurd.
See 'em in your local art theater or put 'em in your queue. Just don't skip 'em! 

Calvary
Written and directed by John Michael McDonagh. Starring Brendan Gleeson, Chris O'Dowd, Kelly Reilly, Aidan Gillen, Dylan Moran, and Marie-Josée Croze. Limited opening on August 1. View a list of theaters here. Read my Sundance screening review here. 
It's a rare dark-comedy-slash-thriller that has at its heart this sentiment: "I think forgiveness has been highly underrated." Calvary has deep theological/spiritual implications hidden under moodily stylish direction, smart dialogue, black Irish humor, and suspense. Brendan Gleeson plays a priest doing his best to serve his small town. An anonymous man in the confession box announces that he's going to kill the priest, giving the Father a week to try to figure out who is threatening his life…and try to change his mind. It's a shocking, unique film. If you can, bring your best conversation partners with you to process it afterward.
Rich Hill
Directed by Andrew Droz Palermo and Tracy Droz Tragos. Limited opening on August 1. View list of theaters here. Read my True/False screening review here.
Rich Hill is a moving documentary about three boys living in poverty-stricken, small-town Missouri. This film has stayed with me since I first saw it in February. It humanizes abstract ideas of poverty, income inequality, unemployment, and the criminal justice system. It's remarkably intimate—a testament to the trust cousins/directors Andrew and Tracy built with their subjects. Watch it (as a companion piece to Linklater's fictional Boyhood, perhaps?), then go to their website to find out how the boys are doing now.
The One I Love
Directed by Charlie McDowell. Written by Justin Lader. Starring Mark Duplass, Elisabeth Moss, and Ted Danson. Limited opening on August 22. Read my short Sundance screening review here. 
It's a smart rom-com. It's completely original. It's got a mystery. It stars two actors I adore. This movie was pretty much made for me. And you. If you like to be, you know, entertained. Mark Duplass and Elisabeth Moss play a couple whose marriage is in trouble. Their enigmatic therapist sends them on a weekend retreat designed to help them reconnect. Things get weird. Very, very weird. Don't watch the trailer above if you like your twists completely twisty. (Stop watching around the 1:00 mark, and you'll be fine.)
The Congress
Written and directed by Ari Folman. Based on a novel by Stanislaw Lem. Starring Robin Wright, Harvey Keitel, and Jon Hamm. Limited opening on August 29.
Speaking of mind-benders, let's return to a movie I mentioned back in April: The Congress. This live action/animation hybrid is finally getting released after touring festivals for a year or so. I can't compare it to anything else I've ever seen. I'm not even sure I liked it…but I was definitely intrigued and captured. Four months later, I'm still thinking about this cah-razy film. Robin Wright plays a version of herself, an actress who makes a career decision that sends her down a Alice-in-Wonderland-but-darker rabbit trail into a strange world of corporate control, alternate reality, and never-ending quests. Prepare to ooooh, ahhh, and whaaaaaa?
And If you're whaaaa-ing a bit too much, consider this director's note from Folman, shared on the film's website: "The Congress is primarily a futuristic fantasy, but it is also a cry for help and a profound cry of nostalgia for the old-time cinema we know and love."
What are you seeing in August?