Where To Eat In Austin
This post may contain affiliate links. Please read my disclosure policy.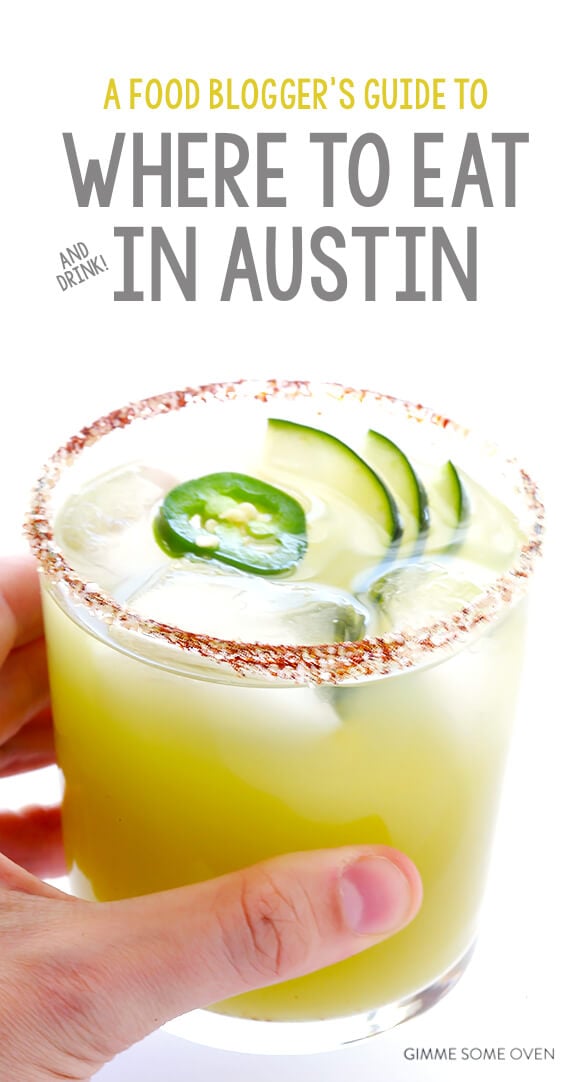 When people ask what we did while living in Austin for the month of February, the first thing that comes to mind is simple:
We ate.
More accurately, we ate and ate and ate.
In our 28 days there, the two of us food bloggers somehow managed to visit 40+ restaurants and bars and coffee shops and food trucks around Austin, which of course hardly skimmed the surface of the city's epic local food scene. But for being brand new to town, I'd say we had a pretty good success rate of choosing great places to go. We kept lists of recommendations from friends and readers (like you!) on our phones, we consulted Yelp regularly, and we were very intentional about pushing each other to try new places and to — as Kathryne kept saying — "not waste a meal!" The result was a very delicious month…that, um, my tight jeans and budget are still bearing witness to. But as Tim Riggins says, "no regrets." It was awesome.
As some of you know, I actually ended up flying back to Austin two weeks after we got home to attend SXSW for a weekend. So I was able to hit a few more places on our list. But all of the places listed below are, for the most part, from our month living in South Austin. As you will note, we tended to stay (and eat) pretty close to our neighborhood, focusing mostly in South Austin, East Austin, Downtown and occasionally branching up north. And with usually just 2-4 of us dining out at a time, we only got to sample a few dishes at each place. But for the most part, we loved just about every place we visited and had fantastic luck trying amazing food.
So since everyone has been asking for restaurant recommendations, I thought I would take a stab at getting all of my thoughts down in writing. And get ready, I have lots of thoughts. Pretty sure this may be one of my longest posts ever!
I feel like I need to disclaim right off the bat that I am totally not a restaurant reviewer. I order what I like, tend to take terrible notes afterwards and then forget half of what I liked, and have what I've discovered to be a pretty limited vocabulary when it comes to describing restaurants. This is exactly why I'm a recipe blogger and not a restaurant reviewer. :)  Still, hopefully this will be helpful to any of you visiting Austin and looking for some good places to go. And for those of you who have been to any of these places or others in Austin, please leave your thoughts in the comments below! I'd love for this page to be a great resource for Austin food recommendations from all of us.
Also, I got all techy and created my first Google Map to chart out all of these locations. So if you happen to be in the area, feel free to use (or download) this map to help find your way around. It's at the very bottom of the post, so scroll way down to find it.
At the top, I have also included a few short lists of my recommendations for various "favorites" around Austin, so feel free to check those out if you need this list to be narrowed down.
Alright, here we go!
My Short Lists Of Favorite Restaurants In Austin:
Best Breakfast/Brunch In Austin: 1) Second Bar + Restaurant  2) La Condesa  3) Jo's Downtown
Best Lunch In Austin: 1) Elizabeth St. Cafe  2) Tacodeli  3) Second
Best Happy Hours In Austin: 1) La Condesa  2) Easy Tiger  3) Barlata
Best Dinner In Austin: 1) The Peached Tortilla  2) Uchi  3) Licha's Cantina
Best Margaritas In Austin: 1) Lucille  2) La Condesa  3) Licha's Cantina
Best Bars In Austin: 1) Weather Up  2) Lucille  3) Whisler's
Best Coffee Shops In Austin:  1) Seventh Flag Coffee Co  2) Houndstooth Coffee  3) Once Over Coffee Bar
Best Tacos In Austin: 1) Tacodeli  2) Veracruz All Natural 3) Torchy's Tacos
(See below for more detailed descriptions of each place)
Where We Ate In Austin:
What It's Like: Brew pub with a huge beer garden out front. Came here on a warm evening and sat outside enjoying some drinks with a friend. It was packed with people, there was great live music inside (and some dancing), and the beers were awesome. Unfortunately we didn't try anything else, so all I can speak to is the beer.
What To Order: Beer! (I loved the Superliner IPA, but we also sampled some great flights!)
What It's Like: Upscale small cocktail bar that's connected to Second Bar + Kitchen. We ended up going here one evening during SXSW when the wait list at Second was taking too long, and (maybe luckily) walked in and immediately grabbed a table. It's cozy — there are only 5 or 6 tables plus a bar — but fun for a quick drink before heading to Second or Congress for a meal. Or, since they serve food and have an overlapping menu with Second, you can do what we did and just eat there. Just do yourself a favor and order the Black & Bleu — best pizza I had in Austin.
What To Order: Black & Bleu Pizza | Blistered Shishito Peppers | Black Truffle Pomme Frites | Maple Leaf (cocktail) | Vieux Carre (cocktail) |
What It's Like: Tapas bar and restaurant. Went here one night for a beer, and then went back another time for happy hour with sangria and some tapas. I got lucky and ended up sitting next to the restaurant's social media coordinator, who happened to be there photographing a handful of new cocktails on their menu. So we ended up chatting food photography, and she let me sample all of them (and then also gave me a list of her favorite items on the menu). I had plans that night and couldn't stay for dinner, but next time I go back to Austin, I'm going for dinner to get the squid ink paella and check out the rest of their dinner menu.
What To Order: Sangria (of course!) | Paella Barlata | Seafood Brochette with Romesco | Patatas Bravas | Ceviche | Squid Ink Paella | Amor Y Sangre (cocktail) | Lucia (cocktail)
Website | Yelp | South Austin (South Lamar / Bouldin Creek)
What It's Like: Vegan/vegetarian cafe. Cute, cozy, hipster place that we ate a few times upon the recommendation of our friend, Jeanine.  I was on a gluten-free diet while we were there, so stuck with the GF options (of which there are many). But Kathryne, Jeanine and Jack tried all sorts of other things too that are recommended below.
What To Order: Fajitas Italianas | Soul Food Plate | Veggie Royale Sandwich | Slacker's Banquet | Sweet Potato Enchiladas
What It's Like: Asian Fusion meets Chipotle. Basically, choose-your-own-protein tacos, rice bowls, burgers, salads with a Korean twist. Although in our opinion, the sides stole the show. Especially that queso. This place was originally (and still is) a food truck, but we ate at the dine-in location on South Lamar.
What To Order: Chips + Esquites (the most amazing Korean queso twist on Mexican street corn)| Spicy Pork Salad | The Original Kimchi Fries | Tofu Tacos
Website | Yelp | South Austin (South Lamar)
What It's Like: Neighborhood Tex-Mex restaurant. This place was right by our house, and has apparently been there for decades. They're known for having the "best avocado margarita in Austin", which we sampled. But I was actually way more sold on their other margaritas, and loved my enchiladas. Kathryne wasn't a fan of her entree, but I'd totally go back. Felt like the sort of easy, family-friendly, casual Mexican restaurants I grew up with.
What To Order: Cancun Shrimp Enchiladas | Chips and Salsa (so good!)| Smoky Rita (margarita) | Ginger & Spice (cocktail) | Avion Cucumberita (margarita)
Website | Yelp | South Austin (Travis Heights)
What It's Like: Bake shop and beer garden. We went here a handful of times for beer and pretzels — make that, epic pretzels that you must order with their beer cheese. It was too chilly while we were there to hang out on their patio, but when the weather's warmer, we hear it's the place to be. Granted, you do have to wade down to "dirty 6th" to get there, but the pretzels alone are worth it. Plus, the bakery smells heavenly, and they also have some great happy hour specials.
What To Order: Pretzels and beer cheese and the house mustard | Beer! | Homemade sausages
Website | Yelp | Downtown ("Dirty" 6th St)
What It's Like: Upscale Traditional Mexican. Ok, so I'll admit that I have a fundamental suspicion of any Mexican food that's super pricey. And this place is definitely a little more upscale. But we went there with friends and had a really lovely evening. People were mixed on their meals — I loved my short ribs — but everyone loved their drinks. The Mezcalina is a must. (Also, if you go here, I highly recommend stopping by Lucille down the street and indulging in a happy hour margarita beforehand.)
What To Order: Ceviche | Guacamole | Costillas Del Res A Los Dos Chiles | Pastel Azteca | Mezcalina | El Naranjo Martini
What It's Like: Vietnamese Cafe. Adorable, adorable, adorable. I can't recommend this place enough. Great atmosphere, absolutely amazing food, and they serve lunch, dinner, brunch and breakfast. In fact, their breakfast bahn mi may be the best thing I have tried there. On a lovely day, you can even get the bonus of sitting out on their cute patio.
What To Order: Breakfast Bahn Mi | Breakfast Pho | McAllen Ranch Flank Steak Pho | Roasted Mushroom & Grilled Tofu Bun | Pho Xao Bo
Website | Yelp | South Austin (1st St)
What It's Like: Taco restaurant. I actually didn't make it here, but Kathryne raved and raved about going there while I was out one night, and it's definitely on my list for the next time I go back. Their menu is full of fresh and creative and uber-trendy taco combinations, the restaurant is bright and fun, and their tacos are mostly in the $4-6 range, so not as expensive as some. Kathryne recommends…
What To Order: Crispy Cauliflower and Corn Tacos | Beet (& Grapefruit) Taco
What It's Like: Indian food (in a converted garage restaurant, formerly a food truck). We ended up meandering over to this restaurant after eating at Lucille, entirely based on how good it smelled.  Indian food has a way of doing that, I guess. They had a great patio out front and back, but it was chilly so we opted to eat indoors. And I thought it was good, but nothing spectacular. Still, some people absolutely rave about this place, so it might be worth checking out if you love Indian food. (And if you do, I'd branch out more than we did. We were eating with a friend new to Indian food, so ordered some classics. I'd be curious to try some of their other specialties.)
What To Order: Garlic Na'an | Chicken Tikka Masala | Rogan Josh | Samosas | Saag
What It's Like: Super-cute boutique hotel with a great courtyard. We stayed at the hotel when I was in Austin last summer, and enjoyed every second of our stay there (so well designed!). Kathryne and I got unlucky with cold weather during the days we wanted to hit up the lounge during our stay in February, but I got to go back twice for drinks during SXSW. Great breakfast and brunch, and a perfect little courtyard for drinks in the evening. (Plus Jo's Coffee is next door for a caffeine fix in the mornings.)
What To Order: Huevos Rancheros | Brunch Buffet | Champassion, Beer, Wine
Website | Yelp | South Austin (South Congress)
What It's Like: Coffee shop. Kathryne and I met one of the managers of this place at a random backyard storytelling event, but somehow never made it to their downtown location during the month of February. So as a mega coffee lover, it was at the top of my list while we were staying downtown for SXSW. Just as I expected, it was great. Chill and thoughtful and trendy atmosphere, great music on in the background, friendly staff (even amongst the craziness of South By), and stellar coffee. If you're downtown or around North Lamar, definitely stop by.
What To Order: Coffee. Any kind.
Website | Yelp | Downtown (or North Lamar)
What It's Like: New-York style pizzeria (dine in and takeout, ordering by the pie or by the slice). This was another place that everyone said we "had to try". So when some friends were in town visiting, we called in an order for a pizza night in while we watched the Oscars. I wasn't home when they ordered (otherwise I would have begged for the white clam pizza!), but I did enjoy the pizzas they brought home. I'm not convinced that they totally lived up to the hype, but they were still great for when you're craving some New York-style pizza.
What To Order: Pepperoni & Mushroom Pizza | White Pie with Spinach | Margherita Pizza |
What It's Like: Burgers, burgers and more burgers! This place is too cool for school right now, and literally has a line of people wrapped around the building (where they, notably, serve drinks) all day every day. Well, except for a random Monday at 2pm when we happened to stop by with some friends who were in town visiting. So we seized the opportunity and actually nabbed a spot inside with only a 10-minute wait. The burgers were great, the truffle fries were epic, and the mini margarita made my afternoon. I don't know if it's worth the hype, but we all enjoyed our meals.
What To Order: Magic Shroom | La Bandita | Truffle Fries | Little Larry (Mini Frozen Margarita)
Website | Yelp | South Austin (South Congress)
What It's Like: Bar with great outdoor seating. I met up with a guy on a first date here for happy hour, and was (maybe a little too) excited when I looked at their menu beforehand and saw that their most popular drink — their sangria — is actually named "The Allison"! Ok, actually all of their drinks have women's names, but I thought that was a good sign. ;)  The place was great, we learned that they also have a killer IPA on tap (can't remember the name), and on a warm night their patio is perfect. They also have a great happy hour, so check it out!
What To Order: The Allison (of course) | The Emily | The Stephanie | The Whitney | Beers
What It's Like: Farmhouse brewery and tasting room. My brother-in-law (who briefly lived in Austin) highly recommended this place. So on a rainy Sunday afternoon when nothing else was happening, we made the 30-minute drive to go visit. We arrived in time for one of their tours, which was surprisingly brief. Then we sampled a handful of the sour beers that they're known for. I think that on a prettier day, it would have been fun to stroll the grounds and have some pizza and beer around the picnic tables that are everywhere. But it was cold and rainy, and without a place to go where it was warm, we gave up quickly. If you love sour beer, though, check it out on a day when the weather's nice. :)
What To Order: Beer | Pizza
What It's Like: Coffee shop (with a food menu in some locations). We visited the small Jo's location on South Congress (next door to the Hotel San Jose) a handful of times for iced coffee, and to hang out on their cute shaded patio. But I'm a bigger fan of Joe's downtown, where they serve one of my favorite dishes in Austin — their migas plate. The line downtown can be long, especially in the mornings, but I think that the quality of their food (lots of tacos!) and coffee (well made!) are 100% worth it. Just beware of the crows if you eat outside, who make you feel like you're in a Hitchcock movie.
What To Order: The Migas Plate | Coffee (especially iced!) | Huevos Rancheros | Fried Avocado Breakfast Tacos
Website | Yelp | Downtown or South Congress (or St. Edward's Campus)
What It's Like: French restaurant. We were sad that we missed getting to come here for a full dinner — ran out of time. But on our last night in Austin, we did stop by Justine's for drinks and absolutely fell in love with the place. Apparently it's good to get reservations in order to secure a table. But we were able to walk in and grab a seat at the bar without a wait, and completely enjoyed getting to stay there and enjoy a few cocktails and soak up the atmosphere (while feeling All The Emotions about leaving Austin). Would love to go back and try more of the dishes that were recommended to us, and enjoy the full Justine's experience.
What To Order: Sazerac (cocktail) | Josephina | St. Jardine | Steak Tartare | Steak Frites
What It's Like: Best place EVER! (Ok, contemporary Mexican cuisine.)  Seriously, I feel like I could eat at La Condesa for every meal of my life and never get tired of it. Because somehow they manage to do it all — brunch, lunch, happy hour, dinner, cocktails — they do it all with delicious excellence. And the decor throughout the restaurant — in the main seating area, the bar, the loft, and the basement — is beautifully designed. And when it's nice out, their patio is the perfect place to enjoy a leisurely meal or happy hour and people-watch as everyone in Austin passes by. Seriously, just go here anytime and you won't be disappointed.
What To Order: Any of their cocktails (esp. Margarita La Condesa, Watermelon Elderflower Martini, Alma Blanca, El Cubico, Spicy Paloma) | Brunch (esp. Huevos Condesa, Griddled Redfish Tacos, Atole Con Huevo, and their $2 Mimosas) | Chips and Salsa (all 4 are amazing) | Acapulco Ceviche | Tacos Cochinita Pibil | Chiles Rellenos | Elote
What It's Like: Mexican. If I had to pick my favorite Mexican food we had in Austin, I think that Licha's might actually be it. I loved everything about this cute little bungalow-turned-Mexican-restaurant on east 6th street! First off, their cocktails were amazing. We went with a group of friends — twice — and all sampled one another's drinks and loved them. Then all of our meals were fantastic, although I admittedly spoiled my appetite both times by inhaling their (killer) chips and salsa. Even better? This place consistently had one of the shortest wait times we found around town, even during SXSW. And we took advantage of warm evenings to sit out on their patios out front and back, both of which were delightful. So if you love Mexican food, I can't recommend this place enough!
What To Order: Chips and Salsa!!! | Alambre Tacos | Champignon Huarache | Cochinita Pibil Tlacoyos | Verdura Tacos | La Mula (cocktail) | Margarita | El Naranjo (cocktail) | Chino Mexicano (cocktail)
What It's Like: Contemporary American restaurant. This place was within walking distance from our house on South Congress, and after passing by it a few times, we decided to venture on one night for dinner. I loved the cozy, tastefully-designed interior, and we nabbed a window seat that was perfect for people-watching on South Congress. Our food was good, although the dessert that Kathryne ordered definitely stole the show.
What To Order: Blistered Shishito Peppers | Grilled Daily Flatbread (mine was an amazing prosciutto/arugula combo) | Bibb Salad | Cornbread Ice Cream Sundae with Caramel Popcorn
Website | Yelp | South Austin (South Congress)
What It's Like: Bar. Also known as the home to our favorite margarita in Austin!! We were a little turned off by this place when we first walked up — they opened their doors 15 minutes late, the bartender wasn't super friendly, and it was deserted when we first arrived. But I'll give them the benefit of maybe having an "off" night, because the drinks there were incredible.  Bonus? They have some beautiful shaded patios out front and back, and they run some stellar specials during happy hour, they have hammocks, and they're dog-friendly. It's a great place to begin an evening on Rainey Street.
What To Order: El Jefe Loco-Rita (our favorite margarita)
Website | Yelp | Rainey Street
What It's Like: American and Tex-Mex. We had lots of people recommend this place when we arrived in town, and on one of our last evenings there, we finally made it over. I have to admit though — I was mega under-whelmed. Sure, the interior is cute and quirky, they're open late, and breakfast is served 24/7. But my meal (portabello fajitas) was pretty boring, save for the queso we ordered as an appetizer. HOWEVER, I still included this restaurant on the list because everyone else we know seemed to rave about it. So maybe go and form your own opinion, and then tell me about it. :)
What To Order: Mag Queso | Fish Tacos | Baton Rouge Salad
Website | Yelp | South Austin (South Congress)
What It's Like: Speakeasy. When we first arrived in Austin, I received a text from my friend, Chris, with the URL for midnightcowboymodeling.com, saying simply that we had to go there. (Um…?)  Turns out, he was right. Our night at Midnight Cowboy ended up being one of the total highlights of our time in Austin. Granted, you have to venture onto Dirty 6th St looking for the secret door, and you definitely have to plan ahead and make reservations, but it's totally worth it. The cocktails were unbelievable (and many are made table-side), the atmosphere was everything you hope for in a speakeasy (you can reserve a booth or a room — we ended up doing both!), and the guys working there were super knowledgable about mixology and so much fun. Heads up that it's fairly pricey, there's a 2-drink minimum order per person, and reservations are for 2 hours.
What To Order: Oaxacan Negroni | Bitter Rose | (basically anything!)
Website | Yelp | Downtown ("Dirty" 6th St)
What It's Like: Southern food. We didn't make it here during our month in February, but I have fond memories of eating at Moonshine while in town for a blogging conference a few years ago. It's definitely not the place to go if you're counting calories, but if you're looking to indulge in some good Southern comfort food — and some moonshine! — it's the place to go downtown.
What To Order: Green Chile Mac and Cheese | Homemade Kettle Chips | Chicken & Waffles | Corn Dog Shrimp | Sunday Brunch | Moonshine cocktails!
What It's Like: Coffee shop. We went here our very first morning in Austin, upon the recommendation of my friend, Brooke. And it was a great place to begin our trip. The coffee was great, the guys working were super friendly, the atmosphere was quiet and casual and very laid-back, and there was a great food truck out front where I had a tasty (albeit super-greasy) chorizo breakfast taco to start the day.
What To Order: Coffee!
Website | Yelp | South Austin (1st St)
What It's Like: Tex-Mex. My review on this place is limited, as we just stopped by for a brief happy hour one evening. But I can tell you this — if you're looking for cheap happy hour margs, an extensive salsa bar, and a laid-back patio in South Austin, it'll do. :)
What To Order: Chips and Salsa Bar | Margaritas
Website | Yelp | South Austin (1st St)
What It's Like: Dive bar. Totally hipster, but totally good. Stopped in one evening for a drink with a friend, and enjoyed hanging out in one of their eclectic little booths in the back while live music was happening nearby. The vibe is laid-back, and there's a fun juke box nearby. They also offer a full espresso bar with coffee, but are probably more known for their booze (which can accompany pizza served there by East Side Pies).
What To Order: Hot toddy | Bloody Mary | Coffee
What It's Like: Downtown (seasonal) American restaurant. We went here for lunch on a Saturday and ended up eating outside on the patio, which was lovely. It's definitely a popular spot, so plan to wait awhile (or check out the Bar Congress next door if you get impatient). And then enjoy the classy seasonal and local menu that they offer.
What To Order: Breakfast Club | Black & Bleu Pizza | Truffle Grits | Raw Kale & Carrot Salad
What It's Like: Coffee shop. It's no secret that my home away from home is Quay Coffee here in Kansas City, so it was important to me to search around our neighborhood in Austin until I found a home away from home (away from home) for the month. And after visiting Seventh Flag, I stopped searching. I adore this place. The coffee is fantastic and well-brewed, the shop is bright and beautiful with vaulted ceilings and simple decor, it's nice and quiet and a great place to work, and the kindest people work there. Like, the kindest. Within minutes of my first visit there, I met one of the owners who gave me a warm welcome to Austin, and one of the staff gave me a killer list of recommendations for places to visit. And each time I came back, they remembered me and checked in and took Southern hospitality to a new level. Easily my favorite coffee shop in Austin. Can't wait to go back.
What To Order: Coffee, any kind | London Fog Latte | Hot Tea | Tacodeli Breakfast Tacos (love that they serve these!)
Website | Yelp | South Austin (1st St)
What It's Like: American (with a little Tex-Mex mixed in). Somehow I have ended up at this restaurant every time I've been in Austin, and I've had some fantastic meals and some way-less-than fantastic meals. They're known for their brunch, which is where my friends and I have had more success, although it's always very busy so be prepared to wait. I was more disappointed in the Tex-Mex options (lacking flavor), and the gumbo that I tried one evening had zero kick to it. So if you end up going, I'd definitely recommend heading in early for brunch, or sticking with the more American menu items.
What To Order: Migas | Crab Cakes | Kale & Avocado Salad | Eggs Benedict | Short Rib Hash
Website | Yelp | South Austin (South Congress)
What It's Like: Thai fusion. We came here one of our first evenings in Austin with our blogging friends, Jeanine and Jack, and had the best night!!! We ordered all sorts of dishes to share, and enjoyed every last bite. And the atmosphere — dark and glam and (as someone mentioned on Yelp) almost spa-like — was a fun contrast from the meal we enjoyed earlier that week at Thai Fresh. Definitely one of my favorite meals in Austin!
What To Order: Satay | Squash Curry | Tiger Cry | Vegetable Fried Rice | Green Curry | Ma Po Tofu | Prawn Miange
Website | Yelp | South Austin (1st St)
What It's Like: Contemporary Tex-Mex. We stumbled into this place thanks to Yelp, when trying to find somewhere to eat for dinner after a shoe-shopping expedition up north. Apparently they're more known for their brunch buffet, but I thought that our dinner out on their patio was delightful. I loved the fresh and colorful salad I ordered, as well as the tasty frozen margaritas we tried. But the star of the meal was definitely the fact that they mix sweet potato chips in with corn tortilla chips for your appetizer, along with three tasty salsas. I think any health benefits of my salad were cancelled out by how many of those freaking chips I ate, but my goodness, they were delicious. I'd love to go back here and try more of their tacos.
What To Order: Rojo Shrimp Salad | Chimichurri Beef Tenderloin Tacos | Chips & Salsa | Queso Flight | Brunch Buffet | TNT Frozen Margarita (classic) | Cucumber Jalapeno Margarita | Tequila Flights
What It's Like: Tacos. This is my best recommendation for where to get tacos in Austin!! They have a handful of restaurants around town, but we only tried the Spyglass location. For someone new to the Austin taco scene, I feel like it's the best place to begin. They have a pretty big selection of tacos that are creative, but not too crazy. Kathryne thought the vegetarian tacos were so-so, but I thought that all of the meat and seafood tacos were stellar. You also have to get the queso to go with your tacos, as well as oodles of those tiny containers of green salsa to pour all over them. (I could drink that salsa.)  This place definitely gets crowded, so be prepared to wait. But the servers are incredibly nice, and it's well worth it.
What To Order: Cowboy Taco | El Picosito | Space Cowboy | El Conquistador | The Otto (breakfast) | The Vaquero
Website | Yelp | Rosedale (or other locations around town)
What It's Like: Thai restaurant and coffee shop and bakery. I know, the combo intrigued us too. This actually ended up being the first place we ate in Austin, partly because it was so close to our house. I couldn't quite decide what I thought of the atmosphere inside — felt a little confusing ordering in the coffee shop and then going to sit in the restaurant, where they also apparently teach classes — it was still a very relaxing, chill vibe. And the food we had for lunch was excellent.
What To Order: Drunken Noodles | Green Curry
What It's Like: Whiskey bar (with live music inside and out). We only stopped by here for one drink, but I must say, it was one of the best old fashioned's that I had in Austin. There's not much space inside, but the patios out front (quiet) and back (music) are delightful.
What To Order: Anything whiskey!
What It's Like: Asian Southern Fusion. Most people know this place from their food trucks, but we headed up north to their brick and mortar location for dinner on our last night in Austin with our friends Jeanine and Jack. And wow, it ended up being one of our favorite dinners of the entire month. The owner was apparently born in Japan, and raised in Georgia around Southern comfort food, and the food he creates is the best of both worlds. We ordered way too much food, along with some of their craft cocktails, and indulged in every last bite. AMAZING. It's a small place, so the wait can be awhile. But we went next door to another great Mexican restaurant and grabbed a margarita while we waited, and the timing was perfect. I cannot wait to go back here!
What To Order: Charred Brussels | Thai Chop Chop Salad | Kimchi Arancini Balls | Crunchy Fish Tacos | Blistered Catfish Bowl | Tres Cauliflower | Margarita de Peached
What It's Like: Taco food truck (also with 10+ locations in the area, plus expanding around the country). Everyone — I mean everyone — told us that it was a "must" to eat at Torchy's. And we ended up going back multiple times. The tacos were everything we expected — creative, filling, and delish. Definitely worth at least a visit (or two or three) if you're in Austin. Just be prepared to wait, as they're usually fairly busy at the trailer park location on 1st st.
What To Order: Ranch Hand (breakfast taco) | #4 Breakfast Taco | The Democrat | The Republican | The Independent (our favorite!) | Mr. Pink | Mr. Orange | Crossroads
What It's Like: Contemporary Japanese sushi restaurant (and sister restaurant to Uchiko). We had countless people recommend this place, and as it turns out, with good reason. The atmosphere's great, the food is fresh and creative, and the sushi is killer.  They also have a great happy hour, if you're looking for something a little more affordable.
What To Order: Crudo | Tako Pops | Shag Roll | Kabocha Tempura | Hamachi Roll | Sake
Website | Yelp | South Austin (South Lamar)
What It's Like: Taco food truck (with multiple locations). I went here on our taco tour with some food blogging friends last summer, and it was at the top of my list for places I wanted to revisit this past February. I love their tacos!!!  And their aguas frescas (which are enormous and crazy good). And their salsas. Kathryne and I just might have taken tons of tiny extra salsas to go, and snacked on them for a week afterwards. So good. There's not much seating there, so keep that in mind if you go at a busy time.
What To Order: Migas Taco | Fish Taco | La Reyna Taco | Chicken Mole Taco | Any Aguas Frescas (esp. Mango, Watermelon, Pineapple and Cucumber)
What It's Like: Wine Bar. I have another limited review on this place, as we just stopped by for happy hour and cheese one night. But my local friends were a fan of this place, and I could see why. The atmosphere was super laid-back, the happy hour specials were great, the wine was wonderful, and it was the perfect place to unwind after a day of work. If I lived in the area, I could see it becoming a neighborhood favorite for sure.
What To Order: Wine (I had a great malbec) | Pleasant Ridge Cheese Platter | Drunken Goat Cheese Platter | Mussels
What It's Like: Craft cocktail bar. This place was actually recommended to us when we asked the bartender at Whisler's for recommendations on where to go next. He didn't steer us wrong — we instantly fell in love with Weather Up. Actually, we completely fell in love with the bar inside with its cool art deco vibe (especially the ceiling) before we even realized that there was a gorgeous patio out back! We also became fast friends with Floyd, one of their bartenders who makes some killer cocktails, and ended up hanging out with us around Austin. The cocktails there are pricey, but so well made and delicious. Ask the bartenders for recommendations, and you can't go wrong.
What To Order: Whiskey Chignon | Fairfax | Anything they recommend!
What It's Like: (Fusion) Indian food, bar and convenience store. Also, Hipster Central. Kathryne and I went to this place at separate times, and actually loved it. The beer selection is impressive, the food is eclectic and good, and it's great for people-watching. I'd like to go back and try a handful of other items that we had recommended to us.
What To Order: Craft Beers (especially the IPA on tap) | Migas | Samosas | Cilantro Lime Chicken Curry | Chana Dal
Website | Yelp | South Congress (Travis Heights)
What It's Like: Cocktail bar. We happened to meet one of the owners of this place at a coffee shop, and went to check it out upon his recommendation. (He was incredibly humble; we had no idea how cool it was!)  And we loved it. There was tons of patio seating (and a stellar East Side King's food truck outside), but again it was chilly. So we somehow nabbed two seats at the rustic bar inside, which was overflowing with hipsters…and very good drinks. If you love a well-made old-fashioned, this is your place. Next time we go, I want to try the mezcaleria upstairs.
What To Order: Old fashioned | Aviation | Brown Derby
What It's Like: The most epic grocery store EVER. Ok, I couldn't resist throwing the downtown (flagship!) Whole Foods on this list, partly because it is like the Disneyland of grocery stores for anyone who loves food. But in addition to everything in the grocery store, they also have a virtual food court of various places to actually eat in the store, including a gorgeous sushi bar, the (traditionally enormous) salad bar, Italian trattoria, bbq restaurant, bakery, pizza bar, Asian restaurant, beer and wine-tasting bar, and more.  Yeah, you know how they say to never go grocery shopping while you're hungry? Not so at this Whole Foods. Come very hungry.
What To Order: I'm going to cop out and just say anything. :)
Map Of Where We Ate In Austin:
Places Still On My List To Visit The NEXT Time I'm In Austin…
Backspace Pizza, Banger's Sausage House & Beer Garden, Congress, Contigo, Craft Pride, El Primo, Gardner, Gourdough's, Josephine House, Juan In A Million, Kebabalicious, Koriente, La Patisserie, Lick, Mi Madre's, Mother's Cafe, Odd Duck, Qui, Ramen Tatsu-Ya, Threadgill's, Uchiko…plus a zillion more.
Alright, your turn!
I want to hear about your favorite places to eat and drink (and what specifically to order) in Austin. GO!