europe 2012: civitavecchia/roma
This post may contain affiliate links. Please read my disclosure policy.
Buongiorno! I'm back!
Sorry, crazy few days, and was having some issues with my wireless. But after visiting three countries in the past three days, we officially disembarked today and I am now back on solid ground. Cannot believe how quickly time flew!
Here are the highlights from our day on Saturday landing in Civitavecchia (I finally became a pro at pronouncing it by the end of the day) and then touring Rome. Somehow there was a miscommunication and my excursion for the day wasn't booked, so my friend Echo (from China/UK) and I hopped on the shuttle and then caught a tour taxi with four other French friends from the Costa Pacifica. They promised to show us Rome in 6 hours, and man, they weren't kidding! Definitely a little fast for my taste. We were literally running at times to make our way through everything. But hey, when in Rome…
Still, it was a really cool day in a crazy cool city. Rome has moved to the top of my list to re-visit soon!
Since we missed the excursion, we instead had to fight our way — LITERALLY — onto the shuttle bus from Civitavecchia to Rome. Oh my goodness. No options for politeness here. You don't push, you don't go!
Once we nabbed one of the few taxis to take us around, we were pleasantly surprised when they handed out European Tic Tacs (teek-tahks) to everyone in the van. I think they knew we would be diving into Italian pizza and squished next to each other all day.
Our first stop was at the Vatican. Mind you, ONE hour at the Vatican. It was rainy and cold, but we decided at the last second to be crazy and try to visit the Sistene Chapel. So we ran (hauling huge bags and cameras) about 6 blocks to the back entrance of the building in order to avoid the 3-hr line.
Made it inside! Then ditched the tour group that helped us bypass the line, and made our way through the museum.
I could have sat and stared for days.
Hi, my name is Ali and I'm a tourist. :)
Room after room of absolutely stunning art and architecture.
Actually, we didn't know quite how many amazing rooms there were. The tour guide assured us it would be no sweat to make it to the Sistene Chapel in under 45 minutes, but after about the 30th room, we were jogging to try and make it.
Still, even when rushing, you can't help but be utterly awed that a place like this exists, and has been preserved so well for so many centuries.
Finally, we made it to the beautiful Sistene Chapel, and along with the hundreds of others there, were completely quieted by its beauty. Such a gift to finally see it in person.
(Note: not pictured above – there were strictly no photos allowed.)
Finally, we made it back to our minivan about 10 minutes late, out of breath from running another 6 blocks, only to discover that the other French tourists were considerably later. Oh, Europeans….I will learn. :)
Next we went to the center of Rome for some shopping and dinner.
Fa, la, la, la Mercedes.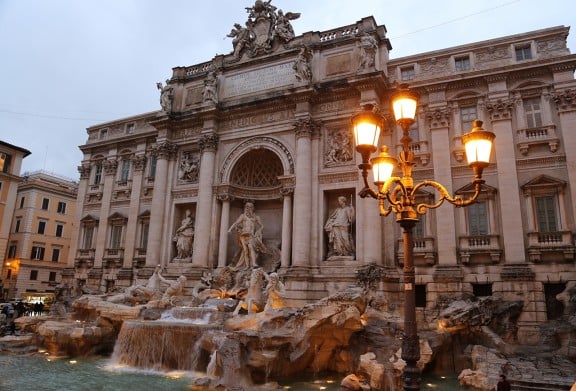 Trevi fountain! Beautiful at dusk.
Finally had our first taste of Italian pizza outside of the ship. I went with prosciutto and artichoke – molto bueno!
Then I had the pleasure of introducing Echo to her very first gelato! I have been partaking every day, but this was her first time to try it. Definitely an honor. ;)
Then we drove by the Colosseum. I think they were ready for Christmas!
Il Vittoriano.
And a total treat — we spent about 15 minutes walking around the Pantheon at night.
I still can't get over how it feels to be so near such historic monuments.
Amazing.
The students were protesting that evening as well. In America, we have picket signs. In Italy, they have flags. :)
Finally, we bid farewell to the city, and headed back to our ship. I'm pretty sure that all 6 instantly fell asleep on the long car ride back. A fast day, a full day, but a good day.
Disclaimer: A special thanks to Costa Cruises for sponsoring my time on the Costa Pacifica. All opinions in these reviews, as always, are my own.