Europe 2012: Marseilles/Provence
This post may contain affiliate links. Please read my disclosure policy.
For our last full day with the Costa Pacifica, we were all elated to spend some time in France. Our ship docked in the port of Marseilles, but then I hopped on a bus with some friends for the "A Day In The Heart Of Provence" excursion.
We first visited the city of Arles, a town with a rich history having been originally Celtic, and then later conquered by the Gauls, the Romans, and finally becoming part of France. Then after we traveled to the nearby Provencal village of Saint Remy, home of the renowned Nostradamus. (I love how his name is pronounced in French – so regal!)  Afterwards, we all returned for a delightful final evening on board before returning to Barcelona to disembark the next morning.
Here are some of the highlights…
One of the great joys of this cruise for me has actually been being a part of the English-speaking minority. I absolutely love being around so many delightful cultures and languages each day! The other perk of there being few English speakers is that our English excursions are quite small and intimate. There were about 8 of us who boarded the bus with our English tour guide, and the rest of our bus was full of Spanish speakers. It was a great practice in translating, hearing all of the info repeated in the two languages!
Our English tour guide absolutely made my day.  Oh my goodness, this lady was hilarious! She was overflowing with fascinating knowledge about the area and its history, but I think our group loved her most for her dry sense of humor and entertaining stories.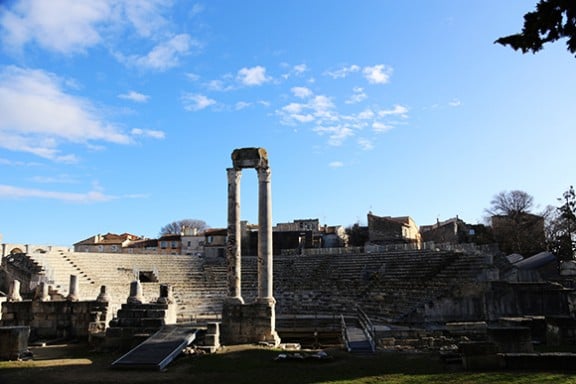 Our first stop was in the visit of Arles (beautifully pronounced in French, phoenetically pronounced in Spanish, and pirate-sounding in English). We learned all about the development of the ampitheaters all throughout the Roman empire, and had the pleasure of seeing this smaller ancient ampitheater that was still partially intact. It used to be more than twice that height with the other half on the side where I was standing in order to bounce back the sound. But alas, wartime and stone looters were not friendly to this one.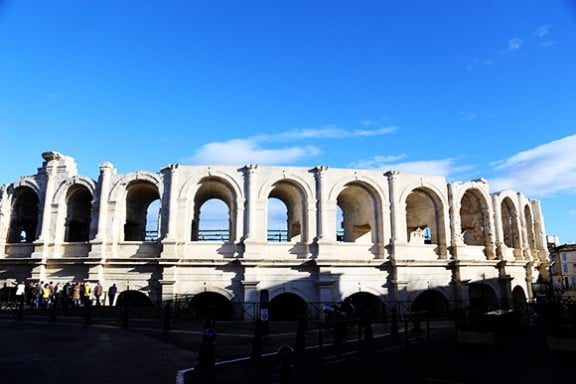 On the flip side (literally – across the street), this much larger ampitheater was much better preserved! I believe she said it could hold 60,000 people, and was the 12th largest Roman ampitheater created. Like many other ampitheaters, at one point they had turned this into a fortress, building their entire city with wall-to-wall buildings and houses within the outer walls. Amazing.
Arles was also the home of Van Gogh for a few years, who was said to be enamored with the light in the city. Anyone recognize this cafe?
Apparently the walls did not used to be yellow, but they were inspired to paint them after they saw Van Gogh's painting.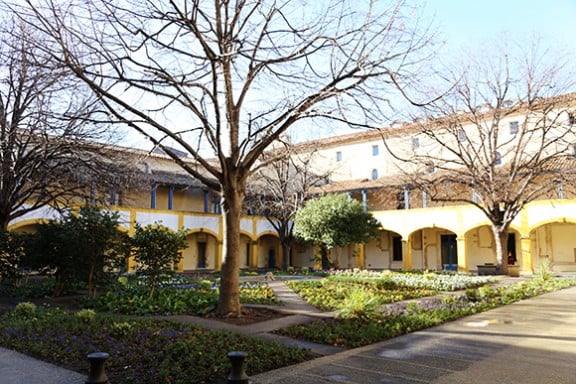 This is also the hospital where he stayed (and created a famous painting of the yellow interior).
One thing I find interesting about preservation of historic buildings in Europe is how the ancient and the modern are often right nextdoor to one another. Or in this case, they went a step further and literally incorporated these ancient pillars right into their hotel building!
We also visited the town cathedral, which was a beautiful example of Romanesque art. We were only able to take a peek, though, as the priest wanted to head out on an early lunch break.
Our tour guide then turned us loose in the town square to explore and  take a lunch break of our own.
My tablemates happened to be on this excursion, along with a fabulous couple originally from Oklahoma that I had met a few days prior. We enjoyed some jamon e fromage sandwiches as Joe (top left), a history professor, answered a long line of questions we had about French history.
For the second time that day, I also enjoyed a little French espresso. Tres magnifique.
After lunch, we hopped back on the bus to drive to Saint Remy. Even though we were there in the heart of winter, the drive was still beautiful!
Our walking tour took us all around this charming town, where we learned more about the famously controversial Nostradamus. Interestingly (as a food blogger!), his first publication as a doctor was to teach people about canning food! So many of the illnesses at the time stemmed from unhealthy food preparation and preservation, so he helped save countless lives just by teaching people about the joys of strawberry jam.
Cute, cute, cute.
The town was also filled with these funky trees, members of the Cyprus family.
On our way out of town, we stopped in a few cute local shops. And in this paper shop, it turned out they had a familiar section. Go Hallmark!!
After a long, full day, we returned to the cruise ship at sundown for a final (sniff) meal together.
I love the fact that by the final night the entire table was now taking photos of their food. ;)
The last time to enjoy one of my favorite courses — the cheese tray. :)
I seriously lucked out with this table. Could not have asked for more wonderful friends to share in this experience, and for our delightful waiter, Ravi!
After dinner we all decided to have "drinks" at one of the many bars we had not yet visited on the ship — the chocolate bar! In addition to serving tons of beautiful artisan chocolates and offering a chocolate fountain for dipping, the bar was also known for its many rich hot chocolates. After making this Mexican Spiced Hot Chocolate before leaving on my trip, I decided to try the pimiento (chili pepper) version.
Unbelievably rich, but so, so good. The perfect way to conclude a week with these sweet friends.