October in Movies
This post may contain affiliate links. Please read my disclosure policy.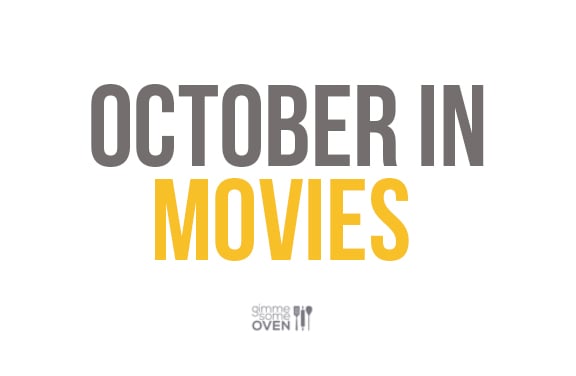 Hey everyone! Our movie friend, Sarah, is back today with recommendations on what films to see this month. We'd love to have you join in the conversation, and share any of your own recommendations or reviews or thoughts in the comments below!
It's October, and my to-see list is getting longer (Gone Girl, St. Vincent, Fury, Birdman, Laggies, Citizenfour, and Nightcrawler to name a few) while the days get shorter. There are amazing movies coming to theaters this month, so I wanted to make sure you watched out for three films that won't be gracing the sides of buses or getting big ads on TV. They do, however, ask a huge question: Who are you?
All three of these films deal with questions of identity. Who are you if you lose the person you love most in the world? Who are you if the dream you've been chasing your whole life becomes a nightmare? Who are you if you don't quite fit in with the majority culture…or the minority culture?
I love that these three films take the time to show both how we build and rebuild our identities. This self-creation is a necessary—and messy—part of being human. Add these films to your to-see list (or future queue) to delve deep into the who's of life.
And don't miss the the mini-interview with Rudderless co-writer Casey Twenter below! Bonus!
Rudderless
Directed by William H. Macy. Written by Casey Twenter, Jeff Robison and William H. Macy. Starring Billy Crudup, Anton Yelchin, Felicity Huffman, Laurence Fishburne, and Selena Gomez. Limited release on October 17 (New York City, Cleveland, Milwaukee, Houston, Miami, Oklahoma City, Tulsa, Chicago, Los Angeles, Scottsdale, Portland, Seattle, Philadelphia and Eugene.) A Kansas City screening is rumored to be added soon. Read Sundance review here. 
Rudderless follows broken-hearted Sam (Billy Crudup), who can't figure out how to go on after his son's death in a school shooting. He finds solace in his son's never-published songs, which he passes off as his own at open-mic nights. Sam's reasons for pretending to be a songwriter are more complex than you might think, and the audience gains understanding and sympathy as the film quietly unfolds. I say quietly, but the music itself is often raucous and uplifting, despite the film's tragic undertones. Will Sam be able to tell the truth about the music…especially as he, and his new-found band, gain a passionate following? Will he be able to tell the truth about himself?

Rudderless co-writer Casey Twenter refuses to give us any spoilers, but he will reveal a little about how the film came together.
[Gimme Some] When you started writing Rudderless, did you know what kind of story you wanted to tell, or did you discover it along the way? 
[Casey] We started Rudderless knowing we wanted it to have a strong musical backbone. In fact, we wrote it with the plan to produce it ourselves. The original script was very much inspired by the film
Once
…in that we wanted music to be a part of the narrative.
When we started, we also knew the two major themes were the healing power of music and parental love. What we didn't know, to the question, what we discovered while writing, was how far we could take the theme of parental love. That revealed itself in the process of writing.
What is your writing process like with your writing partner, Jeff?
Our process is pretty elementary. We talk through story on the phone and email. We are rarely in the same room together when writing. Once we feel like the ideas are solid and we both agree on them, in broad strokes, we begin writing. Or I should say one of us does. Then usually after an act is complete, whoever was the starter passes it off to the other, and so begins a back and forth.
A lot of times, we change the other's writing to the point of the original not even being remembered. But that's what trust is about.
How did you get connected to first-time director William H. Macy? And what was it like working with him? 
Connecting with him is not that sexy of a story. I called his agent and pitched him the story, which thankfully, he liked. He gave Bill the script. And Bill dug it.
Working with Bill was amazing. And I think it can be summed up like this: Despite being Oscar nominated, despite winning Emmys (one for writing), despite having an epic resume and history in the industry, he treated us like peers. He never once pulled the experience card. Or pushed an idea down our throats based on who he is. It was always about the best ideas. It was awesome.
Any important lessons that you learned while writing and making Rudderless?
I've learned more than I'm willing to type because it would be a novel, and you don't have time to read it, and I don't have time to write it. So I will answer in digestible bullets top-lining some of the biggest lessons.
a. The sayings around success are all true. "90% of success is showing up until you succeed," "Success is 10% inspiration and 90% perspiration," "The best way to succeed is never give up"…and the list goes on. I believe Rudderless is a fantastic script. But I know it would have never been made if we didn't aggressively attack our dream and refuse to give up in the face of many setbacks.
b. Film is the most collaborative art form there is, bar none. Film brings together a team—a huge team—of people all working towards one common goal. If any department, or even a person, fails, the whole project could fail.
c. Taking a dream and cutting it up into attainable goals is the only way to make it happen.
d. William H. Macy and Felicity Huffman are the real deal, and I am talking about more than talent. We all know they are amazing actors; I am talking about their hearts. Great people.
Casey Twenter is currently working on several new feature scripts. Like Rudderless on Facebook to follow the film's continuing journey. 
Whiplash
Written and directed by Damien Chazelle. Starring Miles Teller and J.K. Simmons. Limited release on October 10. Read the Sundance review here. 
Whiplash is a tense thriller about collegiate jazz drumming. It's a concept that, on paper, sounds like it shouldn't work, but it really does on screen. Andrew is a young, single-minded drummer focused on becoming great. Fletcher is a middle-aged, single-minded jazz instructor focused on pushing, berating, challenging, and manipulating his students into becoming great. Does greatness matter if you lose your humanity in the process? Can you be a great artist and a great human? The film explores these questions while showcasing some truly amazing drumming. Some of the more technical sequences were done in close-up by director Damien Chazelle, whose love of drumming inspired this film. But most of the drumming was done by Miles Teller himself. (Yes, it's true. I know because we asked him when we ran into him at Sundance back in January!)
Dear White People
Written and directed by Justin Simien. Starring Tyler James Williams, Tessa Thompson, Teyonah Parris and Brandon Bell. Limited release on October 17 (New York, Los Angeles, Atlanta, Washington D.C.). Wide release on October 24. Read Sundance review here. 
Dear White People is a biting satire on the outside, and one sweet, sweet film on the inside. The film explores all the facets of "being a black face in a white place," but its message expands to people of all colors and ethnicities. We watch Lionel try to fit in at the Black Student Union, despite his stereotypically white interests. We see Sam shock and inspire through her "Dear White People" radio show but hide her romantic relationship because it might destroy her on-air cred. We follow a whole ensemble cast as they walk a tightrope of cultural identity crises. Will they give in to expectations or develop their own ways of being? Will they welcome others in or keep them out?
One of the film's producers, Effie Brown, was literally the first person we met at Sundance this winter. Recently, I had the privilege of hearing her speak about her hard-won film career. She told us that she spent a long time upset that being female and Black seemed to be two strikes against developing a foothold in the entertainment industry. All that changed when she decided to use what made her stand out for good. Since then, she's developed a name for herself by championing films that celebrate differences. She says telling stories and showing images of "the other," helps them become less "other."
Dear White People shares this ethos. The film ultimately teaches that all of us feel "other" sometimes and encourages us to let our differences bring us together, not keep us apart.
What has made you question and/or re-craft your own identity?