On Blogging: Perspective
This post may contain affiliate links. Please read my disclosure policy.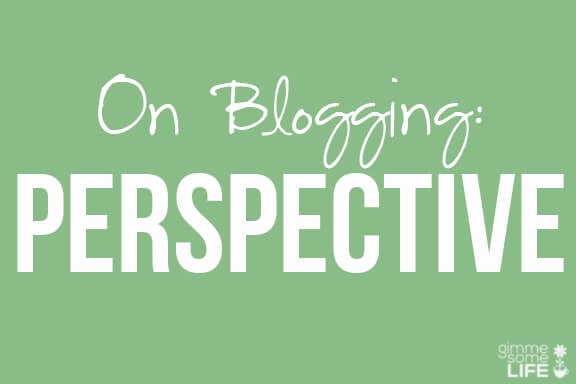 I have to admit that I'm a huge people-watcher. Whether it's airports, coffee shops, churches, you name the place, I'm that girl who's always taking in her surroundings (in a hopefully non-creepster way!). I can't help it. I have always been completely fascinated by how people interact with one another and go about their lives!
So it comes as no surprise that when I became a blogger and started spending hours online each week interacting with other bloggers, the people-watching continued. And holy moly — I've decided that if you want a fascinating group of people to observe, try bloggers!!!
I feel like we are a bit of a sociologist's dream come true. Pool a bunch of wonderful and ambitious people together, who are working their tails off daily, sticking their necks out to vulnerably offer their voice and content to the world, receiving accolades and criticism by the hour, navigating relationships with other bloggers and brands online, trying to learn the ropes of entrepreneurship and the art of building a profitable business — and then of course, trying to keep their sanity and maintain a healthy life outside of blogging. As one of my blogger friends said recently on a discussion board when a group was debating whether to contract out help with a certain service, bloggers seem to be the one group of people who think they can do everything themselves. (And then usually figure out how to!)  :)
But one thing I can't help but notice in blogger-watching (including observing myself) is some of the not-so-subtle shifts that come as time rolls on. The wonder and gratitude and enthusiasm that we had as beginning bloggers has the potential to slowly give way to a sense of dissatisfaction, hurt feelings, and discouragement. Sure, bad days come with the good, and some days you just need a good friend to vent to and talk.
But I feel like the more I talk with other bloggers, I feel like more and more people are having a hard time with the negativity. And it has had me thinking a lot lately about what we might be able to do to reclaim the joy and perspective that made blogging so incredible in the first place! I mean, seriously — this career wasn't even around when I was in college a decade ago. How amazing is that?!?
But the ups and downs of blogging are a definite roller coaster, so it can be hard. I'll use myself as a case in point on a few bloggy topics…
The Roller Coaster Of Blogging
Content
Ok, let's start with the bread and butter of blogging — content! When I very first began blogging, I quite simply blogged about whatever I wanted. If a recipe sounded awesome, I went for it! Chicken noodle soup sounded good on a hot July day? Yes please. Sharing embarrassing stories about kitchen flops and failures? Why not.  Using all sorts of weird ingredients that I know many readers might not like? Hakuna matata!  As far as photography was concerned, I was also well aware that I was a total beginner. I bought my first DSLR the week I began my blog, and knew that I had a long way to go in learning how to take and edit good photos. But I enjoyed learning, and was proud of some of the shots I posted online. And as far as my website design went, I was also absolutely thrilled that my brother-in-law had graciously helped design a site that was functional and clean-looking. I mean, bottom like, I had a blog that was running! And that was awesome!!
As time went on though, the push for more traffic started to consciously and subconsciously shift how I designed my content. Food fads, seasonal trends, and hot Google keywords tempted me to replace things like White Roughy Fish Tacos with Chicken Tacos. The foods I was craving were sometimes replaced with foods that I knew would be more pin-worthy. The photography skills I was working hard to learn seemed to pale in comparison to my favorite blogs with their gorgeously styled (and perfectly-lit!) photos. And then of course, the more I looked at everyone else's blog designs, the longer my wish list grew of all the things I wished could be changed on my own. Again, it seems like so many potential struggles boil down to that dreaded "c" word — comparison.
Traffic
Next is the issue of who actually sees your content — traffic. I still remember the first moment that I logged onto Google Analytics vividly. I was a month into blogging and sitting at my dining room table when I looked at my statistics page, and was stunned to see that somehow a few hundred people had found my site, including someone in Russia. Russia!!!!  I seriously thought that only my friends and family were reading my blog, and was blown away with gratitude at the wonder that the world wide web could somehow miraculously spread the word beyond my Facebook friends. Over the course of the next year, I logged onto Analytics occasionally "just for fun" and was always amazed to see how StumbleUpon spikes (back in the days before Pinterest), or a random Google keyword search, or a referral from another site had brought in new visitors. And getting comments from strangers was even more mind-blowing. I thought that this miracle of blogging was the coolest thing!
But of course as time went on over the years, there seemed to be a tipping point when all of a sudden I went from being surprised and excited about blog traffic…to often expecting it. My heart drops a little just even writing that, but it's true. Especially once traffic begins to get tied to income. If my blog had a dip in traffic, or if a post I thought was going to be wildly popular just went flat, my reaction could range from total disappointment to frustration. Probably the worst way to get bummed out about traffic was to compare my blog to other more "successful" blogs. Hearing people talk about their stats, or looking at sites like Alexa or Klout (my least favorite site online) could turn a day of great traffic into suddenly "not enough". There have been seasons in blogging when this was a daily struggle.
Income
Ok, income. I know this is a touchy subject, but I feel it's really important to be addressed. As far as a "beginning" perspective on blogging income, I can honestly admit that I had none. :)  I honestly had no idea that you could even make money on blogs when I began four years ago. I was cooking and sharing recipes purely for the fun of it, and didn't even think about installing ads until I was a year in. And once I did, I was shocked that a simple one-time step of installing some code on my site could bring in passive income checks each month that at least covered the cost of my groceries. It seemed too good to be true!
But as time went on, I started to build expectations around the additional income that came from my blog, even though I still had a full-time job which was bringing in sufficient income. In the months when ad rates dipped, or traffic was down, I would sometimes get really bummed out. Or I would start posting like crazy to try and get traffic back up. (Which is kind of an illusion in blogging — you can "feed" your blog all you want, but the outcome with traffic and revenue is way unpredictable!)  My mood at the end of the day when I looked at my ad revenue would rise or fall with those numbers, which I never recommend any beginning blogger do daily.
Now granted, being able to "expect" income when blogging/freelancing turns into a full- or part-time job is also completely reasonable, especially if you are depending on it to pay your bills! I left my full-time job a year ago and have been navigating the roller coaster of full time blogging and freelancing ever since, so I check my stats and income more often now. But at the same time, I hope to never lose perspective that any income I am able to make in blogging comes entirely from the fact that individual people around the world are taking time to read through my site. Which is a wild and incredible blessing that I makes me endlessly thankful!
But bottom line…it can be easy to judge the "success" of your blog by the bottom line.
Relationships
As far as relationships go, I feel like this is one area where bloggers are constantly commenting, especially about how thankful they are for their blogging friends. And I couldn't agree more. When I began, I was kind of in my own little world with blogging for at least a year, although admittedly because I literally had zero extra time to devote to anything in blogland beyond getting a post published once or twice a week. But once I started "meeting" other bloggers on Twitter and Facebook, and then later in person in Kansas City or at conferences, I was amazed by how incredibly supportive and gracious this community can be. I am in a few different blogging groups on social media that have helped and encouraged me tremendously over the years, with friends who celebrate the great days with you and help you put one foot in front of the other on the rough ones. And what's more, I love how accessible so many bloggers are. "Big" or "small", long-timers or newbies, near or far, you can literally get to know so many people online. So cool.
As with any social group, though, there can be politics. And feelings can get hurt. And competition can arise. But I think the one bummer I'll comment on is the potential in blogging relationships to let the majority of conversations veer negative. And to gripe or complain to one another, or worse, about one another. I have been in some social media groups where things tow the line of even getting mean. Eek. I know that venting can be a healthy and honest part of any relationship, but man, life is so much more fun and inspiring when the talk is positive and encouraging and helpful. Some days that can come more easily than others though.
The List Goes On…
I could go on with topics like working with brands, social media, photography, and more, but you get the idea.
Things that used to amaze and inspire gratitude with beginning bloggers have the potential to turn into expectations or even disappointment over time. But here's the deal…
Be Encouraged!
Your Perspective Is Yours To Decide
Maybe some of you bloggers out there don't relate to any of this. But for those of you who ever have days when life or blogging gets you down, or you realize that your perspective on some of these things has become stuck on the negative, be encouraged!
Your perspective is yours to decide.
And where it might take months or years to achieve a certain goal you have with blogging, you can literally shift your perspective day by day to one of gratitude within minutes.
Some might write it off as the power of positive thinking. But I am a firm believer in the crazy power of gratitude to shift how we see the world, and even how we see our blogs. I don't fully understand it. But even science backs up the power of gratitude to improve our outlook, our health, our creativity, and our relationships. It's almost like we were created for it. ;)
Sometimes in my life, that shift toward being grateful for the silver lining in a blogging disappointment or struggle can be an instantaneous thing. I can be feeling really down or "less than enough" about something, but then when I stop and take a breather and consider what I have to be grateful for in that situation, it's like a light will come on and the weight is lifted off of my chest. With blogging, this is especially true if I step back and look at where I am today even from a year or two ago, and see how many cool things I've been able to accomplish in the meantime.
But I'm also a realist, and know that just as often, shifting your perspective on something (especially if it is deep-rooted) can take some time. And it may require some work to really sift through the layers of an issue, and even bring in some outside help to begin to move back to a healthier perspective. I know that even this month it took me a few days to bounce back after a sponsorship deal that I'd had my heart on that fell through at the last minute. I was surprised at how disappointed I was and the cloud that I couldn't seem to kick for a few days, but once I finally swallowed my pride and shared about it with some friends, I was able to hear others' similar stories and was reminded that this is just part of what comes with the territory. And I was able to take to heart some really valuable lessons in the process that I would have missed otherwise. It didn't change the situation, but the power of that negativity seemed lifted.
Ok, you've hung with me through a really long post. :)  To sum it all up…
Bottom Line
Blogging can be hard.
And keeping a healthy perspective through the ups and downs can be even harder.
But blogging is also amazing.
And when we see it as such, it can turn the experience into the crazy, wonderful, positive ride of a lifetime!
So if you find yourself stuck in some negative feedback loops with anything from traffic, to your content, to your income, to relationships, or anything else with blogging, I would just offer a hug and encourage you to know that it doesn't have to be that way. We thankfully can choose a great perspective on this whole adventure, and even better, we can be the ones to encourage and help one another to do the same along the way.
5 Mini Perspective-Shifters If You're Having A Rough Blogging Day
In closing, just because I'm a list-maker, I thought I would share with you my own little personal help list for the days when my perspective needs changing. If you have others, would love to hear!
5. Take a day off – I know this one is mentioned a lot, but man oh man, it really works in my blogging life. And when I say take a day off, I mean from everything blogging related — creating content, social media, comments, even the Internet. Our lives are designed for Sabbaths, and I think blogging is absolutely included in that equation.
4. Make a list of the top 10 reasons you started blogging – As mentioned above, often the reasons we begin blogging can get lost in all of the hard work of it all. But take a trip back and ask yourself what it was that made you so excited to get started! Was it sharing with friends? Was it learning something new? Was it building relationships?
3. Look for some inspiration – When was the last time that you bloggers logged onto Pinterest purely for fun? Or when did you food bloggers experiment and cook a new meal with zero intention of ever blogging it? Or when did you just go browsing new blogs in different areas of interest? As an artist and musician, I know that looking for this kind of inspiration is crucial to the creative process. So wherever it is that you find inspiration, take off your "work hat" and go looking around for FUN!
2. Tell your friends, and ask for encouragement – Ok, the first part, tell someone!  I know that there are so many days when I get in a rut and just turn inwards. But we're not meant to do life (and blogging!) alone! So seriously — call, text, email a few of your close friends, and just tell them that you're having a hard time. And I would even encourage you to ask them to tell you something about your blog that they like. Asking for that kind of help is one of the biggest lessons I have learned in life. I can tell you for sure that if I knew my friend was having a rough day, I would want to know in a second and do what I could to help encourage them on! So don't be shy. :)
1. Know that you are… Awesome. One-of-a-kind. Bright. Talented. Thoughtful. Driven. Special. And your voice needs to be heard.
Go get 'em, Tiger. :)