Poetry and Printing
This post may contain affiliate links. Please read my disclosure policy.
I have to be honest. My book club is awesome.
Said awesomeness is due entirely to the group of amazing, creative, bright, thoughtful women who I'm grateful to call friends and fellow bookies. But it is also due to the oh-so-official traditions that govern our little monthly get-togethers. Hours of hang time, thumb votes, tangential discussions, inside quote books, strong opinions, presentations, last-one-to-finish-awards, annual campouts, film adaptation field trips, random food smorgasbords, and copious amounts of wine are "musts". Finishing the book is encouraged, but optional. And boys are almost never allowed (except for you and Gatsby, Mr. Mees).

That said, for our November meet-up last weekend, we decided to (gasp!) break with our bookish tradition and devote an entire month to poetry. Everyone was invited to bring a poem or two to share. But instead of just sitting around eating and talking and drinking per usual, we decided to spend the evening eating and talking and drinking and printmaking!
For months, we had been asking our resident art teacher, Rachel, to give us a mini class on the topic. So we were happy when she graciously agreed, with perfect timing to get an early jump on Christmas cards. Thus…
Poetry + Printing.
The original plan for the evening was actually to meet around the enormous new dining room table I'm getting with the new kitchen in my loft. But thanks to a zillion remodeling setbacks, mi casa was still table-less, finished-kitchen-less, and pretty much mass chaos.
So Sarah graciously agreed to swap months and host the poetry+printing night in her (now award-winning!) sweet new modern house.
Rachel — I mean, Ms. Hubbard — had all of the linoleum printmaking supplies all ready to go for us. (Did I mention the perks of having an art teacher in the group?)
She had encouraged us to think ahead of time about what sort of design we would like. Some did their homework and came prepared with awesome fonts and Van Goghs and cool designs printed out.
Some got all high-tech and transferred designs to their papers from their phones.
Others (ahem) procrastinated a bit and came with their design, you know, "in my head". (The first of many high school flashbacks of the night.)
Rachel cut the correct size of linoleum for each of our designs. Then we simply placed our design papers on top of the linoleum and rubbed on the back of the paper to transfer (at least most of) the design onto the linoleum, since the stamps would need to be backwards. That part was surprisingly simple and obvious…and I never would have thought of it!
Afterwards, we each took our little carvers and slowly began scraping away at the linoleum to create our designs. It was interesting to watch the different reactions to this process in the group. Some found it stressful and tedious and demanding of more wine. I absolutely love craft nights, and found it to be totally calming and peaceful, especially with more wine. ;)
It helped that some of our non-carvers for the night — Beth and Kristen — volunteered to read our poetry picks while we carved. I brought along Mary Oliver's Song For Autumn as an ode to the blowing fall day outside.
After probably about an hour, most of our designs were ready. So Rachel showed us how to use these special little mini paint rollers to roll out our paint to just the right consistency (it's gotta "bead"!)…
…and then we rolled those right onto our stamps in a thin layer, carefully rolled those onto our papers and peeled them off…
…and then voila! Our very own prints were made!!!
Here is my friend, Maux's, handiwork of the night. I so love that quote. (And let it be noted that thin lettering like that is hard with printmaking. Maux must have listened closely to the directions about rolling on thin paint!)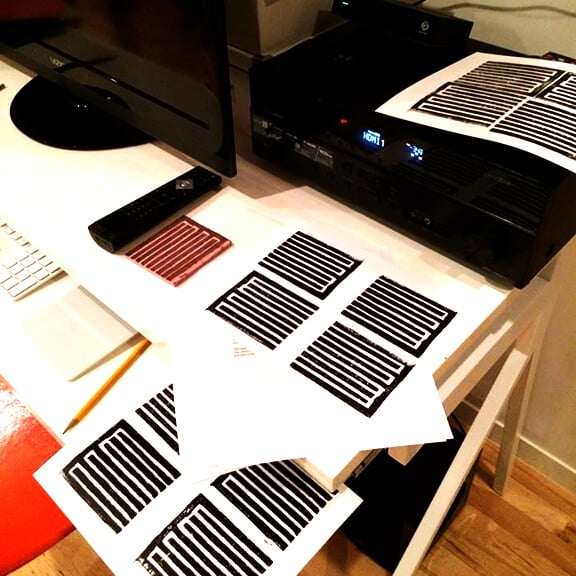 The night then became a progressive show-and-tell, as everyone held up their first prints for the group to oooh and ahhh. It was so cool to see everyone's artwork! I realized that I have known so many of these girls for years, but have often never seen anything they have actually drawn or painted. So fun!!!
The next big challenge, of course, quickly became where to store all of these freshly-painted creations.
After filling up every square inch of counter space in the kitchen, we decided to make this our little gallery.
Of course, you cannot have class without a class photo. Look what I made, Mom! :)
Book club next month is at mi casa. If you want to read along with us, our December book pick is Unbroken. You know, just a little "light" holiday reading. Would love to hear what you think of it.
Cheers, friends!