This Wild and Crazy Miracle We Call…Blogging
This post may contain affiliate links. Please read my disclosure policy.
Lately, I've been talking with quite a few bloggers who just feel ________ about their blogs right now.
Overwhelmed. Discouraged. Frustrated. Burnt-Out.  You fill in the blank.
Basically, not so good.
And my heart goes out to them, because I've been there. Frankly, I'm probably "there" at least once a day, whether that's due to the 5000th "technical difficulty" that feels over my head, or someone leaves a mean comment, or I can't seem to get past writer's block, or comparison gets the best of me, or something else just makes me feel less-than. I call it the blogging blues, and they definitely come with the territory.
But as cliche as it may sound, whenever life in general gets me down, I'm a big fan of stepping back and looking at the bigger — especially the much bigger — picture. Because there's something about escaping out of the teeny tiny corner of the "right now" and into the wide open spaces of "in the grand scheme of things" that always seems to help reset things. And bring perspective. And make life or work or whatever the issue may be seem more manageable. And, if we look for it, remind me of some of the awe and wonder and what I'd even call little "miracles" that are already happening all around.
This week, one of my favorite bloggers wrote about this little change in perspective with regards to her kitchen, and putting on some "perspectacles" to see and appreciate things in a different way. As I was reading it, though, I kept thinking that maybe some of us bloggers could use a new set of perspectacles about blogging, in order to remember some of the magic and wonder and crazy little miracles are part of this new territory we're exploring.
So this morning, I took a peek around my little corner of the blogosphere. And here's what I saw…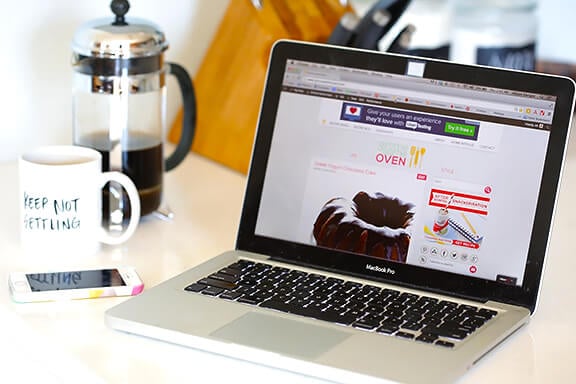 My Computer!
Well first of all, when I was ready to start working this morning, I sat down in front of this miraculous little contraption — my computer!
Let it be said, this thing is freaking brilliant. One might even say it's a "pro". It stores thousands upon thousands of the teeny tiny details of my work life, it lets me correspond with people all over the world, it lets me look up anything and everything, it lets me edit photos, it lets me watch The Millionaire Matchmaker while I cooked this morning, it will let me Facetime with people anywhere, and — you guys — I can literally pick up this marvelous invention and carry it with me all around the world like it's NO BIG DEAL.
Oh and lest I ever complain, it 2x smaller, 5x lighter, 10x faster, has 10x better speakers, 20x better resolution, 50x more storage, and 100x better content in it than the computer I had in college just 10 years ago. Much less the Apple IIe's with floppy disks that I used in grade school. Or the computers that didn't exist when my parents were in grade school. Or the computers that sadly still aren't available for far too many people around the world who would love to have one.
Yeah, this amazing little machine that I get to use each day is not only a modern miracle, it is a positive gift. As is my camera. My tripod. My phone. My Wifi. My groceries. My car to go get my groceries. My safe and air-conditioned home with a kitchen and an oven and pots and pans and a window for natural light. And all of other "tools" that I use on a day to day basis for work?
All gifts.

The Internet!
Speaking of miracles, when I open said computer, I'm greeted with the word none of us knew 20 years ago — GOOGLE! Aka, the Internet. (Since they're taking over the world, I guess they're practically the same thing now.)
Email. Instagram. Hulu. G-Chat. Spotify. Amazon. Pinterest. Google Maps. Online banking. Facebook. Wikipedia. Travelocity. YouTube. Twitter. IMDB. LinkedIn. Craigslist. Facetime. Netflix. Flickr. BLOGS.
On my computer. On my phone. On my Kindle. On my TV. On my camera. On glass.
And thanks to WiFi and 4G, available just about anywhere.
You know, grandkids, back when I was your age, these things did not exist.

My Blog!
And even wilder, there's a tiny little corner of the world wide web that is my little home that used to be called a "weblog", but we now just call a blog! (Or as my friend John calls it, my "blob".)  And it's mine to do whatever I want with it!
Gone are the days of MySpace, LiveJournal, or Xanga (anyone?). Nowadays, I can have a fully customizable, beautifully-designed, little home on the web that feels totally and uniquely "me". And as opposed to some places in the world that sadly still restrict content, I was born into a country that celebrates free speech and can blog about whatever floats my boat. I can get uber-excited about delicious new recipes, play around with DIY projects, even talk openly about life and being single online, or wherever the wind blows. And I don't have to go through an editor or wait a year for a book deal to have it published. (Although an editor would probably be wise for this impulsive blogger.)  ;)
And miracle upon miracle, literally millions of people somehow tune in each month.
And miracle upon miracle upon miracle, that has allowed me to pour my heart and all of my energy into making this my full-time job. (Which still blows my mind.)
The best thing though? My little blog is not alone. But rather, it is privileged to be in the good company of literally hundreds of thousands of other blogs that are written by amazing, smart, diverse, bold, talented people all around the world who are courageously sharing their thoughts on the web each day too. You can find them blogging about everything from parenting to politics to pasta to Prada to persuasion to profitability to Paul Rudd and everything in between. And you can catch a glimpse into any of their worlds with just one click. ONE CLICK.
The Information Age is here, no doubt. At while at times it can seem overwhelming, it's also wild and wonderful. And I'm thankful that it has carved a little space within it for my blog to make its home.

Ads! Sponsored Posts! Brand Ambassadorships! Products!
Yes, I'll stick to the exclamation marks. And no, please don't shoot me if you're anti-ads. Because the truth is, when I look around at my blog, I see the content I have created (now over 900 recipes!) and I also see ads. Plus a few sponsored posts sprinkled in. Plus some ambassadorships.
And the reason they're there is quite simple: they pay my bills.
But more importantly? They literally afford me the chance to do what I absolutely LOVE for a living.
You guys, I love blogging. I haven't always loved blogging, but I'm in a season right now where I actually really really love it. But the fact is crystal clear for me: I would be in a very different job now, probably blogging during free time that I could be spending with friends on nights and weekends, were it not for this industry that has sprung up around blogging monetization. I know that not everyone supports it. But I will be the first to say that it has no less than changed my life and allowed me to take on the job of my dreams. So for that, I'm incredibly grateful.
And you know what, I throw my endorsement behind the brands I work with because I genuinely do support them. Even more, they are each a part of my real life beyond the blog! (Hello, have you seen my posts about ALDI?)  And my work with these brands has also brought along the opportunity to meet many amazing people, travel to some amazing places, and learn all sorts of new things. And I have been able to support myself as a single, 30-something, entrepreneur in large part because of them.
It's all because of the little modern marvel that whenever someone views that small ad at the top of my site, I get a fraction of a penny. It's a pretty crazy and cool way to eventually earn a buck in the modern world.
(And let it be said, if you would have told me that's how I'd earn a full-time salary when I was a business student in college, I never would have believed you.)  :)

Social Media!
Speaking of the world wide web, how about all of those ways that we now get to connect to actual people through it? Enter the term that is now a multi-billion dollar industry into itself — social media.
For most bloggers, social media now falls in the category of more work instead of play. And far too often, social media accounts can turn into a big time numbers game for bloggers, who are usually ranked/judged by brands based on the number of followers they have. I have admitted before that I struggle with the social media part of blogging and can get complain-y about it at times — whether it's the shady way I think Facebook is run, or the fact Pinterest is now allowing sponsored content, or wishing that Instagram allowed hyperlinks, or still not "feeling it" with Twitter, and don't even get me started on Google+….
…BUT.
Lest I forget, social media is pretty darn effective at doing it's job — helping people be SOCIAL. Helping me be social. Especially with people I don't get the chance to see on a daily, monthly, or even yearly basis. Especially when it comes to the short-and-sweet little interactions that social media is perfect for (wishing happy birthdays, commenting on a photo, asking for quick advice, just popping into say hi). Especially for getting inspired (hello, Pinterest!) and staying up-to-date with what's happening in the world (hello, Twitter!) and staying up-to-date with big events in friends' lives (hello, Facebook!) and — my favorite — catching a literal glimpse into my friends' days (hello, Instagram!).
It really is pretty incredible to see how social media has completely revolutionized socialization in the last decade. And the ride is probably just beginning. But lest I ever forget, it is a fascinating invention doing a heck of a lot of good in the world. So I'll give a "like" to that, or +1 it, or share it, or pin it, or RT it, or whatever the heck will be next. :)

Readers!
Ahh, my readers. Why does writing about them always make me tear up?
Well, probably because they blow me away daily with their faithfulness, encouragement, intelligence, thoughtfulness, creativity, and general awesomeness. I never pictured myself as a writer, so never would have imagined that I'd even have "readers" in life. But somehow I do. And the simple fact that they somehow found my little blog through the vast enormity that is the web boggles my mind. The fact that they stick around to read what I write is an honor. The fact that they come back to visit again and again is deeply encouraging. And the fact that they leave comments or emails, and let me know their name, and take the time to write just means the world to me.
And I'm pretty positive that every other blogger I know would say the same thing.
I am deeply grateful for every single one of the people who read my blog. And give them all of the credit for growing my site and letting it become my job. And so appreciate the encouragement they give.
I know that I'll never get to meet all of them, but I think of them with each post that I write. (Ok — super cheesy — but I even like to picture them sitting with me at my dining room table having coffee, just like I'm talking to old friends.)  Because they're so much more than numbers on an Analytics page. They're real, live, breathing, amazing people from all over the world. And I'm honored to live in a time when technology can connect us in such a real and freaking awesome way.
So yeah, let's just agree — readers are the best.

Friends!
Finally, one glance at the text messages in my phone, or emails in my inbox, or coffee dates on the calendar, or even photos on my Instagram wall is a daily reminder that blogging has not only given me the gift of a new career, it has given me the gift of new friends.
Like, real, legit, coffee-dating, happy-hour-ing, talk-for-hours-on-the-phoning, world-traveling, know-me-at-my-best, encourage-me-at-my-worst, even fellow-Tim-Riggins-loving friends.
Our relationships may have started via our blogs. And for sure, it's awesome to have these friends who are basically like coworkers in the blogging world, and who are so helpful and encouraging and supportive with the day-to-day-ness of it all. But I love them now because our relationships are about blogging, but also so much more. Even just today as I was writing this post, I shared some really tough news that my family received on Facebook. And who were many of the people to respond with comments and texts and such kindness? My sweet blogging friends. Actually, I like to just call them friends.
If it weren't for this crazy, wild and wonderful miracle that is blogging, I never would have met them. :)
~~~~~~
I could go on and on. But you get the idea. :)
So for any of you bloggers who might be feeling burnt out or jaded, or just need to see your work through a new set of "perspectacles" right now, I'd encourage you to take a little tour through your own corner of the web. I'm convinced there are always some new little miracles waiting to be discovered. :)