Lighter New England Clam Chowder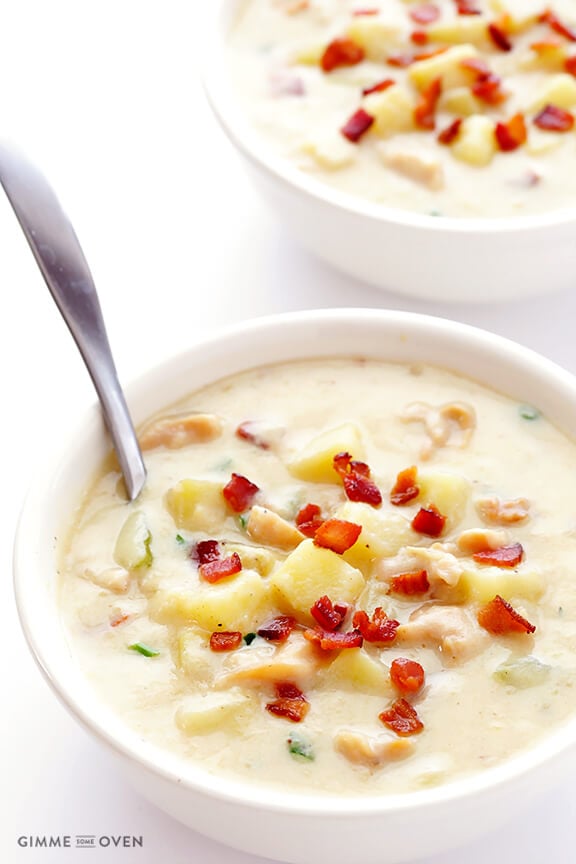 Once upon a time, I was extremely obsessed with Panera's New England clam chowder.
To be specific, that "time" was during the seven or so years that I worked as a musician at a mega church out in the 'burbs of Kansas City.  Quick, affordable restaurants were scarce out there in one of the top wealthiest counties in the United States.  But there was a trusty a Panera nearby.  And when those 12-hour days hit, with band rehearsals that usually lasted late into the night, I started to become a more and more frequent customer.  Their "You Pick Two" combo was my jam.  (Still is.)  And the best day to visit was on Thursdays.
New England Clam Chowder Day.
Oh my goodness, I loved Clam Chowder Day.  Actually, I wasn't sure if I even liked clams.  But Panera's rich, creamy, and comforting chowder was my gateway into at least giving them a try.  And anytime it was on the menu, without fail, it was what I wanted to order.  And so I did.  For years, upon years, upon years.
But then one day, curiosity got the better of me and I decided to look up the nutrition facts for this soup.  And, as happens to too many restaurant favorites, this happy story came to a very quick ending.  A sixty-two grams of fat per serving kind of ending. For just one bowl of soup.  Why do restaurants do that?!
Oof.  Well, I'll still credit Panera with making a stellar soup and introducing me to clams.  But I must say that my favorite version of classic, thick, rich and creamy version is now this lighter version that I make homemade.  Honestly, I like it even better than the heavy-cream-filled version.  And, it's also really simple to make, and you can control how "clam-y" you'd like it to taste.  You in??
How To Make New England Clam Chowder | 1-Minute Video
I actually posted the recipe for this lighter New England Clam Chowder here in 2009, back when I was still working in the 'burbs.  But since most of you weren't around back then, I thought I would snap some new photos of the soup when I made it for the 50th time this winter.
Here's the 2015 version.  ;)
It's really just a simple chowder base that — similar to my favorite potato soup recipe — is made creamy with milk instead of cream, and thickened up with the combination of a roux and by pureeing some of the potatoes after they have cooked.  Then just add in some canned (or fresh) chopped clams and a bottle of clam juice…
…and this classic (and lighter!) version of the soup is ready to go.

I also like to use a few slices of bacon to flavor the soup, reserving some of the bits to sprinkle on top along with some chives.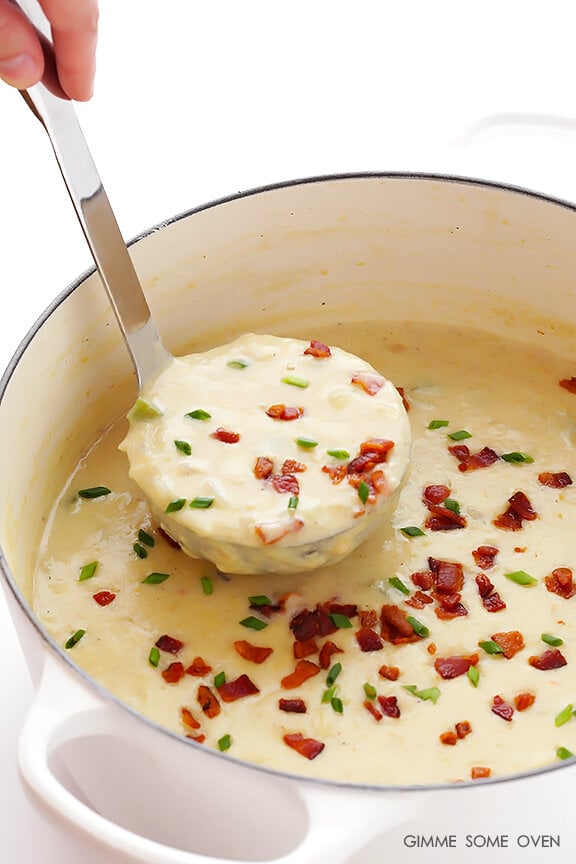 But how you serve it is totally up to you.
If you're a clam chowdah lovah, I just recommend that you make a batch for yourself, and have a Clam Chowder Day soon!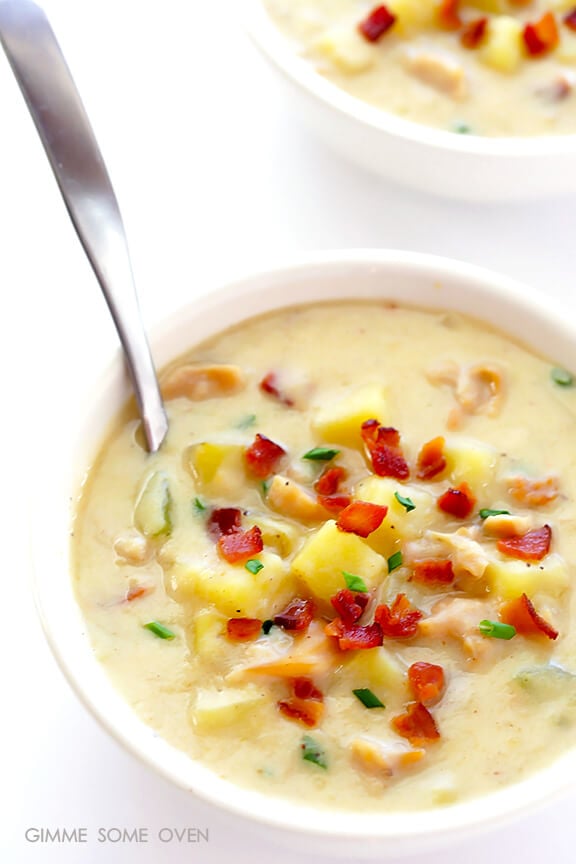 Lighter New England Clam Chowder
If you love New England Clam Chowder, try this lighter version! It's still thick, creamy, and delicious, but it's made lighter with a few simple tweaks.
Ingredients:
4 slices bacon, diced
1 medium onion, diced
1 stalk celery, ends trimmed and diced
2 cloves garlic, minced
3 Tablespoons all-purpose flour
1 (8 ounce) bottle clam juice
4 cups milk (I used 2%)
1.5 pounds Yukon gold or red potatoes, diced (and peeled if you'd rather not have skins)
1 bay leaf
1 teaspoon salt, or more/less to taste
1/2 teaspoon Old Bay seasoning
1/2 tsp. thyme
1/4 tsp. freshly-ground black pepper
2 (7-ounce) cans minced clams (not drained, keep the juice!)
optional garnish: chopped chives, dash of hot sauce
Directions:
Heat a large stockpot over medium-high heat.  Add diced bacon and cook until crispy, stirring occasionally.  Transfer the bacon to a separate plate, using a slotted spoon, reserving about 3 tablespoons of bacon grease in the stockpot.  (Discard any extra grease, or you can substitute butter in place of the 3 tablespoons of bacon grease.  Also, if you are short on time, I recommend dicing the potatoes and onion while the bacon cooks.)
Add onion and saute for 5 minutes, stirring occasionally, until soft.  Add celery and garlic, and saute for an additional minute, stirring occasionally.  Sprinkle the flour on top of the mixture, and stir until combined.  Saute for an additional minute to cook the flour, stirring occasionally.  Add in the clam juice and stir until combined.  Then stir in the milk, potatoes, bay leaf, salt, Old Bay, thyme, black pepper and half of the bacon bits and stir until combined.  Continue cooking until the mixture reaches a simmer, but is not boiling.
Reduce heat to medium-low, cover, and simmer for about 10-15 minutes or until the potatoes are soft, stirring occasionally every few minutes so that the bottom does not burn.  (The smaller you dice your potatoes, the faster they will cook.)
When the potatoes are soft, stir in the clams.  Taste, and season with more salt and pepper if needed.
Serve warm, garnished with desired toppings.
All images and text ©
If you make this recipe, be sure to snap a photo and hashtag it #gimmesomeoven. I'd love to see what you cook!