Lighter Sweet and Sour Chicken
This post may contain affiliate links. Please read my disclosure policy.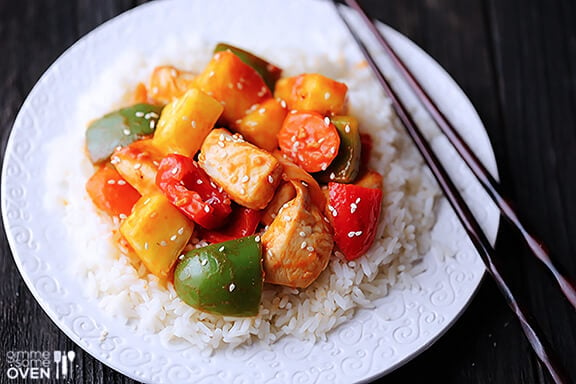 Sweet and sour chicken has long been one of the most popular dishes at Chinese restaurants. But did you know that it often ranks at the top of the most unhealthy things you can order — by far?? Yikes, people!
Thankfully, the good news is that sweet and sour chicken is incredibly easy to make "lighter" at home. And in this food blogger's humble opinion, I think it tastes just as good!! Granted, I'm not a huge fried food lover to begin with. But when you saute instead of deep-fry the chicken, add in tons of fresh vegetables, and then top it with the signature sweet and sour sauce, this colorful dish turns into a fabulously tasty and healthier treat that everyone will definitely satisfy your sweet and sour cravings. So good!!!
To grab the recipe and see some step-by-step photos for how to make this Ligher Sweet and Sour Chicken, pop on over to my friend Kristin's site, Iowa Girl Eats, where I am guest posting today. Hers has long been one of my favorite food blogs — I know you will totally love it too!!
Yay for lighter ways to enjoy our favorite recipes!