London Fog Tea Latte (Earl Grey Latte)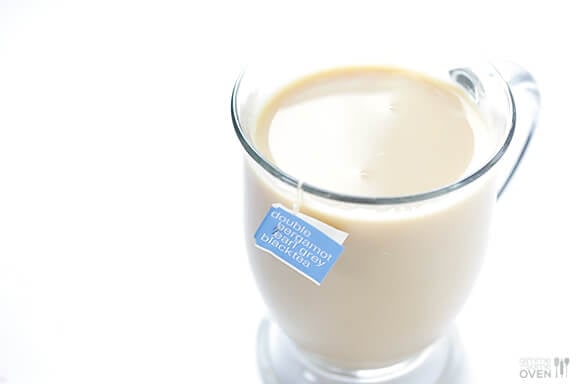 I have been a tea drinker my entire life.  But it wasn't until a few years ago that I was first introduced to the wonderfulness that is a London Fog tea latte.
Oh my goodness, have you all tried it??
Traditionally (and at Starbucks), London Fog lattes are made by combining sweetened earl grey tea with some steamed milk and vanilla syrup.  So simple!  But when I recently ordered one at a local Kansas City coffee shop, I realized that theirs had a hint of another ingredient that kicked this latte up a big notch — lavender!
I absolutely love the combination of earl grey tea and lavender in this lavender cheesecake, so it should have come as no surprise that it would make a tea latte all the more wonderful.  But oh my goodness, it suddenly made sweetened tea with milk taste like the most luxurious, relaxing drink.  So comforting!
But paying $4 for said comfort?  Totally not necessary.  So this holiday season, I figured out how to make my own 5-minute homemade version for about $0.25, and am now completely hooked.  It's so easy!
The ingredients are super simple.  You just need:
an earl grey tea bag (or two)
milk (any kind will work)
sugar (I used regular granulated, but you could substitute other sweeteners)
vanilla extract
lavender (optional, but highly recommended!)
In addition to being wonderfully fragrant, the lavender is so beautiful!  I buy a bag from our neighborhood seed and spice store each year, and use it for everything from cooking, to flavoring water, to making little pouches to toss with clothes in the dryer, and now…tea!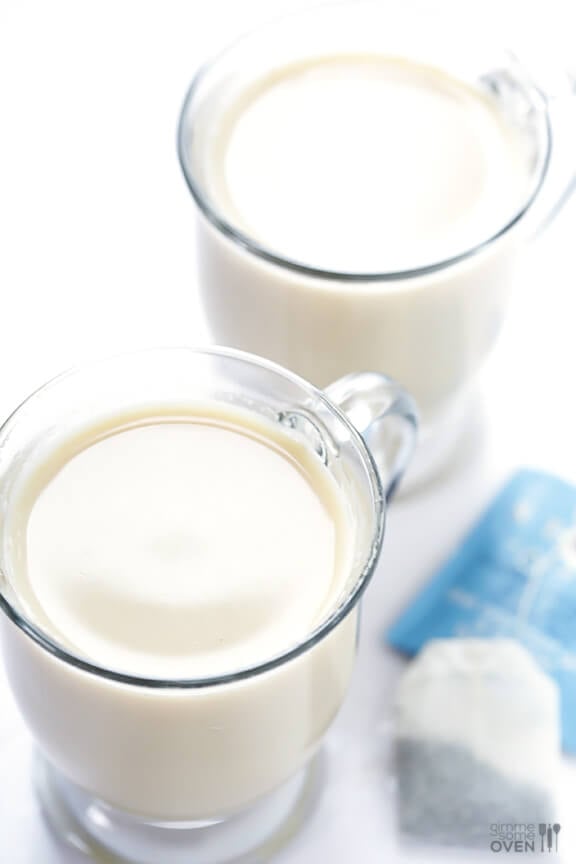 To make a london fog latte recipe, simply brew a cup of strong earl grey tea along with a pinch of lavender.  Then strain the tea, and combine it with some steamed milk, and stir in your desired amount of sweetener and a dash of vanilla.  And a warm, comforting, delicious London Fog drink is yours to enjoy.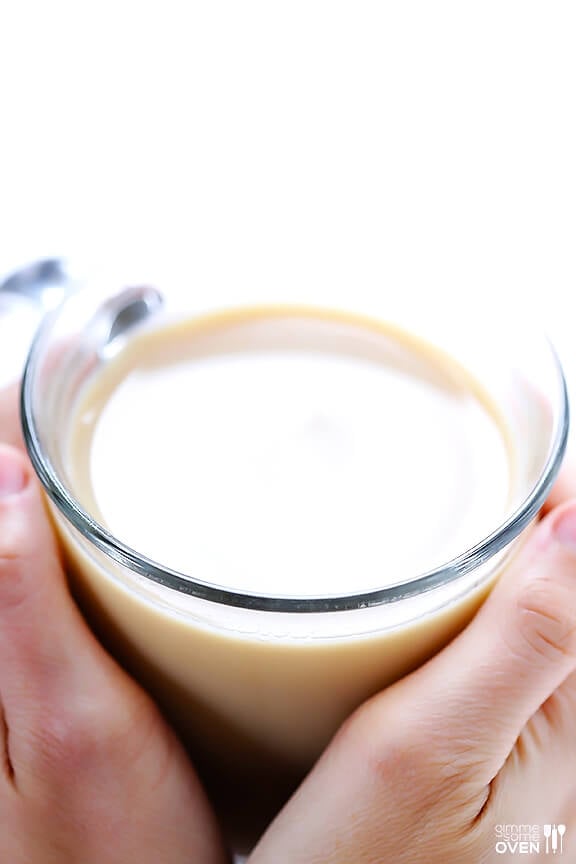 Trust me, I think you will love this one.  :)
London Fog Tea Latte (Earl Grey Latte)
This London Fog tea latte recipe is so simple to make homemade, and it is full of rich, comforting flavor.
Ingredients:
1 cup (8 oz.) strongly-brewed earl grey tea, brewed with 1/2 teaspoon dried lavender
1/2 cup (4 oz.) steamed milk* (any kind)
1 Tbsp. granulated sugar**, or more or less to taste
1/4 tsp. vanilla extract, store-bought or homemade
Directions:
Brew earl grey tea and lavender together, and steep for 3 minutes (or according to tea instructions).  Remove tea bag and strain out the lavender.  Stir in remaining ingredients until combined.  Serve warm.
*If you — like me — do not have a milk steamer, you can just heat the milk in the microwave or in a saucepan over medium-low heat until it is simmering but not boiling. (Very important – do not let the milk boil!)
**You can use any kind of sweetener for this tea
All images and text ©
If you make this recipe, be sure to snap a photo and hashtag it #gimmesomeoven. I'd love to see what you cook!