Lowe's Outdoor Grill Giveaway
This post may contain affiliate links. Please read my disclosure policy.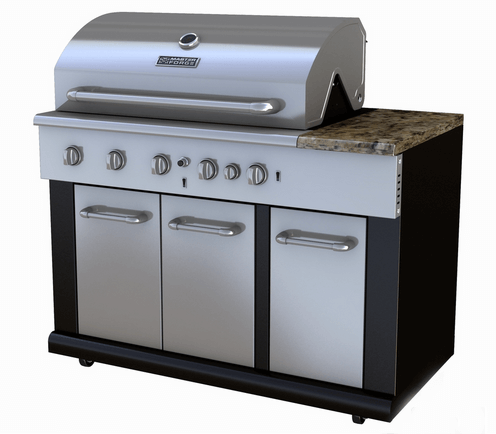 'Tis the season for grilling!  And 'tis the season for my friend Carrian's birthday from Oh Sweet Basil. She is hosting a week of giveaways, so a group of us are joining in to help celebrate! I'll let her tell you all about this amazing Lowe's Outdoor Grill Giveaway below. Scroll down for multiple chances to enter!

Day 4 of the 5 Days of Giveaways!
We are still celebrating birthday week. It's day 4 and this one is going to rock your world. First, in case you missed: Day 1: Magmix Food Processor-$400, Day 2: Vacation for 4 to Deer Valley Ski Resort, Day 3: A houseful of new appliances from Hamilton Beach-$500+
Today's Giveaway
I couldn't think of a better way to continue the celebration than to, A. Share one of our all time favorite dinner recipes, and B. GIVE AWAY AN OUTDOOR GRILL! (Think Oprah when you read that last sentence. Ahhh, now you can here the voice right? Too bad I'm not her or I'd also add, "One for you, and you, and you")
Anyway, make sure you check out Monday's giveaway for the best Food Processor ever, Magimix, Tuesday's Giveaway for a Vacation for 4 to Deer Valley Resort, Wednesday's for over $500 worth of Hamilton Beach Appliances and enter today's giveaway for an amazing Master Forge 5-Burner grill courtesty of Lowes. Kinda makes sense that Lowe's says to, "Never Stop Improving" and trust me your cooking will totally improve with this baby.
ENTER TO WIN A $1200 Grill!
To enter this giveaway just follow these steps: 1. Pin this post to pinterest 2. Follow each blogger on pinterest (each photo below links to each pinterest account for you) 3. Enter to win Extra Entries If you'd like to enter by pinning a recipe or post other than this one from each blogger or follow on Facebook the links are provided in each button on the Promo Simple.
Why This Grill Rocks
The Obvious
This grill is obviously one of the "hottest" grills on the block. It's sleek, and includes a gorgeous granite counter. Hey pretty baby…
A built in trash? Heck yes! I love that you can throw a little trash bag in the trash container hidden under the grill. No more back and forth inside the house to throw away hot dog wrappers, broken skewers etc.
5 Burners-5 Burn-ers. Did you catch that? That means a whole lot more grilling in a lot less time. Woohoo!!
Electric Ignitor
Getting All James Bond

What you may not know, but what I consider to be my favorite parts about this grill…
Infrared Rotisserie Burner-You heard right, this grill is about to change your life forever. You have a build in infrared rotisserie located at the back of the grill. Oh my gosh, I'm starving already.
Built-in halogen lights and LED control panel lights
A warming rack so you can constantly be adding more to the grill
Natural Gas Conversion!!
This grill is seriously crazy amazing. It's our favorite one to use because it's easy (NBD if you don't have matches, the thing starts itself), it looks amazing, and it works like a gem. Seriously, we have not had a single problem. I cannot tell you how much Mr. Handsome loves it. I mean, the guy calls it his, "Baby". It's unreal. And yet, I totally get it.
Good luck, everyone. And Happy Birthday, Carrian!