mailbox mondays: apples for baking
This post may contain affiliate links. Please read my disclosure policy.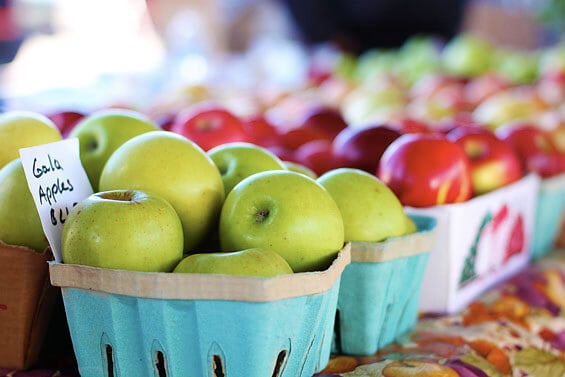 Hey Ali,
Do you have any advice on what kinds of apples are best for baking? There are so many recipes out there I want to try this fall, but it seems like most of them don't specify which kind of apples to use. Any quick tips would be really great!
Thanks,
Amy
~~~~~~~~~~~~~~~~~~~~~~~~~~~~~~~~~~~~~~~~~
Hi Amy,
Thanks so much for your question! It's a perfect subject for autumn, when so many delicious apples are in sesason. (And yummy apple recipes are begging to be made!)
As for selecting different varieties of apples, it definitely depends on what you're looking to bake…
If you're looking to make applesauce or something with a more mushy/grainy consistency, I would lean towards Gala, Red Delicious, Golden Delicious, Fuji or McIntosh. These are also naturally very sweet, so won't need lots of extra sugar.
If you're looking to make any sort of apple filling (for a pie, dumplings, turnovers, etc.), I would recommend Granny Smith, Golden Delicious, Braeburn, Jonathan/Jonagolds, Northern Spy, Pippin, Pink Lady, Gravenstein. For filling, you generally want apples that have a firmer consistency so that they will keep their shape and not get super-grainy.
Probably anyone you ask about selecting apples will also give an opinion on sweet vs. tart. Since most baking recipes call for quite a bit of sugar, many err on the side of tartness (hence, why Granny Smiths have been a popular favorite for decades). But whatever way you go, you can always add in extra sugar or lemon juice to achieve some of that extra flavor you'd like. Either way, I recommend a good mix. I always feel it adds depth to a recipe, so it's rare that I bake with just one variety!
I know this is all very general. If you'd like even more specifics, here's a great site I keep bookmarked to refer to with apple questions. It also goes through and identifies every variety of apple by photo, and lists each variety's specific uses.
Good luck, and happy apple-baking!
~Ali