Mango Lassi
This post is sponsored by California Dairy.
I know that mango lassis are typically associated with Indian cuisine, but they always remind me of my time in Costa Rica.
When I was 17 years old, I had the chance to go spend a summer studying Spanish while living with a host family in the mountains outside of Alajuela.  The countryside was beautiful, the people were salt-of-the-earth kind, and mangoes were everywhere.  In fact, Alajuela is actually called the Ciudad de los Mangoes — City of Mangoes.  Literally everywhere you turn, there were fresh mangoes in abundance!
I remember breathing in the air when I first arrived, wondering why the streets all smelled like sweet wine.  But  once I looked down at my feet and saw the fallen mangoes everywhere, warming in the sun, I began to understand.  There were trees dripping with fresh mangos at every turn!  The locals knew precisely when to pick them at the perfect moment of ripeness.  And when they did, they were perfectly sweet and juicy.  And this Midwesterner couldn't help but feel that they were oh-so-luxurious.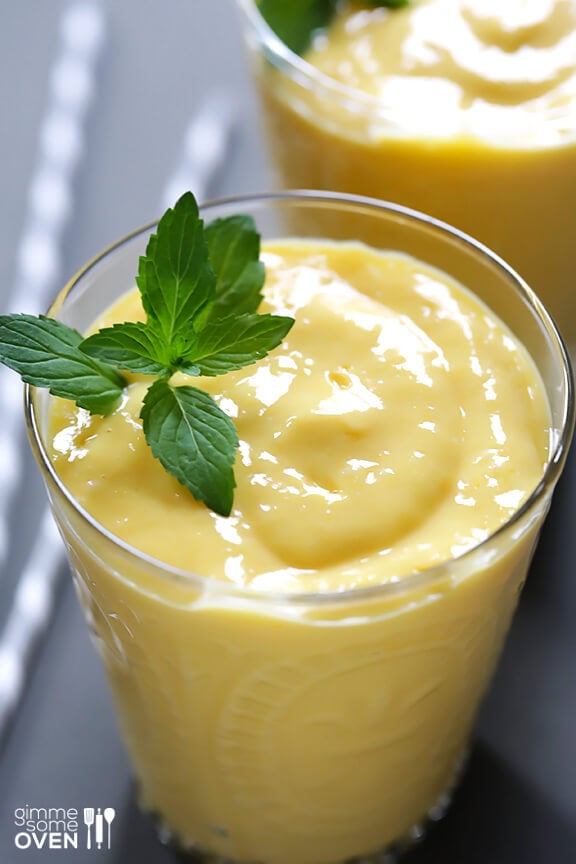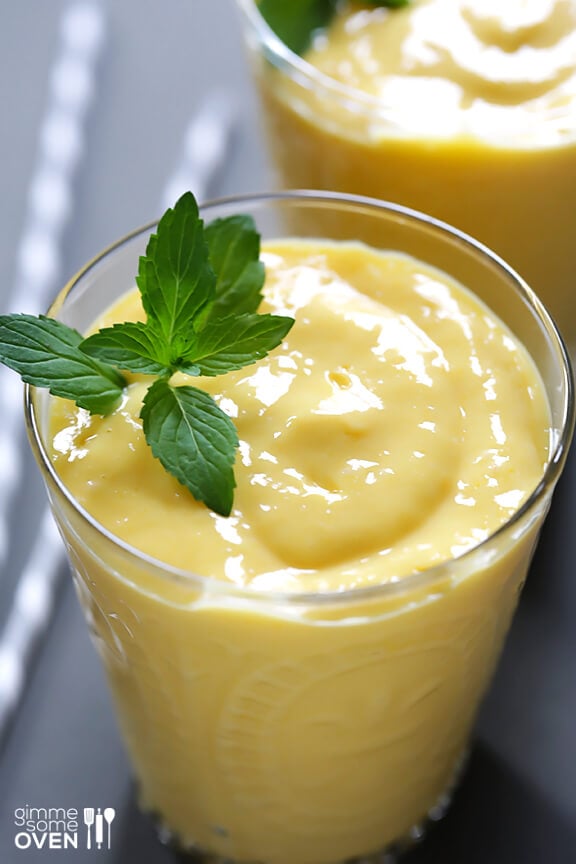 Years later, I still get a little too excited when I find good and ripe fresh mangoes for sale here in the Midwest.  So when I found a batch this week that were 2 for $1, I may have bought six.  :)
So my summer intern, Rachel, and I decided to make mango lassis!  If you have never made this classic mango smoothie before, it is a must.  All you need are some fresh ripe mangoes, milk, yogurt, ice and a little sweetener such as honey, and you're good to go!  This time I decided to add in a little protein and went with Greek yogurt, which made these extra thick and creamy.  So good!
Since it happens to be National Dairy Month and California Dairy Month, I'm excited to be partnering with Real California Milk to bring you this recipe, along with a chance to win some amazing prizes with a Pinterest contest!  You know those cute commercials about the happy cows that come from California?  Yep, that's them.  Their Greek yogurt definitely makes this girl happy!  So read on for the recipe and details to enter the contest for a chance to win.
And if you find some fresh mangoes, this mango lassi recipe is definitely a winner.
Happy National Dairy Month!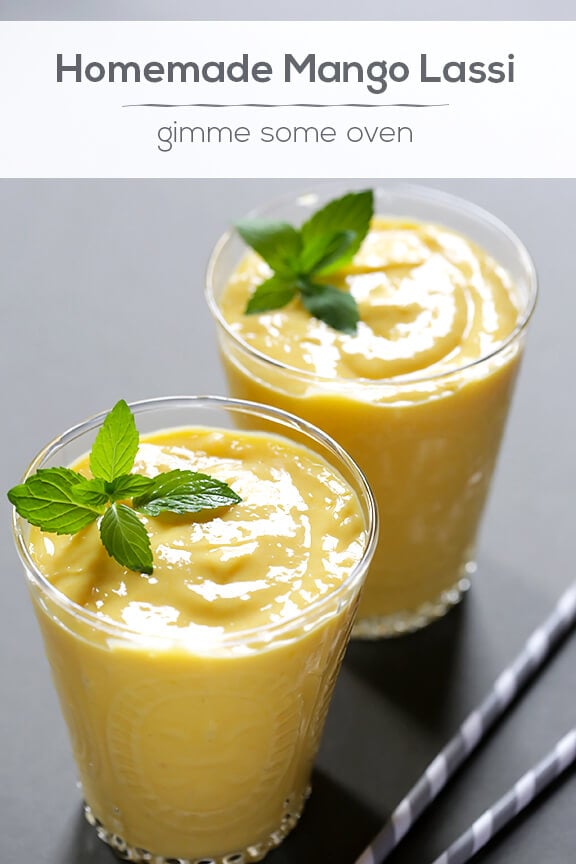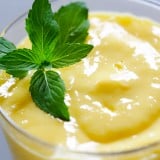 Mango Lassi
This homemade mango lassi recipe is fresh, quick to make, and overflowing with delicious mango flavor! And it's made healthier with Greek yogurt.
Ingredients:
2 ripe mangoes, peeled and sliced (roughly 2 cups sliced mangoes)
2 Tbsp. honey or agave
1 cup California Greek yogurt
1 cup ice (*see note below*)
2/3 cup California milk
(optional: pinch of cardamom)
Directions:
Combine all ingredients in a blender, and pulse until smooth.  Serve immediately.
**For a stronger flavored mango lassi that has not been diluted with ice, you can use frozen mango and skip the ice.**
All images and text ©
If you make this recipe, be sure to snap a photo and hashtag it #gimmesomeoven. I'd love to see what you cook!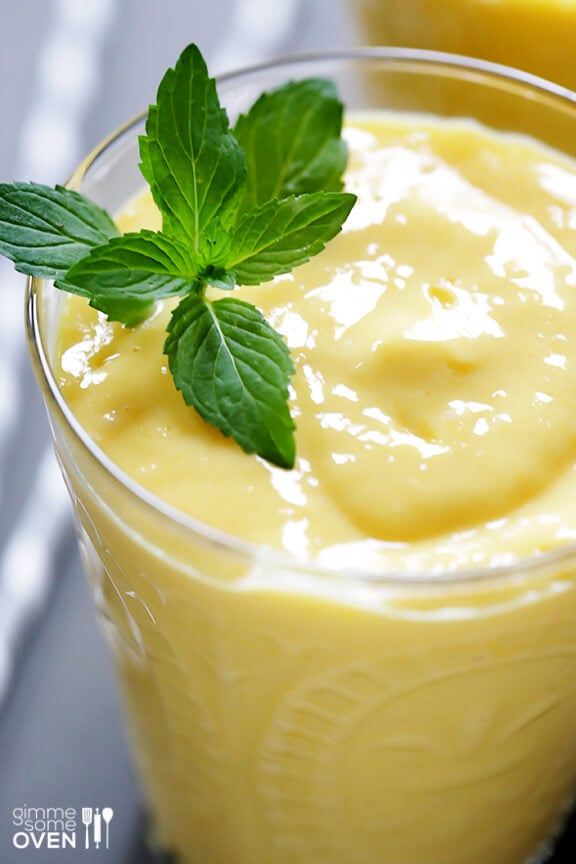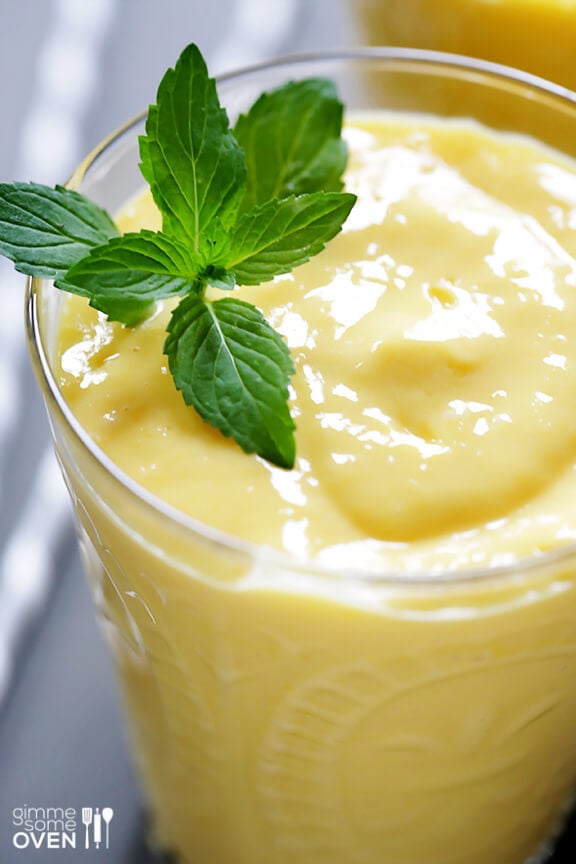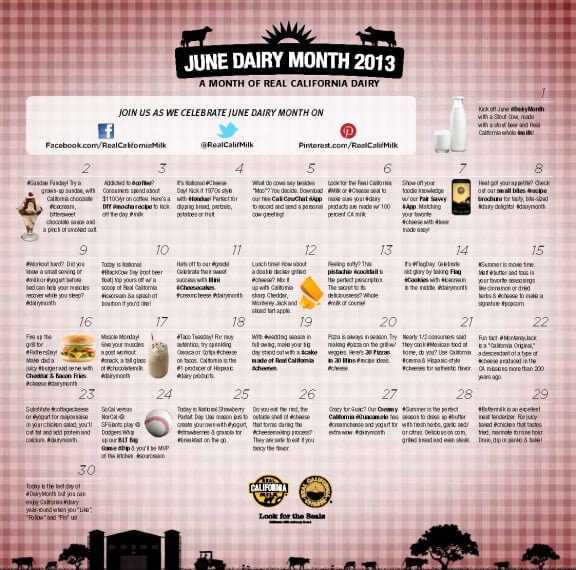 Here's How To Enter:
Create your very own dairy-inspired Pinterest board titled So Very California Dairy.
Pin a minimum of 4 things: The 30 Days of Dairy Calendar found here, along with 3 Recipes you love from RealCaliforniaMilk.com. (Link over to pin all four!)
Make sure to hashtag all your pins with #30daysofCAdairy.
That's it!
Each week in the month of June, one lucky contest participant will be randomly chosen to win a $60 Williams Sonoma Gift Card.  AND… at the end of the month, one contest participant will be randomly chosen to win a $500 Williams Sonoma Gift Card! Just think of what you could add to your kitchen with $500 at Williams Sonoma!!
You can pin as many additional dairy-laden photos to your board as you like. Just remember to pin with the #30dayofCAdairy hashtag!  So set up your Pinterest board today and Pin-it to Win-it!
Disclosure: This post is sponsored by California Dairy.  I was compensated for my time, but all milk-loving opinions are my own, as always.