Microwave Caramel Sauce
Ever since I learned how to make homemade caramel sauce as an alternative to buying the store-bought stuff, I've never looked back.  Homemade caramel sauce tastes so much better, calls for simple everyday ingredients, and is the perfect treat to go with some ice cream or a warm brownie.  And I always feel like a giddy kid in science class each time I get to watch that white sugar melt before my eyes and magically transform into the deep amber, gooey, thick sweetness that is the caramel to come.  It really is amazing!
But it wasn't until recently that I discovered that there is another option to stovetop homemade caramel sauce: MICROWAVE caramel sauce!  Believe it or not, it's even easier and quicker.  You don't have to stand watch over the stove because the microwave literally does 90% of the work.  But you still get to pour in the cream and watch it bubble bubble toil and trouble as it is stirred into the hot sugar.  So fun, and so easy.  And you can have a delicious, thick, gooey, and perfectly sweet batch of homemade caramel sauce cooked and ready to go in 10 minutes.
So grab some sliced apples, or ice cream, or brownies, or just a spoon, and get to caramelizing!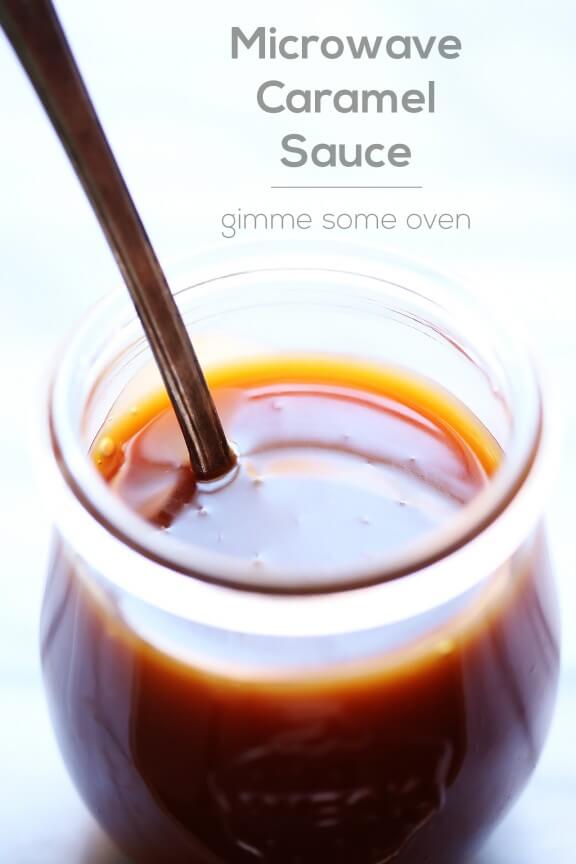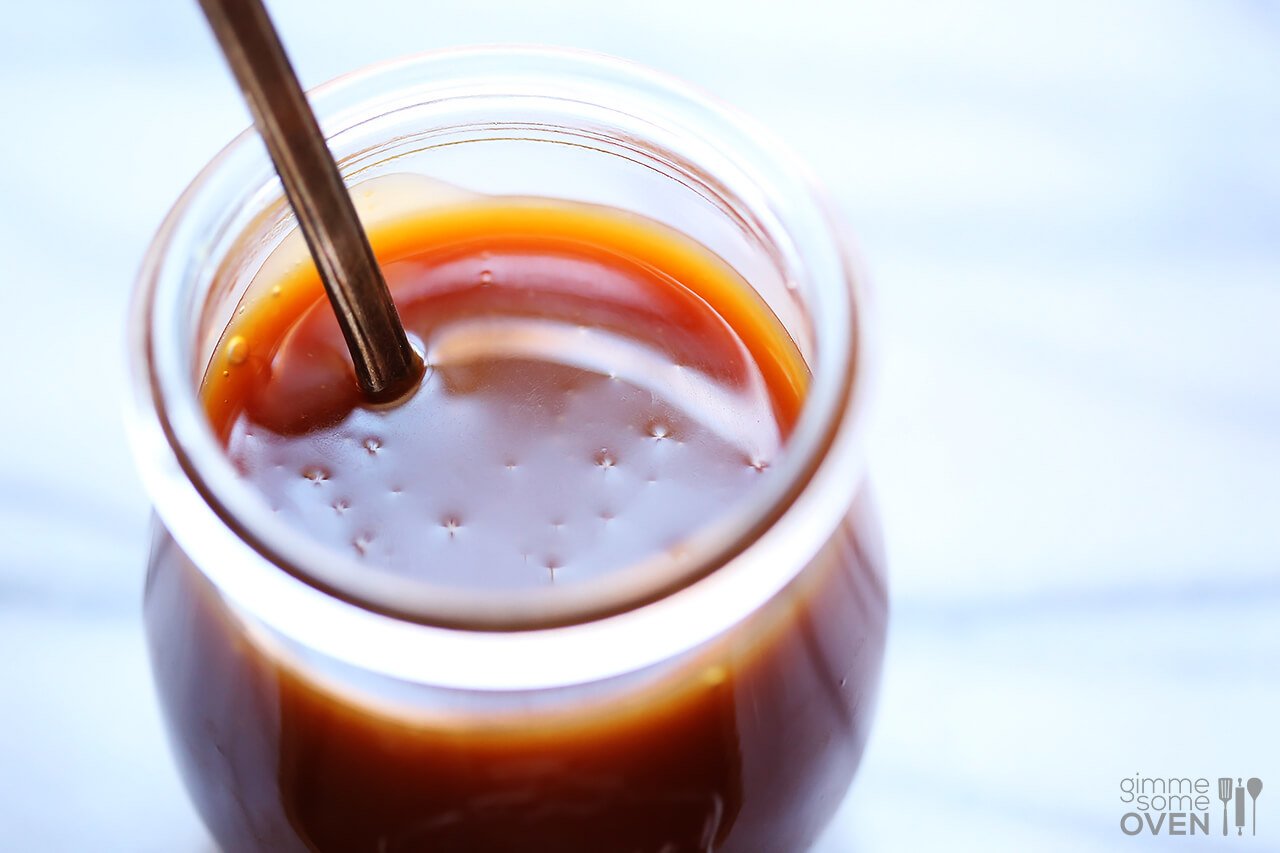 Microwave Caramel Sauce
A super-delicious recipe for homemade caramel sauce…made even simpler in the microwave!
Ingredients:
1 cup granulated sugar
2 Tbsp. light corn syrup
2 Tbsp. water
1/4 tsp. lemon juice
1/2 cup heavy cream, heated (*see note below*)
1/2 tsp. vanilla extract
1 Tbsp. butter, softened
Directions:
Whisk together the sugar, corn syrup, water, and lemon juice in a microwave-safe measuring cup or glass bowl until combined. Microwave on high for 5 to 8 minutes, until the mixture ever so slightly begins to turn a light golden color. Watch carefully—if you wait even a few seconds too long, it will turn too dark, and will thus overcook and turn slightly bitter.
Carefully remove the measuring cup from the microwave and place it on a dry surface. Let it rest untouched for about 3-5 minutes, or until the mixture turns a deep amber color.
Then add in about a tablespoon of the heated cream, and immediately whisk to combine. The caramel will bubble furiously, but whisking will keep it from overflowing. Continue adding the cream slowly in small increments until it is all whisked in. Then add in the vanilla and butter and whisk to combine. Serve immediately warm, or let it sit and come to room temperature to thicken slightly.
Store in a jar or sealed container and refrigerate for up to 2 weeks.
*Heat your cream either in the microwave or a (separate) small saucepan until warm but not boiling.
The jar featured in the photograph is a Weck tulip jar.
If you make this recipe, be sure to snap a photo and hashtag it #gimmesomeoven. I'd love to see what you cook!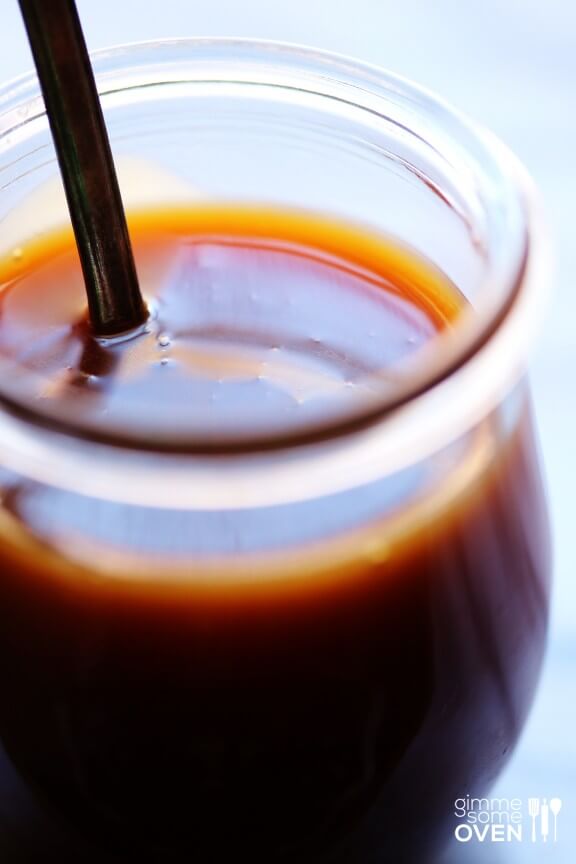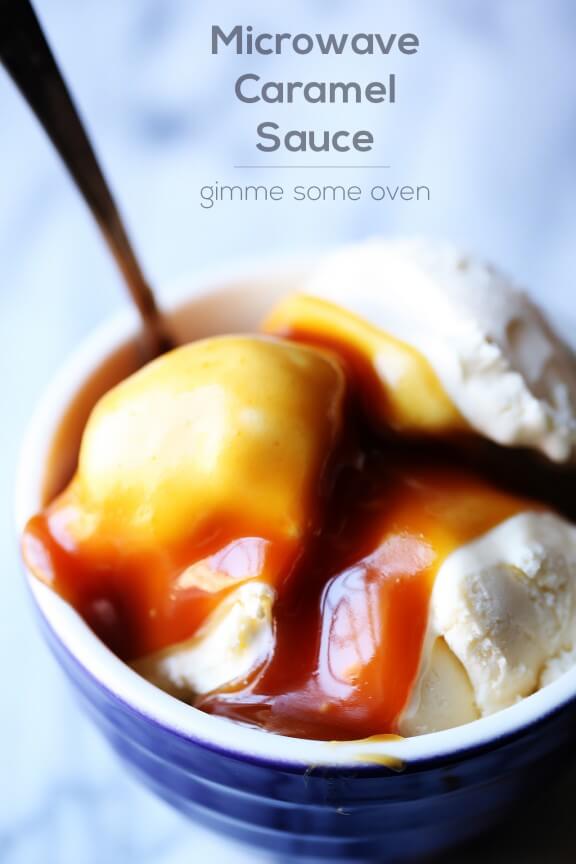 This post contains affiliate links.