My Favorite 15 Recipes of 2015
This post may contain affiliate links. Please read my disclosure policy.

As is our annual end-of-the-year tradition here at Gimme Some Oven, yesterday we shared YOUR favorite 15 recipes of 2015. And today? We're following that up with a list of MY favorite 15 recipes of 2015.
So many favorites!!
Of course, many of the recipes on your list overlapped with those on mine. But I've gotta be honest, every year there are always a handful of total, delicious, life-changing, can't-stop-talking-about-them, definitely-can't-stop-cooking-them, can't-believe-I-never-tried-this-before, game changing recipes that I post on the blog and can't wait to have you try — annnnnnnd then they're met with virtual crickets. ;)  Which is totally ok — I know that's how blogging rolls, and I appreciate that we all have different faves!
But for anyone who might be looking for a little extra recipe inspiration to start the new year, I love taking a final opportunity to gush about a few of my personal favorite recipes that you might have missed. From mezcal margs, to shishito peppers, to Mexi mashed potatoes, to the easy appetizer that my family and I made literally a dozen times during the holidays, this is the behind-the-scenes peek into the recipes that I make again and again long after they are first posted on the blog.
Hope that you find some good ones in here! And to echo yesterday's post, my deepest thanks to each of you again for making this such a wonderful and delicious year together! You all are the best, and I already can't wait to get the ball rollin' with some healthy new recipes in 2016. Cheers!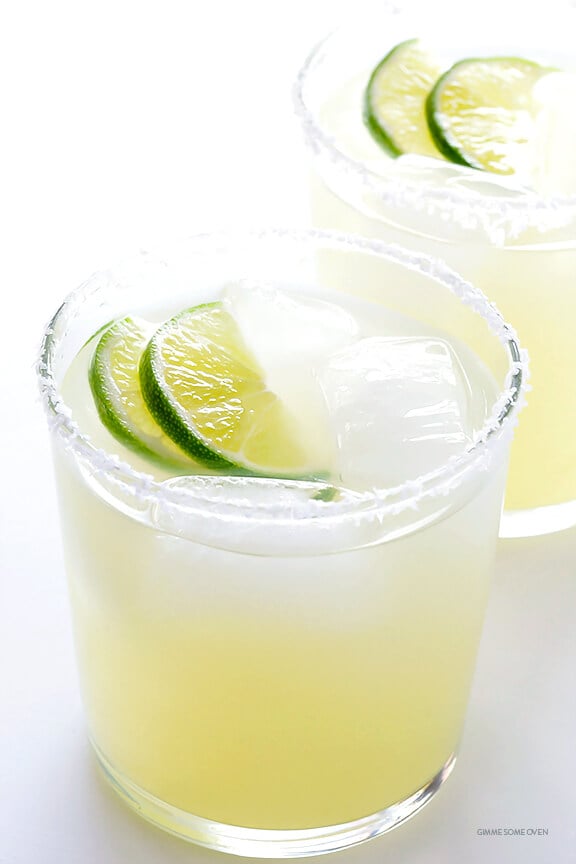 Mezcal Margaritas — This recipe was probably the biggest game changer for me in 2015. It's no secret that margaritas are my favorite drink, and my classic margarita recipe has served me (and countless friends and readers like you!) well for many years. But after tasting my first marg made with smoky mezcal down in Austin last February, I knew that the "scotch of tequila" was going to need a permanent place on my bar cart. Don't get me wrong — I will always love my margs made with straight-tequila. But more often than not this year, mezcal has been my mixer of choice. So. Good.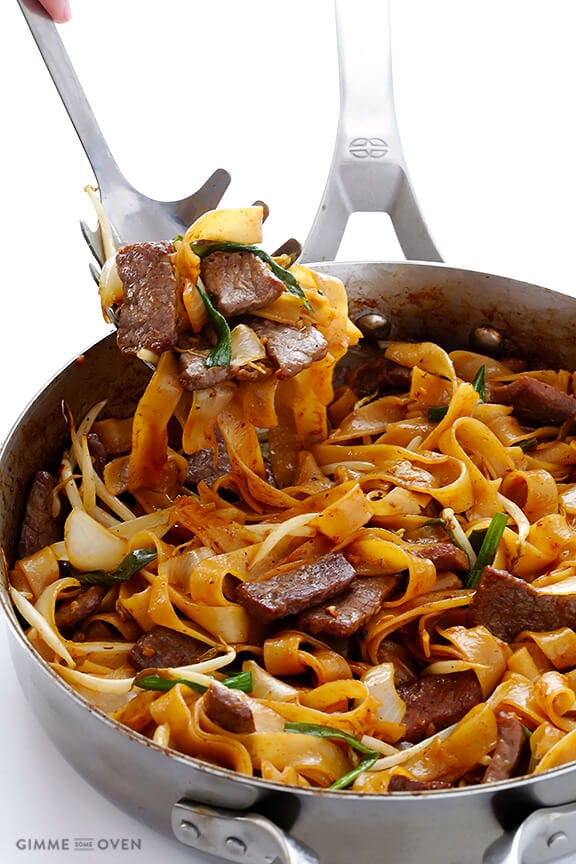 Beef Chow Fun — This dish has long been my favorite take-out dish from our neighborhood Chinese restaurant, and this year, I finally learned how to make it at home!! It's surprisingly easy, and so flavorful!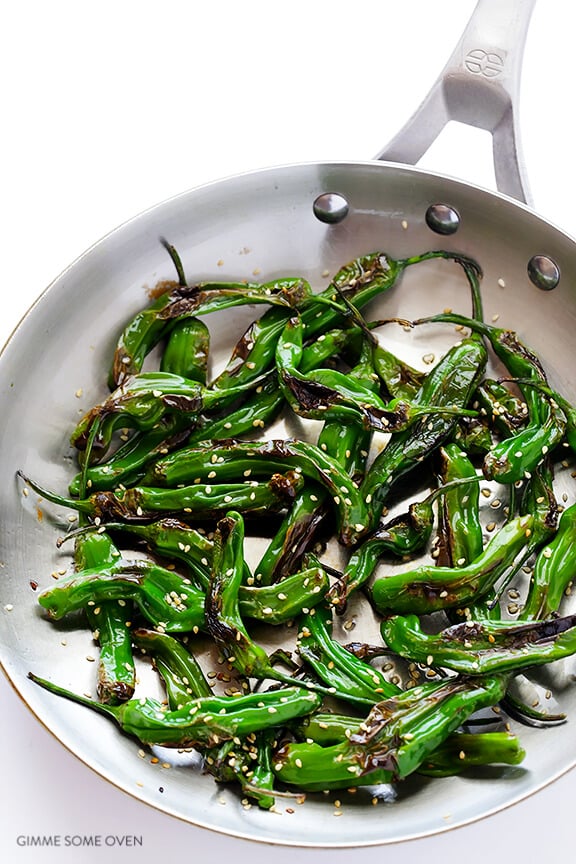 Easy Sesame Shishito Peppers — Ohmygosh, shishito peppers. When Trader Joe's finally started selling bags of these this year, they officially became a staple in my grocery cart. I buy them almost weekly, and make this recipe (or some variety of it) pretty much the moment I arrive home. I love it for a snack, I love it as an appetizer, I love it as a side dish, I JUST LOVE SHISHITO PEPPERS. (Although look out — I can vouch for the statistic that 1 in 10 shishito peppers is surprisingly spicy! They'll getcha!)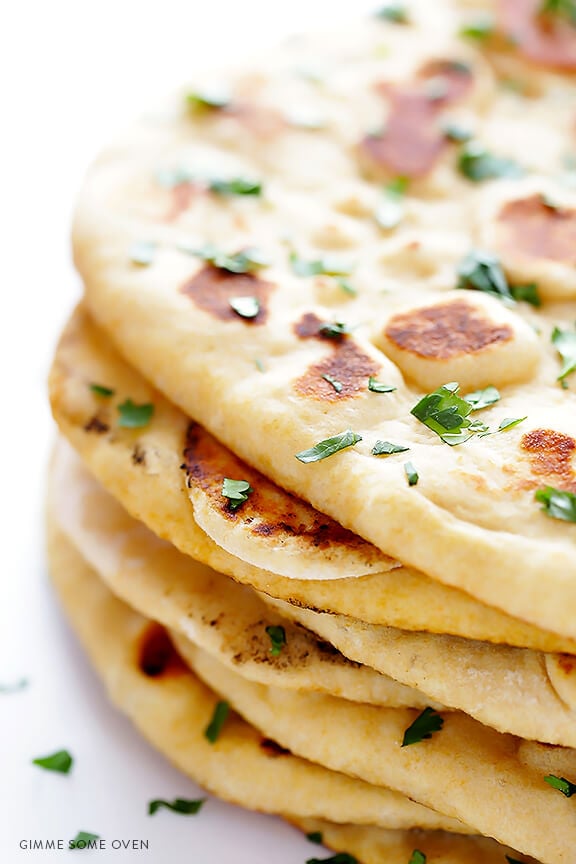 Homemade Naan — This was also the year that I shared my sister's favorite recipe for homemade naan on the blog, and I'm such a fan. It's really easy to make, totally delicious, and I love watching the bubbles pop up while it cooks. So fun to make at home!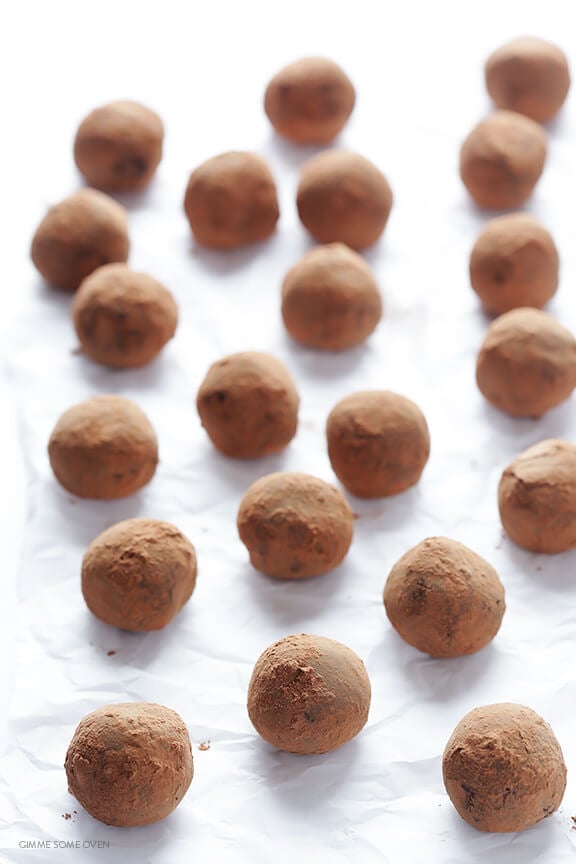 5-Ingredient Whiskey Dark Chocolate Truffles — I made dozens upon dozens of these little truffles for a little documentary release party this year…and then have been making dozens of them ever since to keep stocked in my freezer for parties (and, um, snacking "parties of one"). SO GOOD. Especially when made with my favorite local Rieger whiskey.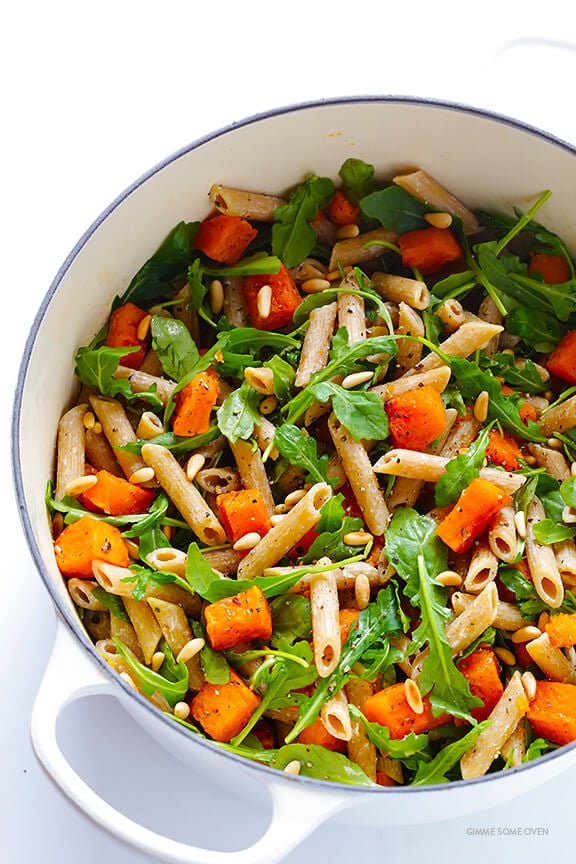 5-Ingredient Butternut Squash, Arugula & Goat Cheese Pasta — This was kind of an impromptu recipe that I came up with this fall, and it has ended up being one of my all-time favorites. I absolutely love the simple combination of roasted butternut, spicy arugula, rich pine nuts, and — the easiest "sauce" ever — melted goat cheese. 5 ingredients FTW!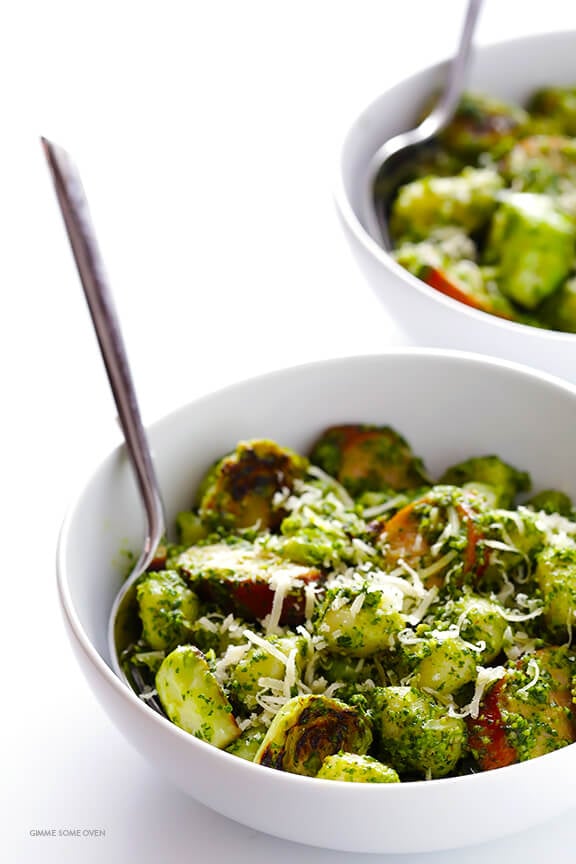 Gnocchi with Brussels Sprouts, Chicken Sausage & Kale Pesto — Speaking of surprise pastas, this gnocchi dish was also an unexpected favorite of the year. I mean, I don't think you can really go wrong with these ingredients. But boy, they sure were delicious all mixed together with my favorite gnocchi.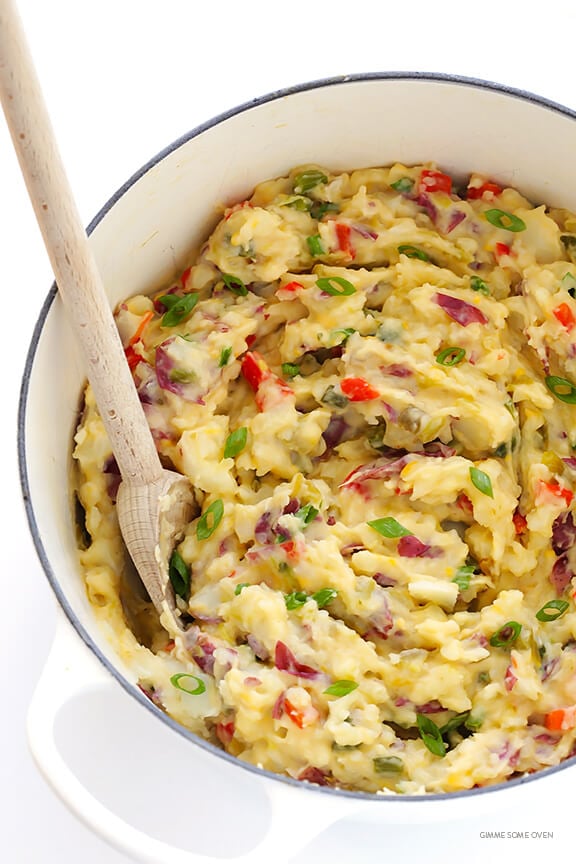 Tex-Mex Mashed Potatoes (Papas Con Chile) — 2015 was also the year that I finally developed my own recipe for my favorite "papas con chile" from Abuelo's. And now, I want to serve them with everything. They are loaded with delicious Tex-Mex flavors, they're easy to make, and they are muy delicioso.
Super-Easy Cranberry Baked Brie Bites — These simple little filo cup bites probably ended up being the recipe that I made most in 2015. Or at least, between my mom and I, I'm pretty sure we made it at least a dozen times over the holidays. Because these tasty little brie bites are ridiculously easy to make, so cute and festive, and SO GOOD. They disappeared at every single party in a flash. :)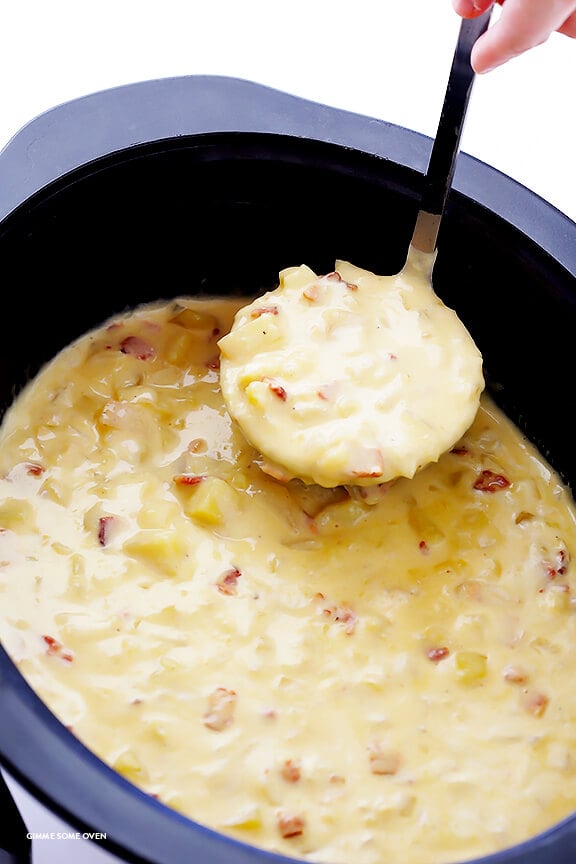 Slow Cooker Potato Soup — This was probably the most-requested recipe I've ever had on the site. And after tinkering around with different ways to make it, I'm pretty proud of the final recipe I shared in December. It's a total winner. And one I plan to be making for a very long time.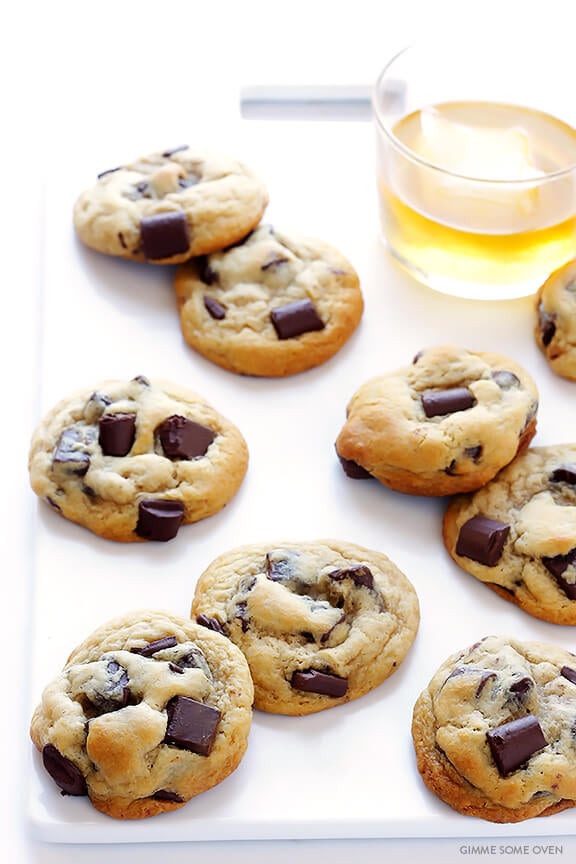 Bourbon Chocolate Chip Cookies — Yesterday, I shared that my All-Time Favorite Chocolate Chip Cookie recipe made it on your list of the top recipes of 2015. But I had to also include this whiskey-spiked version on my list this year. Because…bourbon. :)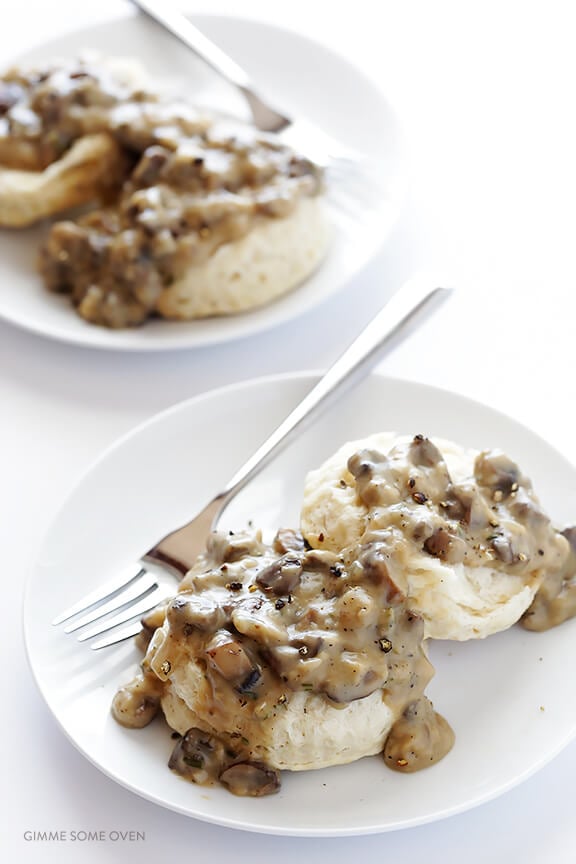 Biscuits and Mushroom Gravy — I've always been the first to admit that I'm not naturally a big breakfast lover. But oh man, I was pretty happy with this (vegan) biscuits and mushroom gravy that I shared this year. It has definitely been a delicious motivation to wake up and cook in the mornings. :)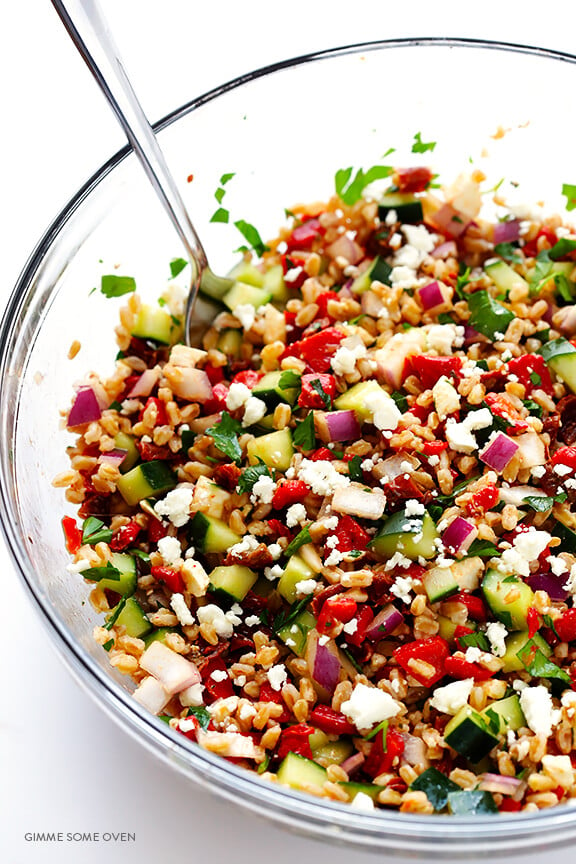 Mediterranean Farro Salad — This simple and colorful salad was one of my healthier favorites of the year. It's absolutely bursting with fresh flavors, it's quick and easy to make, and I loved bringing it along to potlucks and picnics this year. So tasty.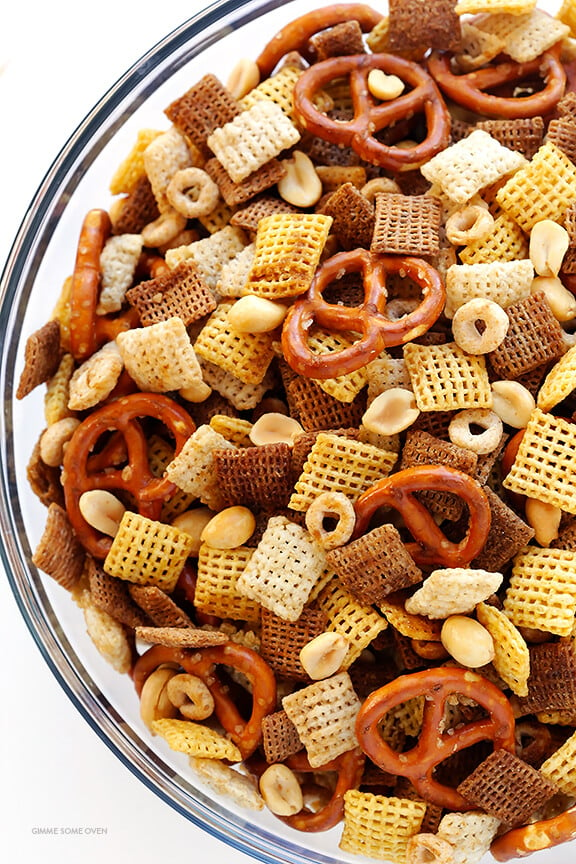 Coconut Oil Chex Mix — Mmmmm, 2015 was also the year that butter officially got replaced by coconut oil in my favorite Chex mix recipe. The subtly sweet addition was magical.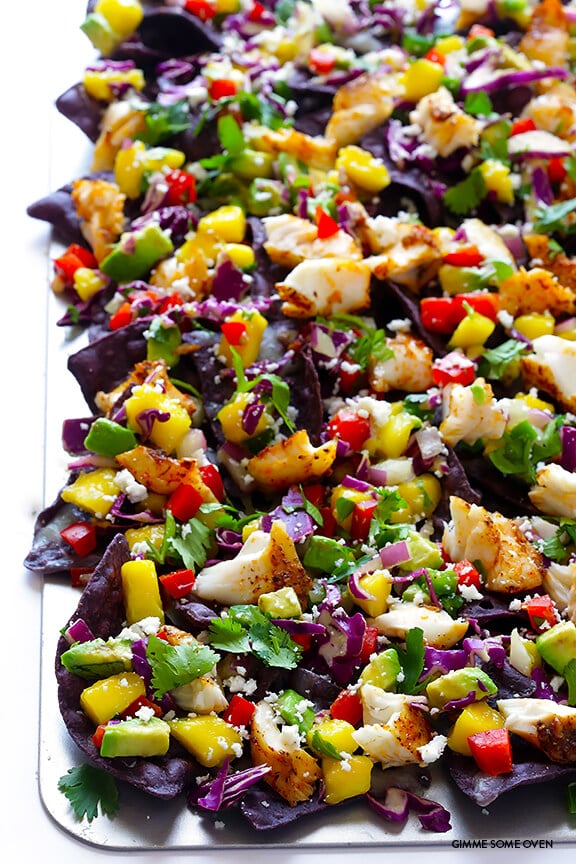 Rainbow Fish Taco Nachos — And finally…I couldn't have a favorites list without including some nachos!!!!  I don't know how often you all make nachos at home, but not a week goes by in my life that I don't track some down at a restaurant or make a big pan at home. And in 2015, this easy fish taco nachos recipe was my hand-down favorite to make homemade. Love the colors, love the sweet and savory flavors, and — really — I just love nachos!!!
---
For more favorites, feel free to check out our list of YOUR Favorite 15 Recipes of 2015 that I shared yesterday. Or you can also check out these posts from years past. Enjoy!
And also, stay tuned because we'll be kicking off another year of delicious recipes this Friday. Happy New Year!