My Ona Brooklyn Bag
This post may contain affiliate links. Please read my disclosure policy.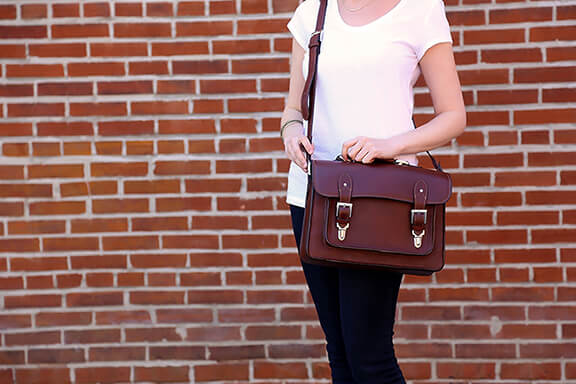 Oh friends. I have the most beautiful new camera bag. And I love it.
Meet The Brooklyn from Ona Bags.
I have been searching for a bag like this ever since I bought my first DSLR camera and wanted to give it a good home. But I have to admit that, while I pretty much live in girly dresses and scarves and accessories, I am a no-frills girl when it comes to bags and purses. My friends will tell you that my purses are simple, clean, and classic, and I tend to keep a good one forever. So I have been looking for the same in a camera bag, but it has always seemed like every bag I see is super ruffly or buckle-y or bright-colored or…just not me.
But a few months ago, I happened to see this absolutely gorgeous bag pop up on my Pinterest feed, and I immediately had to click over to see where it was from. Lo and behold, I was introduced to Ona Bags, and their absolutely beautiful selection of camera bags (shoulder bags), messengers and backpacks. And for the first time ever on a camera bag site, I literally wanted all three of their tastefully-tailored camera bags. They are stunning, and also so well made by such a creative, thoughtful company.
So I was thrilled to have the opportunity to receive a Brooklyn Bag for review, and share about it with you. I have included more photos an info below, including a mini photo shoot that I did for fun with my friends Liz and Tanner. But probably the more exciting thing is that Ona Bags is featuring an interview with me on their beautiful blog today! I am beyond honored to be included in their photographer spotlight series, which includes some photographers far more talented than me. Their entire blog is just beautiful, so I would love for you to pop over and check it out!
And of course, if you're in the market for a new bag, I can't recommend Ona enough. Here's why!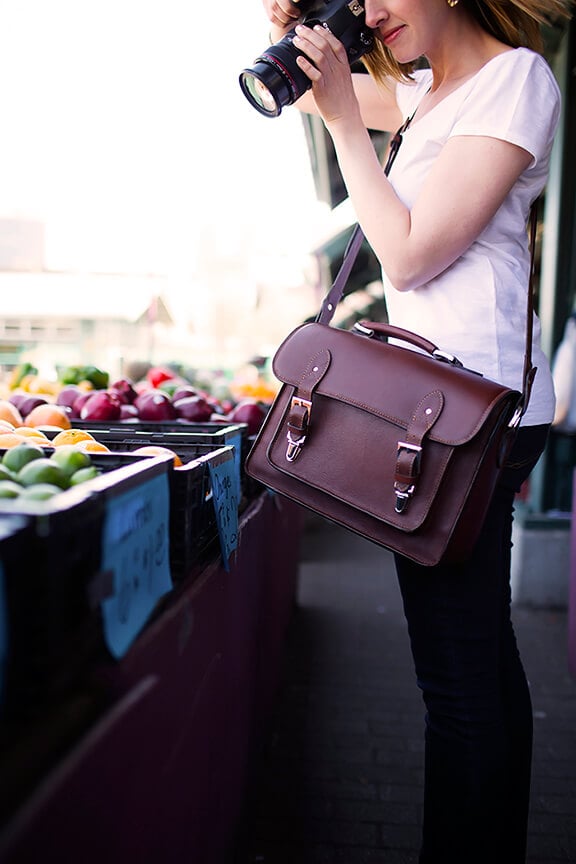 About Ona Bags
Ona Bags was just recently launched in 2010, and has been offering photographers beautifully designed bags ever since. They carry shoulder bags (including my Brooklyn Bag), messengers and backpacks, and various small goods.
As they mention on their website, the word ona (pronounced ō'na) is Swahili and means, "to feel," "to believe," and "to experience with the eyes."

The Brooklyn Bag
As Ona's website says, this bag is available in Chestnut color (pictured above) or black. Inspired by the classic 1940s school bag, the Brooklyn is a vegetable-tanned leather camera bag that's designed to protect an SLR with an attached lens and up to 3 additional lenses or small accessories. A slit pocket along the back of the bag is perfect for securing your iPad or e-reader, while the front pocket is designed to hold a small wallet, lens caps and personal items. The Brooklyn is the ideal companion for weekend getaways, impromptu photo shoots with friends, and professional shoots where only your camera and few lenses are needed.

Handcrafted with vegetable-tanned leather
Fully customizable, soft interior with 3 dividers
Secure, easy access tuck lock closure
Room for an SLR camera and 2-3 lenses
Adjustable padded shoulder strap
Exterior dimensions: 13.5″L X 10″H X 4″D
Interior dimensions: 12.5″L x 8″H x 3.5″D

10 Reasons Why I Love My Brooklyn Bag
10. It is the perfect amount of space. It fits my DSLR with two lenses (one attached), plus extra room for a flash, my sunglasses, phone and (yes) lipgloss.
9. The leather is gorgeous. The photos don't even do it justice. In person, it is absolutely beautiful.
8. For what it's worth, girls love it and guys dig it. I have never had more compliments on a bag!
7. The strap is adjustable and comfortable. Big plus if you're toting this around all day.
6. The inside of the bag is really well-padded and flexible – you can adjust the compartments to whatever size you'd like.
5. It is sturdy and well-made. I really feel like my camera is safe in there.
4. It can pass as a shoulder bag, making it not obvious that I'm carrying around an expensive camera. Big bonus especially when traveling abroad.
3. The design is so sleek and classic. I feel like people will still adore this 50 years from now.
2. It is made by a company whose celebration of good art and photography really inspires me.
1. It makes me smile each time I get to wear it!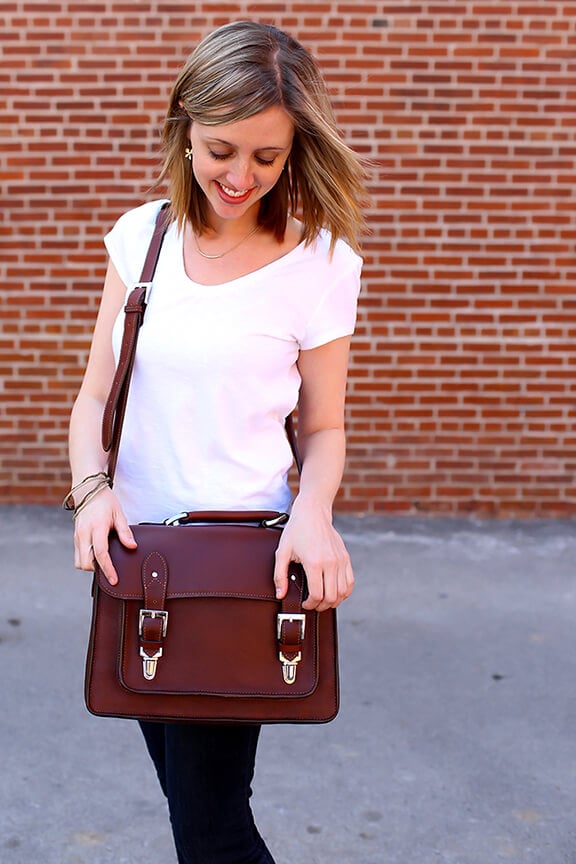 Check It Out For Yourself!
Would totally encourage you to connect with Ona Bags on their website, Facebook, Twitter, and Pinterest. And be sure to also check out their inspiring blog!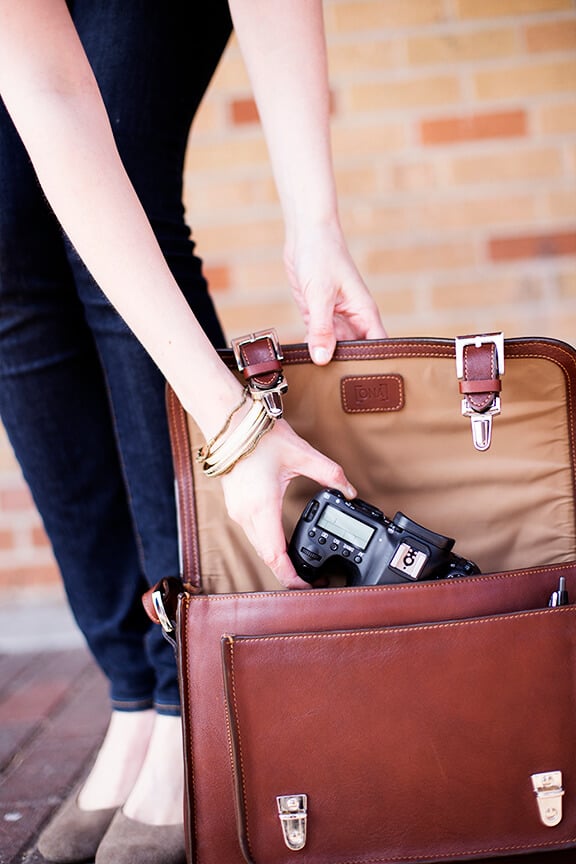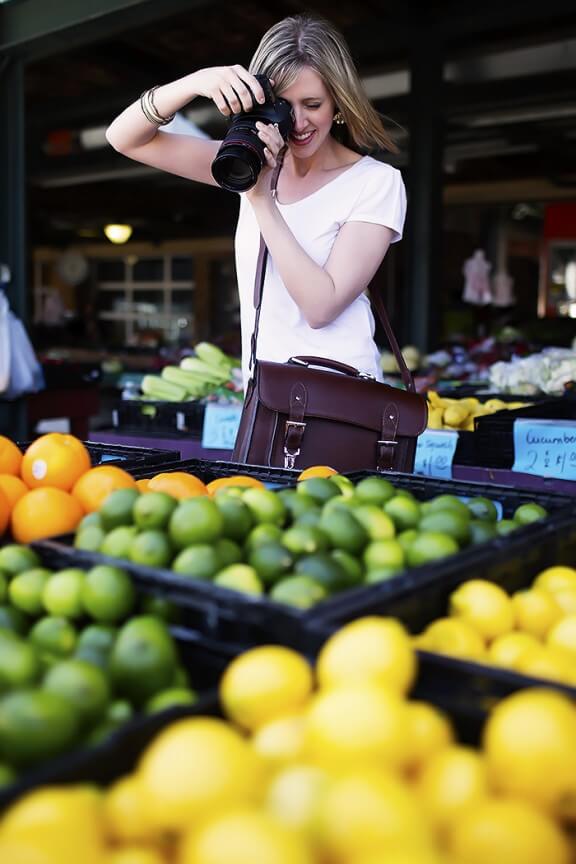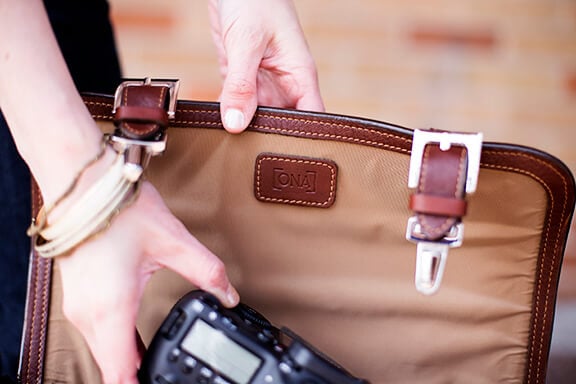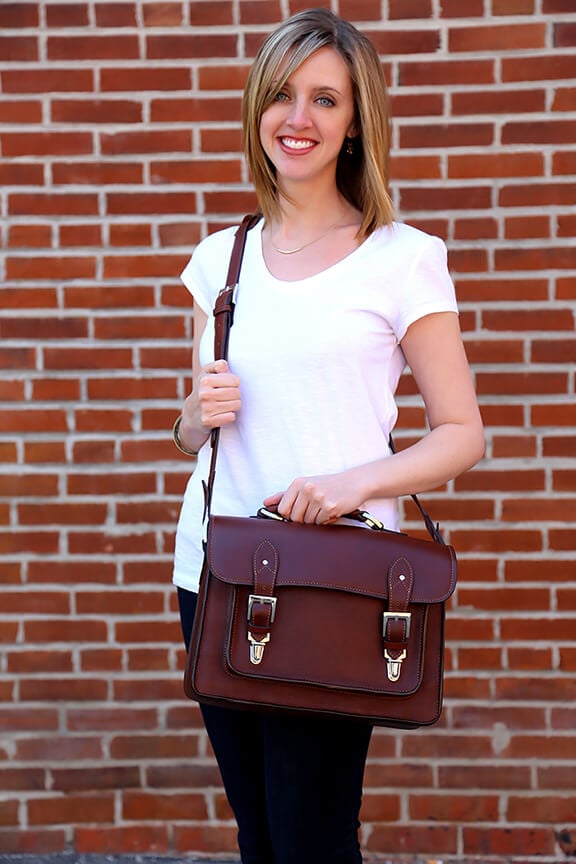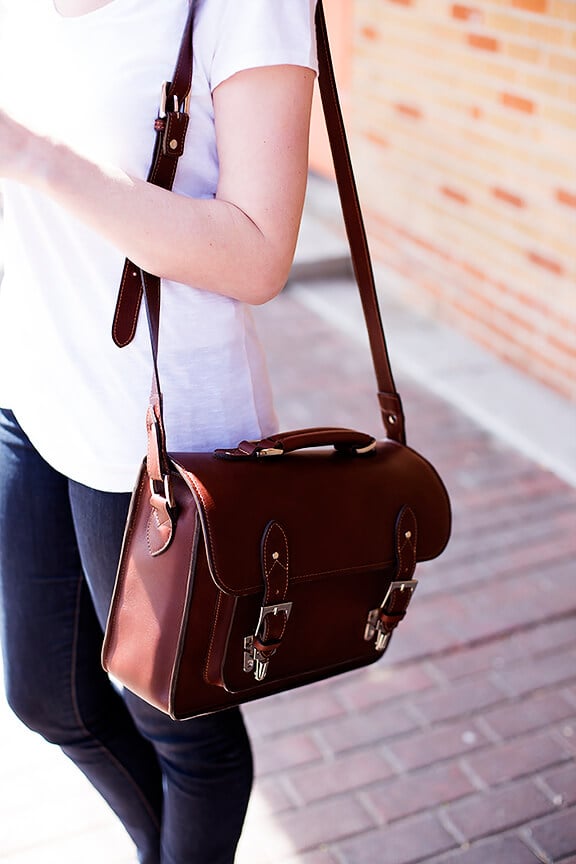 Disclaimer: I was sent a complimentary Brooklyn Bag for review. I was not paid to write this review, and all opinions are as always 100% my own.