My 3-Day Suja Juice Cleanse
This post may contain affiliate links. Please read my disclosure policy.
Any of you who follow along on Facebook, Twitter or Instagram will know that last week I went on a 3-Day Suja Juice Cleanse!
Yep. For 3 days, I gave up normal food and drinks (no caffeine or alcohol), and instead drank 6 delicious and huge bottles of Suja juices each day. This was my first time doing a "cleanse" or anything like it for 3 whole days. Granted, I love to juice at home, and will often use juices as a replacement for 1 or 2 meals a day. But 3 full days was a different experience, and a very different one when everything is already prepared for you, which I found to be brilliant.
Since I received so many questions from friends and readers about what it was like, thought I would take a minute to share with you a little more about my experience on here. As a disclaimer, I received a complenetary 3-Day Juice Cleanse from Suja, but was not paid to write this review and all opinions are 500% my own. Here we go!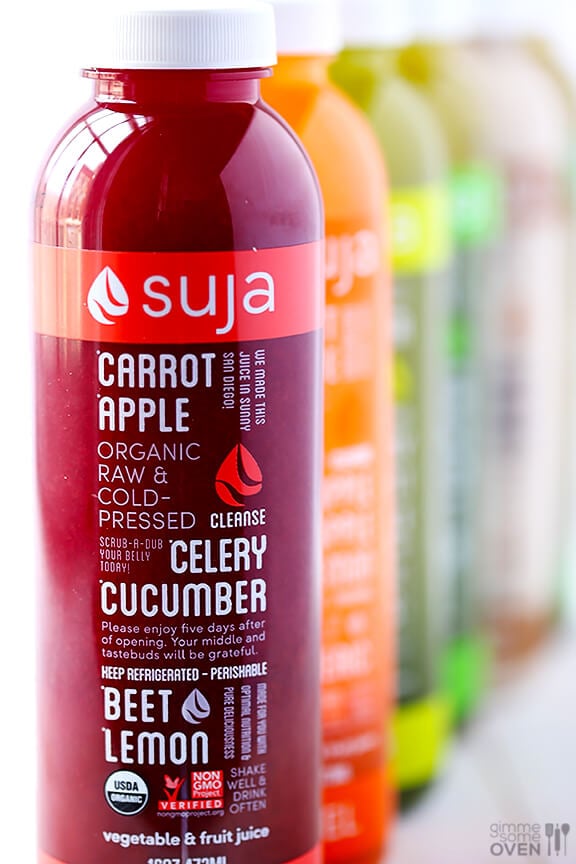 What Is A Suja Juice Cleanse?
I kept asking this question too as I had seen these brightly-colored Suja Juice bottles all over Instagram and social media the past few months. Once I checked our their beautiful website, I learned that Suja actually makes 11 different flavors of organic, raw, cold-pressed juice blends that are super nutrient-dense and full of good enzymes. You can purchase juices individually, or they also sell them in packages or cleanses.
The cleanses are available in a 1-day, 3-day or 5-day option. I decided to go with a 3-day cleanse, which included 3 bottles each of the following juices: Glow, Fuel, Purify, Fiji, Green Supreme, and Vanilla Cloud. They are expensive, but on average, over 2 pounds of fruit and vegetables go into every single bottle of juice. So from someone who knows the cost of regular juicing, I could understand why these organic juices (with their huge servings) typically come in around $9 each.
The goal for the cleanse is that you literally just drink juice and water all day. No coffee, no alcohol, no solid foods — juice juice. But let me tell you, it is a lot of juice!!! And they are crazy yummy.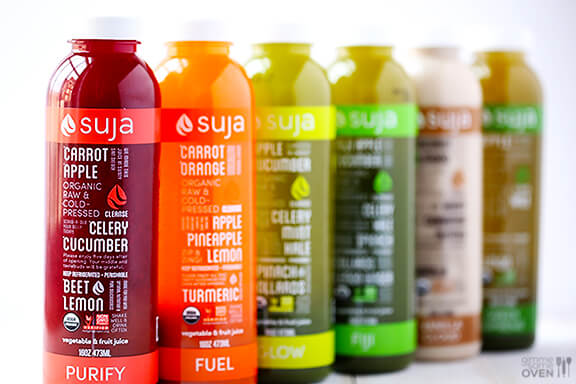 How Did They Taste?
This was the question everyone asked as I was carrying around these huge bottles of juice each day. (And I ended up giving lots of taste-tests to my friends!!)  The six flavors included in my cleanse were:
I genuinely loved every single one of them. But I should probably clarify that I have been a juice lover (especially juices with things like beets and kale) for a long time. If you are new to juices with fresh vegetables, some of the flavors may catch you a bit by surprise. (I would especially mention that Purify, with lots of beets in there to give it that bright red flavor, has a pretty strong earthy taste. But I still loved it!)
In general, though, most of the juices are sweet, fruity and fresh-tasting. And then the grand finale of each day, Vanilla Cloud, was an absolute dessert!  After drinking so many thin fruit and veggie juices all day, I totally dove into the thick cinnamon-y almond milk juice each evening. Although it was so rich and filling that I couldn't even finish it each evening. But I was around friends most evenings, and they were happy to help me polish that one off. SO GOOD!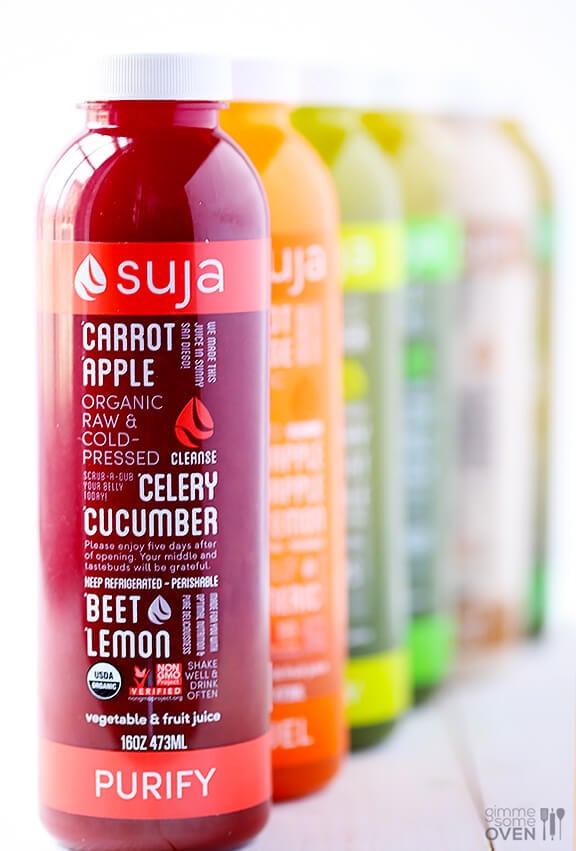 How Did You Feel? Were You Sooooo Hungry Each Day??
Ha, if I had a dollar for each time I was asked this question over the course of three days. In a nutshell…
I felt awesome. 97% of the time. I don't know if it was related or not, but on the afternoon of Day 2, I had a pretty fierce headache that was really bumming me out. It could have been unrelated, but I did decide to "cheat" briefly and ate a handful of peanuts, and then felt a little better. Take that as you will. I think in any sort of fast or cleanse like this, the second day is often when your energy dips as your body is getting used to the new rhythm. But goodness, overall I felt incredible. By the end of Day 3, I felt really refreshed, full of energy, lighter, and as cliche as it may sound, I just felt healthy. And what's more — that feeling has lasted over the course of a week! I think that taking a few days to get out of the rut of a few bad habits (too much snacking, too much coffee, too many sweets) really helped and encouraged me to stick with it afterwards. So bottom line…I felt great.
I think the most amusing thing about this experience was that all of my friends were initially concerned that I was starving myself. Definitely not true. If you are worried about being hungry, let me put those fears to rest right now — you will be SO FULL of juice! First of all, these bottles are huge. I had to keep mine by my side each day and remind myself to keep drinking so that I would finish one before it was time for the next. They are very large. And second of all, they are very filling. And as you can see by the nutrition fact, most of the juices averaged about 140 calories, so you are still getting energy there.
The one thing I missed (which occasionally made me think I was hungry, but not true) was something to chew and something warm. It was definitely an adjustment to "drink" your calories each day, and cold calories at that. I think this cleanse would be more difficult in the winter when everything is already cold, but in the spring or summer it was refreshing.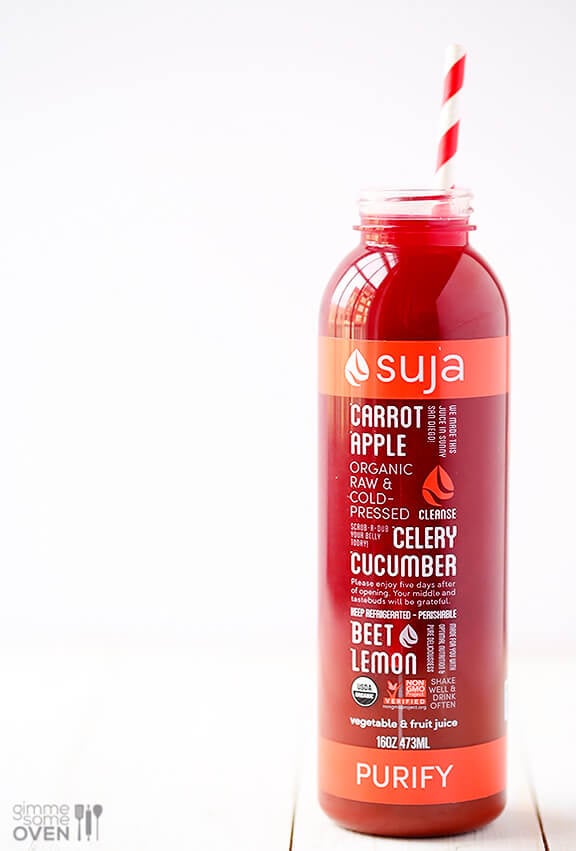 So Would You Do It Again?
Yes!!! I feel like I would love to do the 3-day cleanse maybe a few times a year. But I was telling my friends that I would definitely love to do the 1-day cleanse more often — even monthly.
I would like to try making some of these ingredient combinations at home for a 1-day cleanse (and maybe just sticking with repeating 1 or 2 batches of juice, rather than going to the trouble of making 6).
But I have to say that the absolute brilliance of Suja — and in my opinion, the reason I was able to stay with it for 3 days — was that they do all of the work for you. Oh my goodness. As someone who cooks a lot, I can't even tell you how wonderful it was to not have to think about what food I was going to make for 3 entire days. And what's more, they have not only thought it through, they have created a delicious "menu" of flavors to enjoy throughout the day. AND if you want, they'll ship the juices right to your doorstep.
They literally couldn't make it easier. And in my book, that sort of convenience can definitely be worth the cost.
So yes, I am 100% hooked and look forward to buying more Suja juices to sprinkle throughout my days. And then I love the idea of getting into a rhythm of doing a cleanse to start each new season — summer, fall, winter, spring.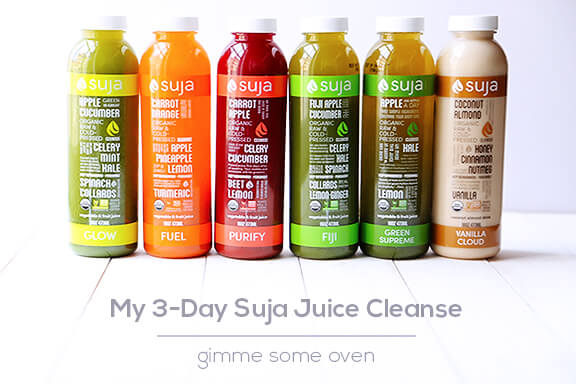 Questions?
If you have any questions about trying a Suja Juice Cleanse, be sure to check out Suja's website and their FAQ page, where they answer tons of questions about juicing, cleansing and health. You can also find them on Facebook, Twitter, Google+, Instagram and Pinterest.
Or you are always welcome to tweet or email me! I am far from being an expert, but I am happy to offer any opinions into my experience.
If you have been thinking about Suja, I would encourage you to give it a try!!!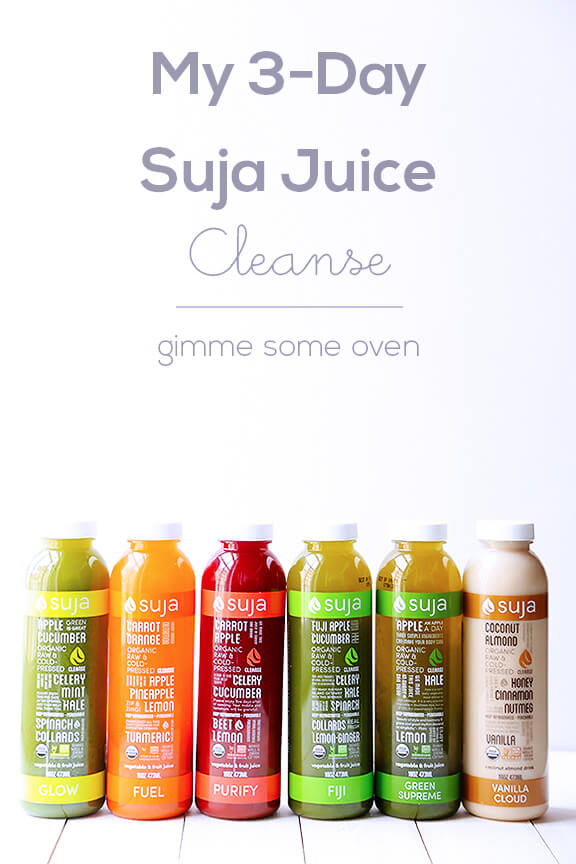 Disclaimer: This page contains affiliate links. Suja also provided me with a complementary 3-Day Cleanse, but I was not compensated to write this review and all opinons are my own. I am also NOT a doctor, and only speak about how this affected my health from personal experience. So please consult your doctor if you have any medical-related questions about going on a juice cleanse. The end. :)