Pasta with Mushrooms, Tomatoes and Spinach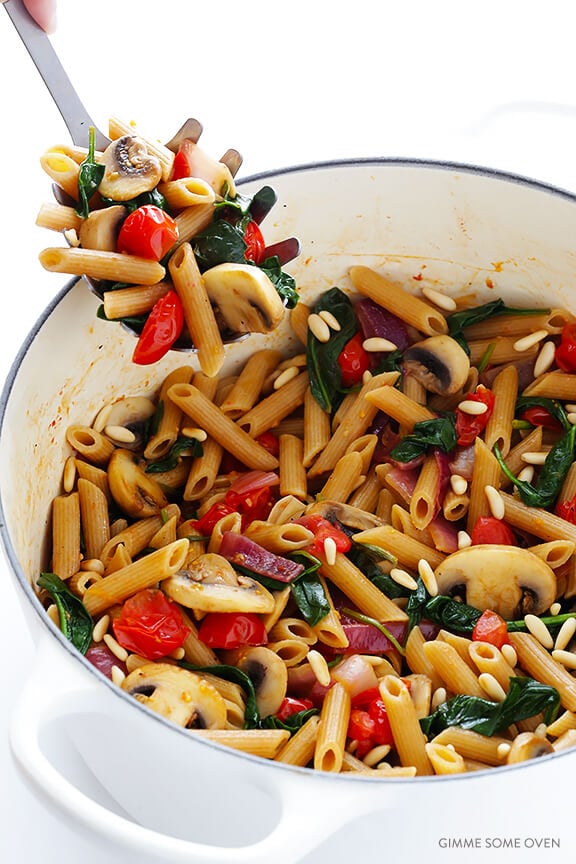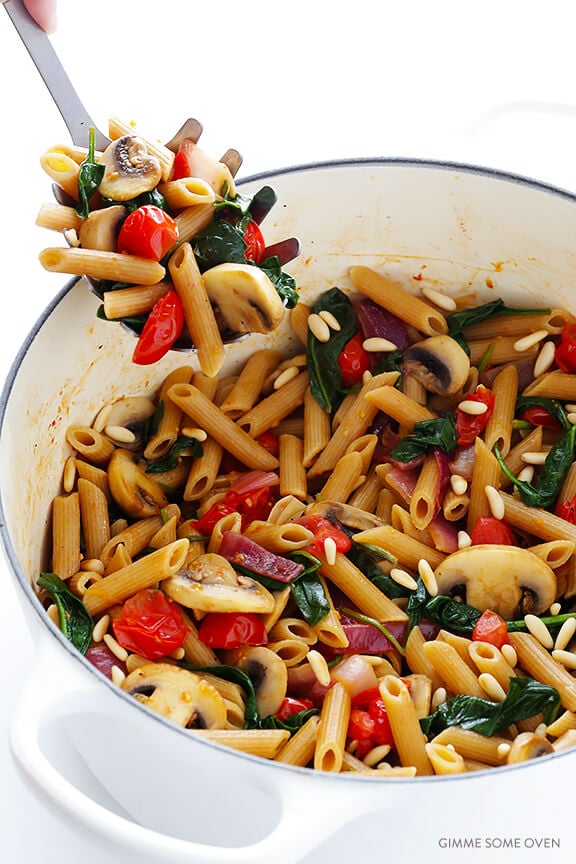 Happy Tax Day, everyone!
Well actually, as a small business owner, I'm not sure there's really such thing as a "happy" tax day.   Yeesh.
I learned my lesson in procrastinating bookkeeping and tax stuff the hard way this year, and spent a good 80+ hours of the last month getting caught up on a year's worth of receipts and invoices and bank statements and on and on and on.  Every spring, I vow "never again" to let myself fall behind on accounting.  And then every spring, I somehow find myself staring at piles of receipts and paperwork come tax time.  Ugh, the worst.
Anyway, once I finally plowed through and handed everything over to my accountant, I celebrated by doing two much-needed things that afternoon:
1) I hired a bookkeeping service for 2015.  (Best decision ever.)
2) And I made myself an enormous bowl of pasta.  (Best comfort food ever.)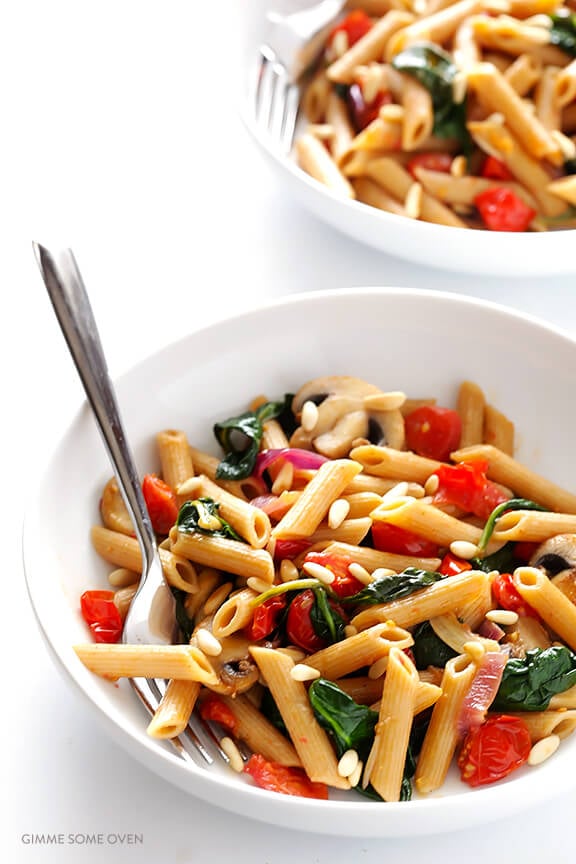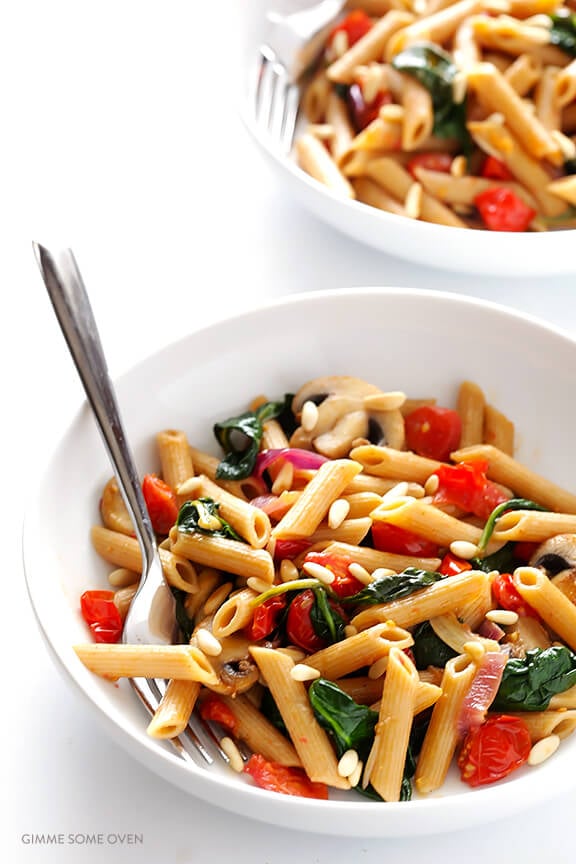 Oh man.  When life is awesome and when life gets stressful, I always seem to turn to the same thing:
CARBS.
I guess there are worse vices in life.  And hey, at least I've turned my cravings slightly healthier over the years, opting for more whole-wheat and grain-free carbs in life, often accompanied with a good helping of fresh veggies.  But I'm a pasta-loving girl for better and for worse.
So when it came time to celebrate after hours upon hours of going cross-eyed staring at numbers on a page, I wanted nothing more than to get in my kitchen and whip up a huge, steaming pot of pasta.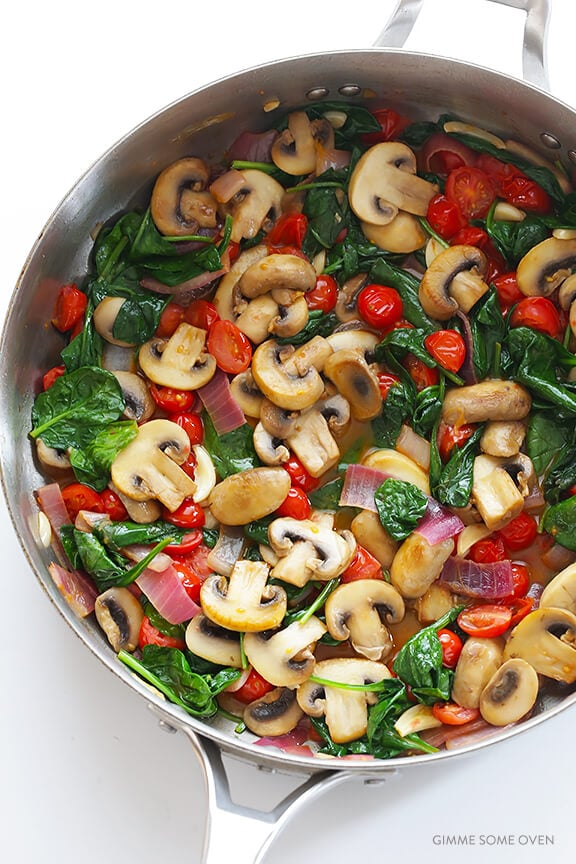 I'd happened to run across a photo on Pinterest beforehand of a mushroom, tomato and spinach saute.  So I decided to follow suit and whip those up with some red onions, oodles of garlic, a nice simple white wine sauce, and my favorite whole wheat pasta.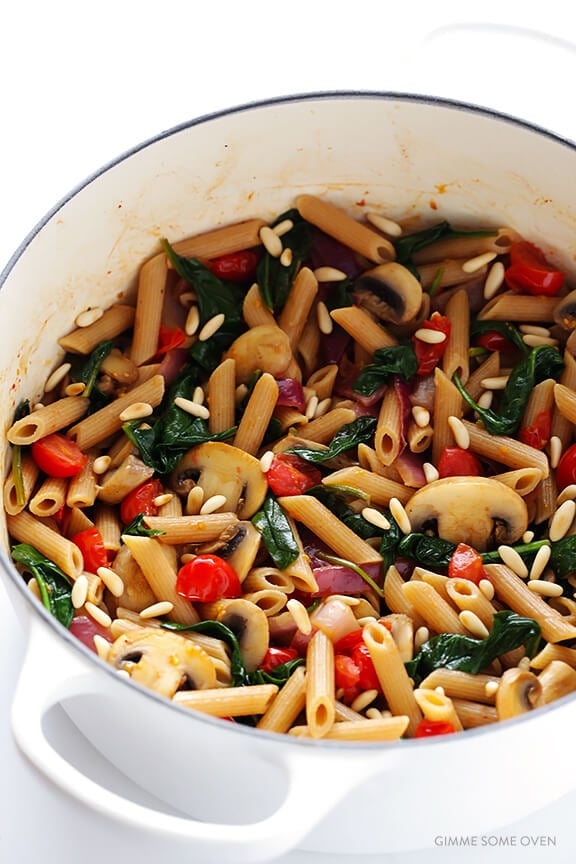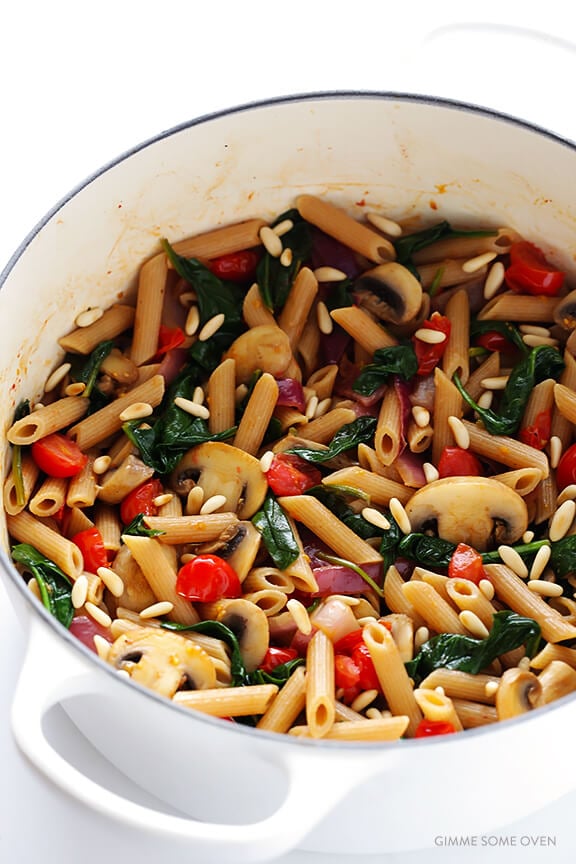 And then since it was a special occasion, I toasted up a big handful of my all-time favorite "sprinkles" — pine nuts, of course.  Such a treat.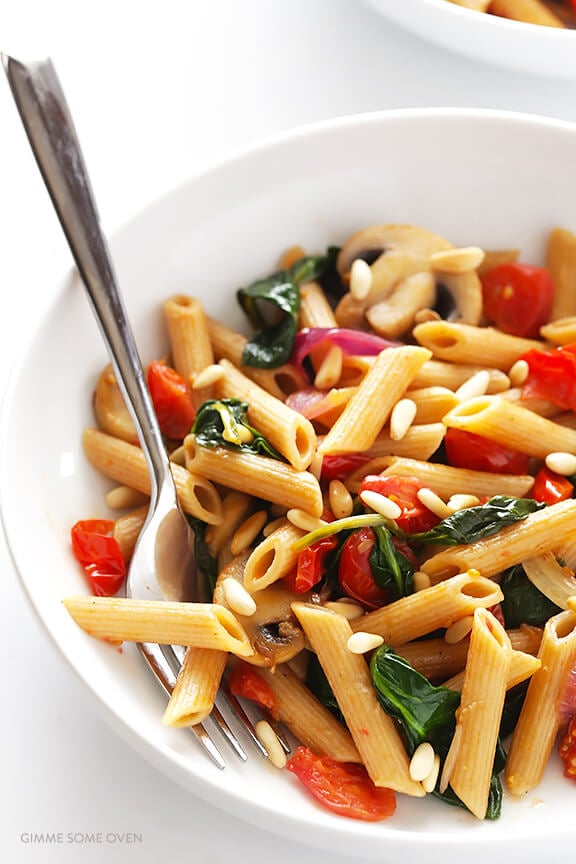 Anyway, this dish is nothing fancy and won't win any awards for uber-creativity, but man it hit the spot.  Especially when accompanied by a nice glass of malbec, and not followed by hours upon hours late into the night of bookkeeping.  :)
Hope you all enjoy it as much as I did.  And cheers to all of you other small business owners out there doing what you do!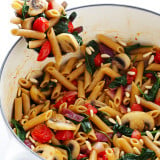 Pasta with Mushrooms, Tomatoes & Spinach
This Pasta with Mushrooms, Tomatoes and Spinach is made with whole-wheat pasta, tossed with a simple white wine sauce, and is ready to go in less than 30 minutes.
Ingredients:
1 pound whole-wheat pasta, cooked al dente according to package instructions
2 tablespoons butter
8 ounces of white button or baby bella mushrooms, sliced
salt and pepper
2 tablespoons olive oil
half a medium red onion, peeled, quartered and sliced
5 cloves garlic, peeled and thinly sliced
2 cups (about 10 ounces) cherry or grape tomatoes, halved
1/2 cup white wine
3 large handfuls baby spinach leaves
optional toppings: 1/4 cup toasted pine nuts and/or freshly-grated Parmesan cheese
Directions:
Cook pasta in a large stockpot of generously-salted boiling water according to package instructions.  Drain, once it reaches al dente.
While the pasta water is coming to a boil, melt butter in a large saute pan over medium-high heat.  Stir in mushrooms mushrooms and season with a pinch of salt and pepper.  Saute for 4-5 minutes until they are browned around the edges and cooked through, stirring occasionally.  Transfer mushrooms to a separate plate, and return saute pan to the heat.
Add olive oil to the pan and heat for 30 seconds, or until shimmering.  Add the onion and saute for 3-4 minutes, or until mostly soft, stirring occasionally.  Stir in tomatoes and garlic and a few generous pinches of salt and pepper, and saute for an additional 2-3 minutes, stirring occasionally.  Add in wine, and stir to combine, being sure to scrape up any browned bits on the bottom of the pan.  Add in the spinach one handful at a time, stirring it in and waiting 1 minute or so until it is slightly wilted before adding the next batch.
Once the spinach is wilted and the pasta is cooked and drained, pour the vegetable mixture in with the pasta and stir to combine.  Serve warm, garnished with optional toppings if desired.
If you make this recipe, be sure to snap a photo and hashtag it #gimmesomeoven. I'd love to see what you cook!