Peach, Chicken & Pepper Jack Quesadillas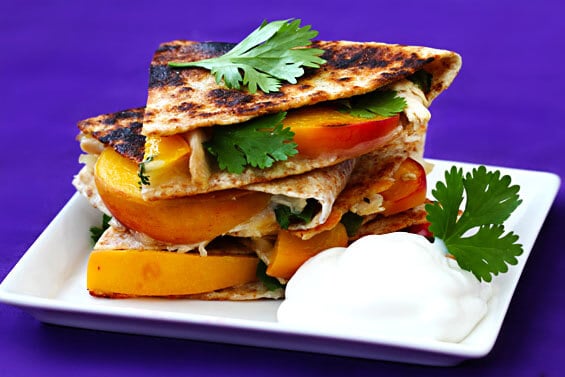 Growing up, I was the girl who always ordered quesadillas.  At all of the great local Mexican restaurants my family loved, at Applebee's (don't judge – I used to love theirs!), and occasionally even by request at home — quesadillas were always my happy default.
Thankfully, I'd say my food preferences have by now broadened a bit.  (Although any KC-ers know I often order the parmesan-crusted shrimp quesadillas at Cactus!)  But I still love making them at home!  So easy.  So quick.  And SO versatile — love tossing in whatever random combinations of ingredients I have on hand!
I've especially loved experimenting with sweet/savory quesadillas over the past few years.  So when I saw this recipe in a magazine with this peach and pepper jack combo, I had to try it.  Brought home a heavenly-smelling rotiserrie chicken to complete the combo, tossed in a little extra jalapeno for kick, and oh my – que delicioso!  Sweet, spicy, salty, herby, chicken-y, whole-grain-y…you name it.  Fabulous combination of ingredients!
So yes, I suppose it's true — the quesadilla-love continues.  :)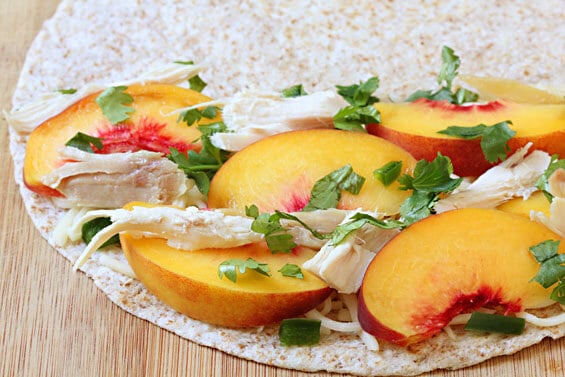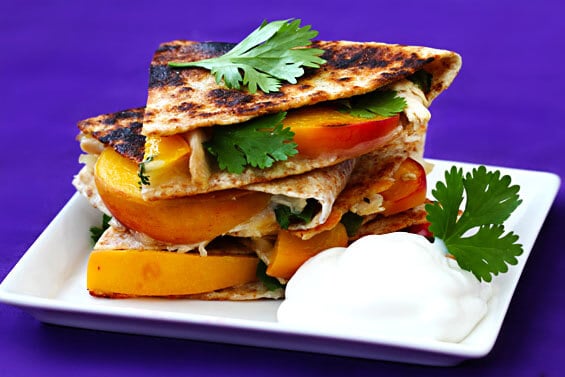 Peach, Chicken & Pepper Jack Quesadillas
You will love this Peach, Chicken & Pepper Jack Quesadillas recipe. Sweet, spicy, salty, herby, chicken-y, whole-grain-y…you name it.
Ingredients:
1 Tbsp. honey or agave nectar
2 tsp. fresh lime juice
1 cup reduced-fat sour cream
4 (8-inch) flour tortillas
2 cups shredded Monterey Jack cheese
2 cups shredded skinless, boneless rotisserie chicken breast
2 cups thinly-sliced ripe peaches
1/2 cup loosely-packed chopped fresh cilantro
2 Tbsp. finely-chopped jalapeno (optional)
Directions:
Combine honey and lime juice in a small bowl, stirring well with a whisk. Stir sour cream into honey mixture; cover and chill until ready to serve.

Place tortillas flat on a work surface. Sprinkle 3 tablespoons cheese over half of each tortilla; top each tortilla with 1/2 cup chicken, 1/2 cup peaches, 1 tablespoon cilantro, and 1/2 tablespoon chopped jalapenos. Gently fold tortillas in half.

Heat a large nonstick skillet over medium-high heat. Coat pan with cooking spray. Place 2 quesadillas in the pan, and top quesadillas with a cast-iron or other heavy skillet. Cook 1 1/2 minutes on each side or until tortillas are crisp and lightly browned (leave cast-iron skillet on quesadillas as they cook). Remove quesadillas from pan; set aside, and keep warm. Repeat procedure with the remaining quesadillas. Cut each quesadilla into wedges. Serve with sauce.

If you make this recipe, be sure to snap a photo and hashtag it #gimmesomeoven. I'd love to see what you cook!