Peach Earl Grey Jam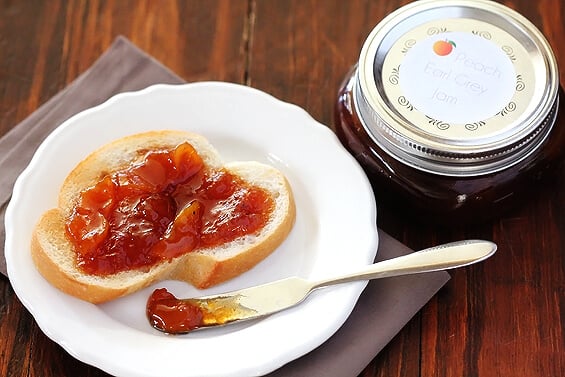 For the 4th of July this year, I packed up my bags and drove down south to….Ooooooooooo-kla-ho-ma!  Yep, the state where the wind comes sweeping down the plains is also home to my good friend Megan who I've known since high school.  We all imagined she was destined for city life as a talented graphic designer, but she happened to fall in love with a boy from the Oklahoma country.  (Sound like another famous blogger?)  So now they live in this super adorable little farmhouse about a half hour outside of Oklahoma City that — between a graphic designer and a modern architect — is a Pinterester's dream come true.  :)
But in addition to being a wonderful friend, blogger, designer, musician, and 8-months-pregnant-soon-to-be-new-mama, Meg is also a fabulous cook.  And since taking up life in the farmhouse, she has become a fabulous canner!  So while I was down there on a 100+ degree day, she graciously offered to teach this canning novice how to make jam.  Somehow in all my 29 years, I have never ever canned, and was more than a little intimidated by the process.
So we spent pretty much an entire day making various peach jams from the fresh peaches that Meg and Cale had just picked from an orchard.  I quickly learned that canning involves a lot of patience (I had no idea the process took so long!), heat (see our "holy-moly-it's-hot" pic below), sugar (wowza!), and fruit (soooo many peaches for a few jars!).  But despite all of the work, I also learned that the process is definitely fun when shared with a good friend.  Love this girl.
And love this peach earl grey jam!  Such a wonderful combination of flavors.  You canners will have to check it out.  (Or even if you don't "can", just make a batch to enjoy immediately.)  Love you, Meg!!!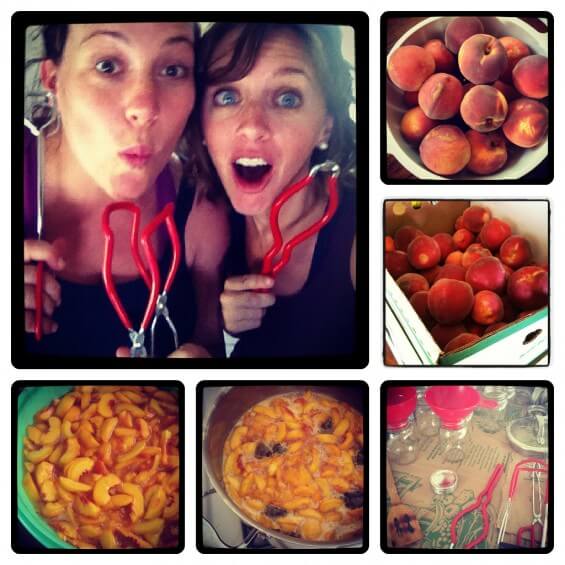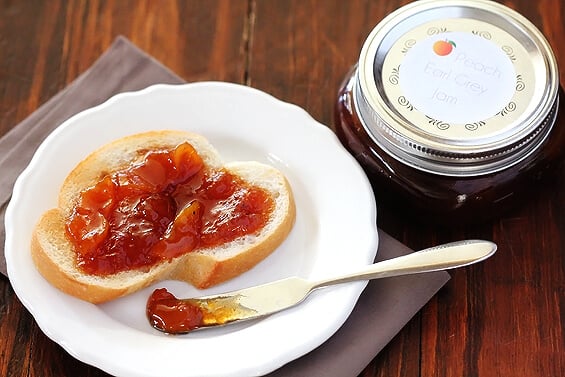 Peach Earl Grey Jam
Peaches pair perfectly with Earl Grey tea in this delicious jam!
Ingredients:
5 pounds ripe peaches
4 cups sugar
2 Tbsp. fresh lemon juice
4 Earl Grey tea bags
1 Tbsp. vanilla extract
Directions:
Cut a small, shallow X in the bottom of each peach. Working in batches, blanch in a large pot of boiling water until skin loosens, about 1-2 minutes. Transfer to a large bowl of ice water; let cool. (If your peaches are extra soft and easy to peel, you can skip this step.)
Peel, halve, and pit the peaches. Cut into 1/3 inch slices. Combine with sugar and juice in a large bowl. Let stand for 30 minutes.
Place a small plate in freezer. This will be used to "test" the consistency of the jam.
Transfer fruit mixture and 4 tea bags to a large heavy pot.
Bring to a boil, stirring gently, and cook. The time here can be difficult to judge. We cooked ours about 1 hour, but the time can range anywhere from 30-90 minutes. This is where your "test" plate will come in handy. After 30 minutes of boiling, place a small dollop of jam on the chilled plate and tip it to see if it the jam no longer runs. Repeat every 15 minutes until you have your desired thickness.
Remove tea bags. Skim foam from the surface of jam. Ladle jam into 4 clean, hot 1-pint jars.
Wipe rims, seal, and process in a boiling water bath for 10 minutes.
All images and text ©
If you make this recipe, be sure to snap a photo and hashtag it #gimmesomeoven. I'd love to see what you cook!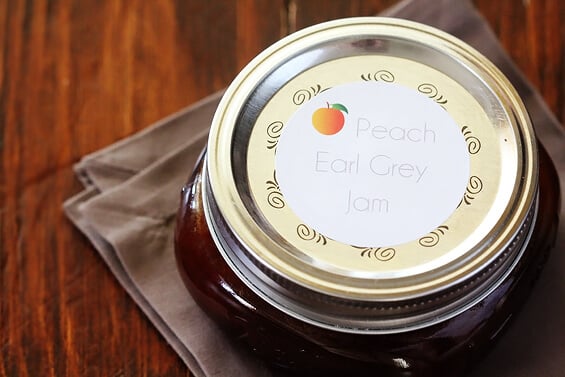 Source: Slightly adapted from Bringing Design Home & Bon Appetit.