Peanut Butter Fudge Brownies
These peanut butter fudge brownie bars will definitely satisfy that peanut butter chocolate craving!  This post is also sponsored by Skinny Cow.
I almost didn't go to our weekly "neighbor night" this week.
I was exhausted after a long day of work.  I didn't have any food at home to bring for the grill.  And I was somehow going on day 3 of not having washed my hair (even after two workouts) and…let's just say it was not pretty.  So, I was planning to bail.
But then I remembered why I love my neighbors.
Sometimes they see me at my best.  But perhaps more than even my close friends, they also see me at my so-called "worst", and everywhere in between.  And they seem to be totally cool with that.
They see me when I roll out of bed first thing in the morning and stumble down the stairs with glasses and slippers and morning-hair to let my dog out.  They see me when I'm feeling great and will stop to catch up for 10 minutes in the parking lot, and on the days when I'm feeling rushed or uber-introverted and can only offer a hello.  They see me when I'm drenched with sweat after a workout, or getting all dressed up to go on a date.
Basically, they see me being myself day in and day out.  And in return, I see them day in and day out.  And it is the epitome of NBD.
And I love that about us.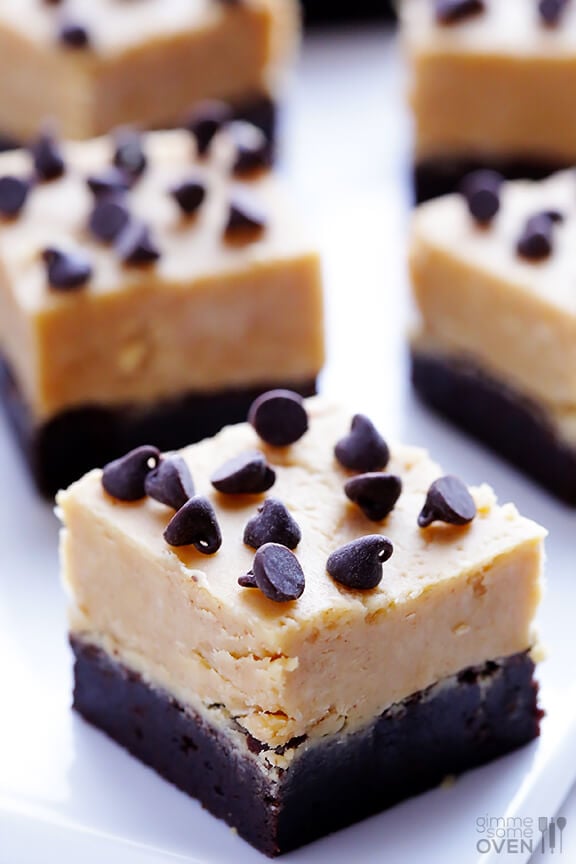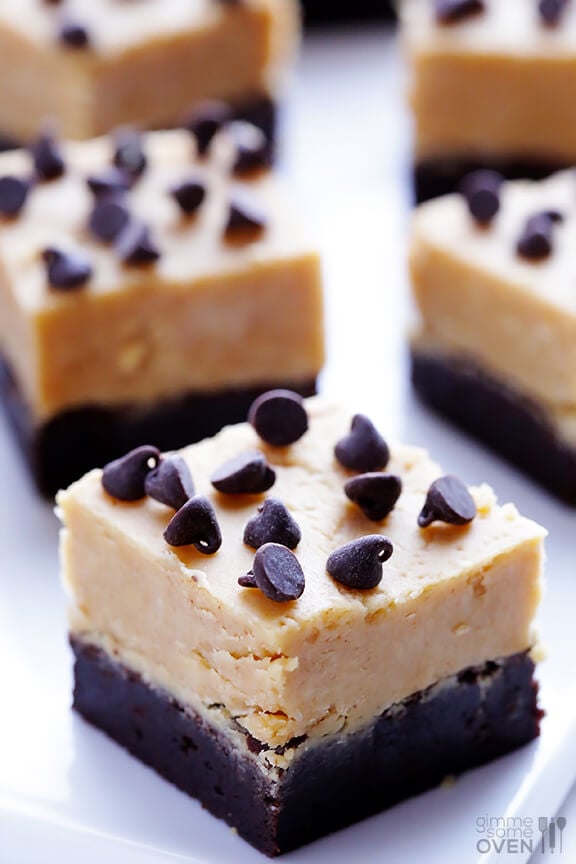 So when I showed up for our neighborhood grill night late, with crazy hair, and no chicken or veggies to bring for the grill, I shouldn't have been surprised when nobody blinked an eye.  I was excited to see them, and they were happy to see me.  Everyone was having fun, we all just sat around and talked and ate each others' food for hours, and it was basically awesome.
I did remember at the last second that I had made a batch of these Peanut Butter Fudge Brownies for the blog, so I quickly cut them into small pieces (which I recommend – they are rich!) and took them down to our back patio to share.
It was then that I remembered how crazy people go for anything chocolate and peanut butter.  Everyone loved these!!!  They basically could not be simpler.  Just make a pan of fudgy chocolate brownies (you can take a shortcut with a box mix if you'd like).  Then take a few minutes to whip up a simple batch of peanut butter fudge.  Press it on top of the brownies and refrigerate for at least an hour, and voila — Peanut Butter Fudge Brownies are ready for sharing!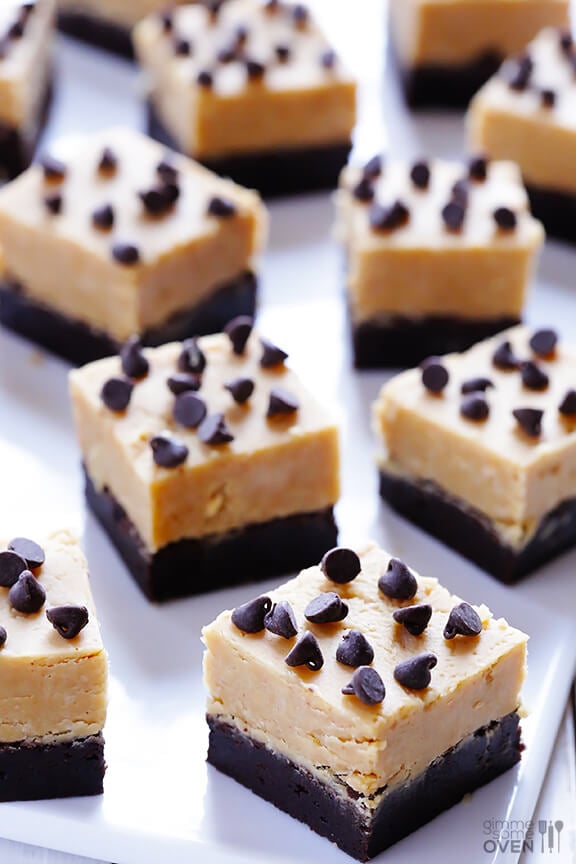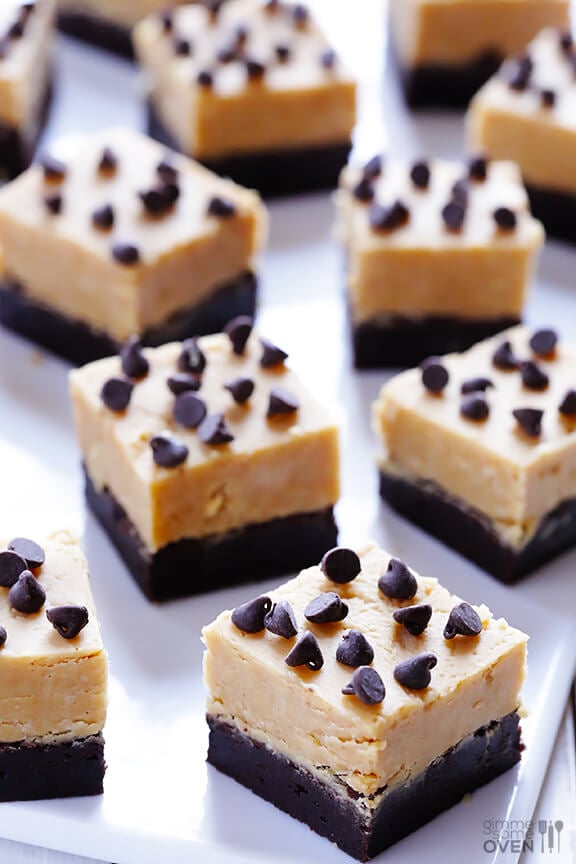 When I was digging through my freezer to see if I had any other food to bring, I also saw the boxes of Skinny Cow Cookies & Dough Ice Cream Bars that I had recently received in the mail.  So after our smorgasbord of hot dogs, guacamole, pastas, chips, margaritas, veggies, and dips were finished, I ran back up to my loft and brought down the ice cream bars.  And even though I think they were pretty full from the brownies, my lovely neighbors are always willing taste testers and dove into these bars.  So good!
The night reminded me why I signed on with Skinny Cow for a new campaign that they are beginning called WoCave (pronounced "whoa-cah-vay").  The WoCave is basically the woman's version of the man cave.  But more than just a time to be girly and have a night out with girlfriends, the idea of WoCave is celebrating the moments in life when you can just relax and be yourself.  Whether that is taking a Saturday to devote to a hobby you love, or a night in watching your favorite show with popcorn and wine, or an amazing grill night with friends even when you're sweaty and tired.  It's all about those surprisingly good moments in life.
So over the next three months, I'll be sharing on here about three "missions" that Skinny Cow is preparing for me.  The first is happening tomorrow night with a group of girlfriends, and I can't wait to share with you about it!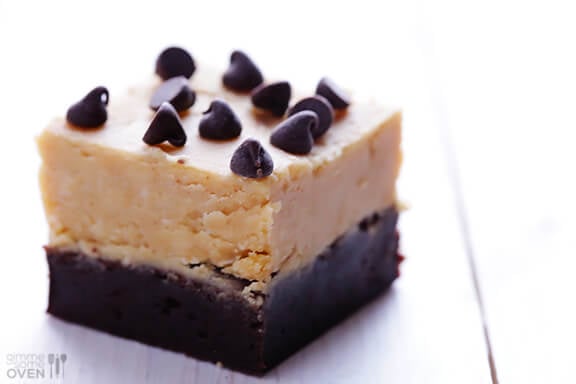 But in the meantime, I leave you with these amazing Peanut Butter Fudge Brownies.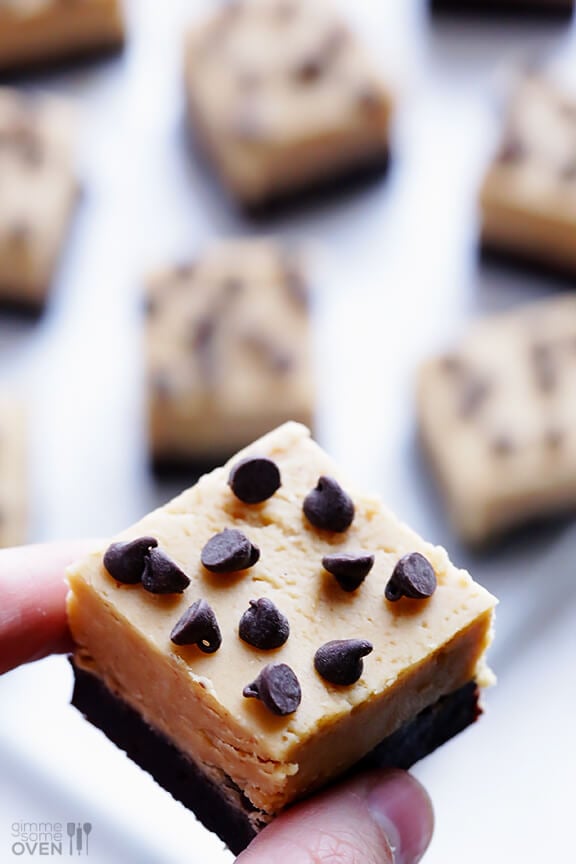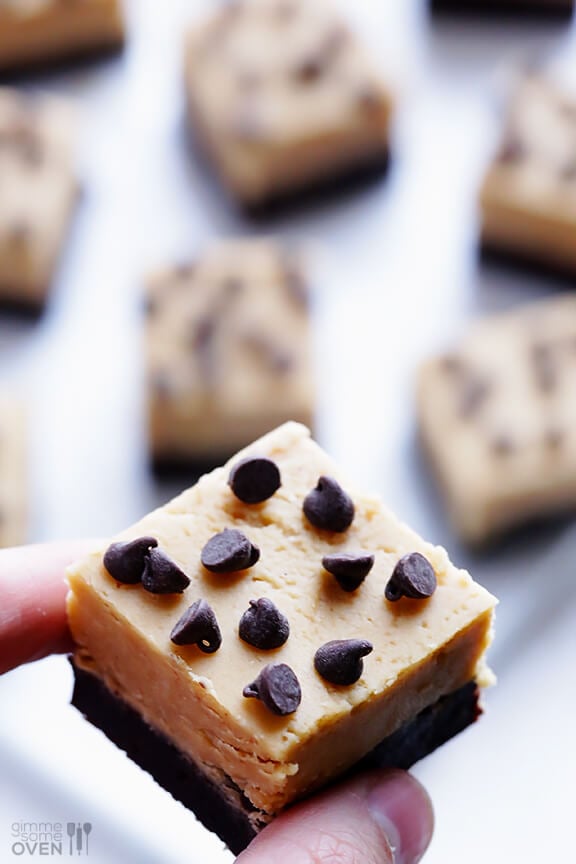 And a little toast to the moments when we may not feel at our "best", turning out to BE some of the best.  Love you, neighbors!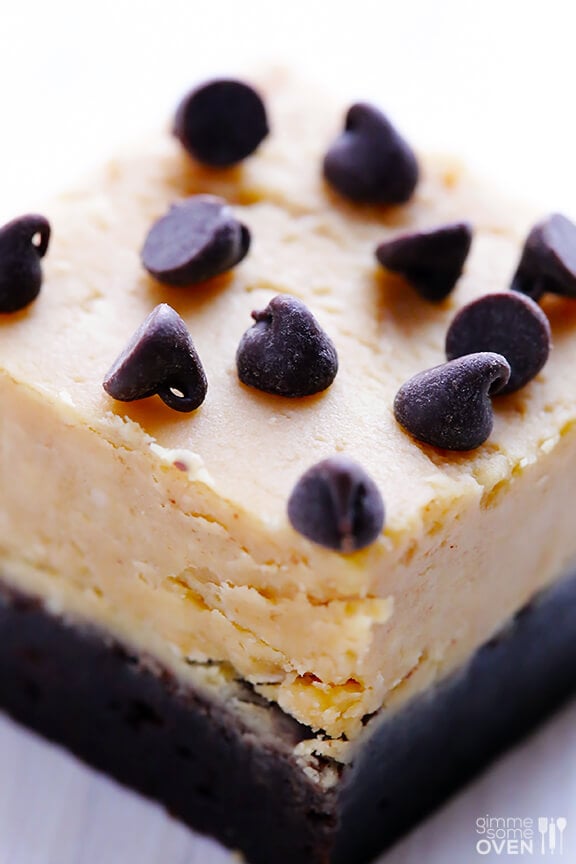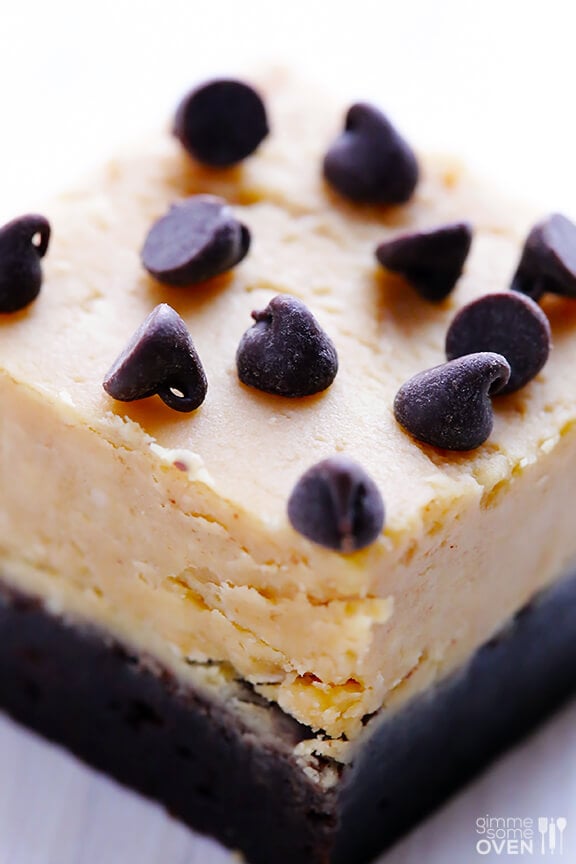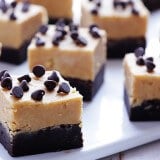 Peanut Butter Fudge Brownies
These peanut butter fudge brownies are simple to make, and will definitely satisfy that chocolate peanut butter craving.
Ingredients:
Brownie Ingredients:
10 tablespoons butter
1 1/4 cups granulated sugar
3/4 cup plus 2 tablespoons unsweetened cocoa powder (natural or Dutch-process)
1/2 tsp. salt
1 tsp. vanilla extract
2 large eggs
1/2 cup all-purpose flour
(topping) 1/2 cup mini semisweet chocolate chips
Peanut Butter Fudge Ingredients:
1 cup smooth peanut butter
1 cup (2 sticks) butter
1 tsp. salt
1 tsp. vanilla extract
3 1/2 cups powdered sugar
Directions:
To Make The Brownies:
Position a rack in the lower third of the oven and preheat the oven to 325°F. Line the bottom and sides of a 9×13-inch baking pan with parchment paper. Lightly grease with cooking spray and set aside.
Combine the butter, sugar, cocoa, and salt in a medium microwave-safe bowl. Microwave for one minute intervals, stirring in between, until the butter is melted and the mixture is smooth. Set the mixture aside until it cools to room temperature. (You can pop it in the fridge to speed up this process.)
Stir in the vanilla. Add the eggs one at a time, stirring vigorously after each one. When the batter looks thick, shiny, and well blended, add the flour and stir until you cannot see it any longer, then beat vigorously for 40 strokes with the wooden spoon or a rubber spatula. Spread evenly in the lined pan.
Bake until a toothpick inserted into the center emerges slightly moist with batter, 20 to 25 minutes. Let pan cool completely on a rack.
Then spread the prepared peanut butter fudge (see instructions below) in a single layer on top of the brownies, smoothing with a rubber spatula. Sprinkle with the 1/2 cup of mini chocolate chips.
Cover and refrigerate for at least 1 hour, or until the fudge has set. Then carefully lift the peanut butter fudge brownies out of the pan by pulling on the parchment paper, and set on a cutting board. Cut the brownies into squares and serve.
To Make The Peanut Butter Fudge:
Bring butter and peanut butter to a boil in medium saucepan over medium-high heat, stirring occasionally until combined and smooth. Remove from heat and stir in salt and vanilla until combined. Gradually add in powdered sugar, stirring until combined. Then immediately add fudge to brownies. (See above.)
If you make this recipe, be sure to snap a photo and hashtag it #gimmesomeoven. I'd love to see what you cook!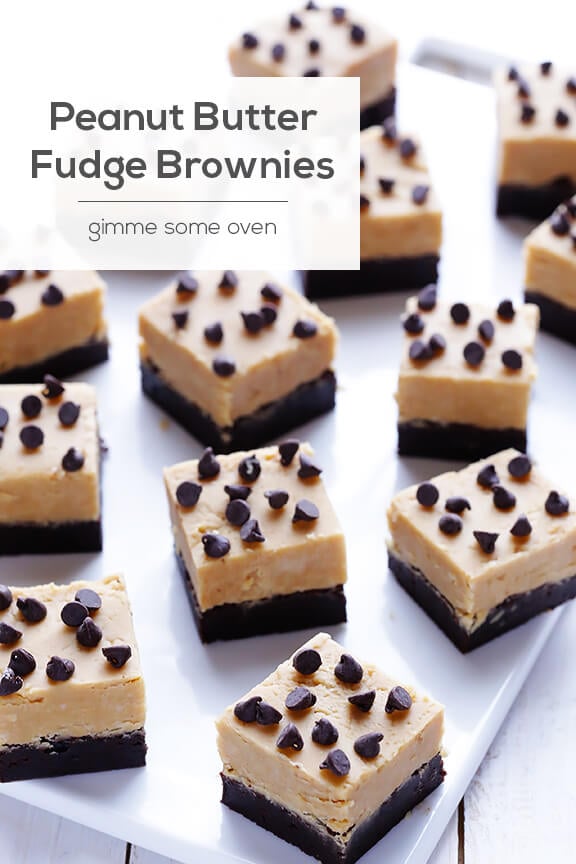 Disclaimer: This is a compensated post from Skinny Cow, but all opinions are 100% my own as always.