The BEST Roasted Brussels Sprouts
Learn how to make perfectly roasted Brussels sprouts with this classic recipe.  They're quick and easy to make and always so delicious!
Raise your hand if you love roasted Brussels sprouts!!!
🙋🙋🙋
I think it's safe to say that these cute little sprouts may be the most-cooked vegetable in my kitchen.  (<– Or actually make that, most-roasted vegetable in my kitchen, because thank goodness we've moved beyond the days of just boiling these little guys.)  I buy Brussels sprouts in bulk regularly a few times each month, and love to shred them up for salads, stuff them in tacos, stir them in with pastas and gnocchi, add them to stir-fries — well, you name it, I've probably added Brussels sprouts to it.  But if we're being honest here — and let's always be honest — most of the time I keep things simple and just cook them my favorite way.
Roasted.  Plus oil, salt, and pepper.
I mean, sometimes I'll break out of my rut and sprinkle on some sort of seasonings as well, or drizzle on some reduced balsamic or lemon juice, or toss them with some miso, or add in some other veggies.  But usually, Brussels sprouts are pretty basic in my kitchen.  Which are just the way I like 'em.
So if any of you happen to be looking for a tried-and-true recipe for perfectly baked Brussels sprouts, I thought I'd share tips on how I make 'em today.  Let's get to roasting!

Oven Roasted Brussels Sprouts Recipe | 1-Minute Video
How To Cut Brussels Sprouts:
Alright, first things first.  While your oven is pre-heating, give all of those sprouts a good rinse.  And then pluck off and discard any outer leaves that are looking a little browned or wilty.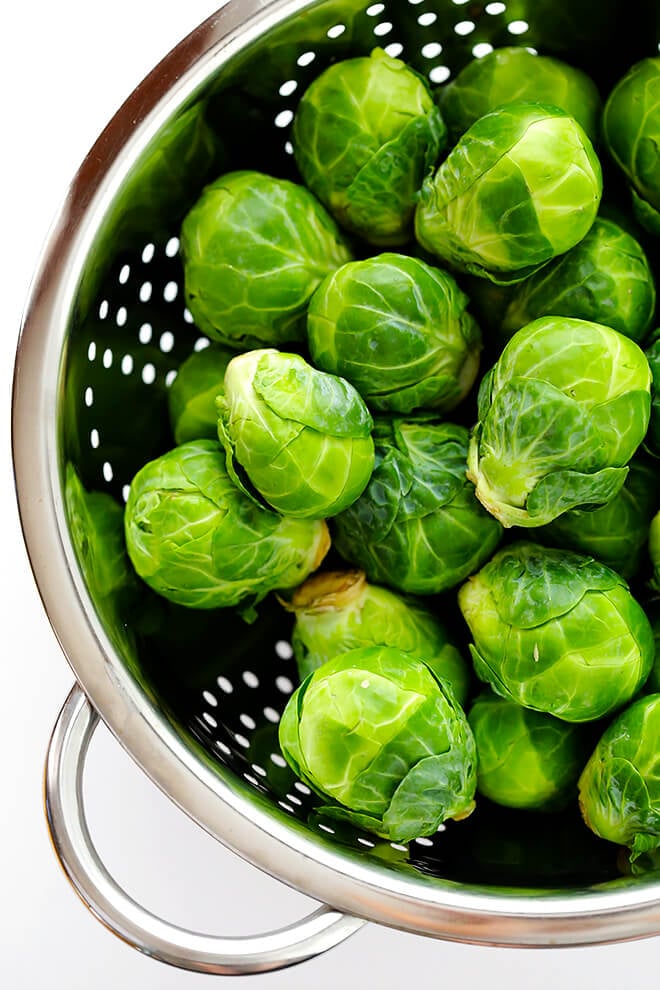 Then trim off the tough ends, and cut each sprout in half lengthwise, being sure to save any of the leaves that fall off (<– especially if you're like me and love those crispy little charred pieces!).  Here's a quick vid on how to cut Brussels sprouts, if you would like a visual:
How To Prep Your Brussels Sprouts For Roasting:
Next, you can either add your cut Brussels sprouts to a big bowl with your olive oil, and toss everything together until the sprouts are evenly coated.  Or, if you're like me and hate doing dishes, you can save yourself a step and just dump all of your sprouts on your baking sheet, drizzle with oil, and then toss them there.  You pick.
Flip the sprouts so that they're all cut-side-down on the baking sheet, and sprinkle them liberally with Kosher salt and freshly-cracked black pepper (along with any other seasonings that might sound good to you.)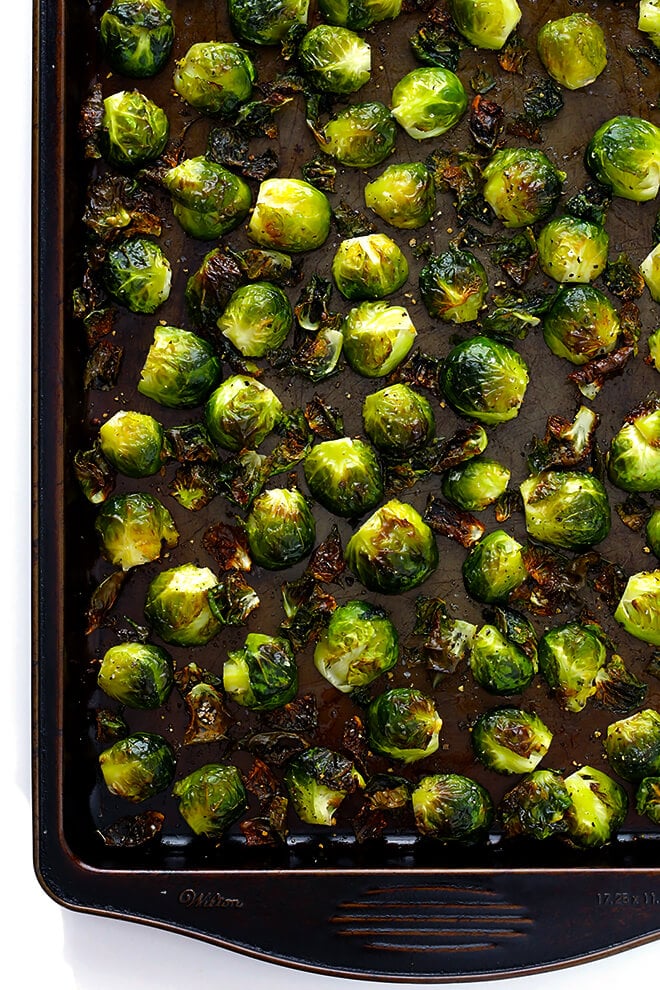 How To Roast Brussels Sprouts:
Finally, let's talk about how to cook Brussels sprouts!  I usually place my baking sheet on the middle-top shelf of the oven, and roast the sprouts until the bottoms and tops are a bit browned and all of those loose leaves are nice and crispy.  Mmmm.  That said, be sure to keep an eye on your sprouts during roasting, since different sized sprouts will cook slower or faster, and different ovens may cook differently as well.
Once the Brussels sprouts are roasted and golden and ready to go, remove the pan from the oven and give 'em a taste.  If they need extra salt and/or pepper, sprinkle a little extra on top.  (Or bonus — try sprinkling on smoked salt instead.  So delicious!)
How To Serve Brussels Sprouts:
Then serve 'em up!
Again, I tend to usually just make mine "plain".  But if you'd like to add some toppings, you might consider:
Citrus: Fresh lemon juice is always a winner.
Vinaigrettes: Reuse that leftover salad dressing!  Or I also love balsamic Brussels sprouts, drizzled with a thick balsamic glaze.
Fresh Herbs: Chopped basil or a sprinkle of thyme would be delicious.
Cheese: Grated aged Italian cheeses (such as Parmesan) or soft crumbled cheeses (such as feta, goat, or blue cheeses) are my faves.  But really, just about any cheese would do here.  Or if you're making these vegan or dairy-free, I love sprinkling on some nutritional yeast too.
Nuts: Pine nuts, chopped almonds, walnuts, almonds…you name it.
Bacon: You can't go wrong sprinkling roasted Brussels sprouts with bacon!
There are endless options here, so get creative and have fun with your sprouts!  And if you have any good Brussels sprouts flavor recs, be sure to leave them in the comments below too so that we can give them a try.
Happy roasting!
Roasted Brussels Sprouts
This classic Roasted Brussels Sprouts recipe is easy to make with just oil, salt and pepper. Feel free to add on extra flavoring if you'd like, but this is also totally delicious when served "plain".
Ingredients:
2 pounds Brussels sprouts, trimmed and halved
2 tablespoons olive oil
Kosher salt (or smoked salt) and freshly-cracked black pepper
Directions:
Preheat oven to 400°F.
Combine Brussels sprouts and olive oil in a large mixing bowl, and toss until everything is evenly coated.
Turn the Brussels sprouts out onto a large baking sheet, and flip the Brussels sprouts over so that they are cut-side-down (with the flat part of the Brussels touching the baking sheet).  Sprinkle with a few generous pinches of salt and pepper.
Bake for 20-30 minutes, or until the Brussels sprouts are lightly charred and crisp on the outside and toasted on the bottoms.  The outer leaves will be extra dark and crispy too.  (Be sure to keep an eye on your sprouts while baking, though, since different ovens and different sized sprouts may affect baking time.)  Taste, and sprinkle on extra salt and pepper if necessary.
Serve immediately.
All images and text ©
If you make this recipe, be sure to snap a photo and hashtag it #gimmesomeoven. I'd love to see what you cook!