Pina Colada Granola + Nature Box GIVEAWAY
Oh my goodness.  Is December seriously here already?!
I feel like I was just eating turkey and stuffing and this cranberry orange cheesecake a few days ago.  Oh wait…
Still, it looks like the final month of the year is now in full swing, which means that it's time to start planning out holiday gifts!  For those of you who, like me, prefer to go the more affordable and DIY route, I can already say from this experience that this Pina Colada Granola recipe makes for a fantastic healthy holiday gift!  I looks pretty darn adorable in a mason jar, it's quick and easy and healthy to make, and it's guaranteed to "warm" up any of your friends who might be wistfully dreaming about tropical getaways.  Oh, and you might want to save some for yourself too.  ;)
Speaking of gifts, I'm also stoked to announce that we are kicking off the month of December with a rockin' giveaway for two winners from Nature Box.  (And — bonus — if you enter the promo code GIMMESOME, all of you great readers can get 50% off your first Nature Box order!)  Read on for the details…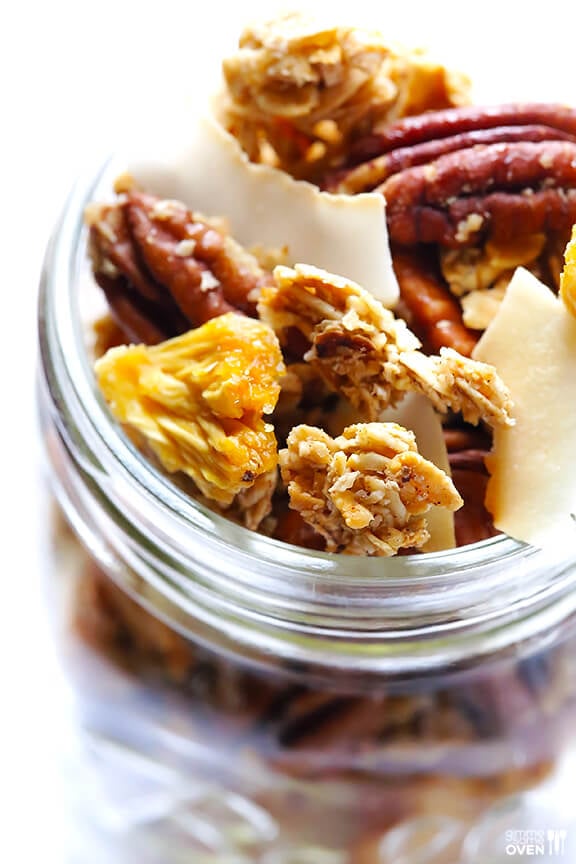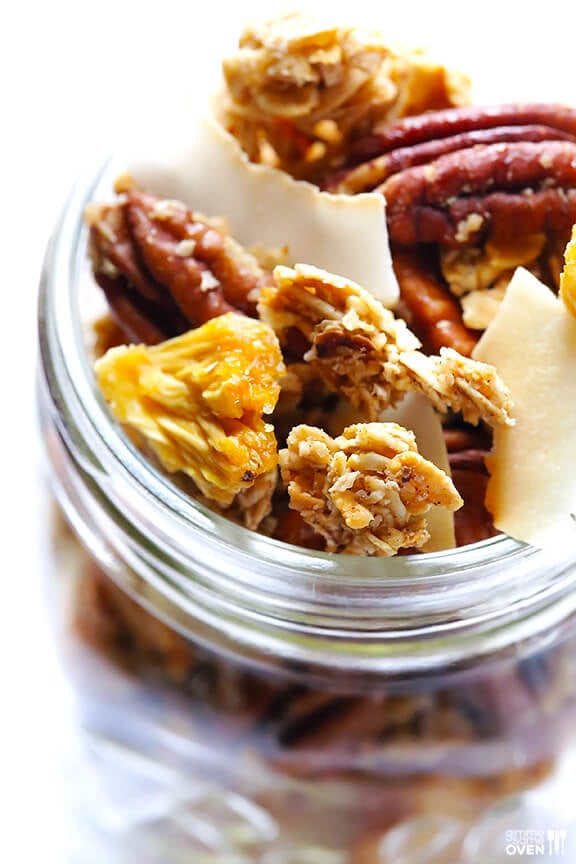 I wish I could tell you that the inspiration for this pina colada granola came after sipping frozen drinks out of a big pineapple with little umbrellas sticking out on a sunny, sandy beach somewhere.  But alas, it's cold, it's December, and I'm still living in The City Farthest Away From Pretty Much All Beaches (yes, Kansas City).
Actually, the inspiration was much more delicious and came from receiving my latest shipment of snacks from Nature Box.  For those of you who haven't yet heard of this brilliant company, Nature Box delivers hand-picked, healthy snacks to your door each month.  (More about them with the giveaway below!)  And it just so happened that this past month, the snack that greeted me upon opening that classic green box was a beautiful bag of dried pineapple rings.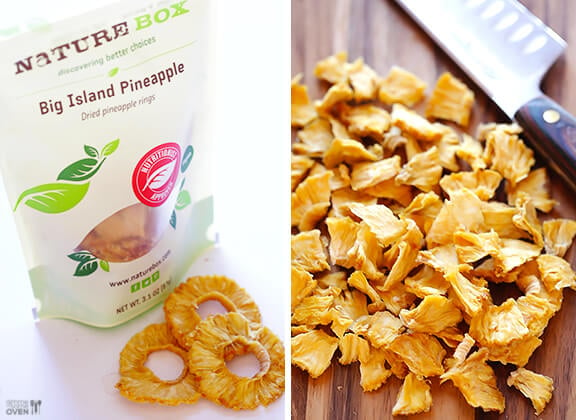 Yes, rings.
No wimpy, overly-sugar-coated little pineapple bits here.
Just a bag of lovely, vibrant, "Big Island Pineapple Rings".  They instantly made me think of my favorite island drink, a yummy pineapple coconut pina colada.  And since I was due for a new batch of homemade granola, I decided to bust out some coconut (flakes + oil) along with some other favorite ingredients to make a batch of pina colada granola.
All you need to make it are some oats, nuts (I used pecans), coconut flakes (you could also use shredded coconut), honey, coconut oil, vanilla, salt, cinnamon, and lots of those beautiful pineapple rings.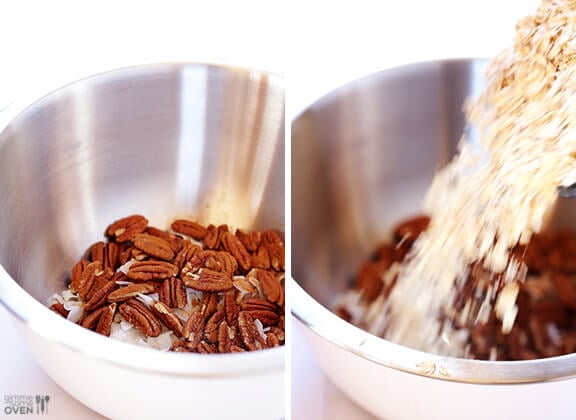 Stir everything together, minus the coconut flakes and pineapple.
Pop it in the oven to bake for awhile.  Then add in the coconut at the end and bake for a final 10 minutes.  (I do this so that the coconut doesn't get too toasted.)  And then once it's baked, toss the granola with the pineapple.  And voila — pina colada granola is yours to enjoy.  Or give away.  Or both!!
Seriously, if you are looking for a healthier foodie gift alternative to cookies or desserts galore, I guarantee everyone would love a jar of this.  And it's quick and easy and affordable.  And it just tastes darn good.
(Scroll to the bottom of the page for the recipe.)
And speaking of holiday foodie gifts, I'm stoked that Nature Box is sponsoring a giveaway on the site today for two lucky readers to win a 6-month supply of Nature Box snacks!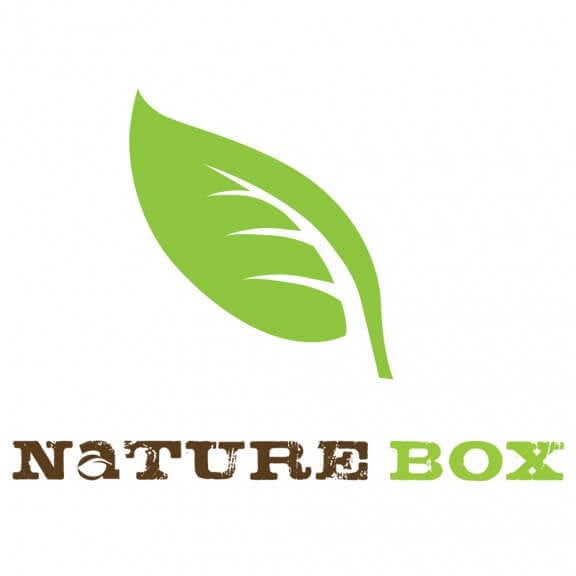 I have long been a fan of Nature Box since a friend introduced me to them months and months ago.  But for those who have not heard of Nature Box, allow me to introduce you.
In a nutshell (ahem, I especially recommend the Nature Box peppery pistachios "nutshells"), Nature Box is a subscription service that delivers 5 healthy snacks to your door each month.  Each snack is healthy and nutritionist approved and made from ingredients you can feel good about eating.  I'm not kidding.  I can always recognize (and pronounce!) every ingredient listed on the back of each package.  And each snack contains no high fructose corn syrup, no partially hydrogenated oils, no trans fats, no artificial sweeteners, no artificial flavors and no artificial colors.
But in addition to being healthy, I can vouch that these snacks are also super tasty.  You can read about their selection of different snacks here.  But I would personally recommend the Chia Seed Crackers, Sunshine Chips, Blueberry Almonds, Toasted Cheddar Stix, Lone Star Snack Mix, and of course, the Big Island Pineapple Rings.  Literally, I have liked each snack I've received.  (And as a bonus, many of the snacks are vegan, which has been a bonus for sharing with some of my vegan friends!)
So if you are looking for an awesome holiday gift that will keep on giving — either for a loved one, or even as a gift to yourself! — I wholeheartedly recommend giving Nature Box a try.  If you enter the promo code GIMMESOME (or just click this link), you can even get 50% off any of the three box sizes.  But I would also highly recommend entering the giveaway below as well.  Just follow the directions on the widget below.
a Rafflecopter giveaway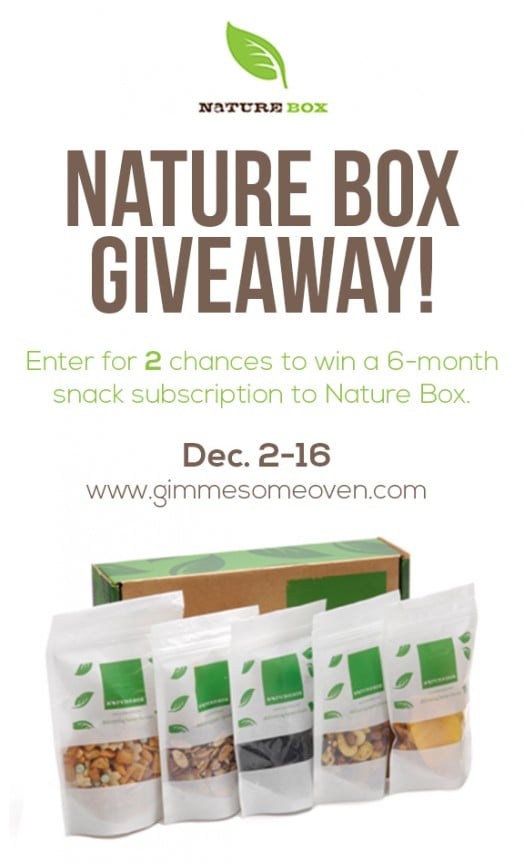 Happy holidays, and happy Nature-Boxing to you!
Pina Colada Granola
This pina colada granola recipe is healthy, simple, and full of great tropical flavor!
Ingredients:
4 cups old-fashioned oats (or gluten-free oats)
1 cup pecans (or almonds, walnuts, etc.)
1/2 cup honey
2 Tbsp. coconut oil, melted
1/2 tsp. ground cinnamon
1/2 tsp. vanilla extract, store-bought or homemade
1/4 tsp. salt
1 1/2 cups coconut flakes
1 cup diced dried pineapple (I used Nature Box)
Directions:
Preheat oven to 300 degrees. Line a baking sheet with aluminum foil or parchment paper.
In a large mixing bowl, stir together oats, pecans, honey, melted coconut oil, cinnamon, vanilla and salt until evenly combined. Spread mixture out on the prepared baking sheet in an even layer. Bake for 20 minutes. Remove sheet, sprinkle coconut flakes on top of the granola and gently stir them into the mix. Return sheet to oven and bake for an additional 10-15 minutes, until coconut is toasted and the granola is cooked.
Remove sheet from oven and let cool to room temperature. Add in diced dried pineapple, and toss to combine.
Store in a sealed container and keep for up to 3 weeks.
All images and text ©
If you make this recipe, be sure to snap a photo and hashtag it #gimmesomeoven. I'd love to see what you cook!
Disclaimer: This is a post and giveaway are sponsored by Nature Box.  All opinions are 100% my own, as always.  I'm just stoked to share about this cool and healthy product with you.  So thank you for supporting the brands that make this site possible!