Pineapple Fried Rice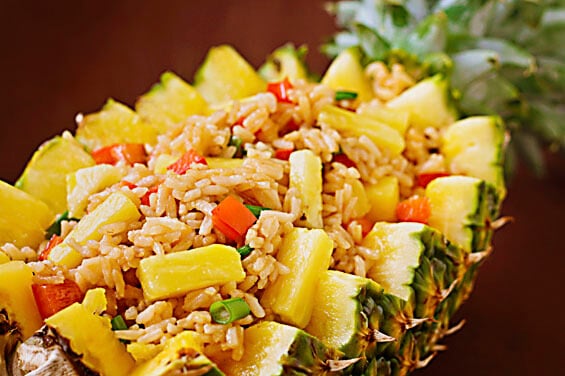 I kind of have a small obsession with fried rice.  It's my favorite.  Chinese, Thai, Japanese, you name it….I've tried it…and I love it.  :)
But it wasn't until a few years ago that I learned how uber-easy fried rice is to make at home!  All it takes is some leftover rice, sauteed with whatever fresh veggies, meats/seafood (optional), sauces and other favorite toppings you have on hand.  And voila – within 15 minutes, you can have a fabulously delicious meal on the table ready to enjoy.  Can't beat that!
Since fresh pineapple happens to be in abundance at my local market this week, decided to do a vegetarian twist and make some pineapple fried rice.  Tossed in some of my favorite ingredients, sauces, and of course, some sesame oil.  And is usually the case with fried rice — it turned out amazing!  The sweet, fresh pineapple constrasted perfectly with the ginger-soy-sesame sauce.  And of course, I loved how bright and colorful it was as well!
So if you're looking for a delicious 15-minute meal that can please just about any crowd, put your leftover rice to use and give this a try!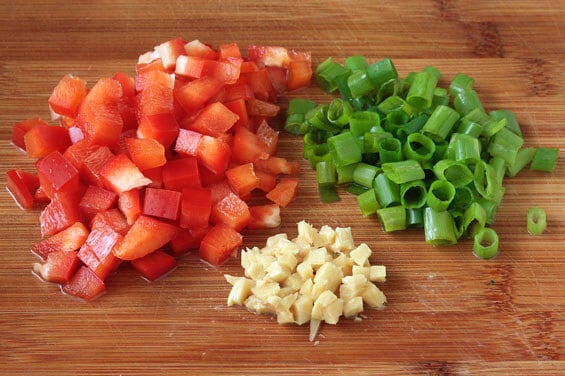 How To Cut A Pineapple | 1-Minute Video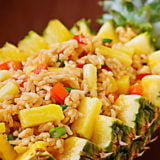 Pineapple Fried Rice
Looking for a delicious 15-minute meal that can please just about any crowd? You'll love this Pineapple Fried Rice recipe! So quick, easy, and delicious!
Ingredients:
2 cups leftover cooked white rice (refrigerated)
1 1/2 Tbsp. olive oil
3 scallions, white parts and green parts thinly sliced
1/2 large red bell pepper, diced
2 Tbsp. minced fresh ginger
1 small red or green chili (the more the seeds the hotter the flavor)
1 cup diced pineapple, preferably fresh
1 Tbsp. soy sauce
1 Tbsp. fish sauce (or oyster sauce)
1/2 tsp. sesame oil
Directions:
In a wok or a large skillet over high heat, warm 1 1/2 tablespoons olive oil. Add the scallions (the white parts), red bell pepper, ginger, and chili. Saute 1-2 minutes, or until lightly sizzling and fragrant.

Add cooked rice, stirring frequently, for 3-5 minutes. Add pineapple, soy sauce and fish sauce; stir until well coated and heated through, about 2-3 minutes.

Sprinkle with the scallion greens, and drizzle with sesame oil. Serve immediately.

If you make this recipe, be sure to snap a photo and hashtag it #gimmesomeoven. I'd love to see what you cook!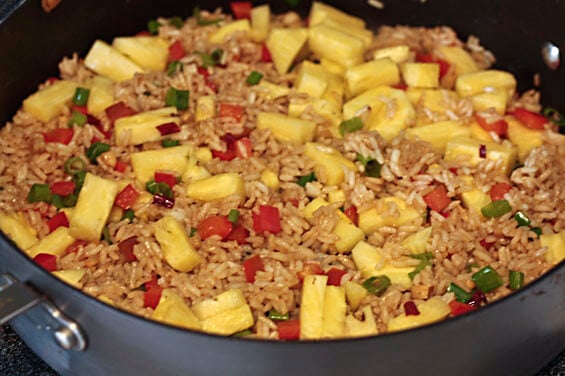 Ali's Tip:
Other fun ingredients in this might be:
Cooked chicken, beef, pork, and/or shrimp
Scrambled eggs
Cashews
Toasted sesame seeds
Any other stir-fried veggies