Pomegranate Green Apple Sangria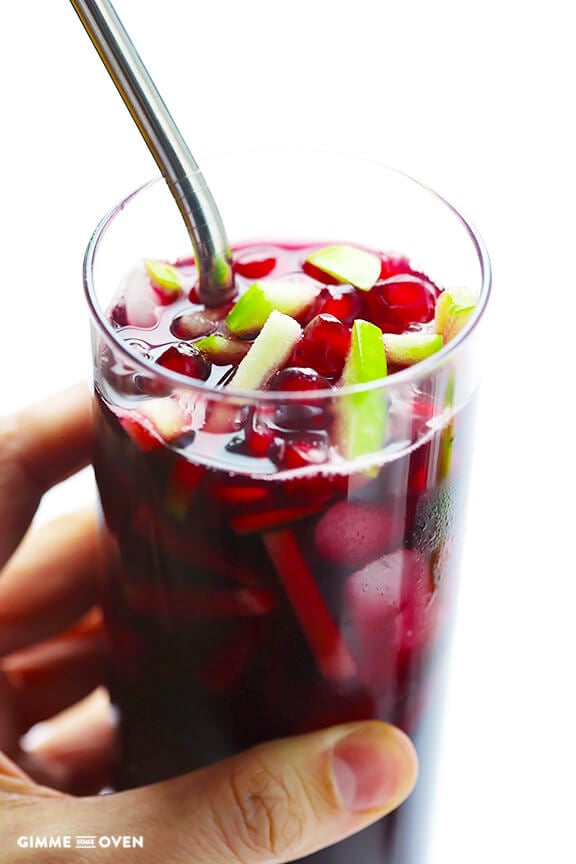 I'm in the market for a new electric guitar right now.  But as much as I'm in it to find a guitar with that perfectly sweet, mellow, beautiful tone — let's be real — I'm also shopping for a totally cute guitar.  I love me a gorgeous guitar.
Same apparently goes in my life with sangria.  When I decided to host an impromptu holiday happy hour with some girlfriends this week, I wanted to make a few cocktails that would be tasty and made with all sorts of seasonal fruits.  But — let's be real — I also wanted it to be totally red and green.  I love me a festive drink.
But hey, the good news about guitars and sangria?
You can have it all.  :)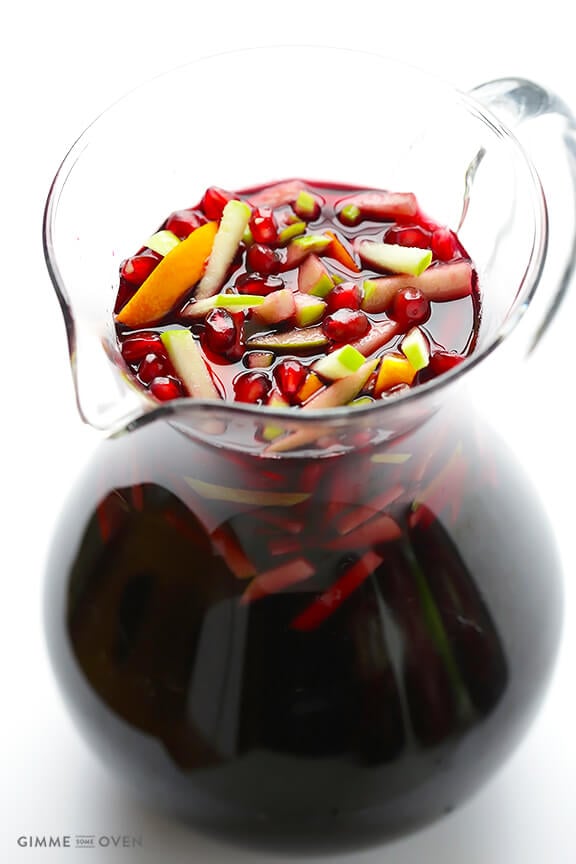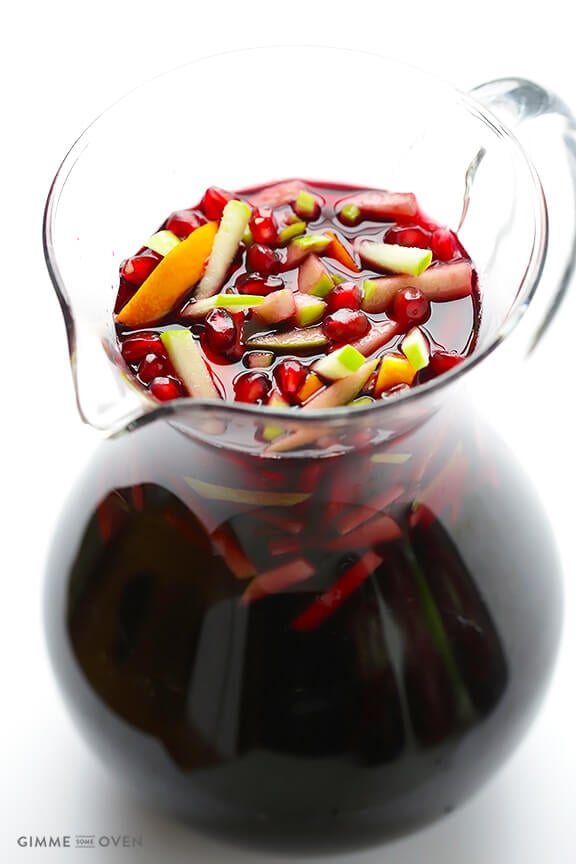 I don't know about you all, but the moment that ripe pomegranates start showing up in the stores, I'm on 'em.  I've been buying, de-seeding and popping those sweet little gems like candy for the past few weeks.  And also sprinkling them on salads, and dips, and desserts when they last longer than 5 minutes.
But one of my all-time favorite combinations has always been pomegranates and apples.  They are two of my favorite flavors of winter — both deliciously sweet, but also both with a nice hint of tang.  And while they usually make an appearance together in my salads, I thought it would be fun to try combining them into a holiday sangria for this year.
Let's just say this sangria was a very merry success.  :)
And for those of you who've never made sangria before, let me just assure you that it's about the easiest drink around.  It's the perfect use for leftover fruit, leftover juice and/or leftover wine.  It's also an especially perfect use for cheap wine, if you happen to have any of that around, since the fruitiness will turn just about any wine into a delicious sangria.
Simply stir all of your ingredients together, muddle the fruit a bit if you'd like, and let it sit for a few hours so that all of those flavors can meld.  Then serve it chilled or over ice, and you can even sprinkle some extra apples and pomegranate seeds on top if you want to be extra festive.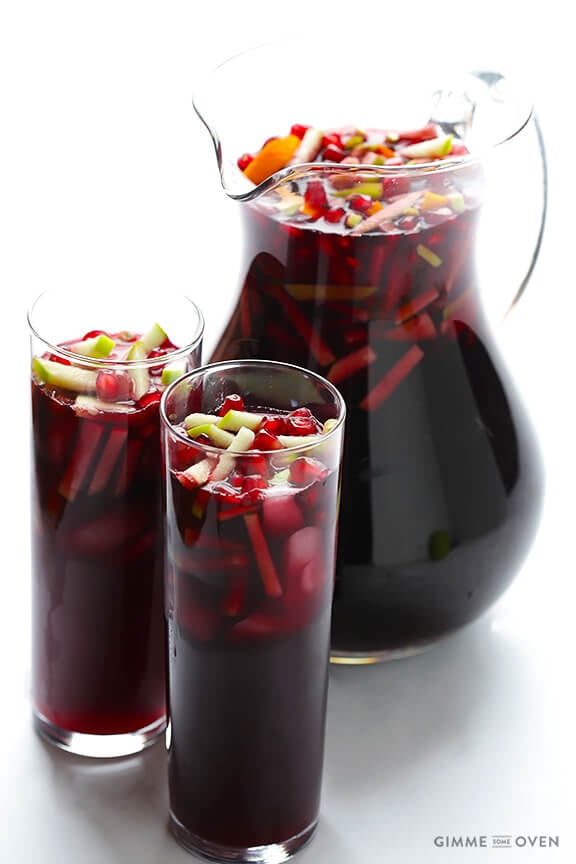 My friends all gave it the seal of approval, so I ho-ho-hope you enjoy it too.
Merry sangria, everyone!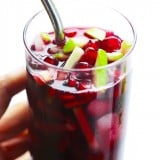 Pomegranate Green Apple Sangria
This pomegranate green apple sangria recipe is super simple to make, delicious, and perfect for the holidays!
Ingredients:
1 (750 ml) bottle dry red wine
1 apple, cored and julienned (or thinly sliced)
1 orange, sliced into rounds
arils (seeds) from 1 pomegranate (here's a great tutorial for how to open and de-seed a pomegranate)
1/2 cup pomegranate juice
1/2 cup apple juice
1/4 cup brandy
1-3 tablespoons honey or agave or your desired sweetener, to taste (if needed, depending on the sweetness of your juices above)
optional garnish: extra pomegranate seeds and julienned apples
Directions:
In a large pitcher, stir all ingredients together until combined, adding in your desired amount of honey to sweeten the sangria.
Cover and refrigerate for at least 2 hours (or up to 24 hours) so that the flavors can meld together.
Serve chilled, with extra ice and garnishes if desired.
All images and text ©
If you make this recipe, be sure to snap a photo and hashtag it #gimmesomeoven. I'd love to see what you cook!