Pomegranate Salad With Honey-Cider Vinaigrette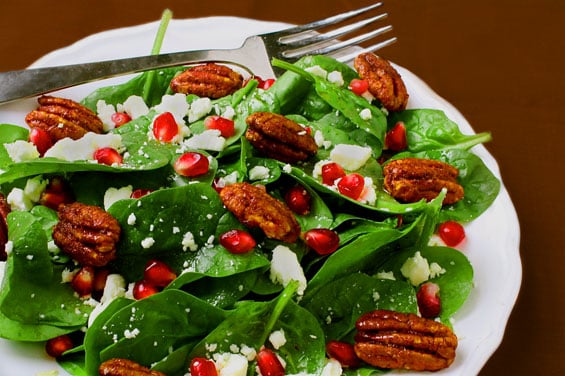 Ok, so I wasn't really planning to add this impromptu little salad to the blog.  (And thus, my apologies for the lack of prep photos.)  But holy cow — it was too delicious not to share!
So allow me to introduce to you my new favorite autumn salad.  It's simple, full of great texture and flavor, and super-quick to prepare (literally took me 5 minutes!).  But the best part is that it features three of my absolute favorite fall ingredients — pomegranates, apple cider, and candied walnuts.  YUM!!!
Of course, feel free to add in any other favorite fall fruits (apples, oranges, grapes), cheeses (goat, blue, gorgonzola), greens (lettuce, arugula), or nuts you have on hand.  But the pomegranate seeds and honey-cider vinaigrette are a must!  :)  Enjoy!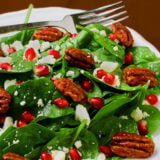 Pomegranate Salad With Honey-Cider Vinaigrette
This Pomegranate Salad With Honey Cider Vinaigrette Recipe is both delicious and healthy. Enjoy!
Ingredients:
6-7 cups spinach, washed and dried'
1/3 cup pomegranate seeds
1/2 cup sugared or toasted pecans (recipe forthcoming!)
feta cheese, crumbled
Honey-Cider Vinaigrette Ingredients:
6 Tbsp. olive oil
2 Tbsp. apple cider vinegar
1 1/2 tsp. honey or agave nectar
1/2 tsp. ground cinnamon
2 pinches of salt
freshly ground black pepper
Directions:
In a small bowl, whisk together ingredients for vinaigrette until well-blended.
Just before serving, toss spinach with vinaigrette. Then add in pomegranate seeds, pecans and feta and toss once more. Serve immediately.
(Or for a different presentation, once you have tossed the spinach with the vinaigrette, divide it among the plates. Then top each salad with the pomegranate seeds, pecans, and feta.)
Ali's Tip: Being that I also have a few zillion Christmas songs running through my mind right now (yes, 'tis the season already on my to-do list at work), it occurs to me as I look at the photo that this might also make a lovely holiday salad…  :)
If you make this recipe, be sure to snap a photo and hashtag it #gimmesomeoven. I'd love to see what you cook!